The sailor accused of starting a fire that consumed the USS Bonhomme Richard will face a court-martial, a senior Navy commander decided Friday, Feb. 25.
Seaman Recruit Ryan Sawyer Mays faces charges of willfully hazarding a vessel and aggravated arson, which ultimately led to the destruction of the billion-dollar ship in July 2020.
A military judge decided, based on a preliminary hearing held in December 2021, that there was enough evidence against Mays for the case to go to court-martial. US 3rd Fleet spokesperson Cmdr. Sean Robertson said Friday that the Navy would move forward with the case.
"After careful review of the preliminary hearing report, Vice Adm. Steve Koehler, commander, U.S. 3rd Fleet referred charges against Seaman Recruit Ryan Sawyer Mays to general court martial," Robertson said. "Charges were brought in response to evidence found during the criminal investigation into the fire that started on the former USS Bonhomme Richard (LHD 6) on July 12, 2020."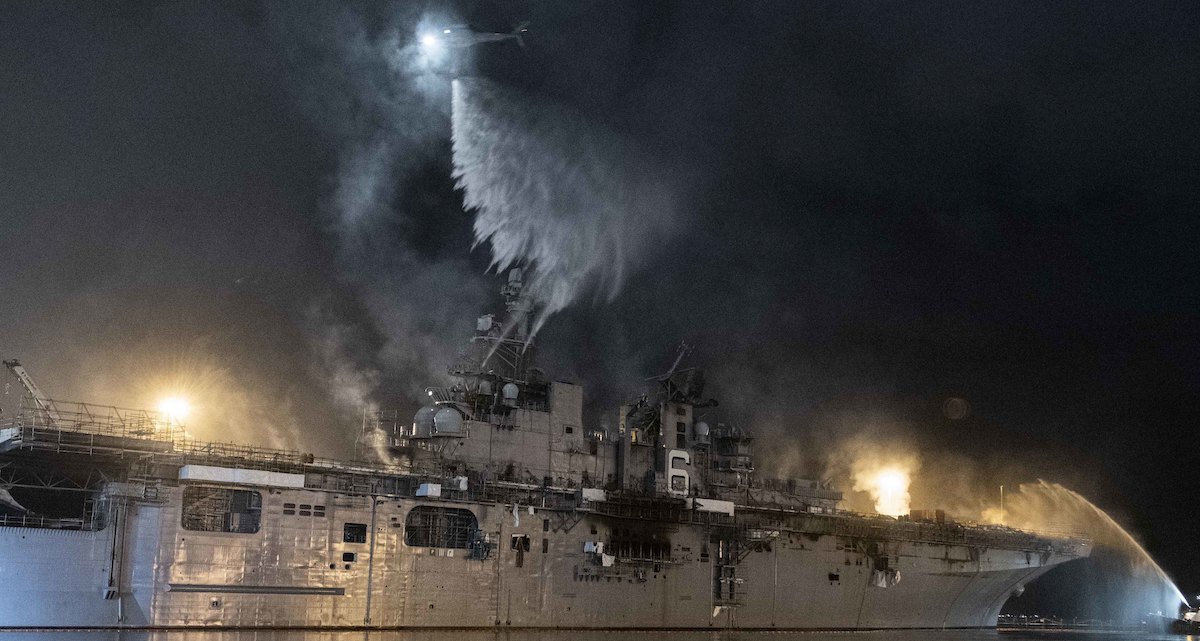 According to Mays' charge sheet, obtained by Coffee or Die Magazine, Mays faces two charges: willful hazarding of a vessel and aggravated arson. Prosecutors believe Mays, a junior enlisted sailor who served aboard the USS Bonhomme Richard after dropping out of initial training to be a SEAL, set a fire below deck that quickly spread.
A pretrial hearing in December lasted three days. Prosecutors presented little physical evidence linking Mays to the fire but painted a picture of Mays as a disgruntled sailor who, having failed to become a SEAL, had disdain for life in the fleet.
Mays' lawyers attempted to poke holes in the prosecution's case by pointing to a lack of evidence, other people of interest, and a "sloppy investigation."
A date for the court-martial has not yet been set.
Read Next: