As the boss, Charleston Police Department Animal Control Supervisor Courtney Bayles often gets to pick who'll grapple with a cantankerous South Carolina gator.
On Friday, May 20, she chose herself, which meant wrestling and cuffing a 9-foot alligator who'd rather have been left alone.
"It's something that I've just been passionate about and clearly don't have a healthy fear of," Bayles, 27, told Coffee or Die Magazine.
The case of the rascally reptile began on Friday before 3 p.m., shortly after emergency dispatchers received a call from a woman who was walking her dog and noticed "an alligator tail sticking out underneath the vehicle" at a one-story apartment complex garage on Robert Daniel Drive.
That's about 10 football fields west of Ralston Creek and roughly 2,500 feet north of the Wando River.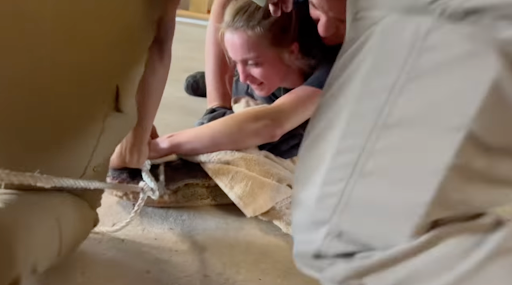 Bayles and Animal Control Officer Amber Damico arrived and began to size up the scene. They saw the alligator was hunkered down directly across from an elevator, which meant it would be staring at whichever unsuspecting resident walked out the door.
Bayles and Damico were soon joined by a scrum of Harbor Patrol Unit cops — Senior Police Officer Michael Merrill and a quartet of other officers, Christopher Morrell, Ryan Marotta, Zachary Allen, and Patrick French — plus a pair of Daniel Island Patrol officers, Brett Hannon and Dejuan Stanley.
Bayles whipped a top rope over the gator's jaw and began dragging the creature from under the car. Bayles barked at the team to "push your weight down to the ground, watch out for the tail, and I'll handle the mouth." She counted to three, and then they pounced.
The reptile resisted arrest, so Damico held a towel over its eyes and Bayles lifted its front legs, announcing, "We're gonna handcuff him with duct tape."
"Wait. Seriously?" Allen asked as Morrell pulled a strip off the blue roll and began wrapping the gator's claws.
Bayles told Coffee or Die the tape "kind of just mitigates any attempt for him to try and struggle and get free. We're just trying to keep him calm and still so that we can safely transport."
The reptile was then released on its own recognizance to the Wando River.
Bayles told Coffee or Die that, over the past three years, she's learned how to wrestle gators from trappers, officials at the Department of Natural Resources, and a bit of trial and error.
"Obviously, we're a little different, being on the coast," Bayles said. "We have alligators. We have lots of snakes. Different things."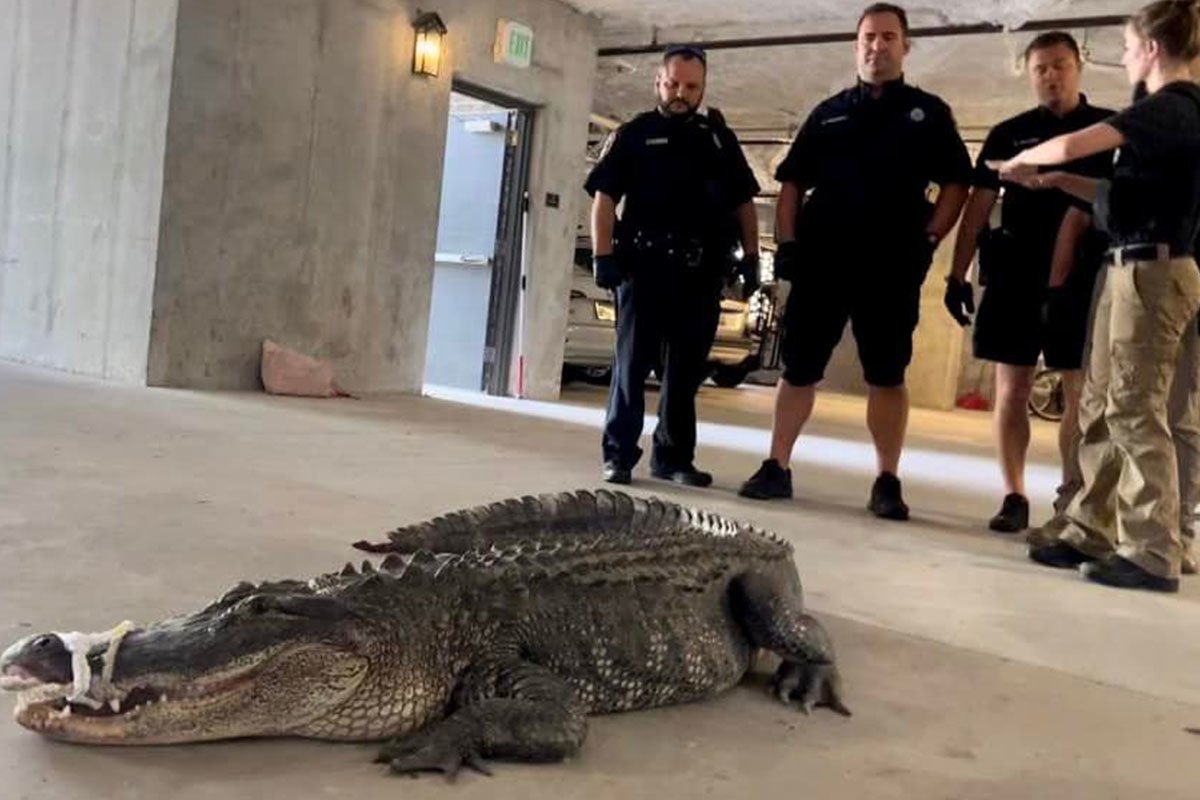 Bayles and Damico have collared two gators this month.
On May 10, a patrol car pulled up behind a 7-footer wandering through a residential neighborhood. The officer put his lights on until Bayles and Damico could respond.
They cornered the gator near a resident's garage door. Bayles and Damico pounced on its back while another officer held the rope over the animal's jaw.
"I need to know that my person holding the rope is going to confidently hold on to that and not let go," Bayles said.
Bayles is well prepared to be Chucktown's go-to gator gumshoe.
She grew up as a fan of the Crocodile Hunter, Steve Irwin; has a degree in wildlife biology; and apprenticed as a veterinary technician before she pinned on the badge.
She was promoted to Animal Control's supervisor in 2020.
"It definitely kindled a passion for working with these animals for sure," Bayles said. "My life revolves around the animals, without a doubt. I'm living the dream."
Read Next: