Major leadership failures contributed to the deaths of 76 veterans as a COVID-19 infection spread like wildfire through the Holyoke Soldiers' Home in Massachusetts, according to an independent investigation ordered by Gov. Charlie Baker.
"Some of the critical decisions made by [Superintendent Bennett Walsh] and his leadership team during the final two weeks of March 2020 were utterly baffling from an infection-control perspective and were inconsistent with the Home's mission to treat its veterans with honor and dignity," according to the investigation.
Numerous officials have resigned in the wake of the tragedy, but Walsh has refused to leave his position, legally challenging the state's authority to fire him. Walsh, who was placed on administrative leave March 30, has retained his uncle, former Hampden District Attorney William M. Bennett, as his attorney and is disputing his firing by the governor and state secretary of Health and Human Services, saying the decision should be left to the home's Board of Trustees.
Baker said during a press conference June 24 that Secretary of Veterans' Services Francisco Urena was asked to step down and did so "gracefully." David Clinton, the home's medical director, Chief Nursing Officer Vanessa Lauziere, and Stuart Ivimey, general counsel for the Department of Veterans' Services, also resigned.
Mark Pearlstein, a former federal prosecutor, conducted the investigation for Baker's administration. Pearlstein's report said "the worst decision made during the Soldiers' Home's response to COVID-19" occurred March 27 when Lauziere decided that "because a number of staff members had called in sick for the evening shift that was about to begin, one of the Home's two locked dementia units would be closed and consolidated with the other," mixing COVID-19 positive patients, residents with symptoms who were thought to have it, and those with no symptoms at all.
"Rather than isolating those with the disease from those who were asymptomatic—a basic tenet of infection control—the consolidation of these two units resulted in more than 40 veterans crowded into a space designed to hold 25," the report says. "This overcrowding was the opposite of infection control; instead, it put those who were asymptomatic at even greater risk of contracting COVID-19."
Over 11 weeks beginning on March 21, 76 people died and 84 veteran residents and 80 staff members also tested positive, according to the report.
"Leadership is paramount during a time of crisis, and its absence at the Holyoke Soldiers' Home created a chaotic environment for staff and devastating consequences for residents and their loved ones," said State Secretary of Health and Human Services Marylou Sudders during the press conference June 24. "The weekend when the fatal decision was made to consolidate two units, the superintendent was not present. Leadership was absent, and staff were left on their own to deal with the crisis."
The report also said leaders at the home delayed doing things that could have helped stop the spread, including more testing, closing down common spaces, consistent policies and use of personal protective equipment, and limiting staff rotations among units. The report also cited a lack of proper records and documentation of residents.
Baker said there was "a total failure of leadership and a complete lack of compassion for these vulnerable heroes."
The report described the situation after the wards were consolidated:
"A recreational therapist who was instructed to help with the move said that she felt like she was 'walking [the veterans] to their death' and that the veterans were 'terrified.' A social worker 'felt it was like moving the concentration camp—we [were] moving these unknowing veterans off to die.'"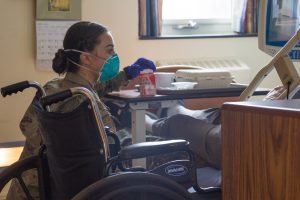 A healthcare administrator said the unit resembled "a war zone, with some veterans clothed, some unclothed, and some obviously in the process of dying from COVID-19."
A social worker vividly described a scene inside the ward:
"I was sitting with a veteran holding his hand, rubbing his chest a little bit. Across from him is a veteran moaning and actively dying. Next to me is another veteran who is alert and oriented … pleasantly confused and talking about the Swedish meatballs at lunch and comparing them with the ones his wife used to make. I am trying to not have him concentrate on the veteran across from him who is actively dying, or the one next to him who I am holding his hand while he is dying … I don't know how the staff over in that unit, how many of us will ever recover from those images."
The report says staff repeatedly raised concerns over Superintendent Walsh's leadership style, complaining of bullying, retaliation, poor training, and lack of communication by Walsh.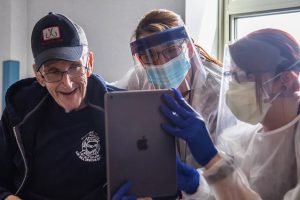 "The Soldiers' Home staff that we spoke with feel that Walsh's mantra is 'what I say goes,' and anyone who questions him is targeted."
Masslive.com reported that "Walsh was regarded by many as a political hire. His father, Daniel Walsh, a Marine Corps veteran of Vietnam, was the retired director of veterans' affairs for the city of Springfield. His mother, Kateri Walsh, is a Springfield city councilor, and his uncle, William Bennett, had been an influential district attorney for 20 years."
Massachusetts Attorney General Maura Healey, whose office is conducting a separate investigation into what happened, said in a statement: "The report reveals that serious failures by leadership at the home contributed to the tragic loss of life there. It also lays bare systemic failures of oversight by the Baker Administration in adequately preparing, staffing, and responding to this crisis to protect our veterans. These veterans served our country and risked their lives to protect us, and our state wholly failed to protect them. Our ongoing investigation will determine whether these missteps and errors warrant legal action."
Healey also said she wants the recommendations from the report put in place, such as regular inspections, implementing a streamlined reporting structure, and appointing experienced healthcare leaders to oversee the facility.