"Hit him!"
"Strike! Strike!"
"Do it again!"
Dust billowed up from boots as the recruits pushed and stumbled against each other in the sparring pit, cheered on ruthlessly by their drill instructors. A recruit battered another with his pugil stick. As he knocked his opponent to the ground, the victorious recruit rushed in to pummel the other man, but the whistle blew and the fight was over.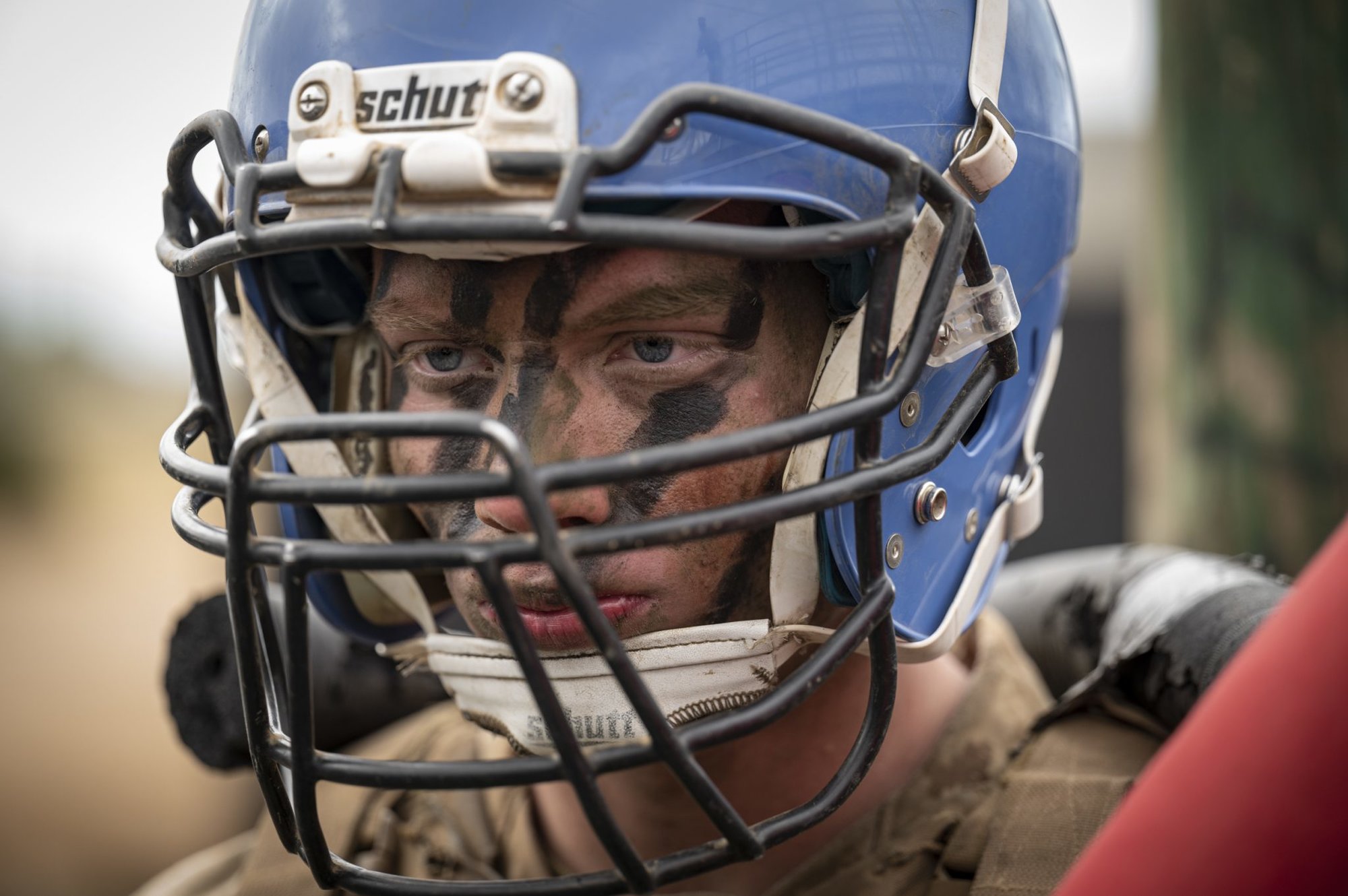 By the morning of Wednesday, April 21, the 398 recruits of Lima Company, 3rd Recruit Training Battalion, Marine Corps Recruit Depot San Diego, were midway through the Crucible, a 54-hour field training exercise on Camp Pendleton's Edson Range. The Crucible is the defining moment in recruit training, challenging prospective Marines with continuous physical and mental obstacles meant to make the recruits employ all the skills they've learned.
Cammie paint couldn't hide the exhaustion, stress, and even despair on recruits' faces as they marched around Edson Range. They hit a total of about 20 miles of foot travel while completing 12 training events on Day One of the Crucible. They slept for three hours and were back at it before sunrise.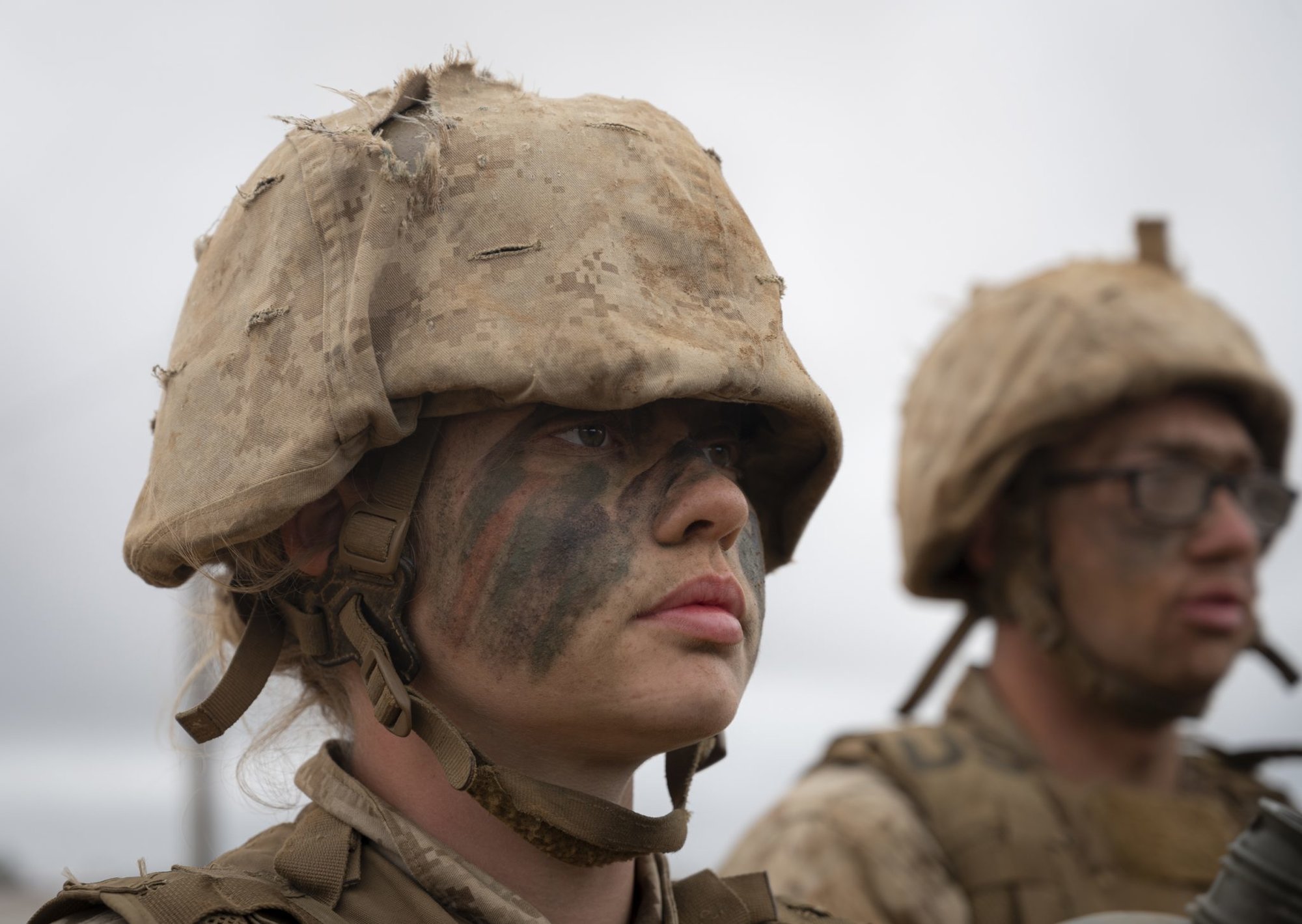 On Day Two, drill instructors ran the recruits through 12 stations involving climbing, jumping, fighting, running, crawling, and everything in between. As recruits work to conquer obstacles together, the elaborate field exercise engenders teamwork and instills a sense of fidelity to mission accomplishment and each other.
"The training exercises and stations aren't the hard part," Josephine Imperial, a recruit with Platoon 3241, told Coffee or Die Magazine. "What's most challenging is just the lack of sleep and constantly moving everywhere."
A new twist to the Marine Corps classic event: Lima Company is the first gender-integrated company to train on the West Coast.
"There's definitely a brother-sister bond with all of us," Katey Hogan, a recruit from Sacramento, California, said. "We're pushing each other to different limits. It's definitely mentally and physically exhausting, but also fun. I'm hurting though."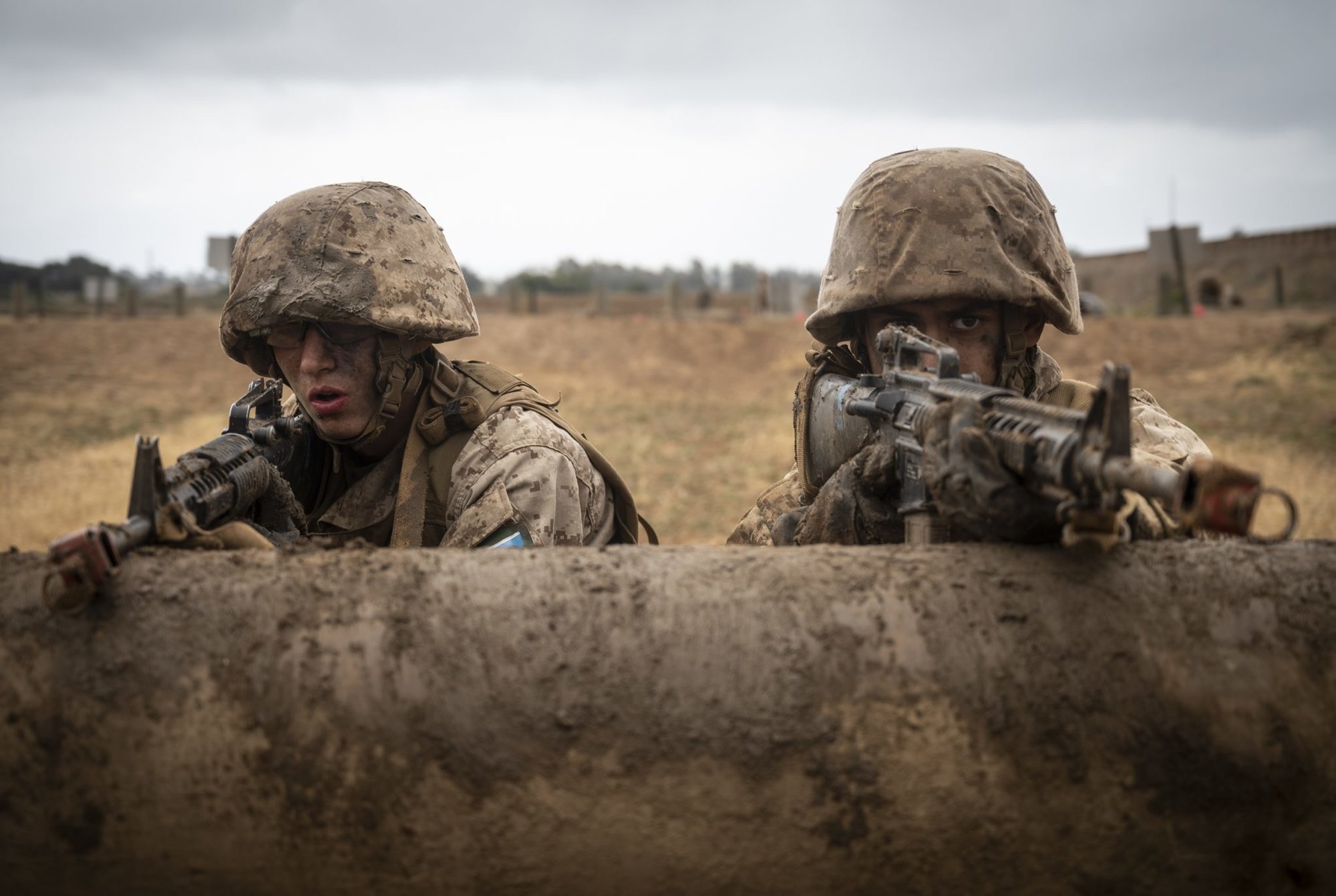 By evening on Day Two of the Crucible, numerous recruits had broken down in tears, either from injuries or extreme fatigue. Hogan, the platoon guide for the all-female Platoon 3241, was treated for a knee injury Wednesday afternoon.
After running through a nighttime assault course with simulated artillery fire, the recruits of Lima Company got a couple hours of sleep in the field. At 4 in the morning, they stepped off to trek to the top of the Reaper, a 700-foot-tall hill, where each received the Eagle, Globe, and Anchor — the Marine Corps emblem — and officially earned the title "United States Marine."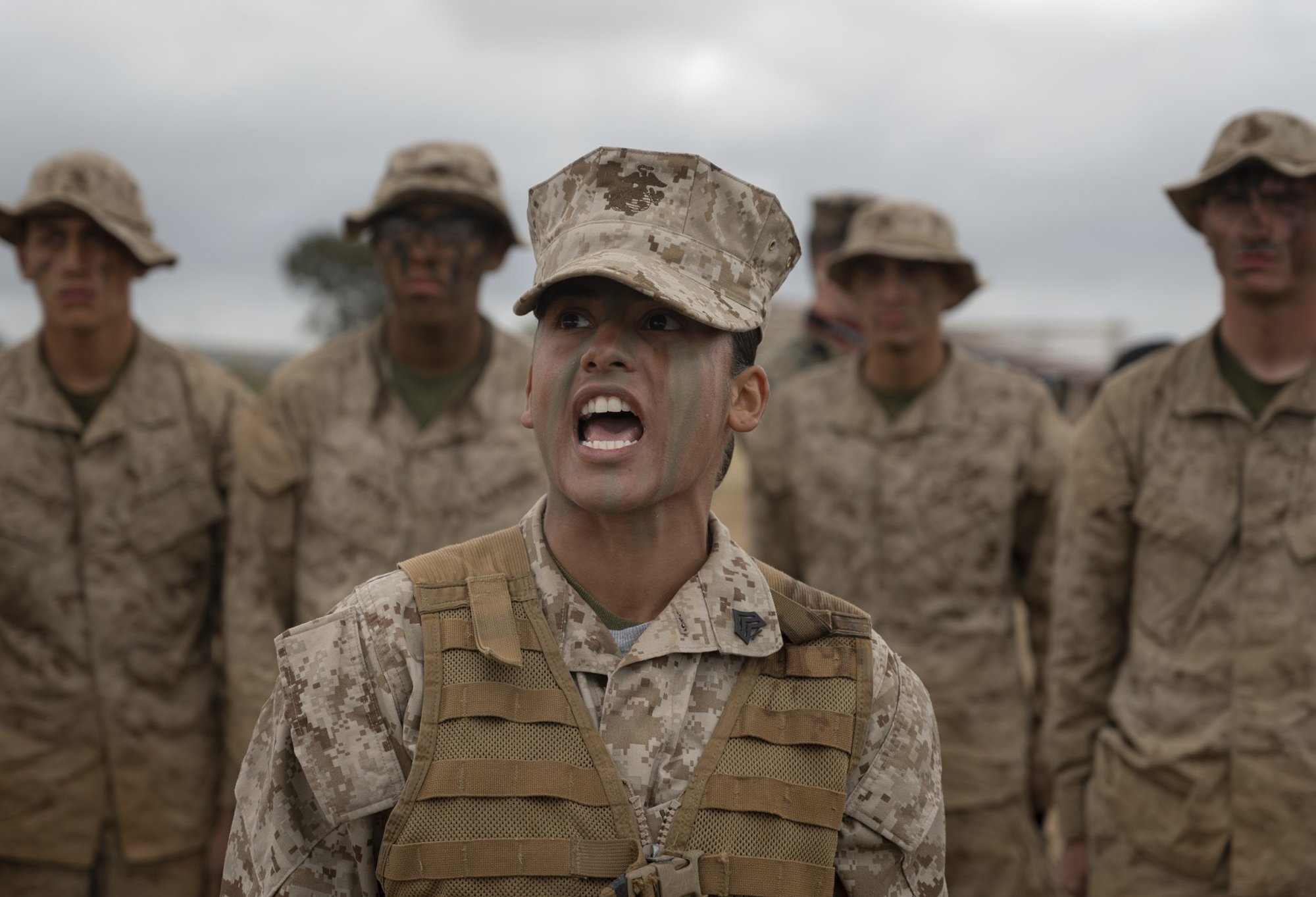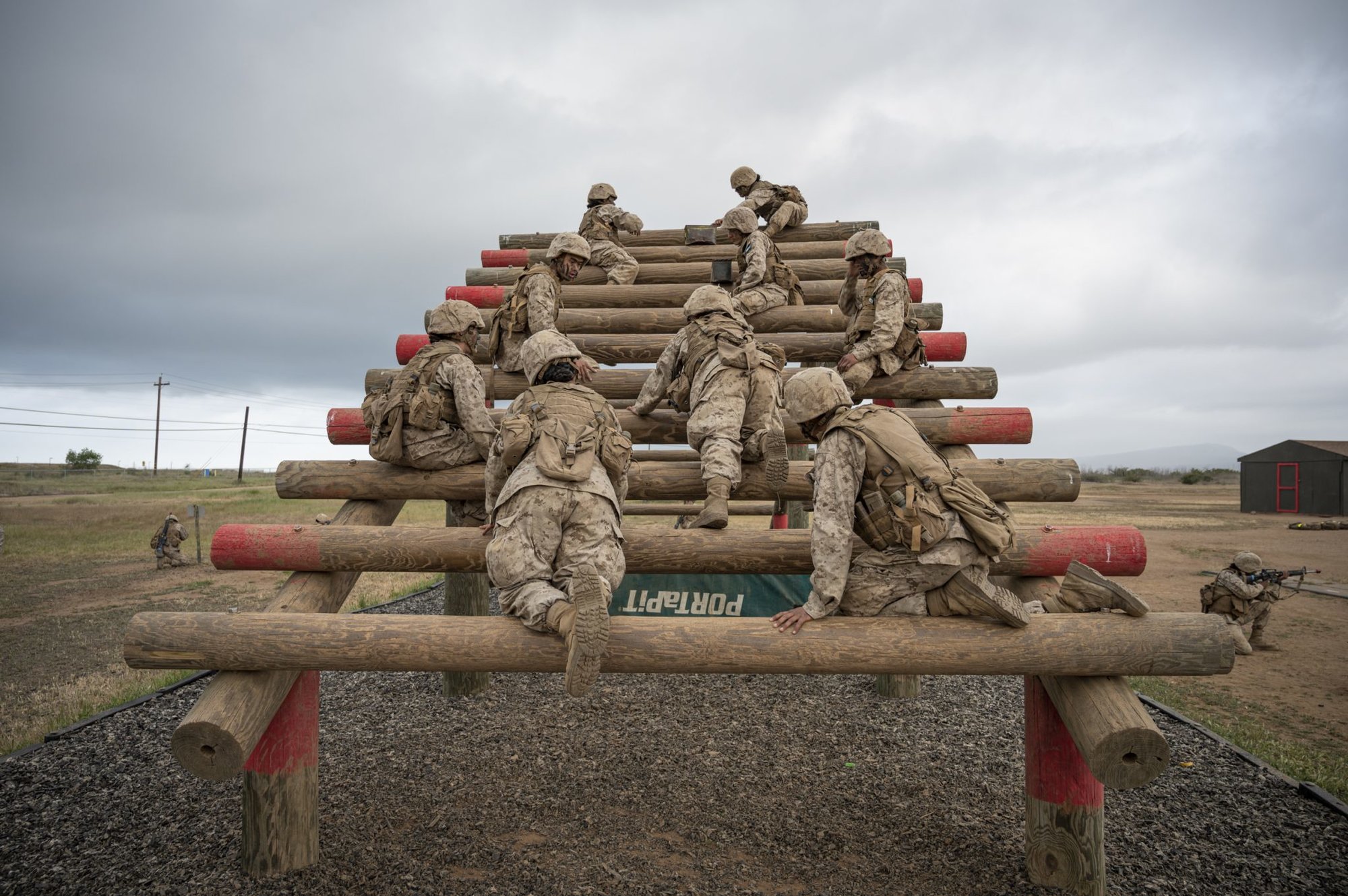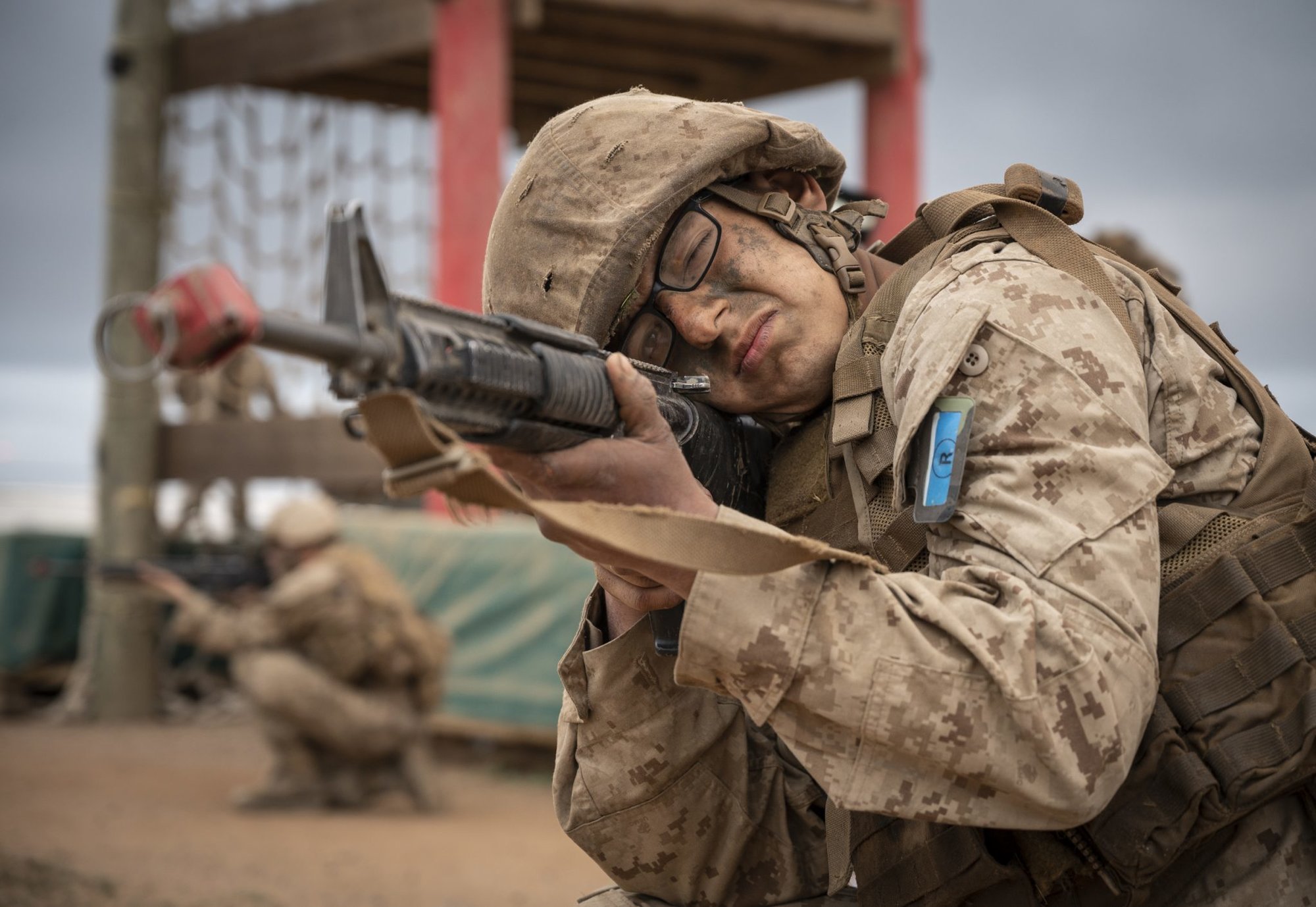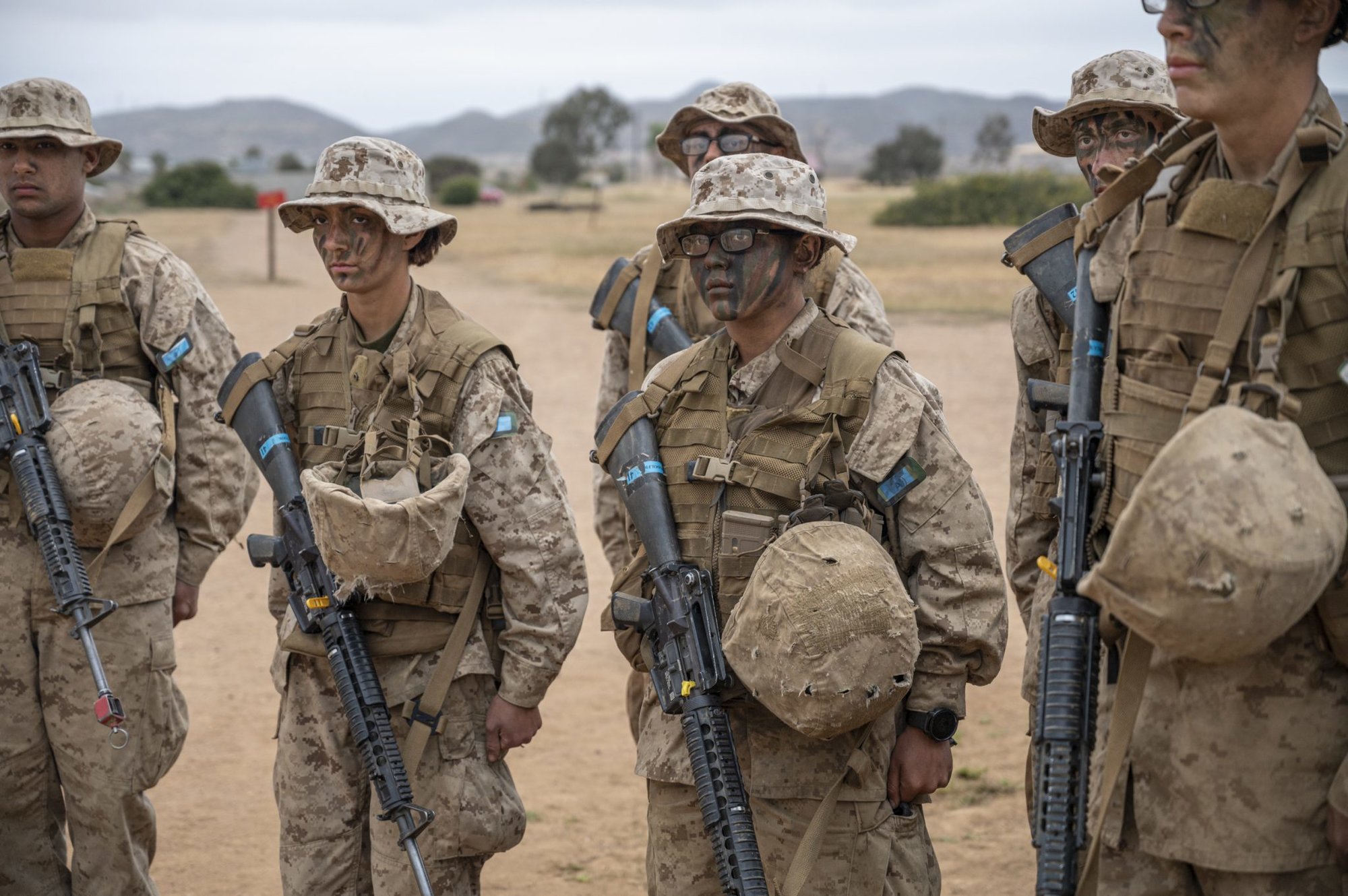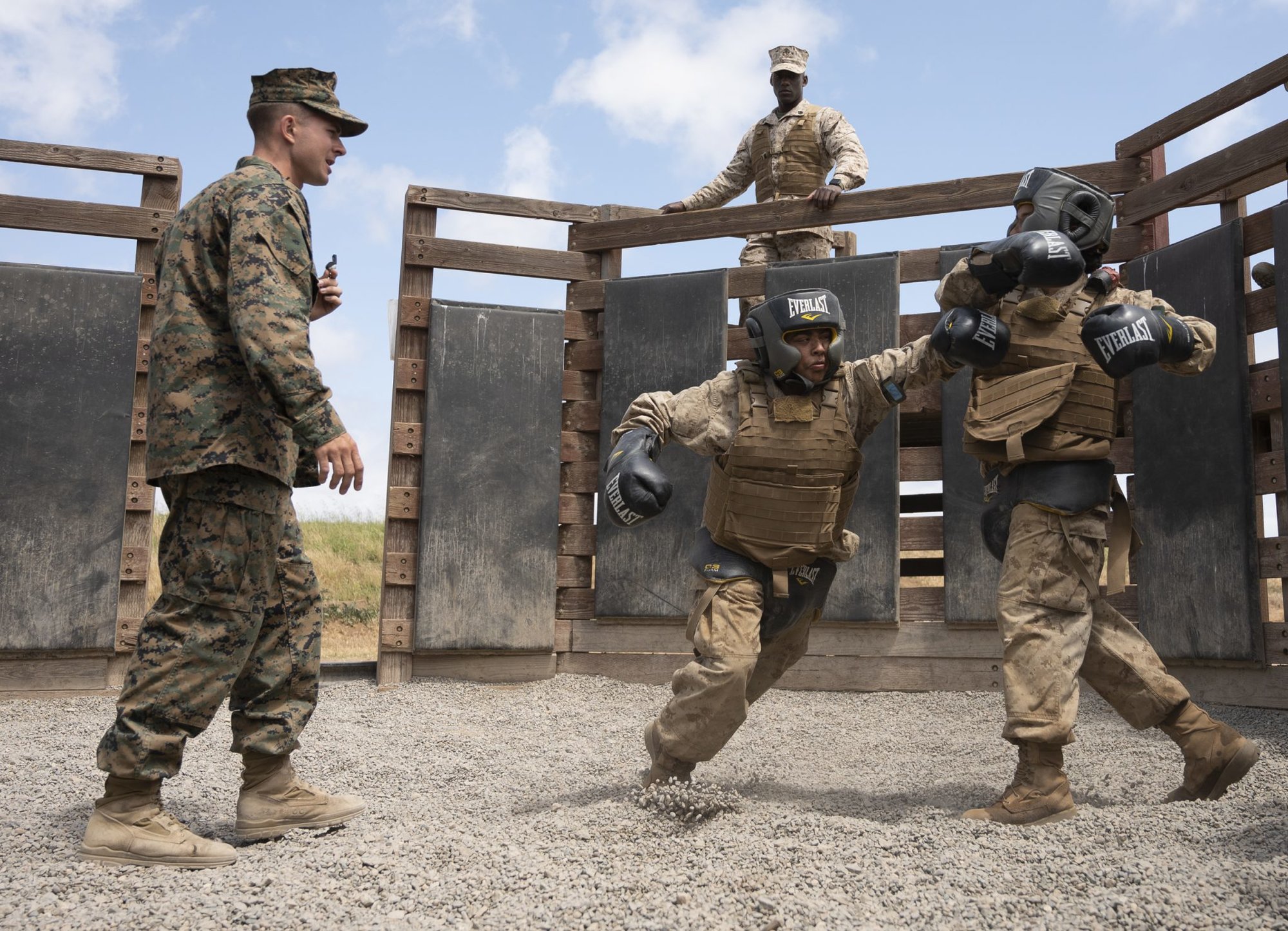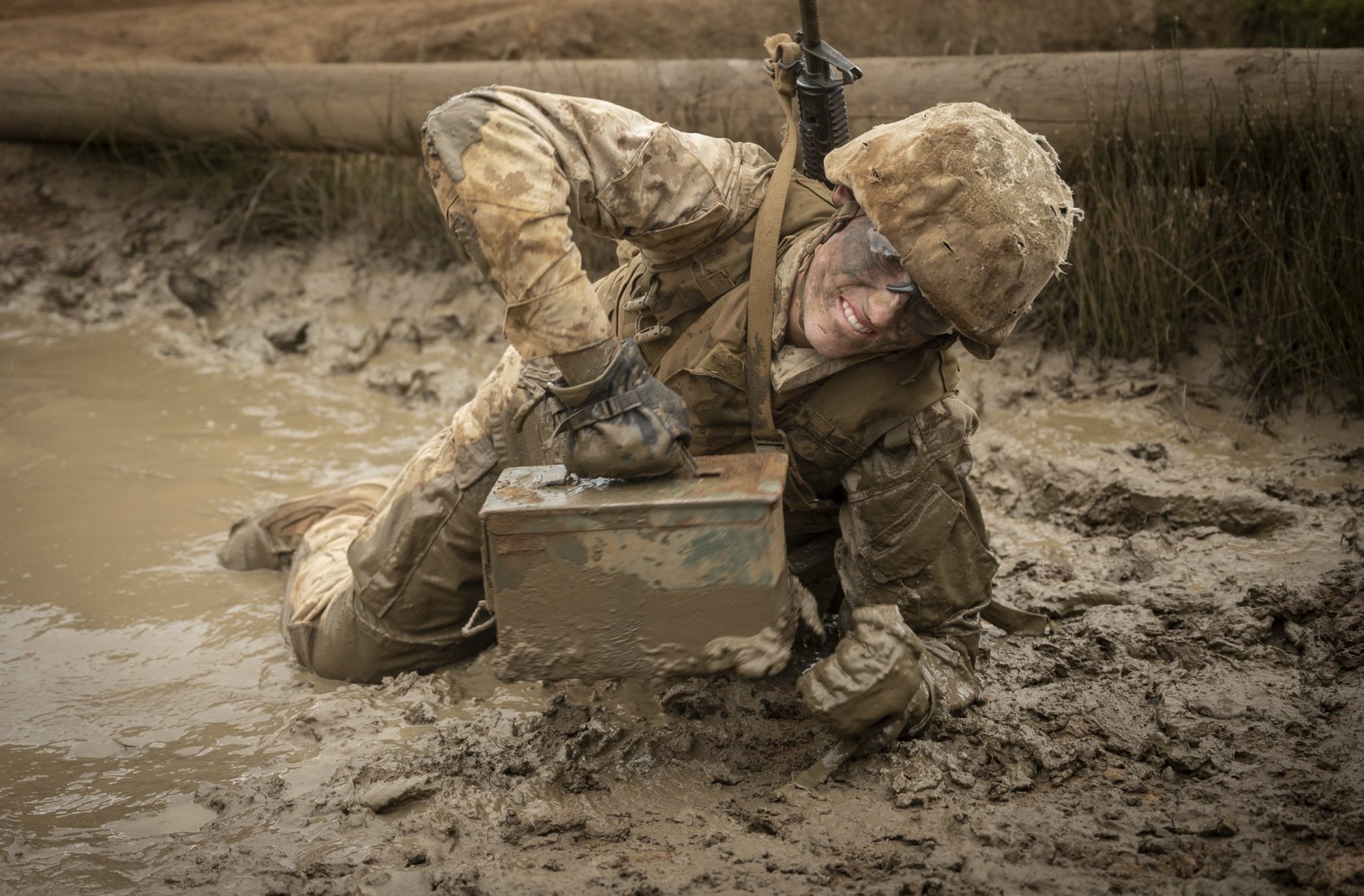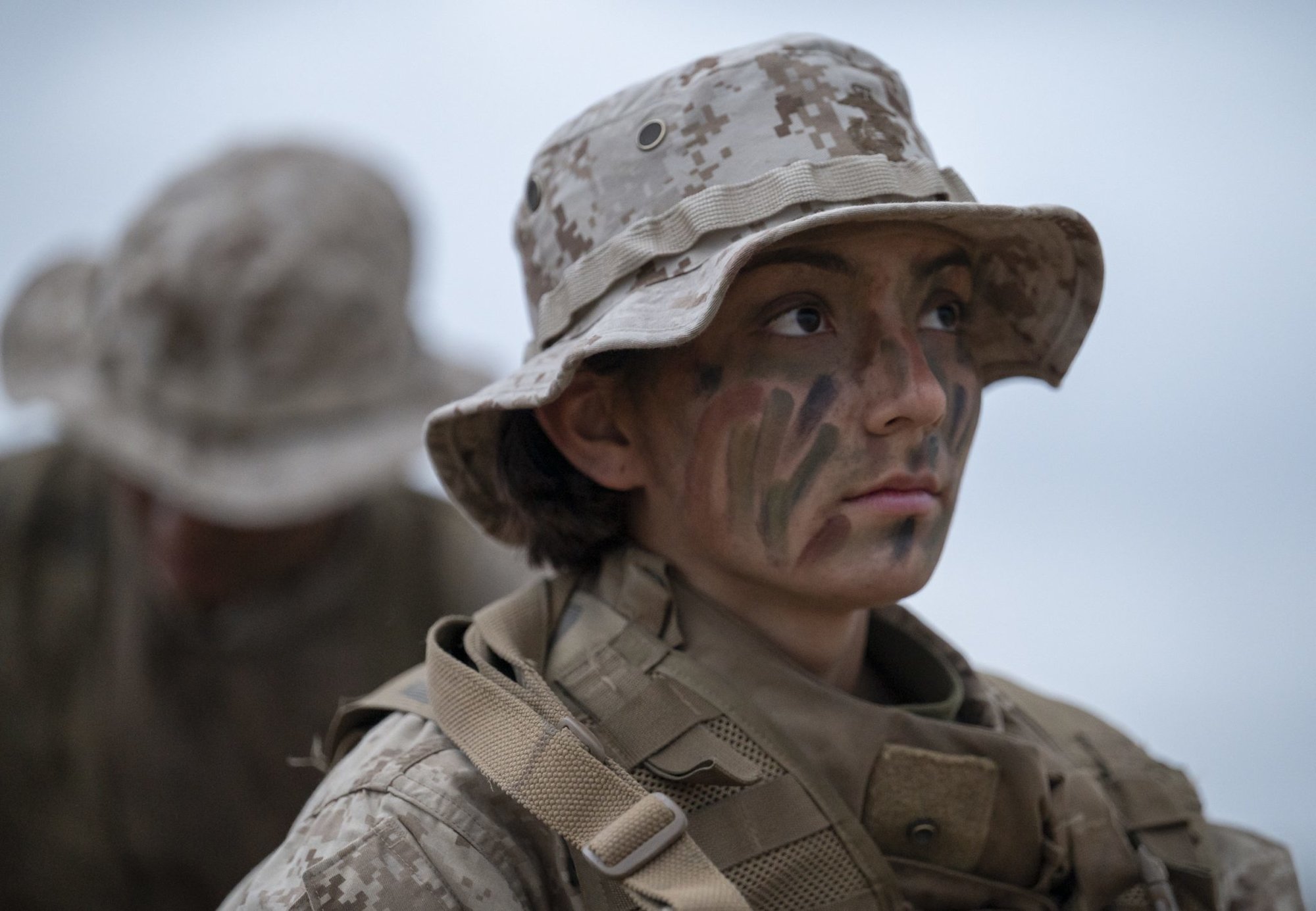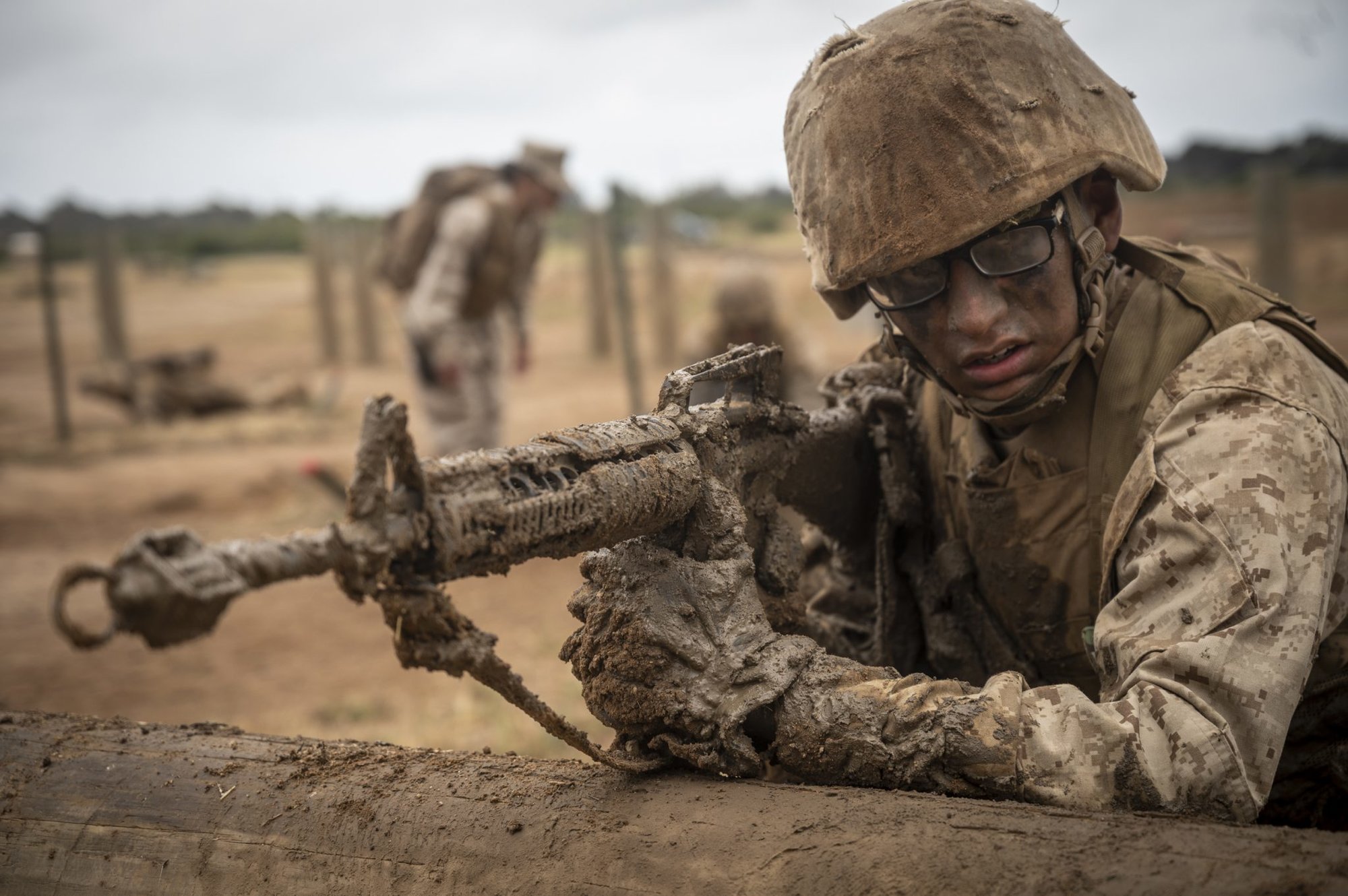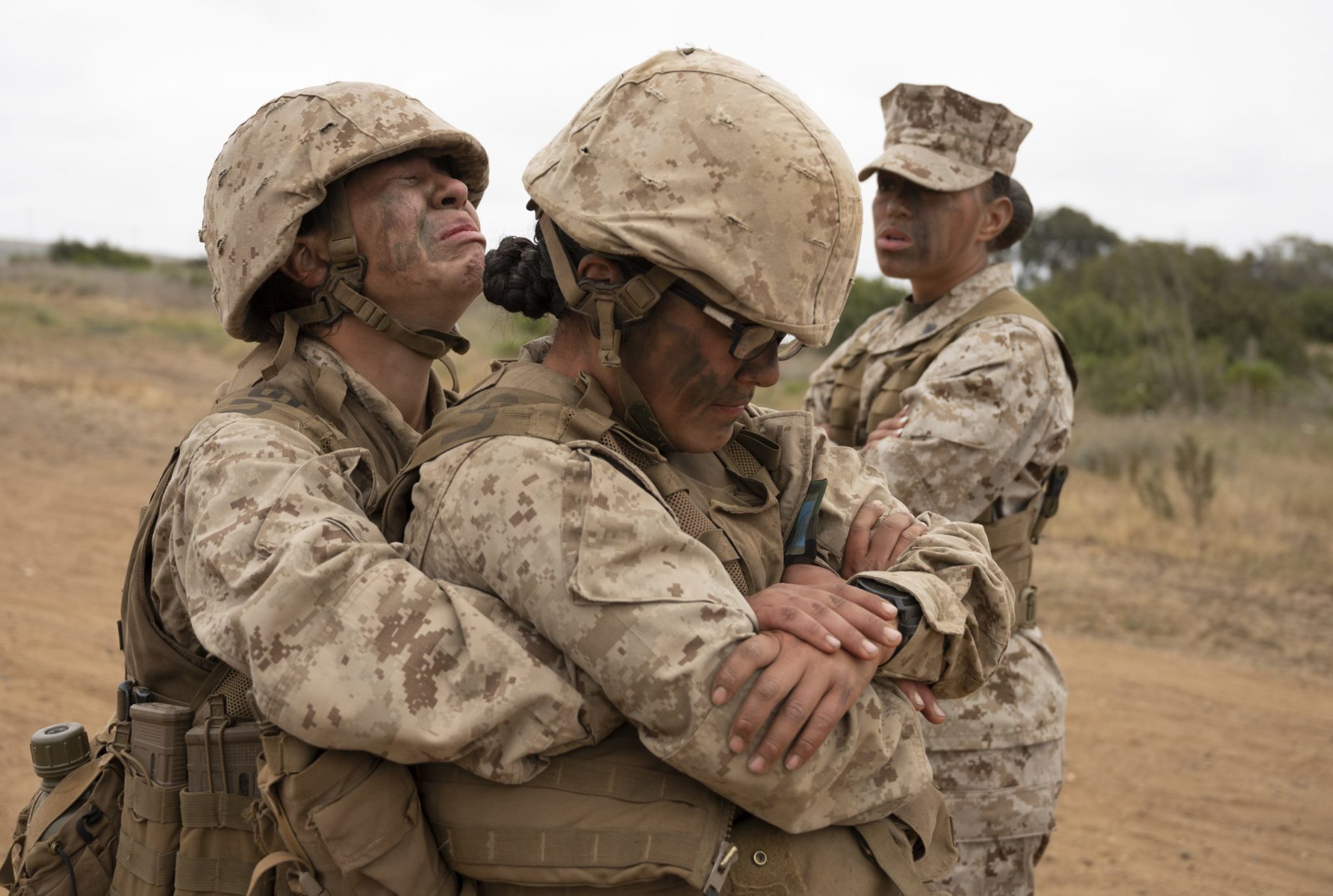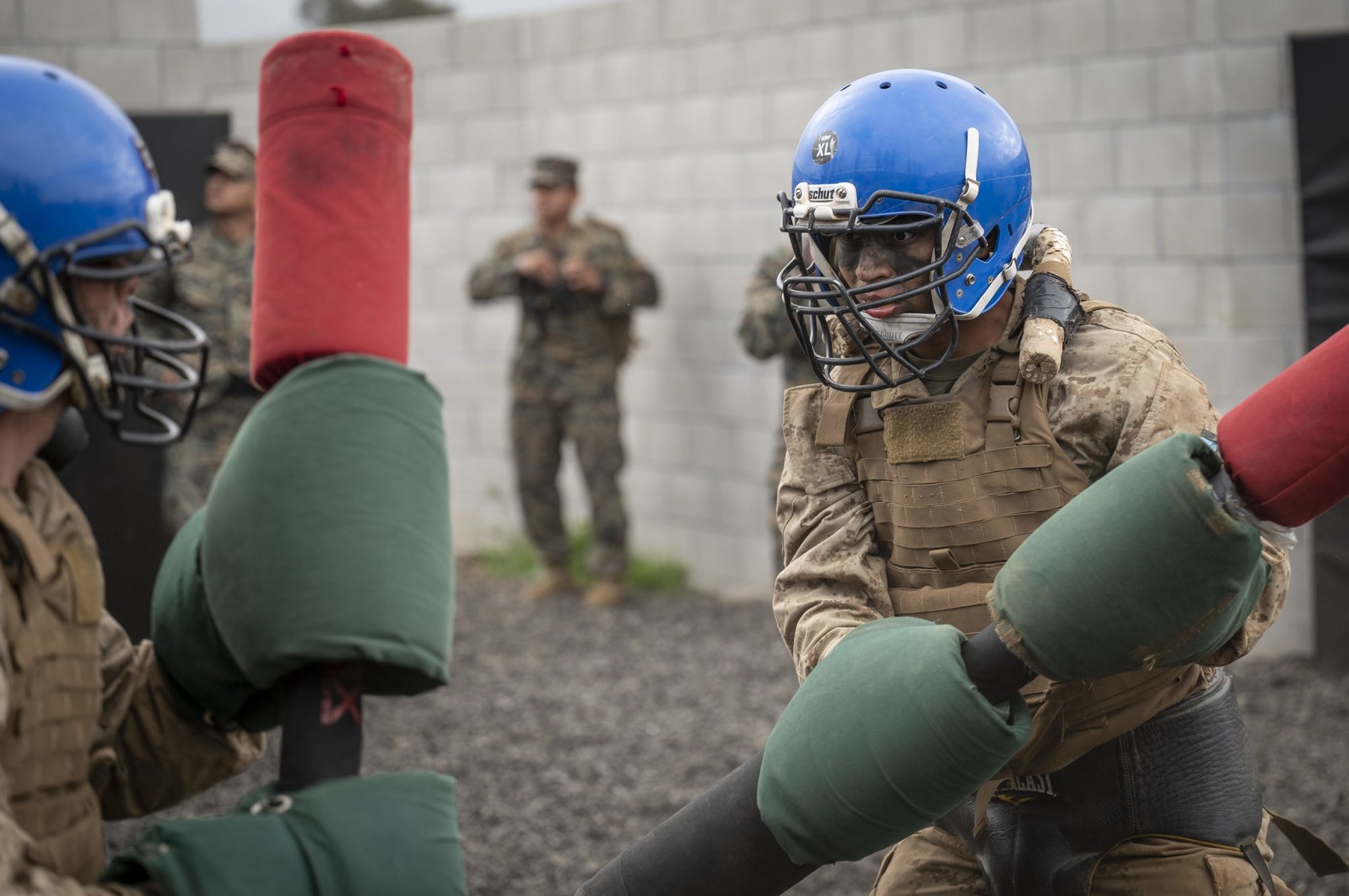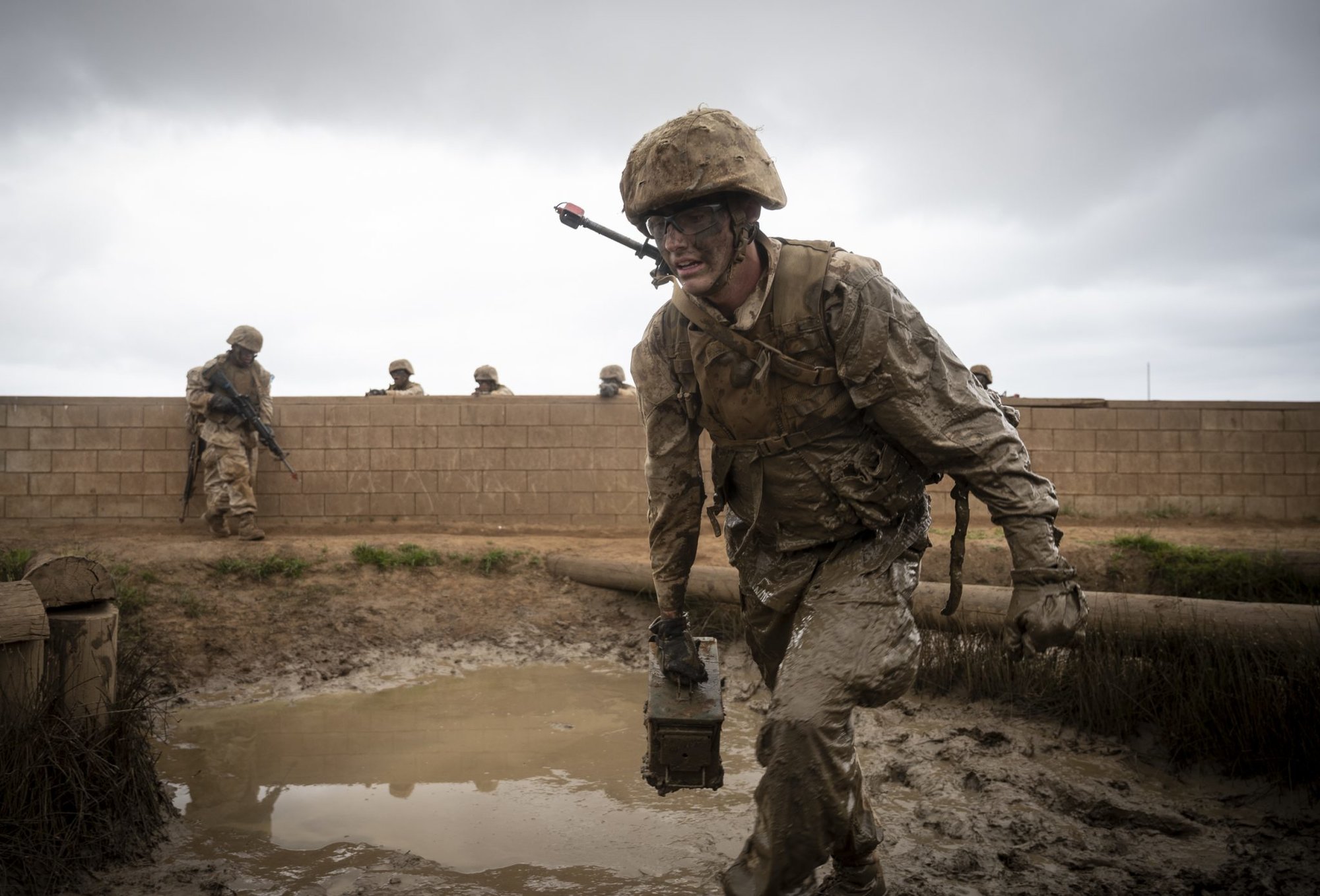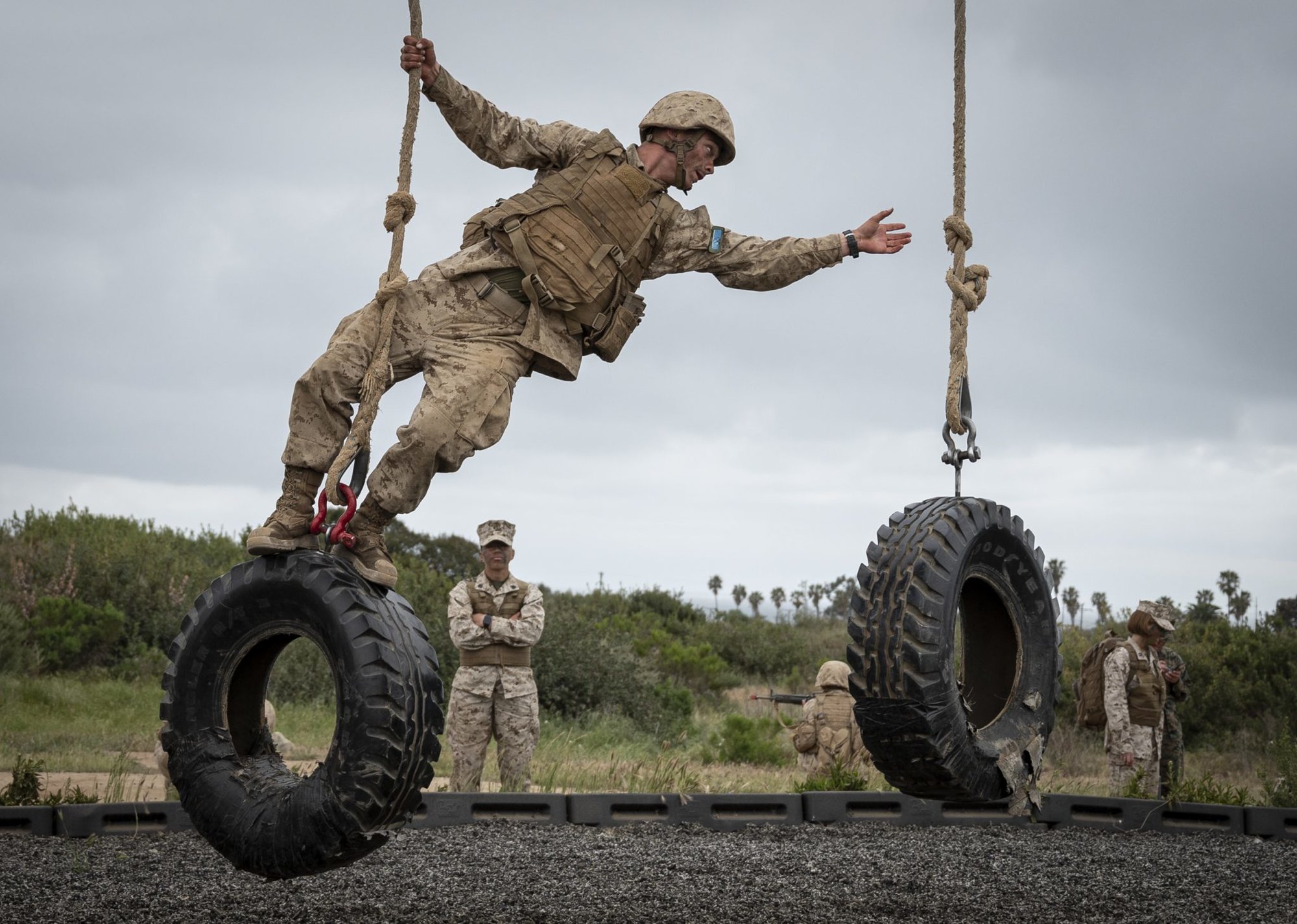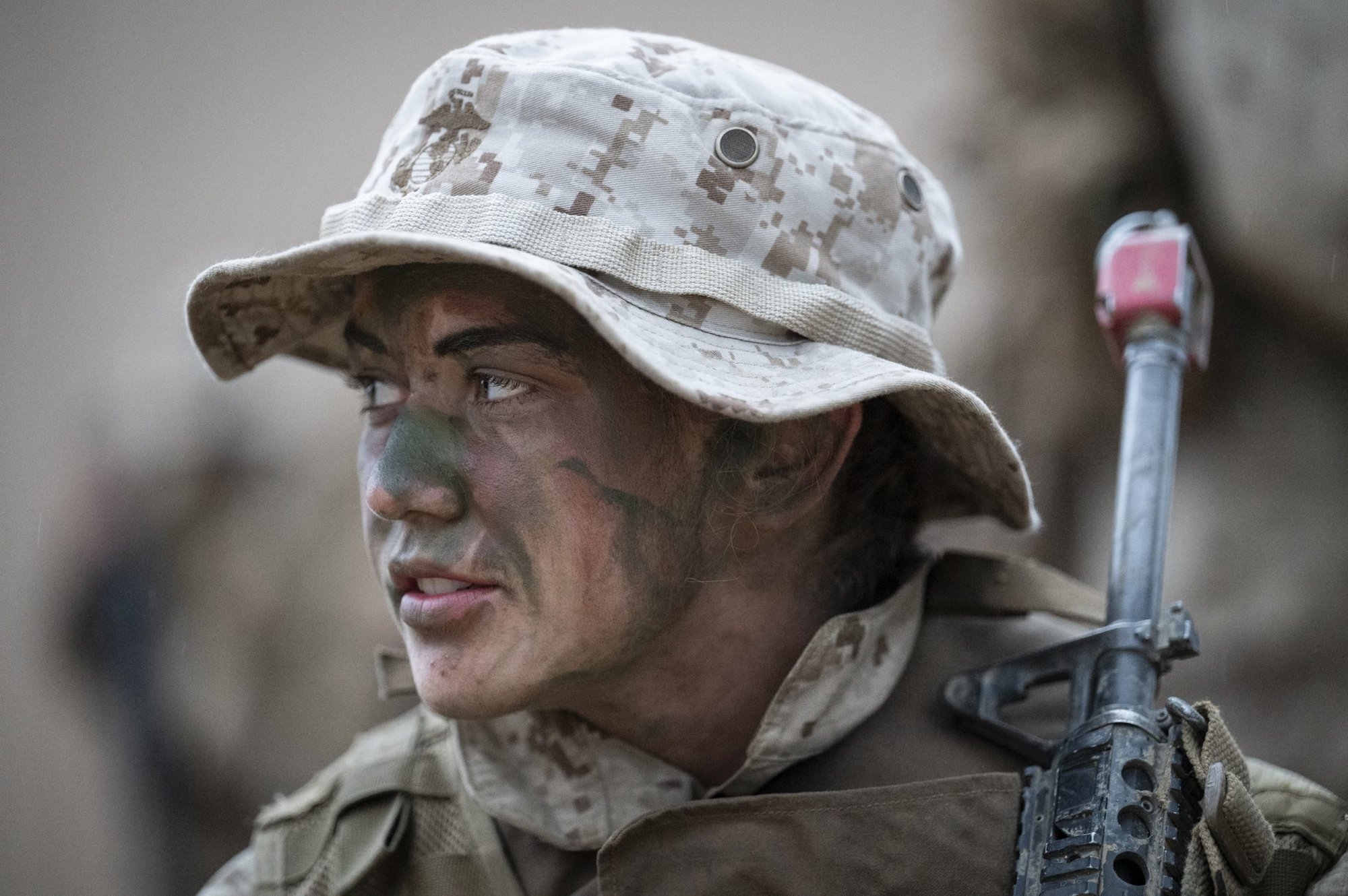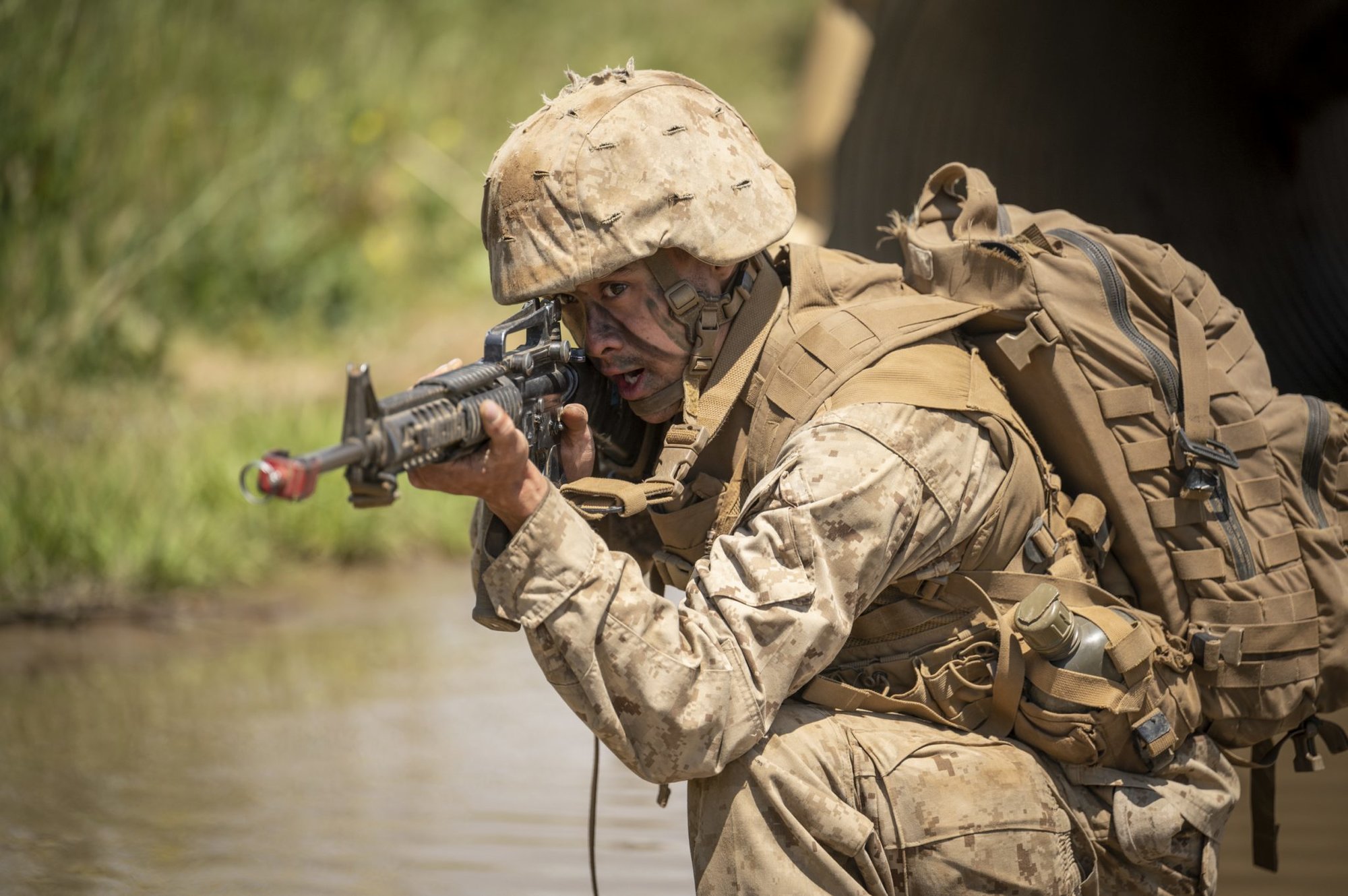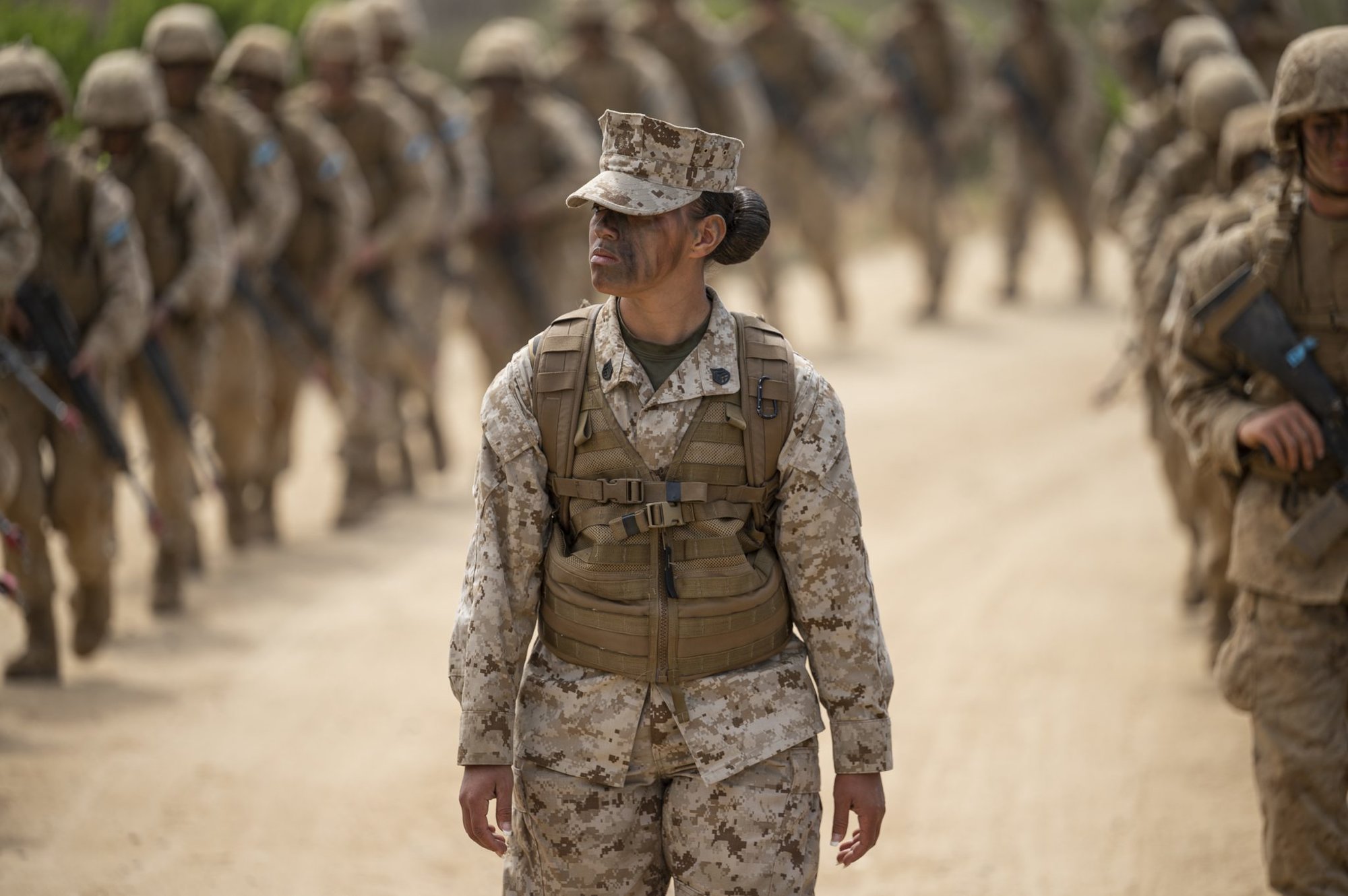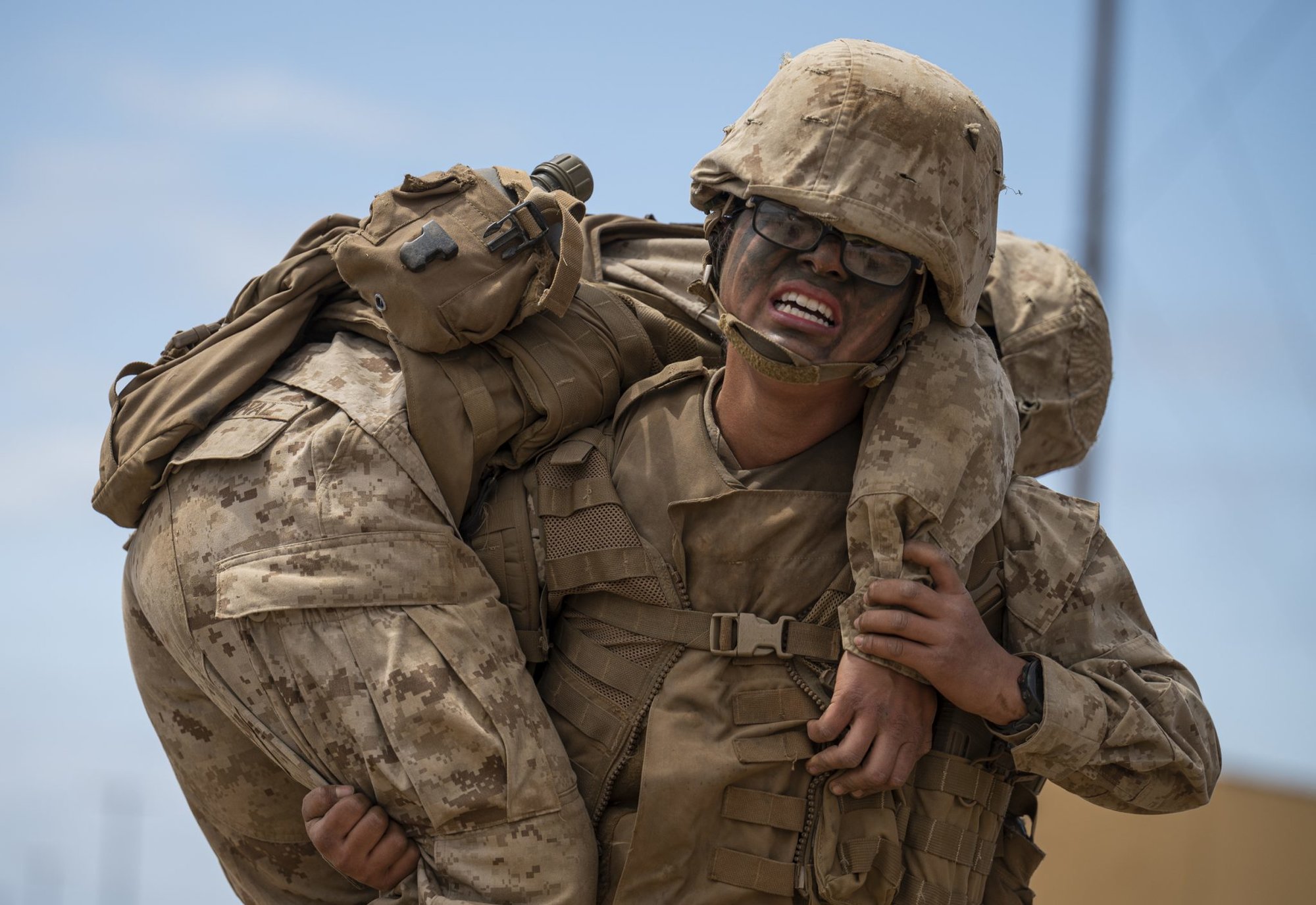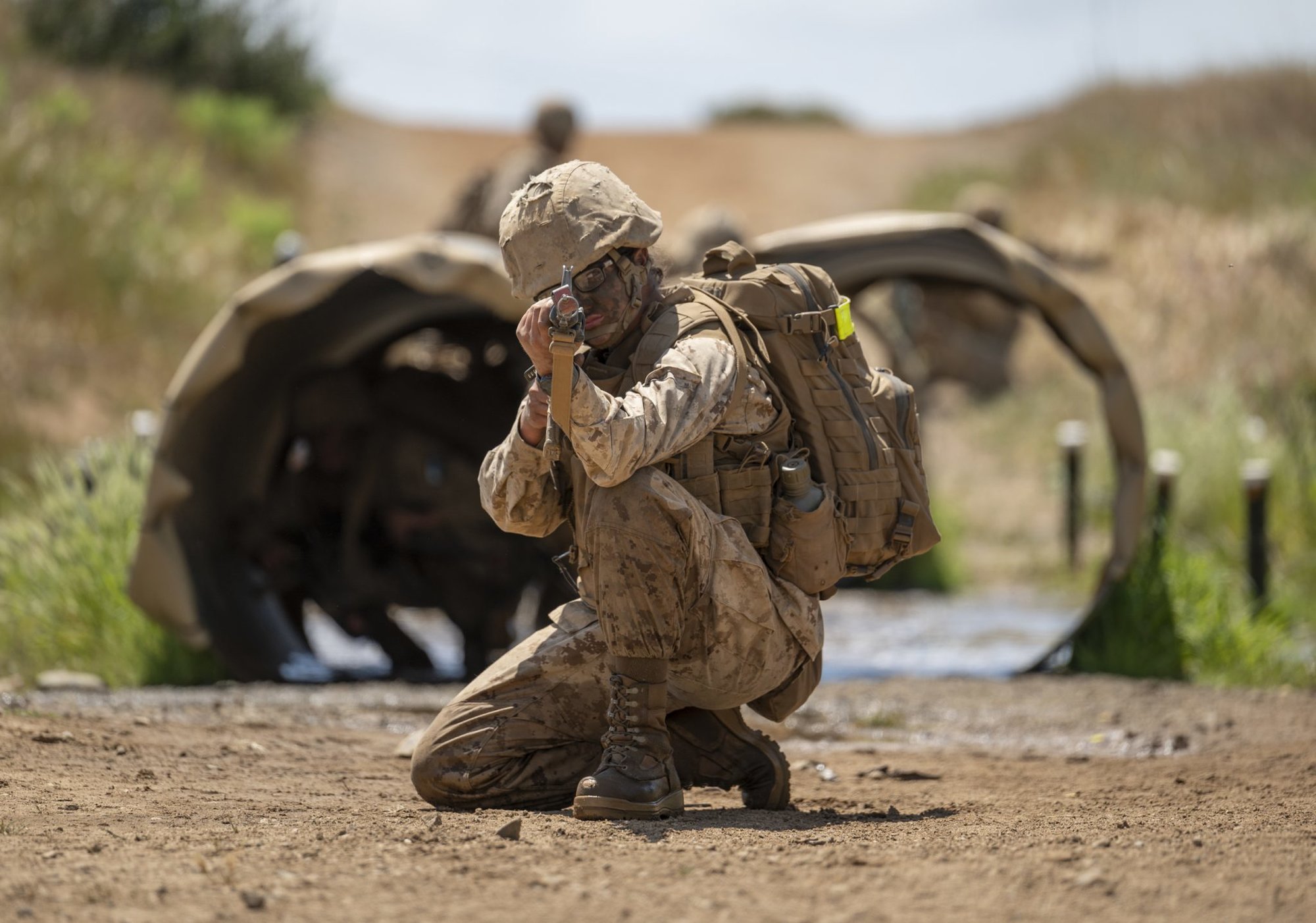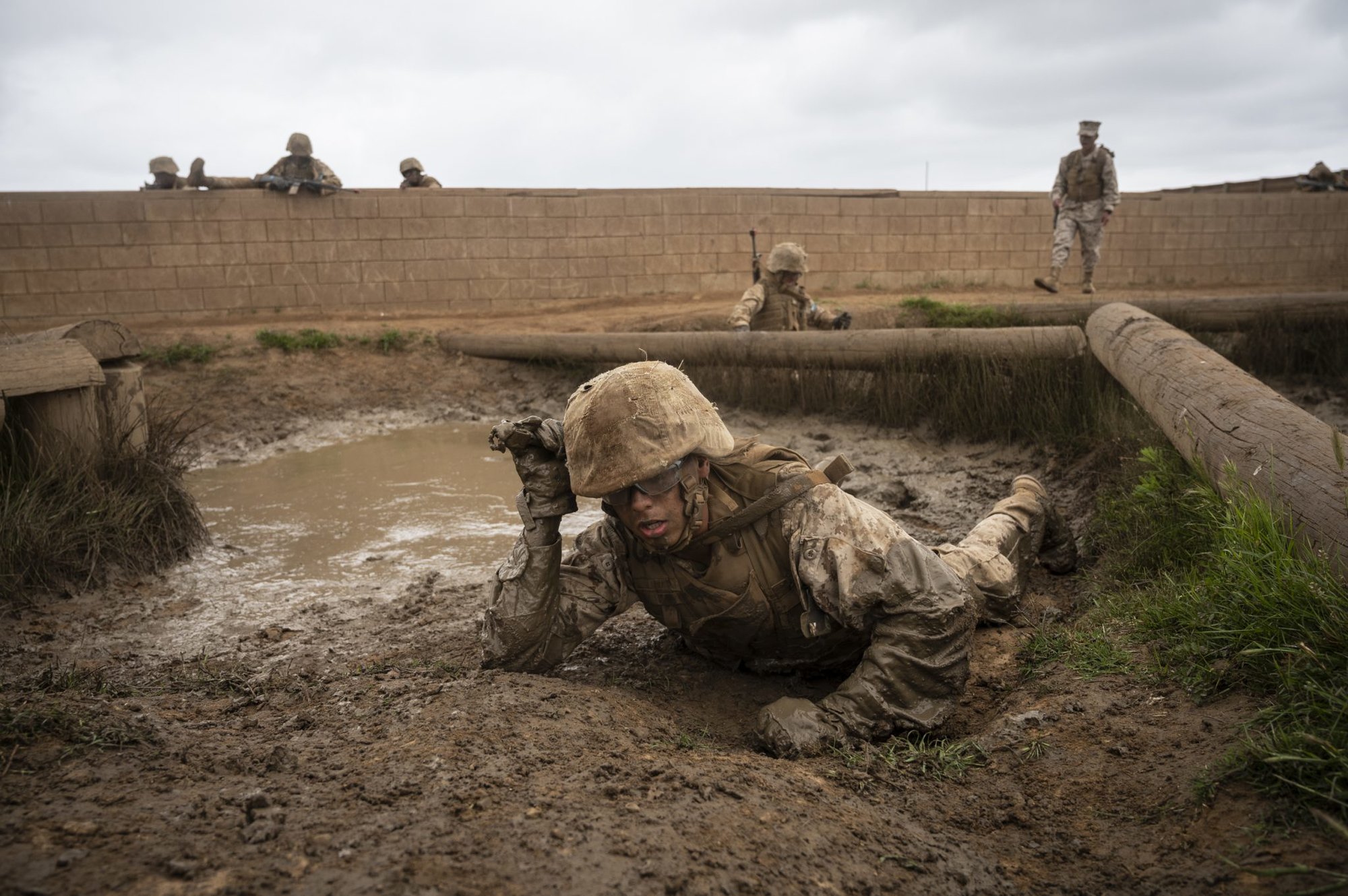 Read Next: Female Recruits Make History, Stepping Onto Yellow Footprints at All-Male Boot Camp in San Diego