As coffee enthusiasts, it's often challenging to pack coffee travel kits that are truly portable and still satisfy our brewing needs. This is especially true if your preferred brewing method is the pour over. If you've ever tried safely transporting your beloved six-cup Chemex in your checked baggage, you know exactly how we feel.
Earlier this year, we tried out the new Picopresso, a portable espresso maker that offers cafe-quality espresso from a device that fits in the palm of your hand. If espresso can be made with a hand-held gadget, how about a travel-friendly, versatile pour over set?
Wacaco offered a solution to our portable pour over woes. The same company that designed the Picopresso, Wacaco was founded in 2013 as a startup and now has an entire lineup of portable devices. Its Cuppamoka is a compact, lightweight travel pour over system with a built-in coffee dripper. The whole thing weighs less than a pound and comes with a 10-fluid-ounce stainless steel mug, a collecting pad, 10 single-serve cone paper filters, a coffee scoop, and an instruction book.
The Cuppamoka is ready to brew right out of the box — simply add your coffee of choice and some hot water.
The device's double-walled, stainless steel body doubles as a tumbler that lets the user enjoy hot coffee for hours. There's a spillproof plastic lid for when the brew session is complete. The brewer and all the accessories fit conveniently inside the main body once you're done drinking.
We used a 1-to-15 ratio of coffee-to-water for our pour over: For every gram of coffee, add 15 grams of water. The tumbler can hold a maximum of 10 fluid ounces (about 300 grams) of water, making it easy to adjust your coffee-to-water ratio after only one brew session. You'll need a minimum of 12 ounces of hot water if you're out in the field.
To start brewing with the Wacaco Cuppamoka, simply unscrew and pull the filter holder up from its carrying position. Put the supplied paper filter in the device. Clean the paper filter by pouring hot water over it, then remove excess water from the bottom of the mug. Add 20 grams of ground coffee. A medium grind gives the best results.
Slowly pour approximately 40 grams of hot water into the pour over device and let the coffee bloom for 25 seconds. Then slowly pour the remaining water onto the coffee grounds and watch the Cuppamoka's vessel fill up with your favorite roast.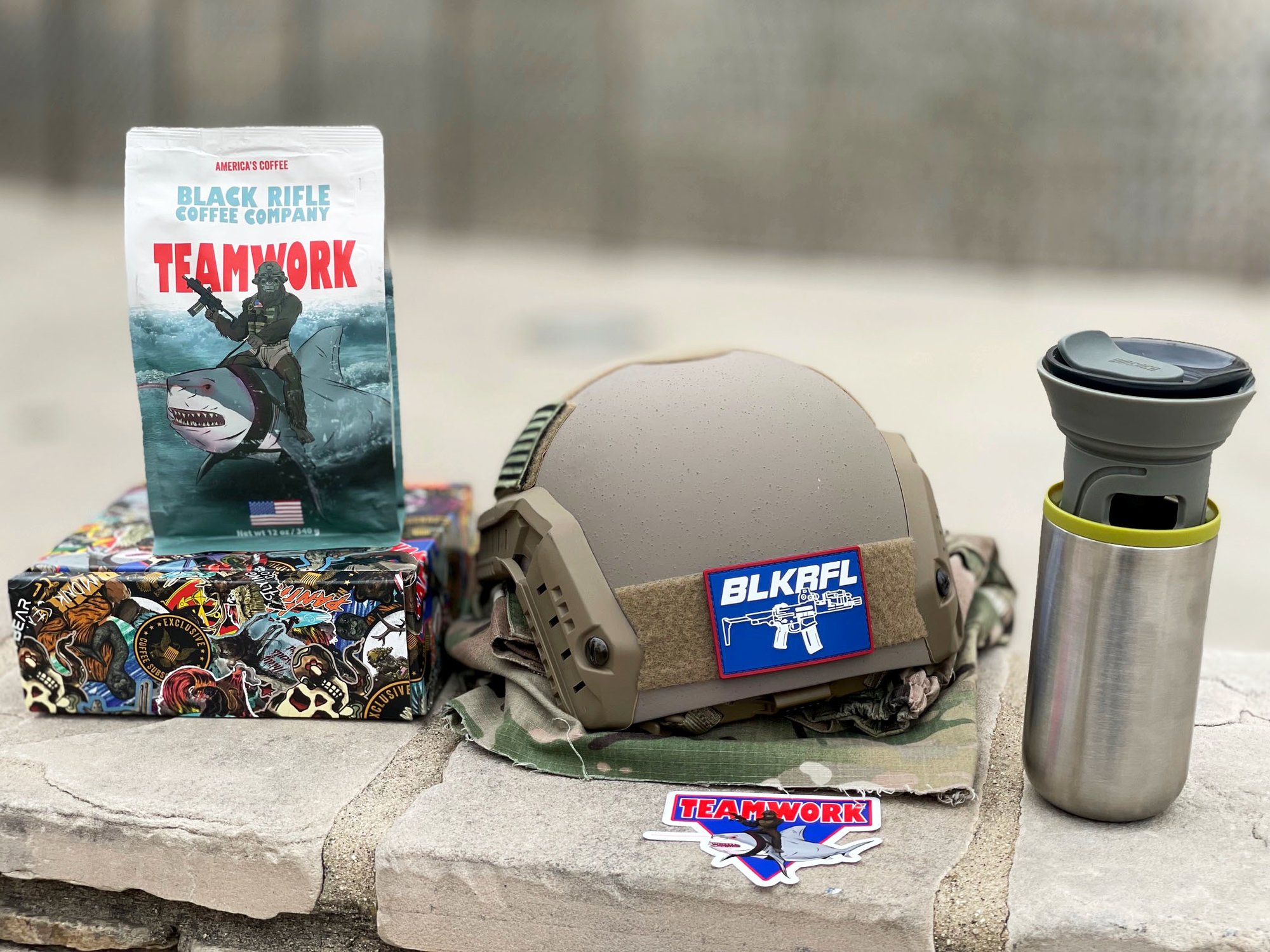 A complete Cuppamoka brew session took approximately three to four minutes. Once brewing is done, simply unscrew the pour over section of the device, place it on the supplied plastic filter holder to prevent unwanted spillage, pop on the drinking lid, and enjoy the fruits of your labor.
We spent two weeks experimenting with the Cuppamoka travel brewing set in a variety of at-home and in-the-field settings, using this month's Black Rifle Coffee Company's Exclusive Coffee Subscription Teamwork roast.
Teamwork was roasted with Caturra and Catuai beans sourced from the vibrant La Esmeralda region of Nicaragua. When the beans are combined, the result is nothing short of extraordinary, with each variety complementing the other to bring you this 86-point roast with bright acidity and delicious notes of berry, honeydew, and brown sugar.
Using the Cuppamoka as a daily home brewing device proved to be a bit unrealistic — especially if you prefer portions larger than 10 ounces. Brewing a second or third cup of coffee each morning with the Cuppamoka would be unnecessarily time-consuming.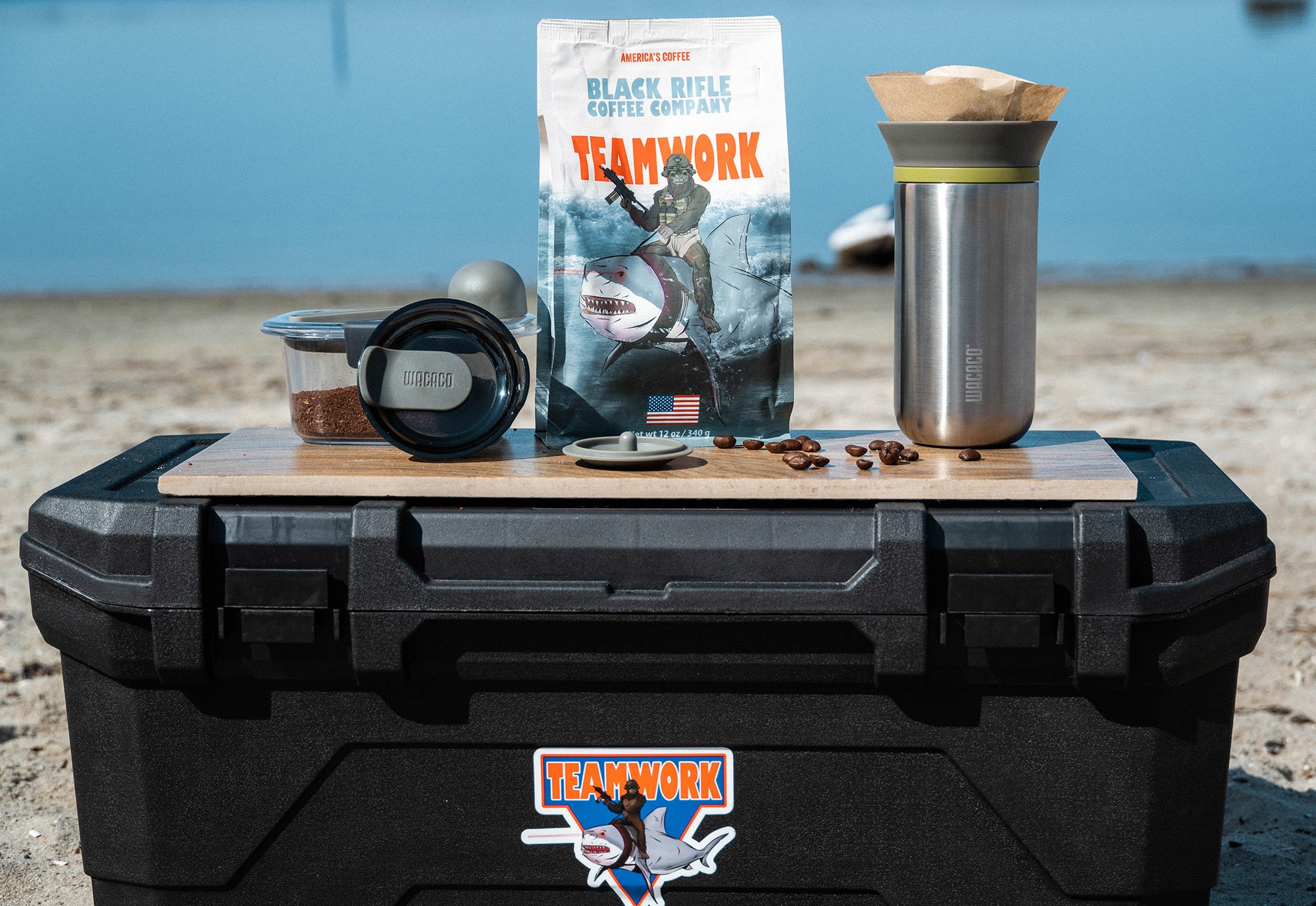 Portability is where the Cuppamoka shines. The smaller portion size was perfect for creating a pre-workout drink. With a switch to BRCC's Fit Fuel Blend, we tapped into this device's true potential. By brewing with the Cuppamoka some 30 minutes before our daily workouts, we could prepare that midafternoon caffeine kick to crush our workout sessions without any of the unwanted jitters a larger dose of caffeine might have caused.
The Cuppamoka was easy to set up prior to beach activities like open-ocean swims and paddleboarding sessions. It's important to point out that this device will not heat your water or grind your coffee beans. For our test, we found that filling an insulated tumbler with water just off the boil and keeping pre-ground coffee in an airtight container for our beach excursions worked well.
Overall, this ultraportable pour over device performed exceptionally well in outdoor settings. It will keep your coffee hot for hours and provide a convenient way to brew a quality cup of coffee wherever your next travels take you.
Read Next: