Early in World War II, the British army went looking for a few good dogs. Pet owners were asked to lend their animals to the 13th (Lancashire) Parachute Battalion, which aimed to create a pack of "paradogs." The program would train capable canines to parachute with infantry units, detect mines, and track enemy soldiers.
Lance Cpl. Ken Bailey was in charge of the War Dog Training School and selected a group of all German shepherds: Bing, Brian, Flash, Monty, Ranee, and Bob, a captured German dog. Before the dogs were strapped into sky-diving harnesses, their handlers had the canines sit for hours aboard transport planes with engines running to acclimate them to loud noise.
Then ground training began with two months of work to detect the smells of gunpowder and explosives. They also were placed in stressful scenarios that mimicked what they would see on the battlefield, including tracking enemy soldiers and how to stay low to the ground if caught in a firefight.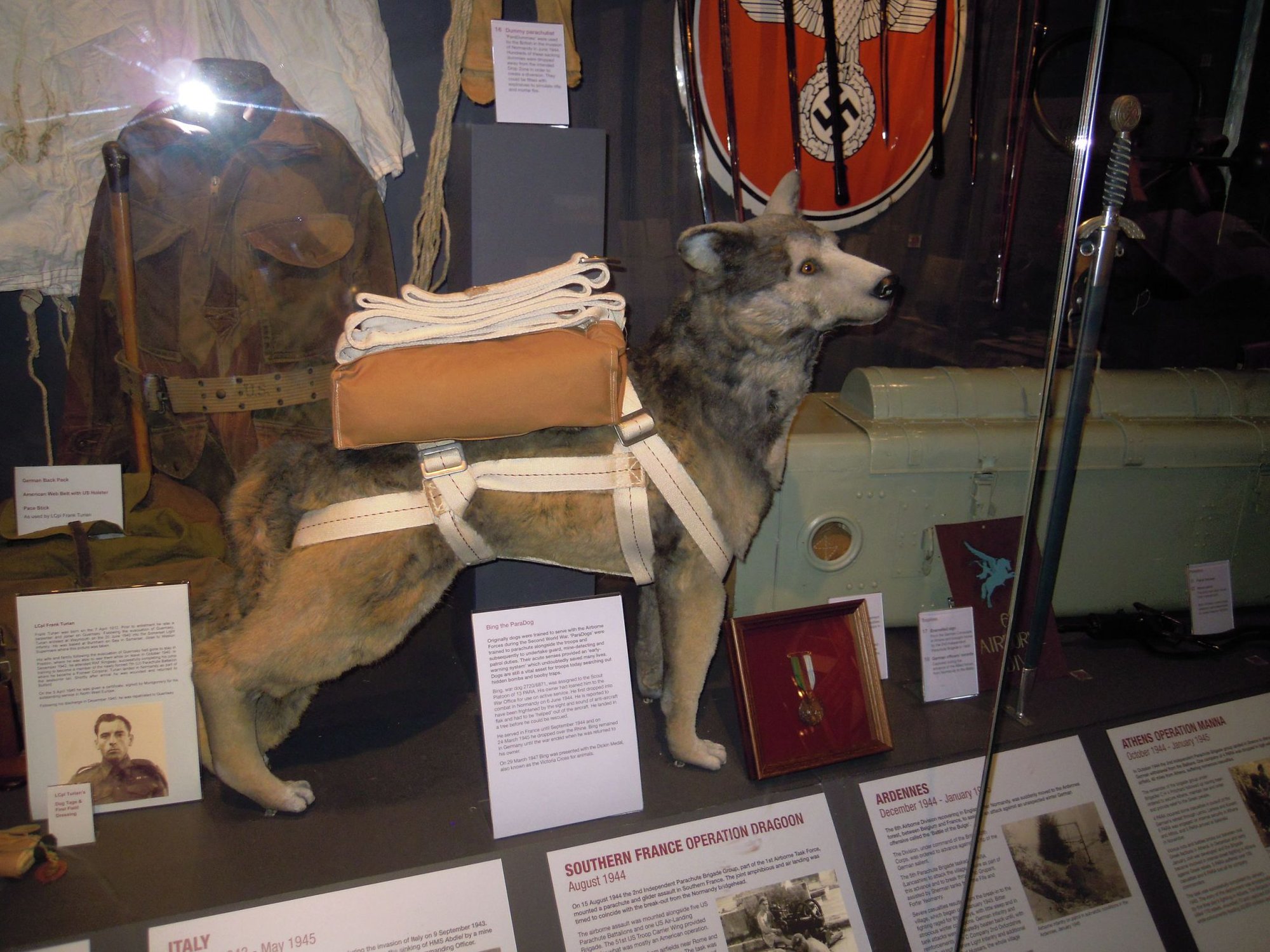 When the dogs succeeded in their trials, they were moved to parachute training. The handlers first outfitted the pooches with parachutes designed to carry bicycles. Prior to a jump, handlers withheld food and water so that the dogs could be enticed out of an airplane with a 2-pound piece of meat.
Bailey recalled a training jump with Ranee.
"After my chute developed, I turned to face the line of flight; the dog was 30 yards away and slightly above," Bailey wrote. "The chute had opened and was oscillating slightly. [Ranee] looked somewhat bewildered but showed no sign of fear. I called out and she immediately turned in my direction and wagged her tail vigorously. The dog touched down 80 feet before I landed. She was completely relaxed, making no attempt to anticipate or resist the landing, rolled over once, scrambled to her feet and stood looking round. I landed 40 feet from her and immediately ran to her, released her and gave her the feed."
On June 5, 1944, the eve of D-Day, three planes carrying the elite 6th Airborne Division, 13th Parachute Battalion, took flight at 11:30 p.m. en route for France. At 1:10 a.m. over Normandy, 20 men and one dog prepared to jump. When the door opened, enemy anti-aircraft weapons were firing salvos into the clouds. Bailey and Bing were members of a Sniper Reconnaissance Platoon and were the last two to jump. While Bailey jumped from the aircraft, Bing retreated inside, confused in the chaos. In battalion records, according to ABC News, a jumpmaster had to unplug his radio equipment, cradle Bing in his arms, and throw him out of the airplane.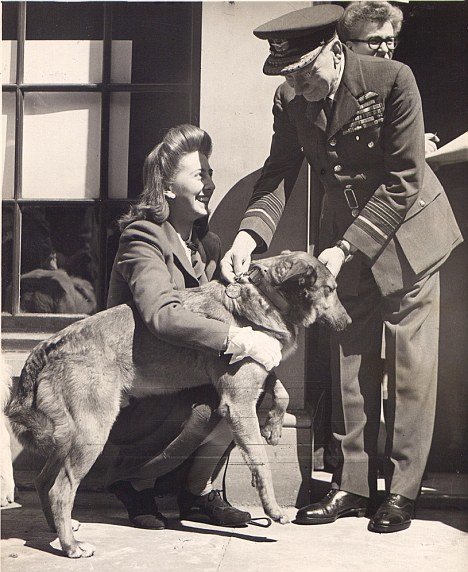 Bing's parachute caught the branches of a tree as he floated to the ground. He waited two hours until paratroopers showed up to cut him down and patch two lacerations on his face, wounds likely suffered from German shell fragments.
These war dogs used their noses to find booby traps and land mines. "They would sniff excitedly over it for a few seconds and then sit down looking back at the handler with a quaint mixture of smugness and expectancy," Bailey wrote. "The dogs also helped on patrols by sniffing out enemy positions and personnel, hence saving many Allied lives."
While Bing had a flesh wound, his companion dogs Monty and Ranee weren't so lucky. Monty was severely wounded on D-Day and, though Ranee did jump from her plane, she was never seen again. Bing later made a second jump over the Rhine.
For years, Bing's wartime heroism took a life of its own. Recently discovered research suggests that the actions of Bing are commonly confused with those of Brian, and their stories are often combined into one. But both dogs made combat jumps into Normandy on D-Day and survived the war. In 1947, Brian reunited with his owner, Betty Fetch. Brian died in 1955, still a very good dog.
Read Next: Mutt the Cigarette-Delivering French Bulldog & Other Animals of World War I