Spike Lee's 2020 film, Da 5 Bloods, now streaming on Netflix, is hard to pin down to one genre. Part war movie, part comedy, and part treasure hunt, Da 5 Bloods, above all else, is a social commentary that forces us to examine our country's uncomfortable relationship with African American military service. As the film suggests, in the not-so-subtle Spike Lee way, African Americans have historically been expected to sacrifice as much as any demographic in war, only to return to a country that has continually denied them equal rights.
The film begins with four African American veterans reuniting in Vietnam to find the remains of their former squad leader, Stormin' Norman. Norman, played perfectly by the late Chadwick Boseman, was buried along with treasure they left some four decades earlier. The buddy comedy quickly turns into something much more complex. The four veterans' journey back into the countryside of Vietnam is juxtaposed with flashbacks of their time in the war. These flashbacks are jarring for their sudden flashes of violence and for the fact that the four older actors play their younger selves. Typically flashbacks are recast with younger lookalikes; however, Lee's decision to shoot them with no effort to conceal their age only adds to the confusing and complicated nature of memory. Because those who die young in war never age in our minds, these scenes feel more like a nightmare than a jump back in time.
The film succeeds in being an entertaining adventure story, but it really shines in its ability to tackle the larger issue, the elephant in the room: America's failure to take care of its Black veterans. Lee begins the conversation with one of the characters, Paul, played by Delroy Lindo. Paul, an Ahab-esque former point man, is tormented by severe post-traumatic stress, clearly not getting the help he desperately needs. Throughout the film he is seen struggling to relate to his friends, failing to view the world in any lens besides that of combat, and stumbling in efforts to nurture the relationships in his life that still matter — chiefly, the one with his son.
Despite some over-the-top moments (the blood-spurting quadruple amputations, for example), Paul's fight with his own mental health is crafted perfectly. Like Paul, Otis, played by Clarke Peters, is also struggling with inadequate postwar care. The film hints at an opioid addiction, fueled by VA-prescribed OxyContin. Lee uses the struggle of the four surviving bloods to drive the plot but also to act as a window into the much larger issue of America's historic injustice for African American veterans.
The film expands beyond the immediate struggles faced by the four bloods when Paul professes his love for Rambo. Otis retorts, "I would be the first cat in line if there was a film about a real hero … someone like Milton Olive III," at which point the film intentionally cuts awkwardly to a still photo of Olive, the first black Medal of Honor recipient of the Vietnam War. The sudden switch breaks the fourth wall and forces the audience to acknowledge the actions of Milton Olive III as real and separate from the story.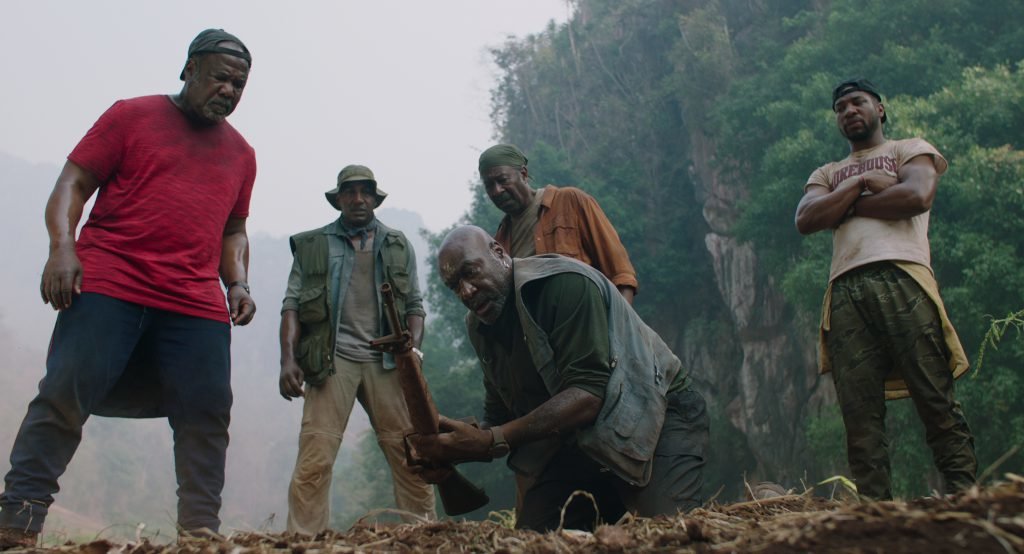 Later, in a moving speech from Stormin' Norman, Lee again uses a still photograph to bring the flow of the movie to a screeching halt. Norman states, "We repossess this gold for every Black boot that never made it home, every brother stolen from Mother Africa to Jamestown, Virginia, way back in 1619." With this speech, the film reveals its true purpose. "We ain't rippin' off shit," he says. "We was the very first people that died for this red, white, and blue. … We've been dying for this country from the very get." With this, a still photograph of Crispus Attucks again jars the audience. Attucks was the first casualty of the Boston Massacre, the incident that helped launch our country into its fight for independence.
The death of Attucks was not an isolated incident in American history. In 1859, when John Brown led his infamous raid on Harpers Ferry with the goal of starting a nationwide revolt to end slavery, the first man killed was Heyward Shepherd, a free Black man. Brown's raid was another crossroads in our nation's path, and although a tactical failure, like the Boston Massacre, it helped launch the country into war. On a much larger scale than the unfortunate deaths of Attucks and Shepherd, the treatment of African American veterans as a whole has historically been an utter failure. As Da 5 Bloods encourages, it is our collective responsibility to reflect on this stain in our past.
Beginning with the American Revolution, African Americans have been called upon to sacrifice for the benefit of the nation. British loyalists offered freedom to Black slaves in exchange for military service with Lord Dunmore's Proclamation. This was quickly countered by the colonies, who also offered freedom in exchange for military service. Despite roughly 5,000 African Americans volunteering for service in the Continental Army as well as African Americans fighting in every naval engagement of the American Revolution, this promise of freedom went largely unfulfilled.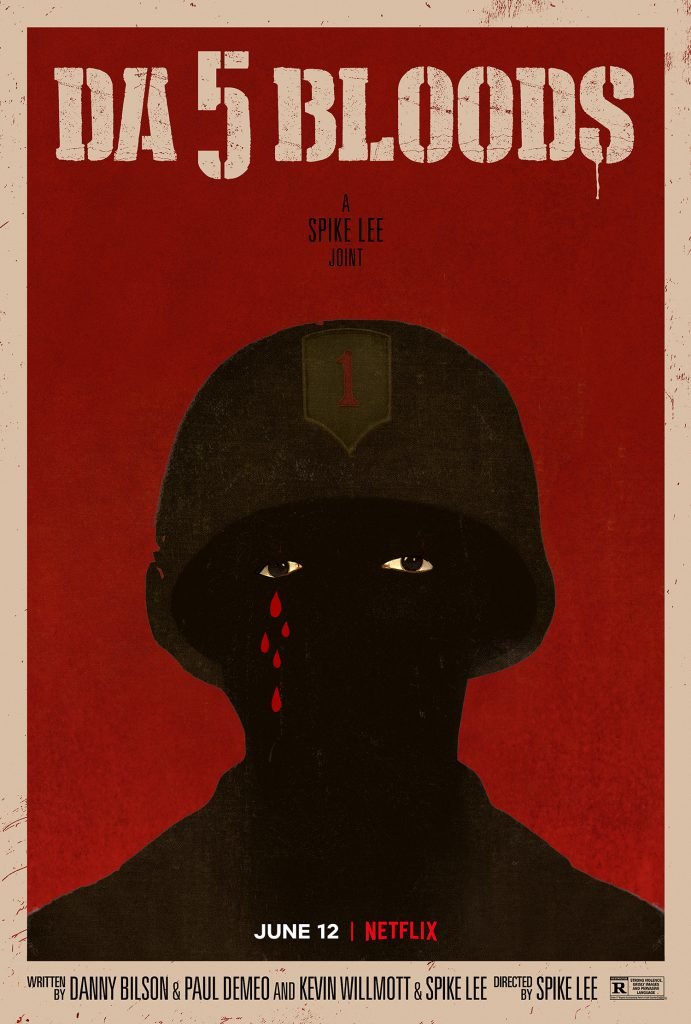 Nearly a century later, African Americans volunteered to fight in the Civil War and aid in the successful effort to abolish slavery. Approximately 200,000 African Americans served the Union and distinguished themselves in combat, only to find themselves free from slavery yet still denied basic human rights.
With the onset of the First World War, African Americans volunteered in droves to fight for a country that still refused to treat them as equal citizens. This time, more than 350,000 joined the ranks of the US military, again distinguishing themselves in battle at places like the Meuse-Argonne and the Second Battle of the Marne. These veterans returned to a country that operated under Jim Crow laws, where a decorated Army sergeant could be attacked for riding a public streetcar in his uniform simply for being Black. This was the case with Sgt. Edgar Caldwell. Caldwell was subsequently arrested and executed for defending himself against his white attackers.
During World War II, African Americans once again volunteered to serve a country that denied them equality. This time, more than 1 million African Americans volunteered to fight overseas. Upon returning home, they found that despite their service they still were not allowed to use their veterans benefits to buy homes in white neighborhoods or attend white colleges. So African American veterans took matters into their own hands. These veterans spearheaded the Civil Rights movement, composing one-third of the movement's leaders. It was during the Civil Rights movement that America became mired in Vietnam and again called upon those Americans, still not deemed worthy to share water fountains with white Americans, to fight and die in the name of freedom. It is there, in the killing fields of Vietnam, that Spike Lee initiates this hard-to-swallow retrospective.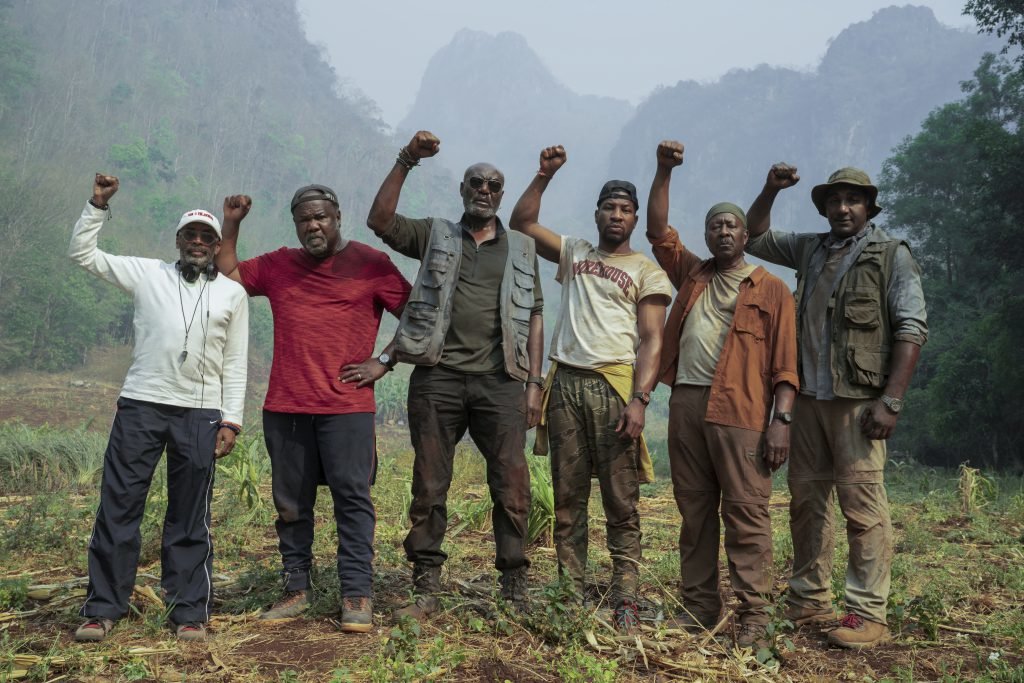 It is difficult to believe that despite this history of betrayal to African American veterans, figures like Muhammad Ali are still criticized for their reluctance to serve in Vietnam. Da 5 Bloods does not spell out exactly how things should or should not be remembered because history is never black and white. Rather, Lee addresses racism within military service with the tenderness of a bandage being ripped off an open wound. As an audience, and as Americans, we can't ignore the tumultuous history our nation has of asking Black Americans to die in defense of America and what she stands for, only to then neglect those same veterans when they return home. Despite using Vietnam veterans as a place holder, the racial issues the film touches on go far beyond the war in Southeast Asia.
Even today, as we struggle to unite amid outcries for justice, we owe it to one another to understand our different histories. We don't all come from the same backgrounds, and it is our duty to empathize with one another in order to understand conflicting points of anger. Da 5 Bloods is entertaining, but more importantly, it strives to explain why so many Americans feel tired of waiting for justice. The late poet Langston Hughes shed light on these same frustrations in 1949 with his poem Democracy:
"I tire so of hearing people say, / Let things take their course. / Tomorrow is another day. / I do not need my freedom when I'm dead. I cannot live on tomorrow's bread."
Stormin' Norman articulates it more directly: "The USA owe us. We built this bitch."