When Sacramento Metropolitan Fire District Capt. Daniel Hoy arrived at the California scrapyard on June 9, the battery compartment inside the battered Tesla Model S wouldn't stop cooking off.
The fire crew told their Hazardous Material Program manager that the electric sedan's 900-pound damaged battery bank had begun to combust after sitting for three weeks in the junkyard, so they borrowed a skid steer with a forklift attachment to tip the car on its side while they doused its 6,381 lithium-ion cells with water.
That cooled the compartment to roughly 130 degrees Fahrenheit, and they stopped spraying. But then their thermal imagery camera would capture the battery bank's temperature slowly rising before it reignited, forcing the crew to repeat the procedure.
"The battery had ruptured a little bit in the back," Hoy told Coffee or Die Magazine. "And by ruptured, I mean the metal compartment material in the rear passenger side had a couple of about quarter-sized or half-inch-diameter holes that had been melted through it from just the heat release and the gases."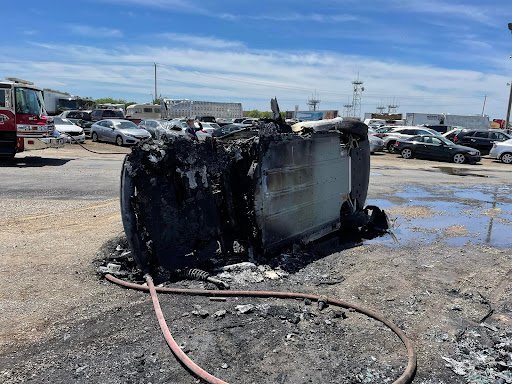 They were dealing with a lot of latent energy. The battery pack inside a Model S can generate more than 100 kilowatt-hours of electricity, enough juice to power the typical American home for more than three days. Because all that power remains trapped inside the battery bank, it can continue to overheat, building pressure and sparking off arc flashes, runaway fires, off-gassing, and even explosions.
Lacking detonations, this Tesla S fire Hoy confronted wasn't that dramatic, but the firefighters still needed to figure out a way to put the blaze out.
"I really had it built up in my head that, you know, when it reignites it's going to be either this jet flame or there's gonna be a lot of heat and fire release, and there just wasn't," Hoy said.
Although Tesla's information handbook advises firefighters never to submerge an electric vehicle in water, Hoy knew that European first responders dunk the cars in giant, water-filled metal vats. That floods the battery bank with water, disrupting the thermal runaway until crews can rip out the pack.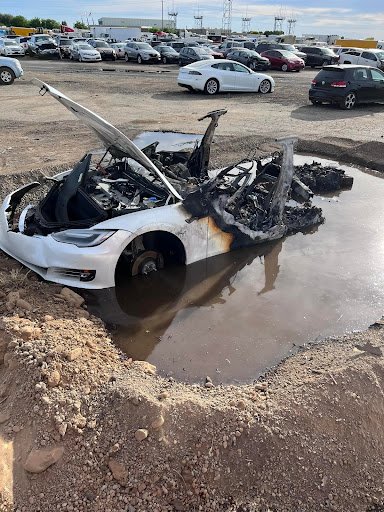 Hoy knew there weren't any hydrants close to the fire, and the crew didn't drive around with mammoth tubs for bathing blazing Teslas, but he figured they could improvise. Salvage yard workers used their machinery to build a gravel berm around the Model S, and then firefighters began filling in the pool using their water tender trucks.
"We weren't having to evacuate people or relocate people because of any toxic fumes or gas clouds or smoke," Hoy said. "So really, it provided a lot of freedom with very little complications."
The engine company returned in a few hours, checked the battery, and found that it remained at a cooled ambient temperature.
Lithium blazes are alkali metal fires that react with air. Firefighters are trained to avoid tossing alkali metals in water or spraying them down with hoses because the lithium might explode. Sacramento Fire Capt. Doug Ross told Coffee or Die that didn't happen during the scrapyard experiment because a huge amount of the liquid overwhelmed the reaction.
Assigned to the department's Special Operations Division and a member of the hazmat response team for the past five years, Ross said he's looking for technological solutions to the problem of lithium-ion battery reignition once a scorched e-car is plucked from a pool.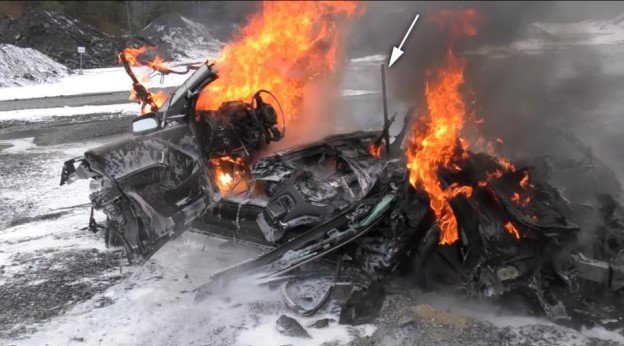 "So like, we do have some dry chemical extinguishers, and we do have some other chemicals for specialty fires, but we can only carry so much of that, and it's not going to be enough to put out a vehicle fire," Ross said. "It's going to be enough to put out a small metal fire."
Ross is eyeing a type of foam called ​​F-500 Encapsulator Agent, which can be infused into water flowing through fire hoses at a crash. But he's only in the initial stages of figuring out what might work. That's why he and Hoy urge auto manufacturers like Tesla to consider revamping their systems to better aid first responders called to battle lithium-ion battery blazes.
Tesla didn't respond to messages from Coffee or Die, but the firefighters' words echoed a late 2020 report published by the National Transportation Safety Board that detailed the risks first responders face when attacking electric vehicle fires.
NTSB investigators warned that tow operators and first responders continue to risk electric shock, thermal runaway, battery reignition, and stranded energy injuries at crashes involving high-voltage vehicles.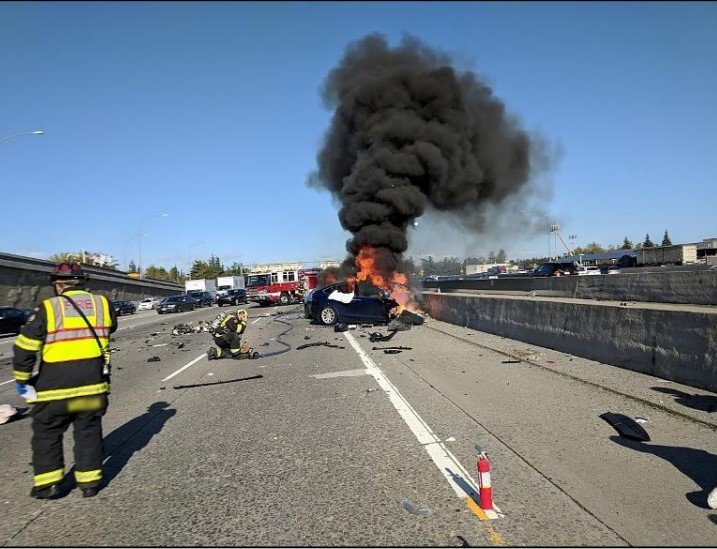 The federal watchdogs focused on two key problems: inadequate emergency response guides issued by vehicle manufacturers and a lack of safety standards and research about severe crashes involving these types of engine batteries.
Better research and standards could trigger new training and procedures for firefighters like the crew that arrived at the Sacramento scrapyard blaze, according to the NTSB.
While first responders grapple with how to extinguish battery fires, sales of electric vehicles aren't going to abate, according to industry experts.
AlixPartners projects that electric and hybrid vehicle sales could reach a quarter of the auto market by 2025, thanks to stricter emissions regulations on gasoline and diesel engines. The New York-based consultants believe electric vehicles will compose a third of global auto sales by 2028 and more than half by 2035.
Those sales stats aren't lost on Sacramento's firefighters.
"We should always be changing and evolving, and as society evolves and plastics change and then the process of combustion changes, we need to consider change as well," Ross said.
Read Next: Coyotes, Death Valley, and Vegas: Run Alongside This All-Female Relay Team of Deputy US Marshals