The US Drug Enforcement Administration issued a rare public health warning Monday, Sept. 27, designed to help curb the skyrocketing number of drug overdose deaths nationwide. The DEA wants Americans to be aware of a record and rising flood of cheap and potentially lethal fentanyl and methamphetamine pills manufactured in Mexican drug labs increasingly from bulk Chinese chemicals.
Agents point to the 9.5 million counterfeit pills seized this year by law enforcement nationwide, a staggering 430% increase since 2019. Opioids, such as fentanyl, caused 73% of overdose deaths nationwide last year, according to the Centers for Disease Control and Prevention in Atlanta.
Overall, 93,331 Americans died from drug overdoses in 2020, a 29% jump from the previous year.
"The United States is facing an unprecedented crisis of overdose deaths fueled by illegally manufactured fentanyl and methamphetamine," Anne Milgram, administrator of the DEA, said in a written statement accompanying the warning. "Counterfeit pills that contain these dangerous and extremely addictive drugs are more lethal and more accessible than ever before. In fact, DEA lab analyses reveal that two out of every five fake pills with fentanyl contain a potentially lethal dose."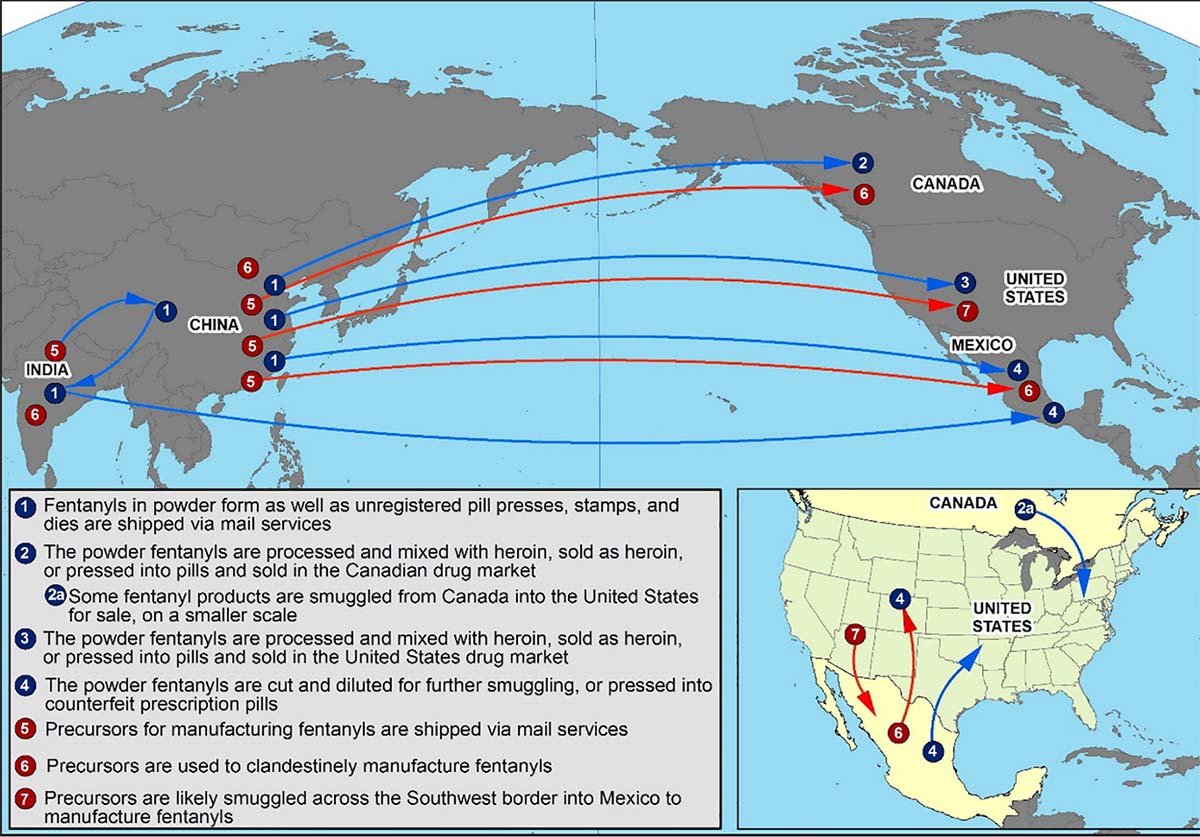 One of the hardest-hit communities is Oregon's Washington County, home to corporate giants Nike and Intel and more than 600,000 residents.
Last year, the Westside Interagency Narcotics Team seized 14,000 counterfeit pills.
By the end of July this year, the task force made up of local, state, and federal law enforcement had nabbed more than 33,000 knockoffs. That was a 74% increase from the previous year, with five more months to go.
"The amount that we have seen just by our drug team, the amount of overdose deaths that they have investigated, has gone through the roof," task force spokesperson Sgt. Danny DiPietro told Coffee or Die Magazine.
DiPietro counted 17 overdose deaths investigated by his team through July, with 13 cases believed linked to fentanyl.
DiPietro said he'd worked as a narcotics K9 handler for nine years before taking his present post on the task force. Back then, officers could trace most fentanyl on the street back to pharmacy robberies.
But now, cheap counterfeit pills have washed over the underworld market, replacing the supply of stolen prescription drugs.
"Fentanyl is cheap," DiPietro said. "Cheap, cheap, very cheap, and it takes such a small quantity of fentanyl to get high.
"It's a synthetic opioid. It can be manufactured outside the country. It can be manufactured within the country in a small lab, and the fact [is] that so little is needed to get high, or to be used for one pill, and it's so cheap."
The DEA's new public health campaign — dubbed "One Pill Can Kill" — joins a similar initiative DiPietro's task force and the Beaverton School District already have underway.
"Fake and Fatal" features a four-week course that drug abuse experts and addiction survivors teach to students.
They warn pupils that the fentanyl and meth knockoffs are milled to resemble brand-name prescription pills such as OxyContin and Adderall, but they're not those drugs. They're more lethal.
"It came into our communities almost overnight. It's scary because people still don't know what fentanyl is," DiPietro said. "Or if they do know what it is, they think of it in the medical professional kind of standing, not as a drug that people are intentionally taking or because they think it's something else."
Despite the best efforts of DiPietro's task force and other law enforcement initiatives nationwide, the problem seems to be growing worse.
On Thursday, Sept. 30, the DEA released new figures detailing what the agency called a "two-month law enforcement surge" targeting the knockoff pills. DEA agents alone confiscated 712 kilograms of fentanyl powder — enough uncut narcotic to make tens of millions of potentially lethal pills.
Agents also seized 158 weapons tied to fentanyl rings, plus 4,011 kilograms of meth and 653 kilograms of cocaine.
Read Next: