Hundreds of letters from supportive and opposing constituents get sent to the president of the United States each year, and many of them ultimately end up in the National Archives. Regardless of politics, the White House encourages children and adults to share their thoughts and opinions with the Oval Office. Some of the remarkable letters show concern, send condolences, or gently rib a president for his sports choices, while others can induce laughter and tears.
We scoured the National Archives and picked 10 of the more remarkable letters ever sent to the president.
Requesting Disaster Relief Funds From Reagan
"Today my mother declared my bedroom a disaster area. I would like to request federal funds to hire a crew to clean up my room," Andy Smith, from Irmo, South Carolina, wrote to President Ronald Reagan in 1984. Reagan denied his request, as the one who declares the area a disaster zone must be the one to request aid.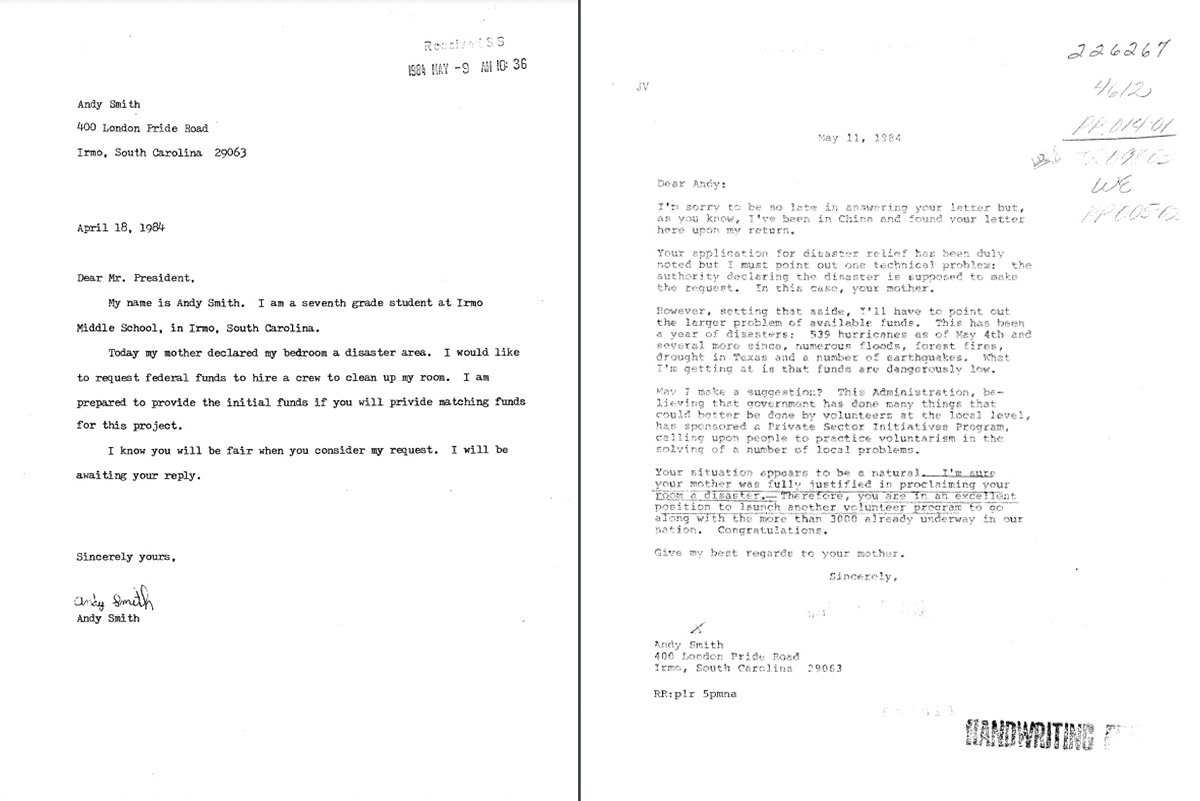 Fidel Castro Requests Monetary Aid From FDR
Young Fidel Castro had never seen an American greenback before, so he wrote President Franklin D. Roosevelt a letter to see whether the president would send him a $10 bill. "I am twelve years old. I am a boy but I think very much […] If you like, give me a ten dollars bill green american, in the letter, because never, I have not seen a ten dollars bill green american and I would like to have one of them." He apologized for his broken English and congratulated FDR on his recent reelection.
Begging Eisenhower To Pardon Elvis' Sideburns
In a letter to President Dwight D. Eisenhower, Linda Kelly, Sherry Bane, and Mickie Mattson share some thoughts about Army hair regulations. "My girlfriends and I are writting all the way from Montana. We think its bad enough to send Elvis Presley in the Army, but if you cut his side burns off we will just die! You don't no how we fell about him, I really don't see why you have to send him in the Army at all, but we beg you please please don't give him a G.I. hair cut, oh please please don't! If you do we will just about die!" The young women sign their letter as "Elvis Presley Lovers," and write their rallying cry, "Presley Presley is our cry, P-R-E-S-L-E-Y!"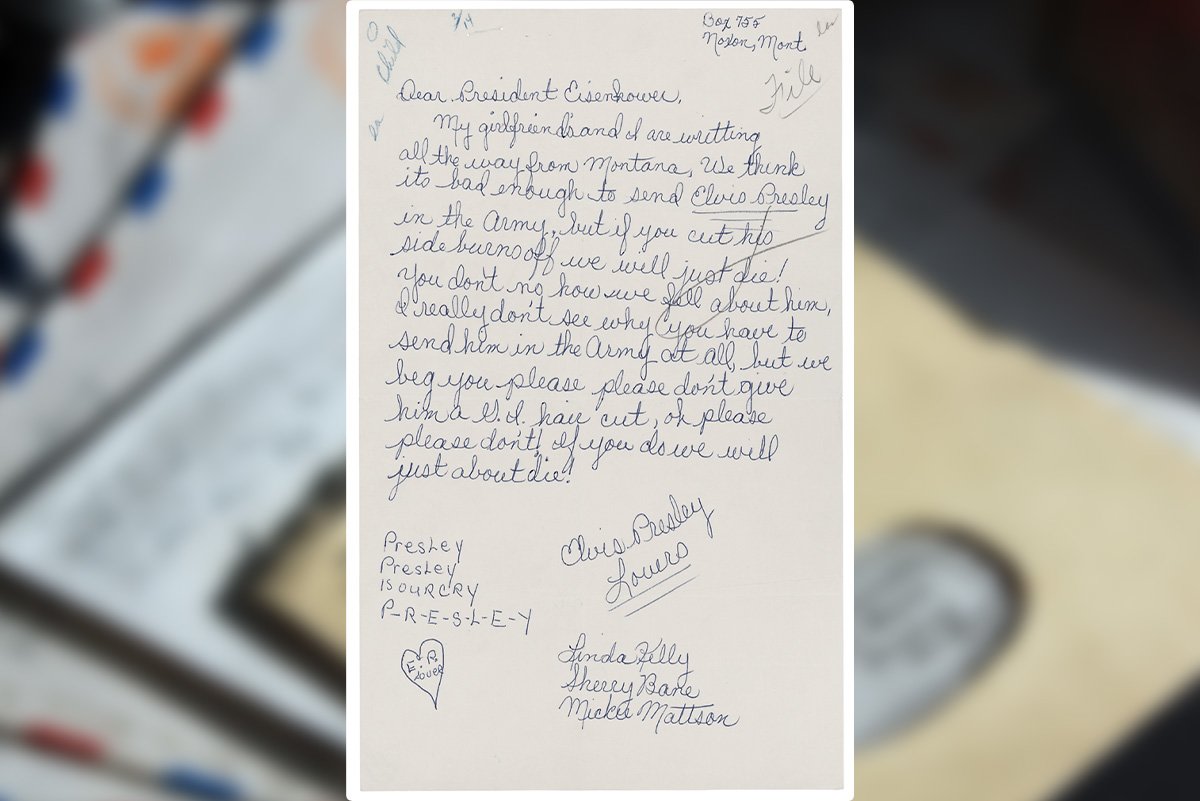 Helping Eisenhower With His Reelection Speech
John Beaulieu, a 13-year-old blind student, sent a letter in braille to President Dwight "Ike" Eisenhower with some tips for his upcoming reelection speech. "Vote for me, I will help you out. I will lower the prices and also your tax bill. I also will help the negroess so that they may go to school."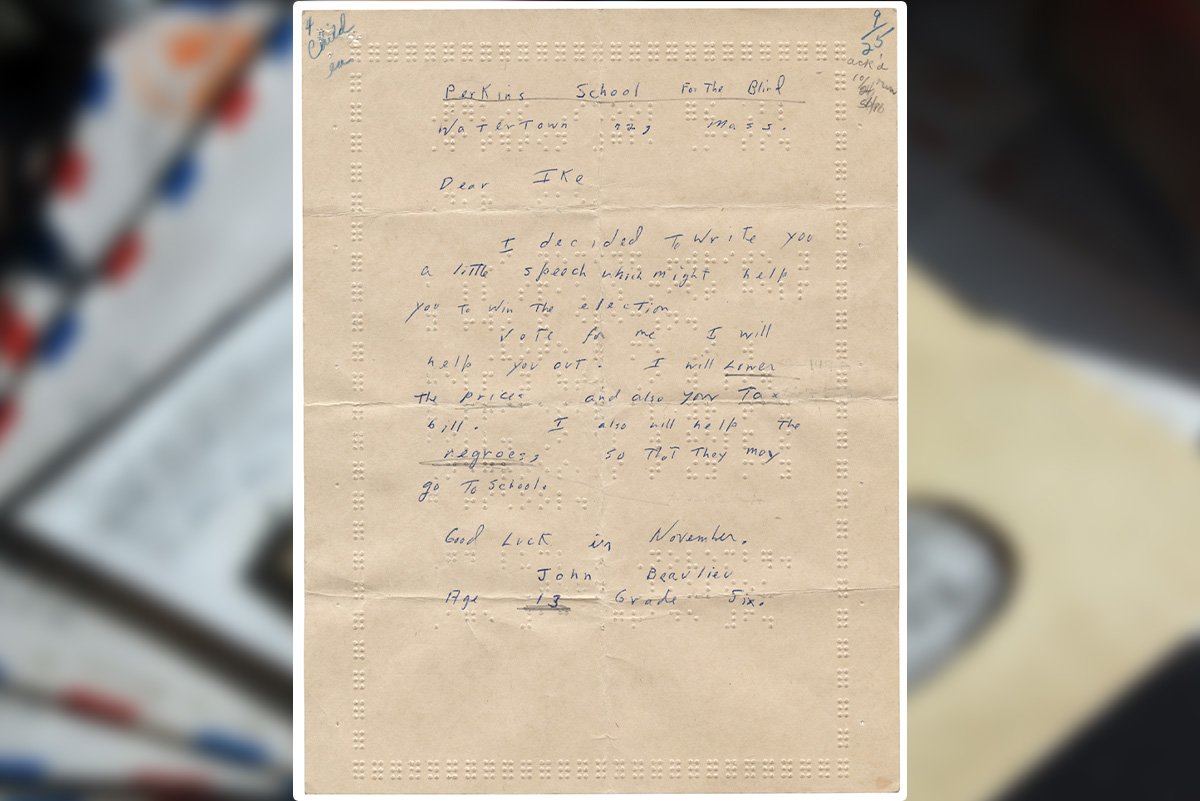 Immigration Advice for Lyndon B. Johnson and His Cabinet
Janelle Blackwell sent her concerns of Beatlemania to President Lyndon B. Johnson's administration, begging them to allow the Beatles to tour the United States. She writes, "I and three other girls were so upset we couldn't go to school today because of an article in the paper saying the Beatles can not return to the U.S. until the government gives their approval. […] You must all agree the teenagers of the U.S. want them back. Its none of my business but they've just got to return soon, please."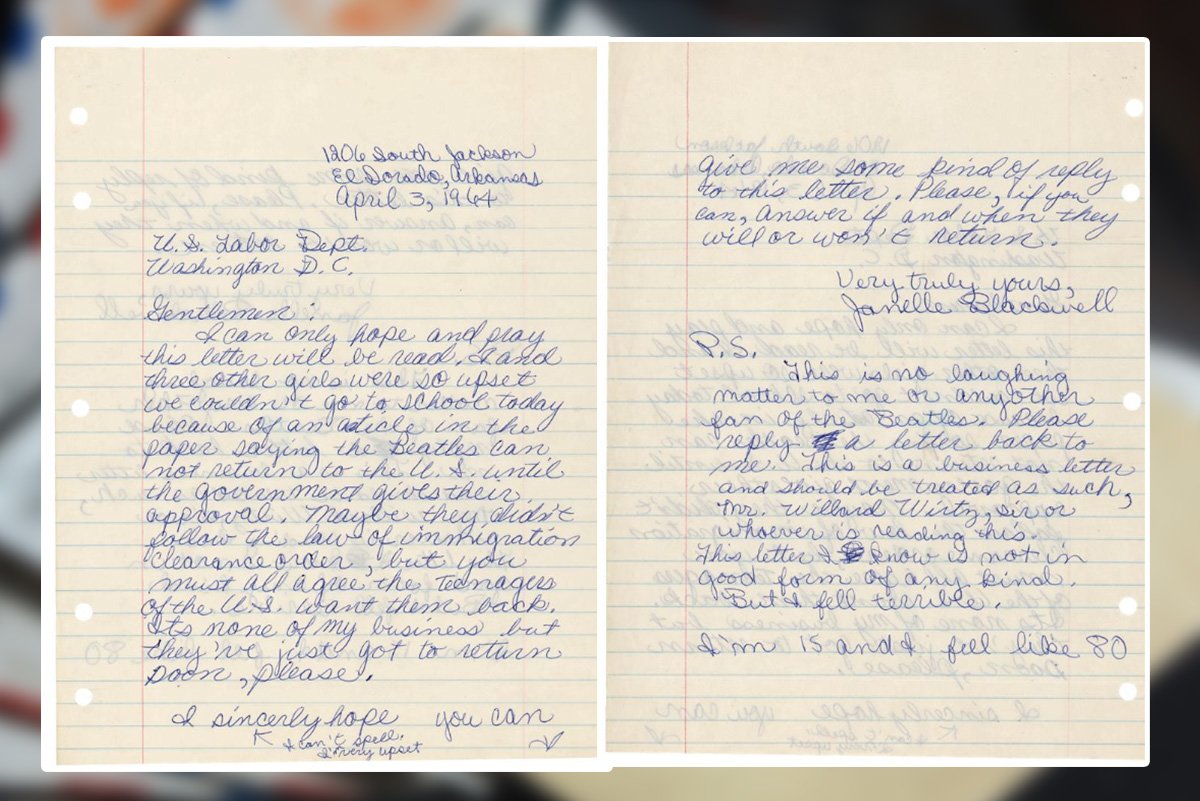 Billy Graham Apologizes for Blowing Off Nixon To Hang With Johnny Cash
"I hope you get a little rest. We love this house and this place and have had good weather. I would have stayed to greet you but I promised Johnny Cash that I would be on his show this week so I am off to Nashville," the Rev. Dr. Billy Graham wrote to President Richard Nixon in 1971. Graham, one of the most influential Evangelical leaders of the 20th century, was a longtime friend of Nixon.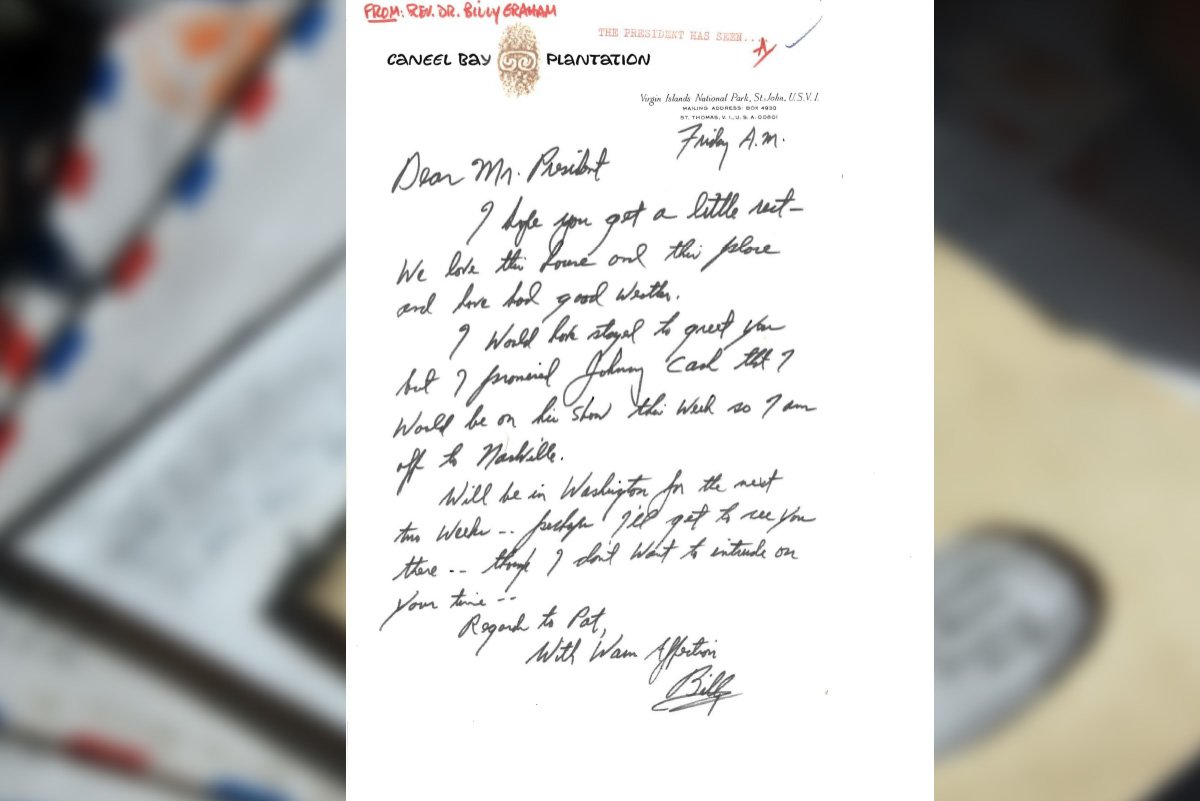 'I Beat You'
In her letter, Emilia, an 11-year-old from South Carolina, crows over President Barack Obama for his poor choice in NCAA draft picks. Obama apparently has terrible luck when picking NCAA brackets during March Madness.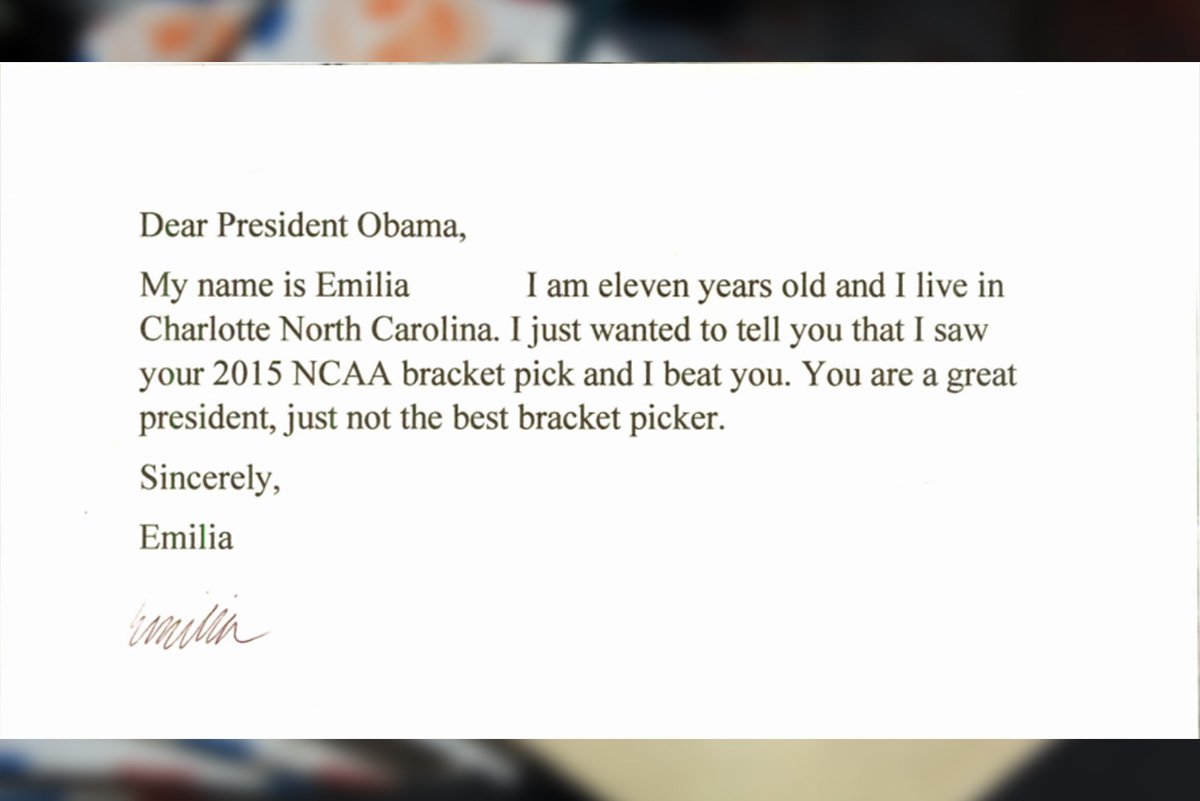 Requesting a Special Favor of Eleanor Roosevelt
Holding first lady Eleanor Roosevelt in such high esteem, Hans Habe, a lieutenant fighting in Italy during World War II, requested Mrs. Roosevelt be godmother to his newborn son. Though not technically to a president, it's still one of our favorite letters.
Elvis Presley, Federal Agent at Large
Elvis Presley, after introducing himself, wrote in a letter how he could theoretically help President Richard Nixon: "I have no concern or motives other than helping the country out. So I wish not to be given a title or an appointed position, I can and will do more good if I were made a federal agent at large, and I will help out by doing it my way through my communications with peoples of all ages. First and foremost I am an entertainer but all I need is the federal credentials." Presley wrote four more pages explaining where he is staying, and that "I will be here for as long as it takes to get the credentials of a federal agent." You can read the entire six-page letter here.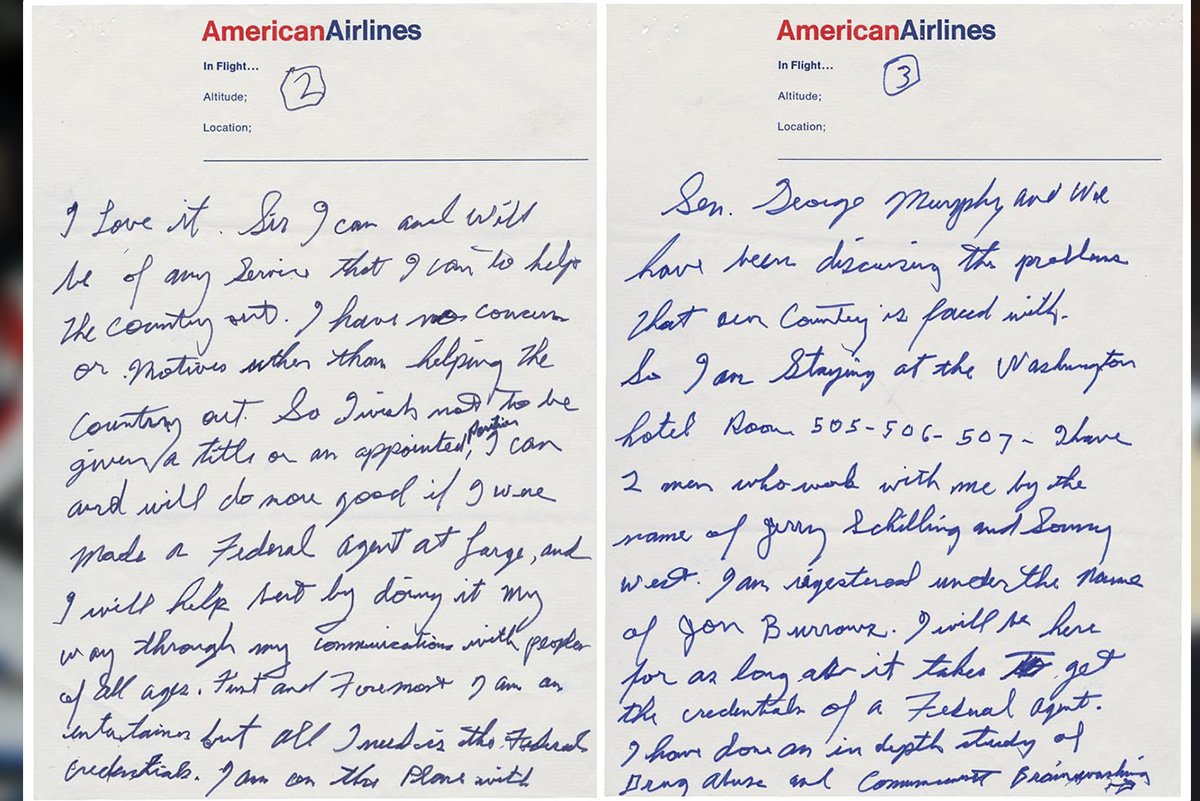 Jackie Robinson Gives JFK Some Friendly Advice
Disappointed by President John F. Kennedy's inability to look him in the eye, Jackie Robinson — civil rights advocate, Major League Baseball Hall of Famer, and Army veteran — admonished the president and gave him some advice for the future. Robinson also let the newly elected president know how hopeful he was for the upcoming administration.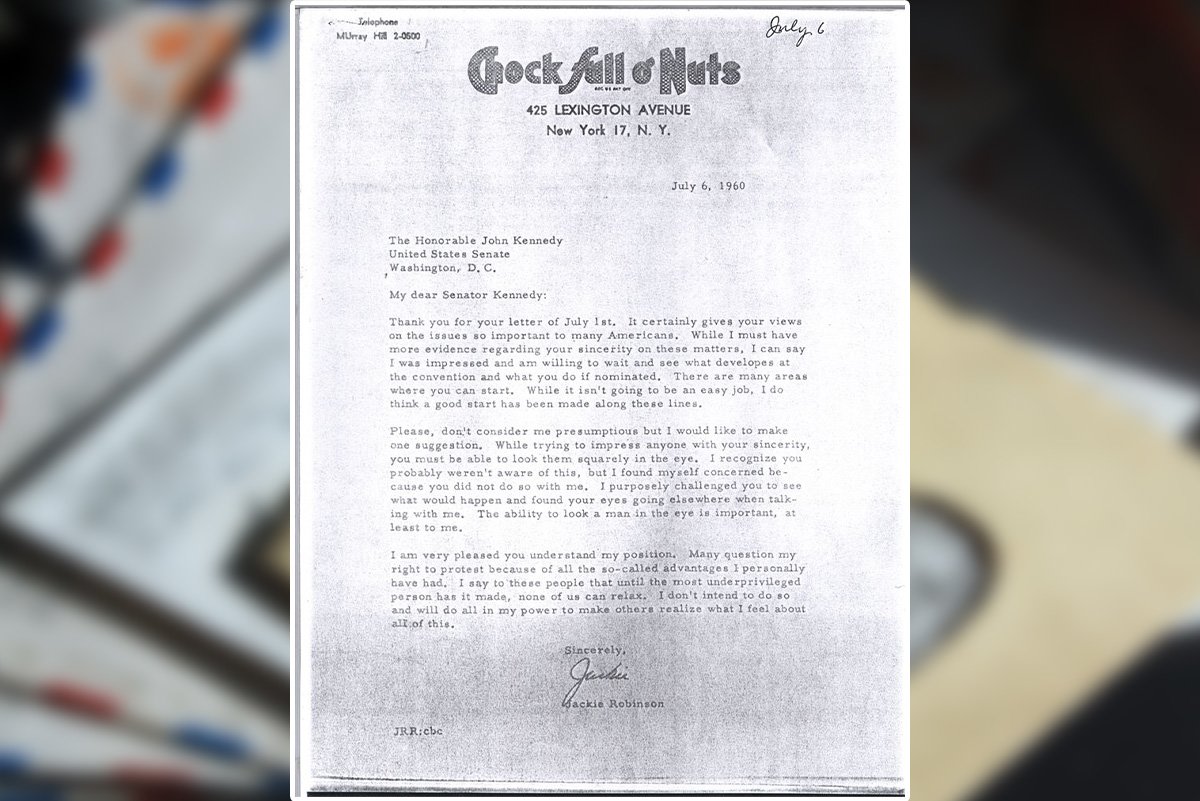 Read Next: