This article was originally published Nov. 5, 2020, on Sandboxx News. Follow Sandboxx News on Instagram.
Delta Force, the Army's top special operations unit, received the Presidential Unit Citation for its role in the raid that killed Abu Bakr al-Baghdadi, the leader of the Islamic State.
President Donald Trump recently met with the Delta Force operators from the unit's A Squadron, who conducted the raid and awarded them the prestigious award. The Presidential Unit Citation is awarded to entire units.
"President Donald Trump visited Army Special Operations Forces at Fort Bragg. He presented the Presidential Unit Citation to these brave heroes who conducted the successful al-Baghdadi raid. What an absolute honor to meet America's best," White House spokeswoman Kayleigh McEnany said in a tweet.
The Delta Force operators received the award in a closed ceremony at Fort Bragg. President Trump's visit almost coincided with the one-year anniversary of the historic operation.
On Saturday, 26 October 2019, an assault force comprised of Delta Force operators and Rangers conducted a raid in northwestern Syria, where the leader of the Islamic State had been hiding.
The leader of ISIS fled from the operators and ended up detonating a suicide vest, killing himself and several of his children. The assault force suffered no casualties.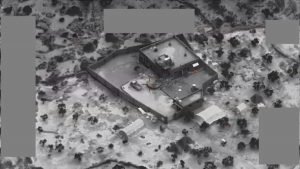 To qualify for the prestigious award, an American or co-belligerent unit must display extraordinary heroism in combat against an armed foe. The level of heroism displayed must be equivalent to that required for a Distinguished Service Cross, Navy Cross, or Air Cross – the second-highest award for valor under fire an individual can get.
According to the Army, for a unit to receive the award, combat time alone or the number of operations are not sufficient. The Presidential Unit Citation is usually awarded to units that have distinguished themselves in single or successive actions that took place close to one another.
"It is not reasonable to presume that entire units can sustain Distinguished Service Cross performance for extended time periods except under the most unusual circumstances. Only on rare occasions will a unit larger than battalion qualify for award of this decoration," states the Army.
A radical cleric from Iraq, Al-Baghdadi had been an energetic member of the Islamist insurgency against the U.S. and Coalition forces in Iraq. He was affiliated with Al-Qaeda in Iraq (AQI), a relationship that got him into trouble and eventually behind bars. Al-Baghdadi had been a prisoner in the Abu Ghraib and Camp Bucca detention centers. His fiery speeches and the decapitation of AQI leadership by Coalition special operations forces gave al-Baghdadi a career boost, and he steadily climbed the leadership ladder, ending up as the leader of ISIS.
Interestingly, al-Baghdadi's hiding place was surrounded by Turkish military outposts and was only 10 miles from Turkey.
The day after the operation, President Trump went on national television and said that "The United States has been searching for Baghdadi for many years. Capturing or killing Baghdadi has been the top national security priority of my administration. U.S. Special Operations Forces executed a dangerous and daring nighttime raid in northwestern Syria and accomplished their mission in grand style. The U.S. personnel were incredible."
Al-Baghdadi's death showed once more that America would stop at nothing in its manhunt for terrorists. It took ten years, but Osama bin Laden was killed by American commandos. In al-Baghdadi's cases, it took only four, but the message was the same—if you terrorize people, you're not safe.