KYIV, Ukraine — The Russian drone orbited over the Ukrainians' position all day. Denys Antipov, a first lieutenant in Ukraine's 95th Airborne Assault Brigade, recognized the silhouette of an Orlan-10, an unmanned aerial vehicle typically used for reconnaissance. His unit, deployed outside of Kharkiv in eastern Ukraine, had no way to shoot it down.
The drone worried the Ukrainian soldiers, but none more so than Antipov. He'd commanded a special drone reconnaissance platoon on the Donbas front lines in 2015; he knew the Russians were gathering intelligence ahead of an artillery attack. His anxiety was not misplaced.
At first, he saw only white light and heard nothing. Devoid of sensory inputs in those first few seconds after the shell struck, Antipov's mind remained present. He thought, It is all over. But that white light never faded to black. Bit by bit, he began to retouch the world. His vision returned, and a high-pitched, whistling sound overcame the silence in his eardrums. At first, he could neither move nor feel his body. Then, after a frightening few moments of paralysis, he managed to move his hands. What followed was an "inspiring" series of sensations as his body parts incrementally reported their presence.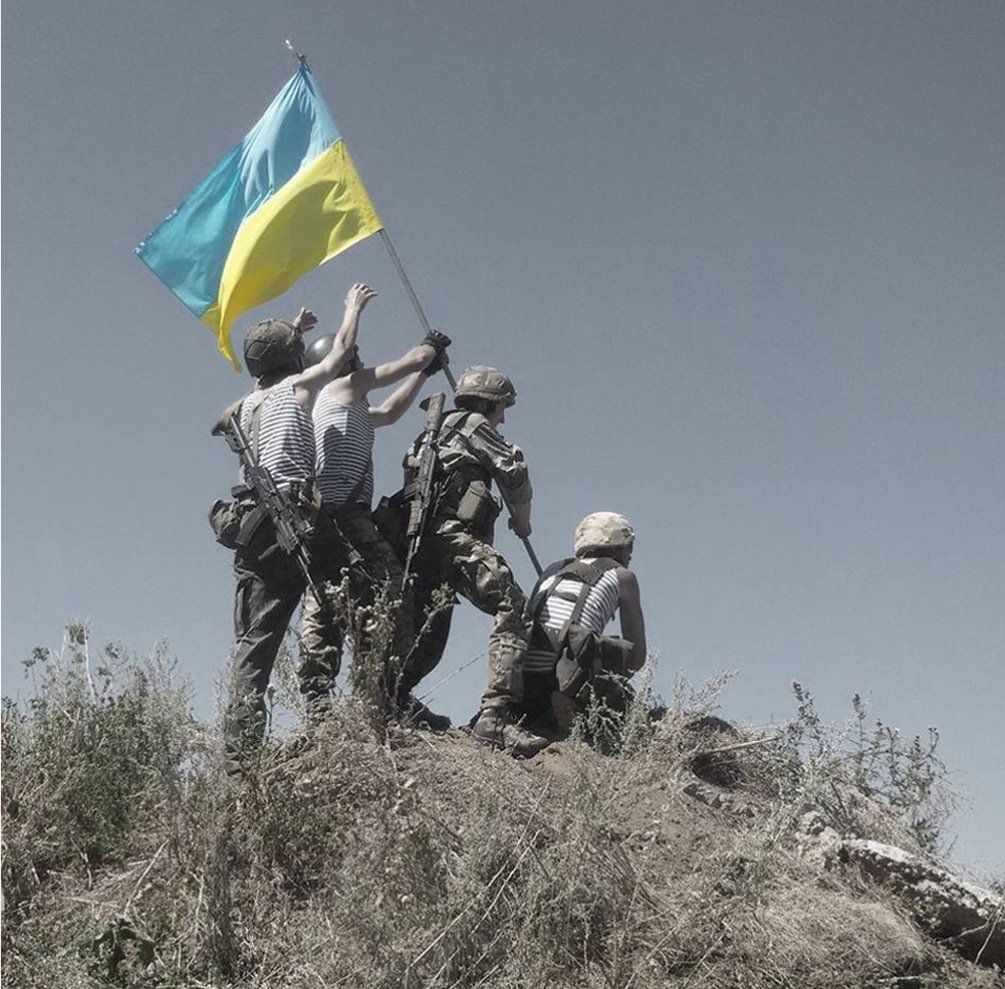 "Then when you see your legs in their proper place and can try moving out of the location before the next strike hits — that is the greatest moment of joy," Antipov told me from his hospital bed in Kramatorsk on March 10, the day after the Russian artillery strike. "Even seeing blood dripping from your head onto your eyes can't spoil this."
The Russians had targeted 152mm howitzer fire on Antipov's unit. Multiple shells killed at least four of Antipov's fellow soldiers. Others were seriously wounded. Antipov later estimated that the Russian drone, which almost certainly fed targeting coordinates to the artillery battery, had been orbiting at an altitude of about 1 kilometer — a cloud deck that day prevented the unmanned aircraft from flying higher. Yet, that altitude was still too high for the Ukrainians' small arms to reach. In any case, knocking down a drone with a Kalashnikov is a last-ditch move, at best.
Antipov, for his part, suffered damage to his teeth and received a concussion and some cuts on his face. The explosion tossed him in the air and he herniated a spinal disk upon landing. Part of a wall, which had been blasted to pieces, impacted Antipov's chest and left what he described as "some minor trauma."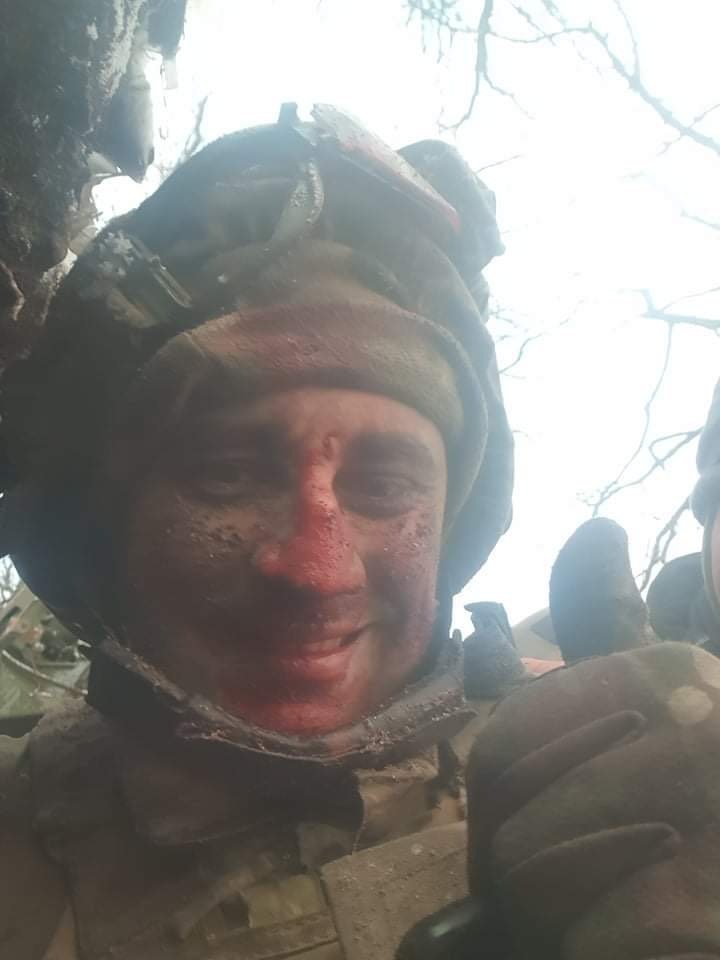 "Without armor plates and a helmet, it would have all been over for me," he explained in the event's immediate aftermath. "I literally saw the white light yesterday. These were awful moments. I wish you never experience it, but knowing that you're alive again after saying goodbye to yourself feels great."
"Yesterday was my second birthday," he added.
By the beginning of May, Antipov was back on the Donbas front lines. He'd convinced the doctors to release him early even though his back had not yet healed. "It hurts when I pick up something heavy," he told me.
Even so, Antipov wanted to return to his unit. He felt like it was his duty. So he went back to war and around 10 a.m. on May 11 a Russian shell killed Antipov near the village of Dovhen'ke, in the Kharkiv region. He was 32.
"He was a dream of a man. He had so much energy, such a promising future. I can't believe we lost him," said Serhiy Yanchuk, a professor at the Taras Shevchenko National University of Kyiv, where Antipov was formerly both a student and a teacher of the Korean language.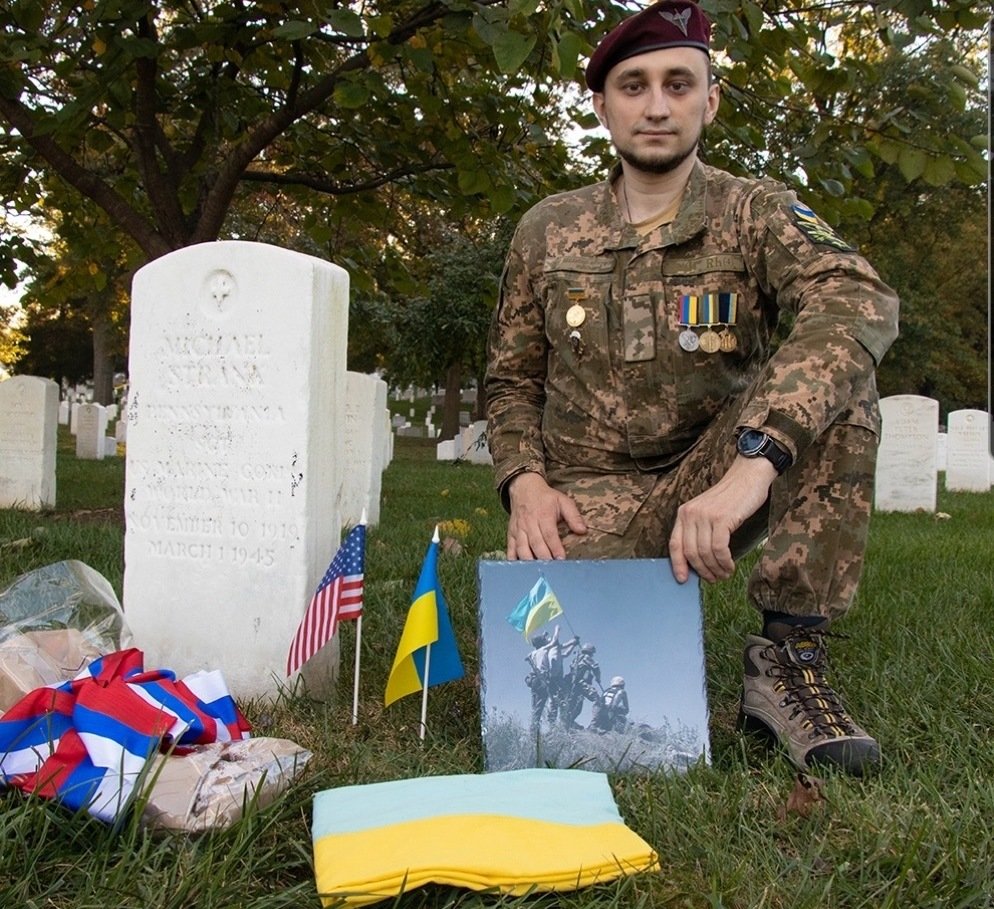 A serious-minded, good-humored man, Antipov was a friend to my wife and me for years. For our engagement party in Kyiv in 2017, he gave us a century-old painting as a gift. It was a remarkable gesture of friendship, much more than we'd expected. For the past five years, we've proudly displayed the painting on our wall. We always will.
A native of the Western Ukrainian city of Ivano-Frankivsk, Antipov earned a master's degree in the Korean language at the Taras Shevchenko National University of Kyiv. He also spoke English fluently.
After Russia invaded Ukraine in 2014, Antipov volunteered for military service. In February 2015, he joined the 81st Separate Airborne Brigade and served on the Donbas front lines from June 2015 until April 2016. The commander of a drone reconnaissance platoon, Antipov conducted missions at various areas along the front lines, including places of fierce combat such as the Donetsk airport and the Avdiivka industrial zone.
"The UAVs gave us vital updates," Antipov told me during an earlier interview, describing the role of his drone platoon. "Sometimes other battalions and brigades who did not have any drones requested our help for gathering info and aerial footage of the enemy's defense lines."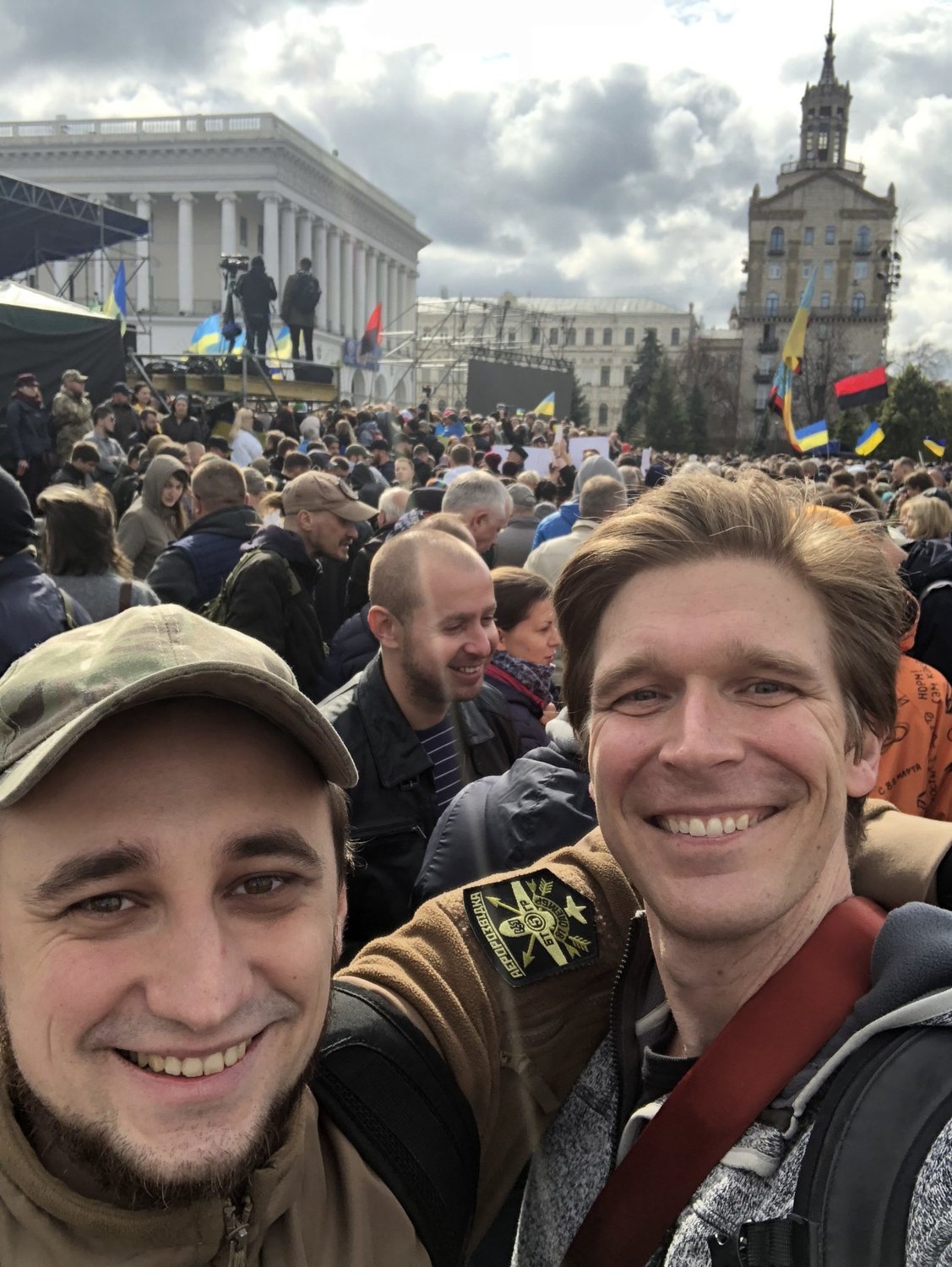 Antipov's unit used the Ukrainian-made "Mara" UAVs, which proved invaluable to combat operations. When another Ukrainian battalion's drone was jammed and forced to land on the Russian side of the front line, Antipov went on a daring raid across no man's land to recover it.
"Information is valuable," Antipov said. "Especially in war."
It was during his front-line tour that Antipov staged a re-creation of the famous Mount Suribachi flag-raising photo from World War II — in which US Marines famously raised the American flag on Iwo Jima. In Antipov's tribute to that iconic American moment, he and three soldiers raised a Ukrainian flag over a rise in eastern Ukraine.
"It was a significant hotspot or the site of important fighting," Antipov said of his photographic tribute. "This was just a part of our land, over which another Ukrainian flag flies, symbolizing the approach of our victory."
The photo, which Antipov posted to his Facebook page, is how we met. I came across the image and immediately reached out via email to interview him. We stayed in touch thereafter.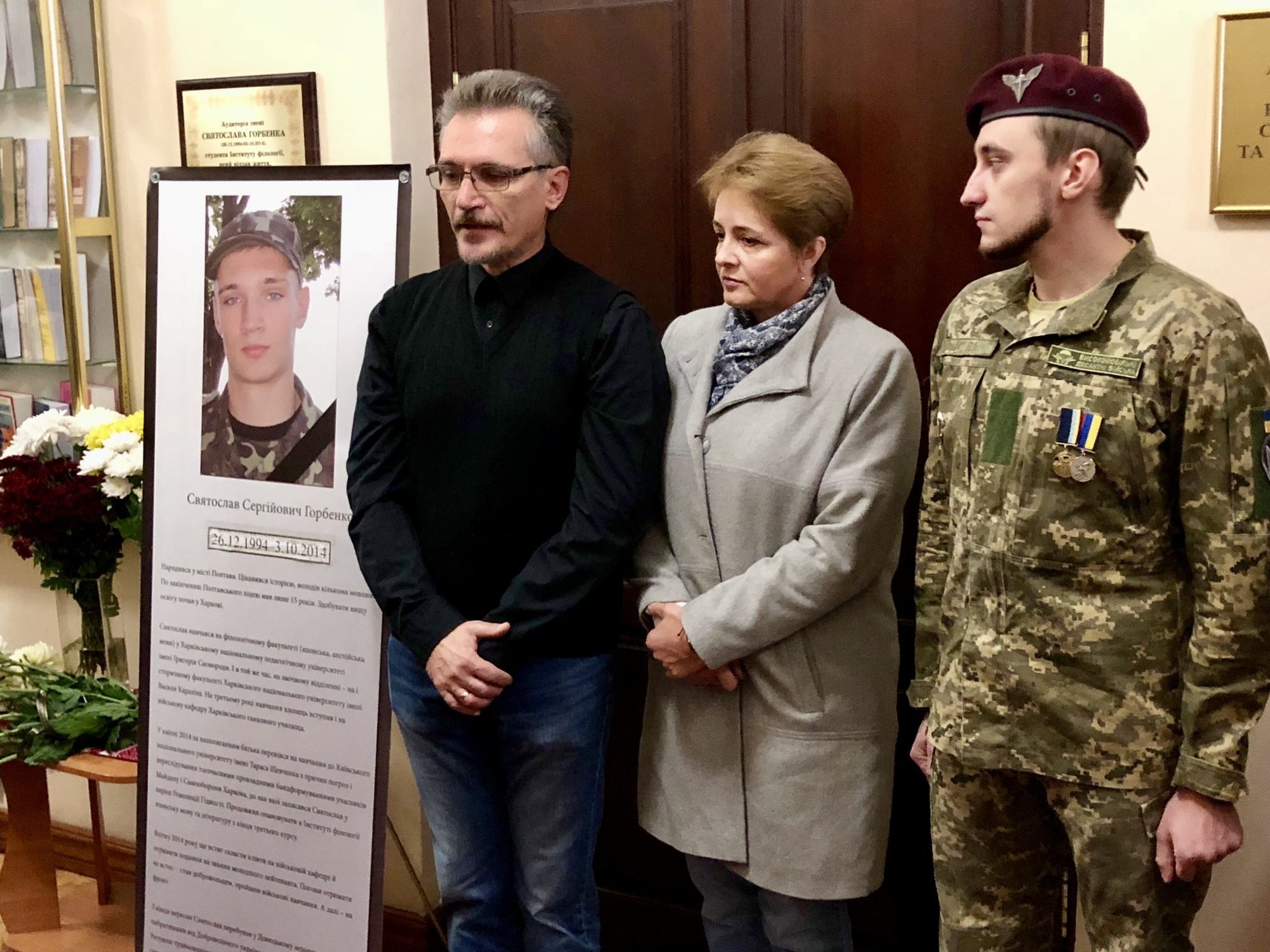 Like many veterans, especially those of wars that have not ended, Antipov struggled to fully leave the war behind. True peace eluded him. With practically religious devotion, Antipov participated in memorial ceremonies each year to honor a 20-year-old student from Taras Shevchenko National University of Kyiv named Sviatoslav Horbenko, who had died in battle at the Donetsk Airport in 2014.
He also frequently participated in veterans' events and marched in protests whenever Ukraine's central government was at the cusp of making a decision with which he disagreed. I caught up with him at one such protest in 2019. I asked a question about Ukraine's enduring will to resist after so many years of war, and so much suffering. He replied: "Wars aren't being won by surrendering. You have to fight. If you don't fight, you won't be supported by anyone. Because it's your own freedom, and you have to fight for it."
His words that day were more prophetic than I think either of us realized. Well, maybe not. The truth is, Antipov always suspected that the static, trench war in the Donbas, which simmered for nearly eight years until Russia's full-scale invasion on Feb. 24, was always on the cusp of escalating into a far bigger and deadlier disaster.
When I borrowed Antipov's body armor vest for a reporting trip to the front lines in December 2016, he told me, "Bring this back in one piece, I'll probably need it again one day."
Over the years, Antipov was not just a friend — he also became a go-to source on a wide range of topics, ranging from drone warfare in the Donbas to Ukrainians' use of antiquated, Soviet-era communications gear as a way to deal with Russia's modern electronic warfare threats.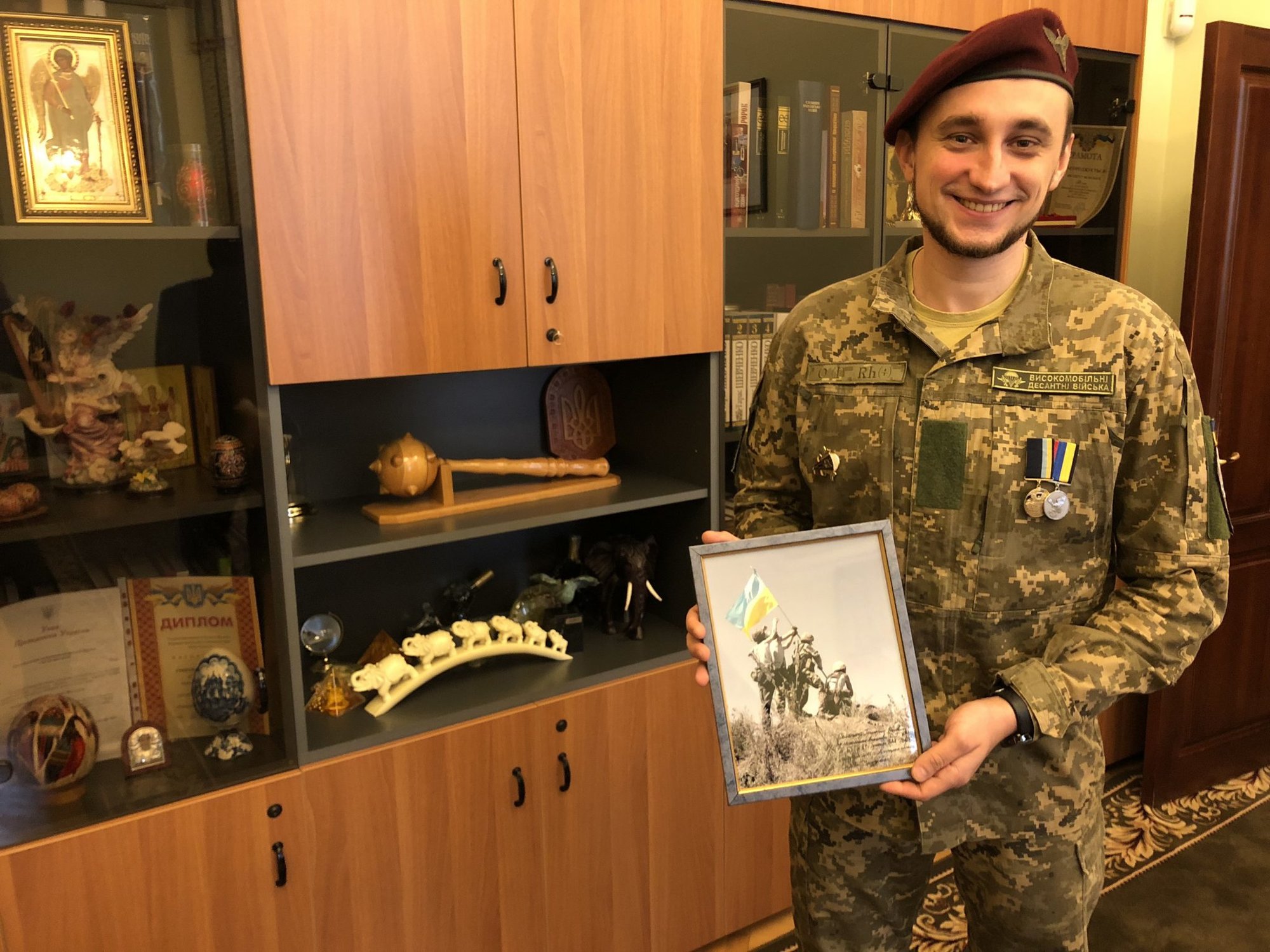 In August 2017, I offhandedly mentioned that I wanted to write an article on attempts by North Korean spies to infiltrate Ukraine's space industry. To this, Antipov casually mentioned that the Security Service of Ukraine, or SBU, had employed him as a translator in 2011 after they'd nabbed two North Korean spies trying to steal Ukrainian rocket engine technology.
Antipov subsequently showed up at my apartment with a six-pack of beer and some pizza and proceeded to recount a story of espionage on par with any John le Carré novel.
"The plan was to come early in the morning from Belarus, cross the border, and after getting the information, return on the same day," Antipov said of the North Korean spies. "But, unfortunately for them, and fortunately for us, they never made it back."
Apart from his combat service and linguistic expertise, Antipov was an entrepreneur at heart.
In 2016, he started a business selling historical paintings and other knick-knacks. He also launched an online souvenir shop called UAGifts.com. For Valentine's Day in 2021, Antipov sent my wife and me a personalized gift box full of specialty wines and cheeses — all made in Ukraine.
Antipov's business acumen caught the eye of the United States government. In November 2021 he traveled to the US for several weeks as part of a State Department program called "Ukrainian Business Leaders: Promoting Innovation and Leadership." As part of the program, Antipov and his cohort of Ukrainian entrepreneurs, innovators, and businesspersons traveled coast to coast across the country and participated in various workshops and networking events.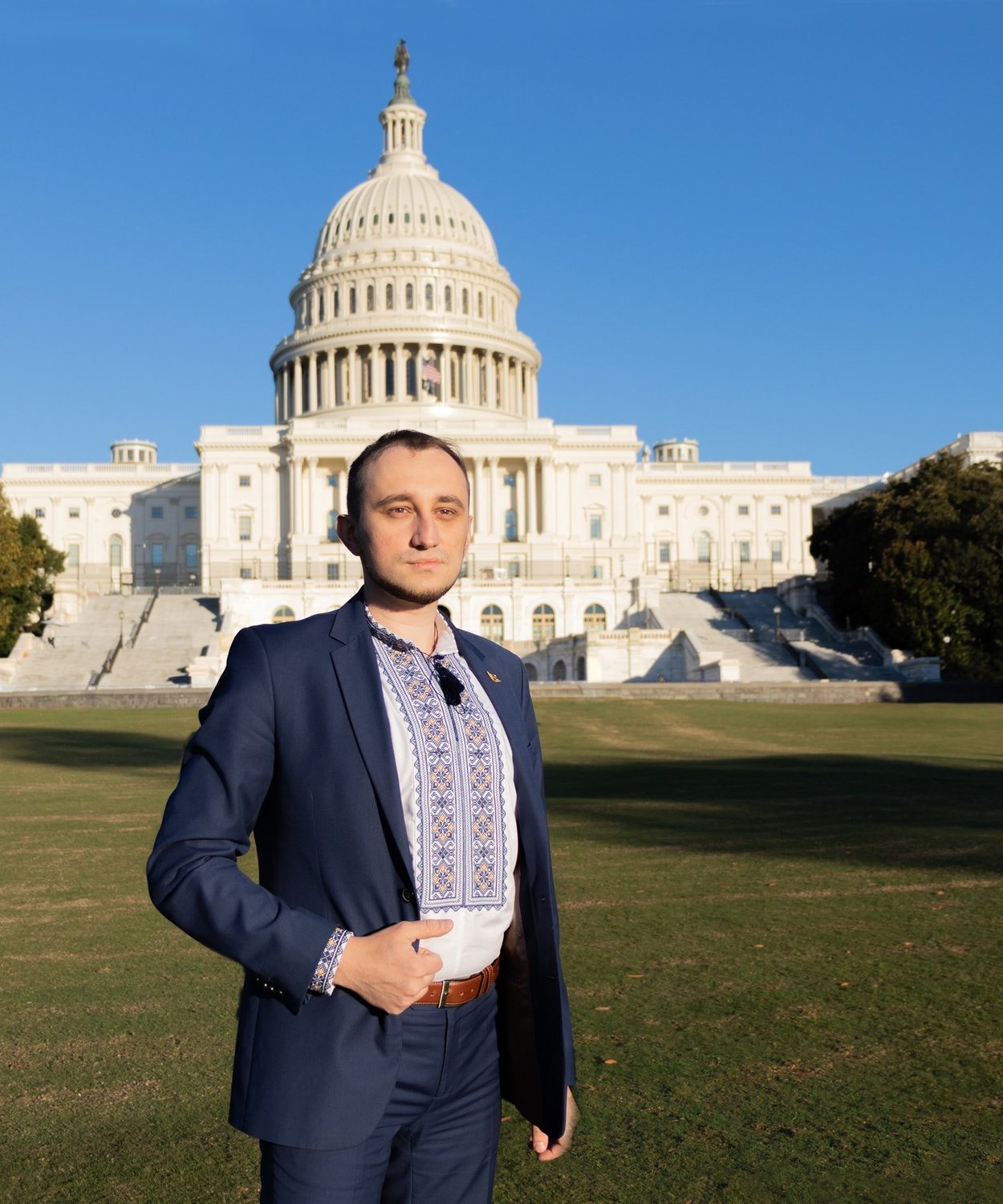 While he was in California, I caught up with Antipov for a video chat. I was curious about his impressions of America — he'd long admired my homeland, and I wanted to know if it had lived up to the hype.
At first, he talked about the good food and all the entertainment options. Then, almost as if he'd gotten past those perfunctory niceties, he recited his most powerful impressions.
Walking around Washington in his Ukrainian army uniform, Antipov was shocked by how many people approached him, a total stranger, and thanked him for his military service. After explaining that he was a Ukrainian veteran, not American, most of these well-wishers simply shrugged their shoulders and thanked him again anyway. Antipov said he'd received more expressions of thanksgiving for his military service in one Washington afternoon than he had in six years as a veteran in Ukraine.
"This is very inspiring to know that the people of your country support you," he said. "I hope that someday, those who protect our country can feel that way, too."
While in Washington, Antipov made a special visit to Arlington National Cemetery to visit the grave of Michael Strank, one of the Marines who raised the US flag over Mount Suribachi in the famous photo by Joe Rosenthal. Strank, who later died on Iwo Jima, was born in Czechoslovakia (now Slovakia) of Ukrainian heritage. When Antipov visited Strank's grave, he brought the Ukrainian flag he'd helped raise over the Donbas.
"I wanted to honor the guy," Antipov told me. "He really symbolizes what our countries have in common."
"This is very inspiring to know that the people of your country support you. I hope that someday, those who protect our country can feel that way, too."
By the tail end of his time in America, Antipov's most positive experiences, I'm happy to report, were his encounters with our country's combat veterans.
"Veterans have an unspoken bond no matter what country they come from," Antipov told me, recounting multiple instances of randomly meeting American veterans who treated him like a brother.
"All these little things add up to make a good impression of a country," he said. "I felt at home.
Antipov returned to Ukraine on Nov. 12, 2021, motivated to leverage his experience in America and all he'd learned to take his business to the next level. For the first time since he came home from war, his identity was shifting slowly from veteran to business owner. He was moving past the war at last. But it was not to be. By the beginning of December, as Russia's military buildup on Ukraine's borders presaged a full-scale invasion, Antipov began to seriously consider the possibility of his return to active duty. Russia's war was, once again, about to interrupt his life.
On the night of Feb. 23, 2022, just a few hours before Russian cruise missiles rained down upon all of Ukraine, Antipov wrote me a text. It read, "Not even surprised to be honest. Sooner or later, it was expected."
He knew what was coming.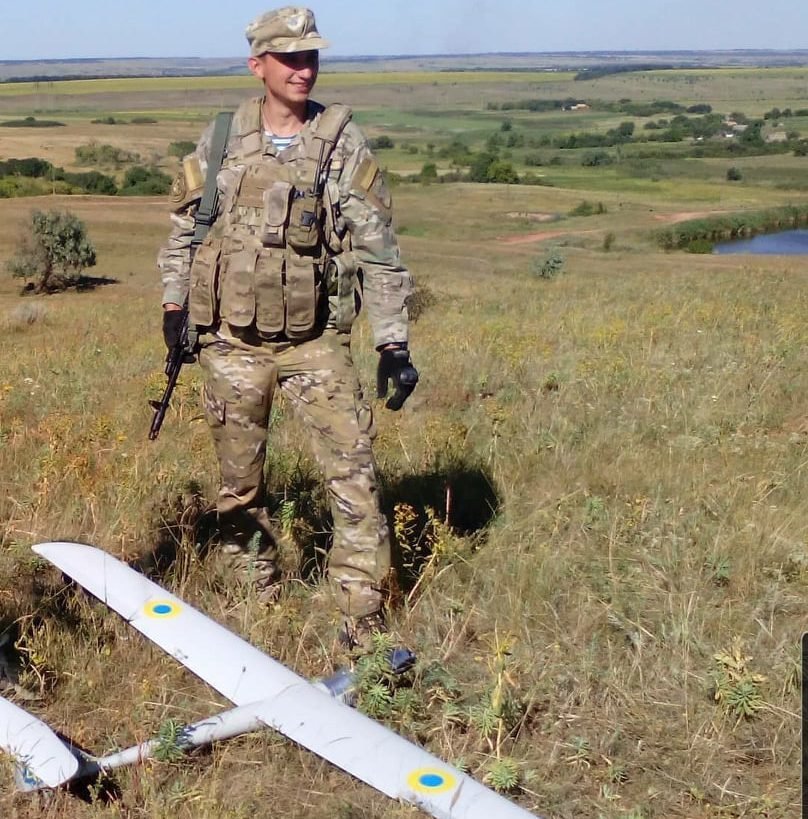 When Russia invaded his homeland again, Antipov never made a deliberate decision to go back to war. The truth is, there was only one path his life could take by then. His country was under attack, and it was his duty to defend it. That's the way he saw it. Going to war was simple arithmetic, gravity for his soul. Simple as that.
Antipov resumed active-duty service after the Feb. 24 invasion. He regained his previous rank of first lieutenant and became the leader of an assault platoon in the 95th Airborne Assault Brigade. On the front lines in eastern Ukraine, he encountered a war that was more lethal than what he had previously experienced.
On March 1, Antipov wrote to me: "We're doing comparatively good on the ground. But unless we get direct air support immediately, we're fucked. The Russians are too many. Especially in air force and cruise missiles."
"Things are very bad," he wrote on March 4. "We desperately need air support. But we get none. Hope we can hang in for a while."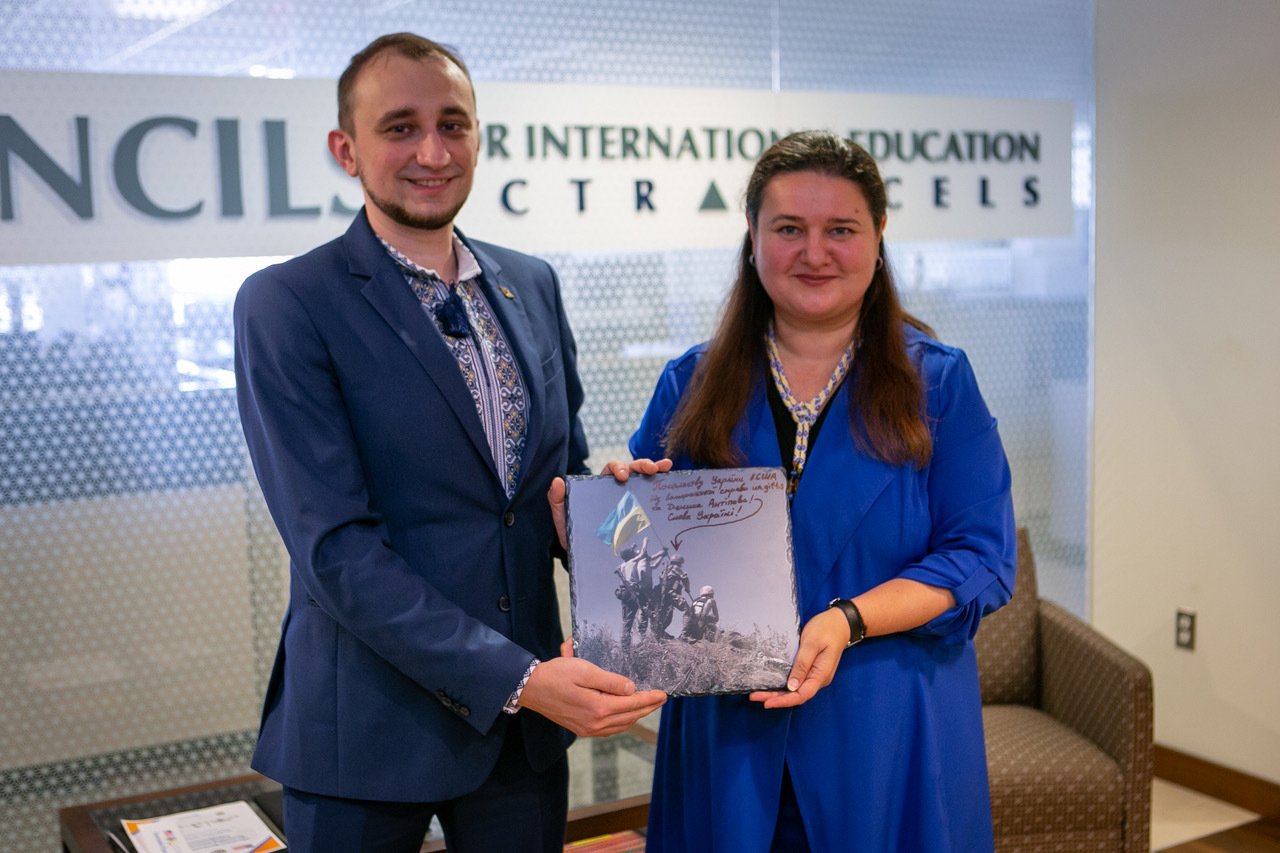 While he convalesced after the March 9 artillery attack, Antipov ran a fundraising page for his unit. He aimed to raise money to buy things such as night vision goggles, better radios, a drone with a thermal camera, and more trucks to haul around men and materiel.
Even from a hospital bed, Antipov's entrepreneurship and sense of duty spurred various new projects. He helped manage an information portal for foreign volunteers wishing to join Ukraine's International Legion. He also helped launch a website, translatedfromrussian.info, which translates intercepts of Russian soldiers' communications, as well as Russian media programs, into nine different languages.
Ultimately, waging the information war wasn't enough for Antipov. He returned to active-duty service on the front lines near Izyum, in the Kharkiv region. On May 2 he sent me a photo from the front, and I replied, "You're a badass."
"Many of us are," he answered.
On May 7, just four days before he died, Antipov recorded a short video testimonial and posted it to social media. With the sounds of artillery blasts in the background, he said, "There are wounded, there are killed in action. But we will defend our country."
After learning about Antipov's death through a social media post, I immediately called Yanchuk, the former university colleague of Antipov. I wanted to know if it was true — had my friend really died? Surely, this was just another instance of the online rumor mill running wild, I told myself in those early throes of denial. When Yanchuk answered the phone, the tone of his voice alone answered my question. It was not the answer I wanted to hear.
Without even introducing myself, I asked, "Did Denys really die?"
"Yes," Yanchuk replied. "He's really gone."
Read Next: