BRASELTON, Ga. — Brought together by tragedy, the hundreds who gathered Monday, Nov. 15, at Georgia's Free Chapel Church Braselton for the funeral of slain Jackson County Sheriff's Deputy Lena Nicole Marshall spent much of the service laughing.
That's because they wanted to remember Marshall as she joyously lived, not as she died on Nov. 8, three days after she was shot while responding to a domestic disturbance report at a home in Hoschton, about 50 miles northeast of Atlanta.
"She was Jack Daniels and menthol cigarettes; midnight phone calls that lasted 'til 4 a.m. She was her pants tucked awkwardly into her boots. She was a Johnny Cash T-shirt and a messy bun," Marshall's longtime friend Lauren Stephens said during her eulogy.
The woman who fatally wounded Marshall, Jessica Worsham, 43, was shot dead at the scene by a Jackson County deputy who has not been publicly identified.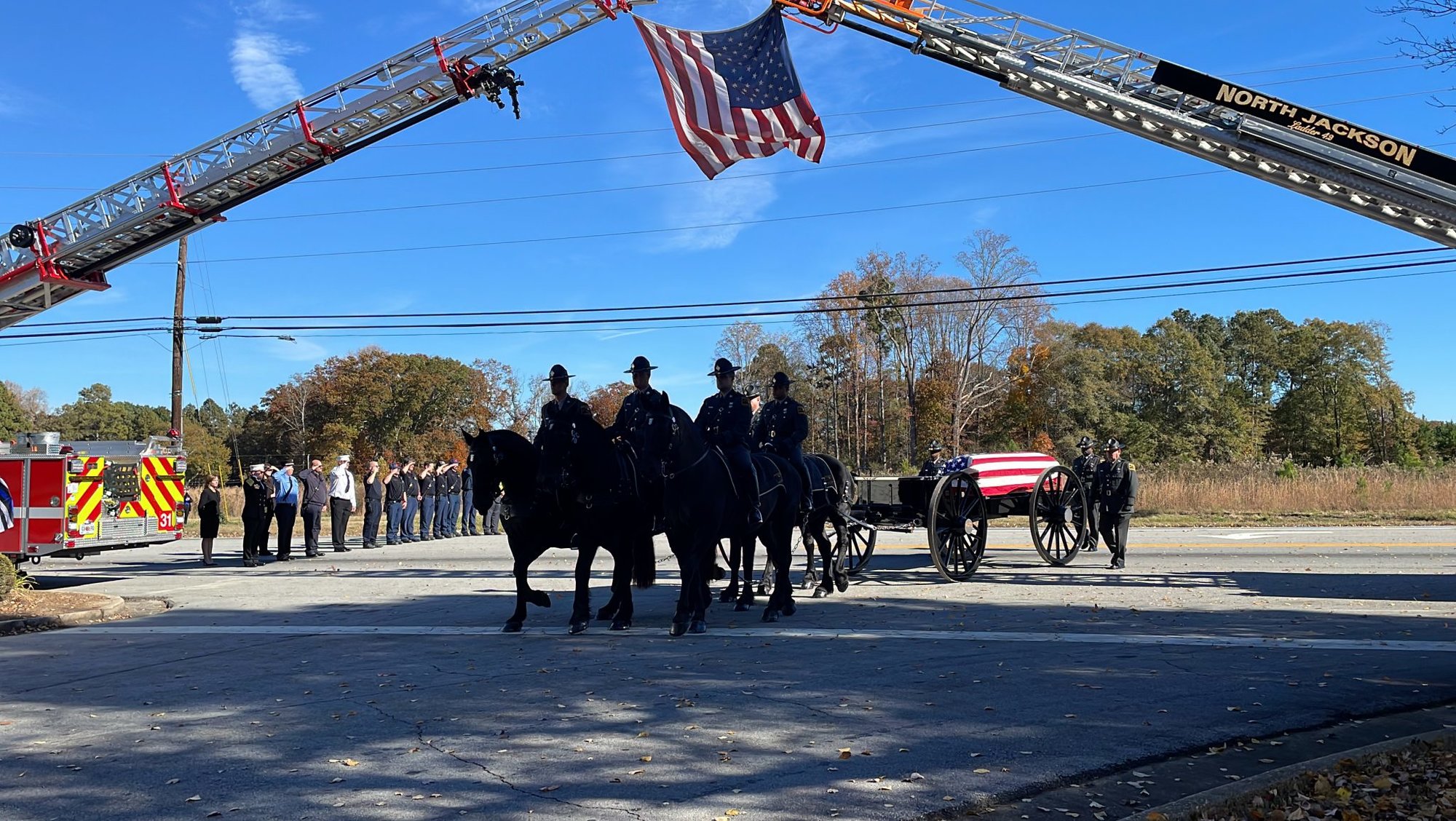 Marshall was 49 and had previously served in the Winder and Helen police departments, and with the sheriffs of Barrow, Habersham, and Jackson counties. Officers and deputies from all five agencies led a funeral procession to the church campus.
Marshall's body arrived on a horse-pulled caisson after a four-block journey from Memorial Park Funeral Homes & Cemeteries in Braselton.
Marshall's friend from California, Rob Peladeau, came to Georgia in the aftermath of the tragedy. He told the funeral audience that he visited the cities and towns where she served "just to stand where she stood, feel what she felt, look at the neighborhoods and think about the calls she might have been on.
"They just couldn't say enough good things about her," he said. "And knowing Lena the way I know Lena, if you met her, you loved her."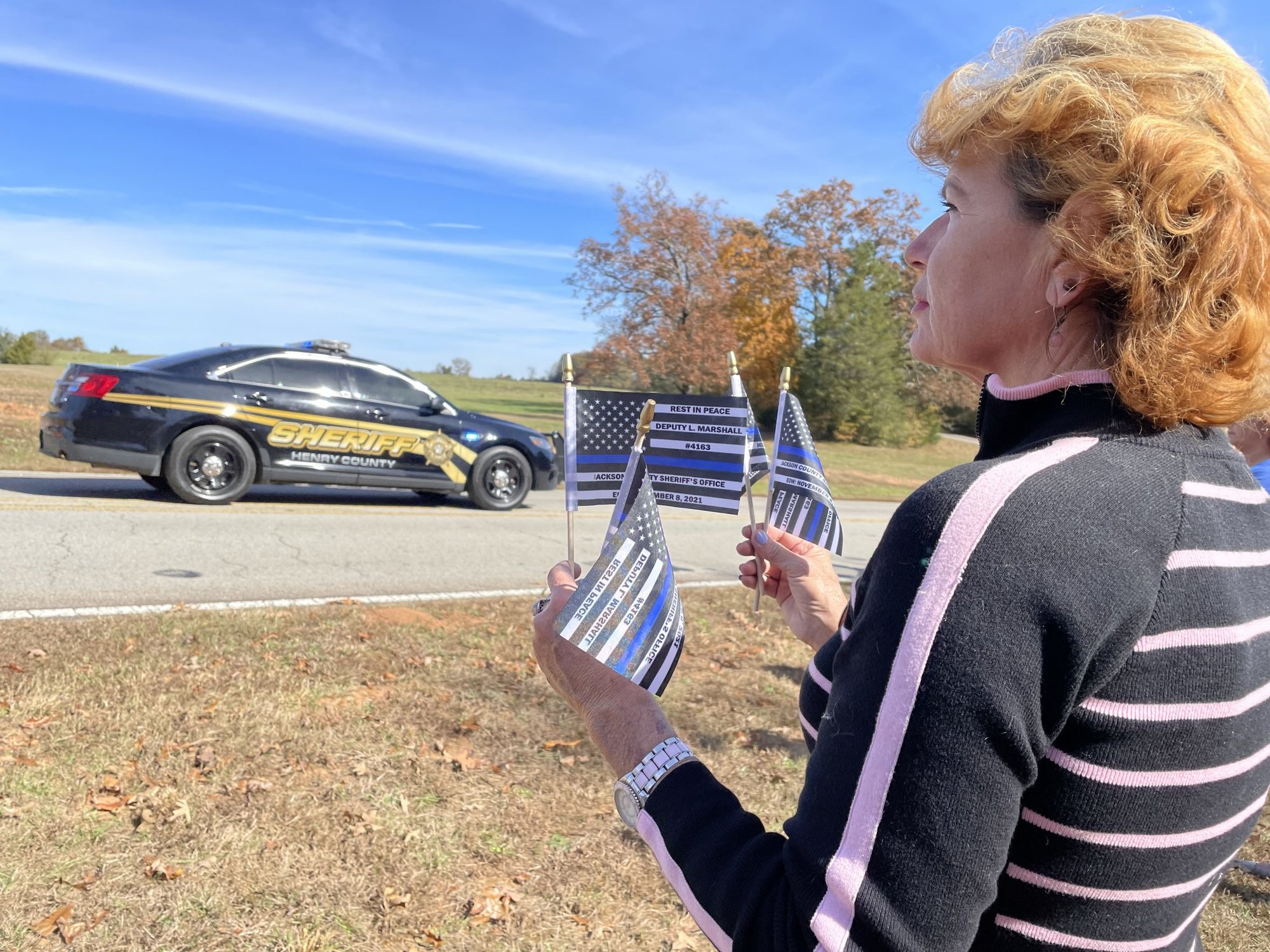 Stephens told the crowd of law enforcement officers, other first responders, and those close to the slain deputy that she called Marshall her "no matter what."
"She never judged, no matter what," Stephens said. "She was always on my side, even when I was dead-ass wrong; she'd tell me later. I never had to explain myself to her, ever. I could call her for literally any reason at any time, and without asking questions, she'd be there."
In the wake of Marshall's death, Stephens said she had come to realize that her "no matter what" credo applied to law enforcement and family, too.
"That was all of her friends, all of her brothers and sisters in law enforcement, all of her family; that's just who she was," Stephens said.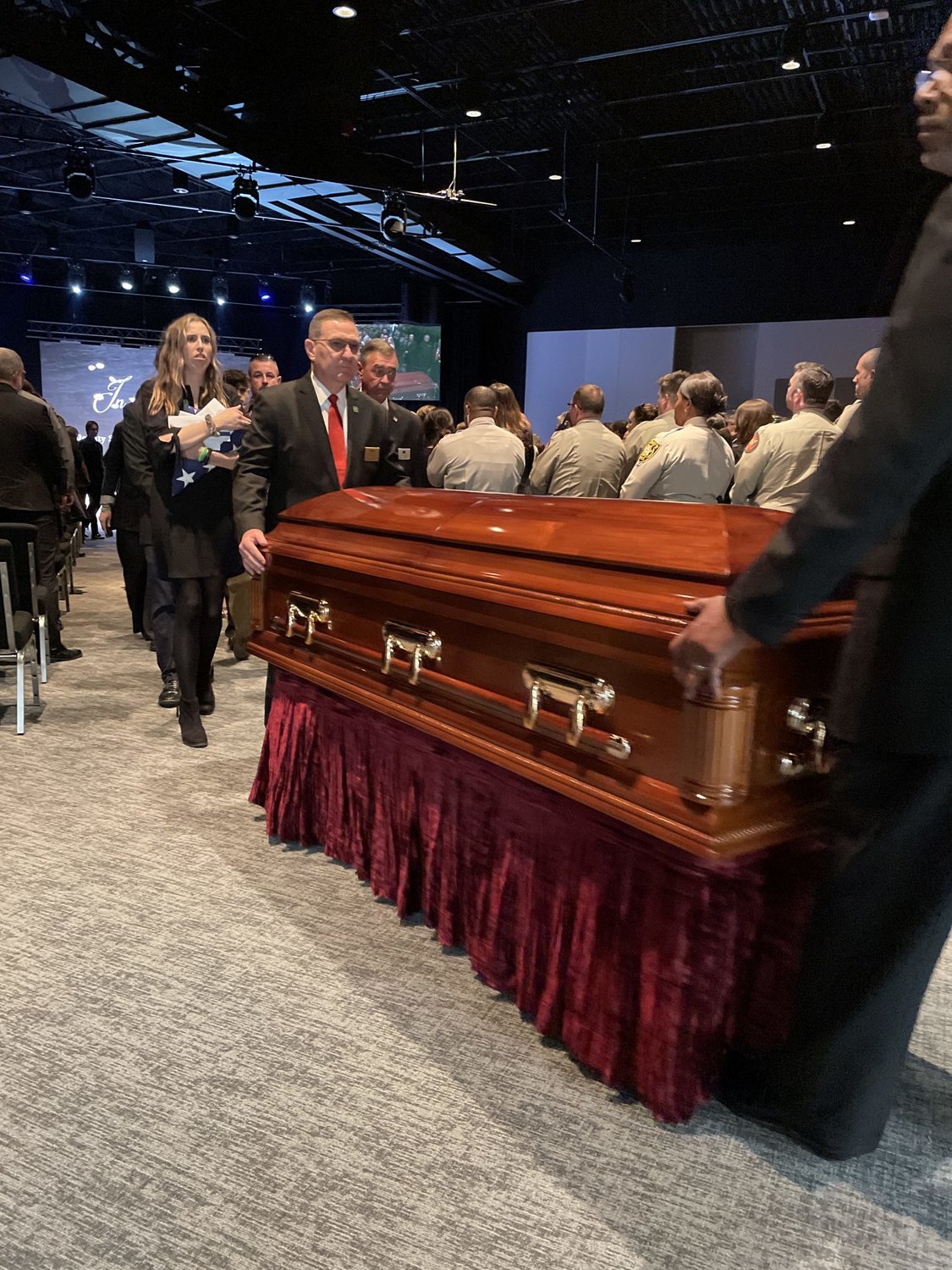 Marshall was preceded in death by her son, Austin Harris.
She is survived by her daughters Chelsea Marshall of Ballground, Georgia, and Kiley Harris of Hoschton, Georgia; son, Colten "Colt" Harris of Jefferson, Georgia; brothers Noah Johnson of Denver, Colorado, and Mark Marshall of Richmond, California; and sisters Rachel Winslow of Roswell, Georgia, and Katie Marshall of Richmond, California.
"Chelsea, Kiley, Colt, we love y'all, and we're here for y'all for whatever you may need," Jackson County Sheriff Janis Mangum said. "Your mom, Deputy Lena Marshall, left a legacy that will never be forgotten."
Read Next: