Editor's Note: In the interest of accurately reporting the events of Spc. Guillen's murder, we have included details in this article that may be upsetting to some readers.
While the command at Fort Hood remains steadfast in their refusal to release any further information about the events leading to Specialist Vanessa Guillén's disappearance from the base on April 22, the lawyer for the Guillén family has openly spoken about what the U.S. Army's Criminal Investigation Division (CID) told the family after one suspect was arrested and another killed himself on July 1.
"We have identified two suspects," said CID Special Agent Damon Phelps at a press conference Thursday. "It is very troubling and irresponsible that other soldiers' names have been placed on social media sites and implicated in this investigation when there was absolutely no credible information or evidence that those individuals had anything to do at all with this investigation."
However, Phelps did reveal that the Guillén family was "fully briefed and abreast of all the current facts."
Natalie Khawam, the Guillén family's lawyer, told Coffee or Die that the majority of the information CID is currently working with came from an admission by the suspected accomplice to the crime, Cecily Aguilar. This has been corroborated by a criminal complaint obtained by multiple media outlets.
Aguilar has been identified as the wife of a former Fort Hood soldier and is currently in Bell County, Texas, jail. She has been charged with tampering with evidence with intent to impair a human corpse.
Aguilar was not present for the murder. She was told of the events by Spc. Aaron David Robinson, the second suspect in the crime, who took his own life after being confronted by U.S. Marshals in the early hours of July 1.
Robinson was a combat engineer from Calumet City, Illinois. He was assigned to Alpha Company, 3rd Cavalry Regiment at Fort Hood. He was an armorer who worked in a building adjacent to where Guillén worked and was not part of her chain of command.
According to the account given to Khawam and the Guillén family by CID, Robinson told Aguilar that while working together in the armory, Guillén had seen Aguilar's picture on Robinson's phone. Guillén then threatened to report Robinson to command for adultery, at which point Robinson bludgeoned Guillén to death with a hammer.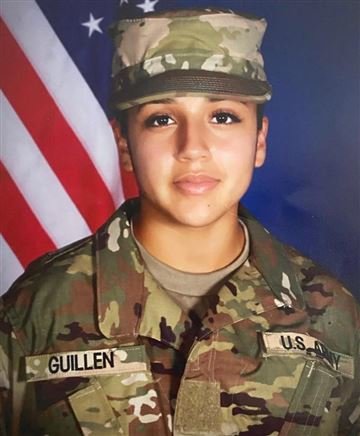 "I can't imagine how many times he was hitting her," said Khawam, "because they couldn't even recognize her dental records, her face was so smashed."
Robinson allegedly then removed Guillén's body from the armory in a large Pelican case and deposited her by the Leon River. Aguilar helped Robinson dispose of the body, using a machete to dismember the corpse and attempting to burn it before burying it in three separate holes.
The body was discovered Tuesday. According to the charge affidavit, contractors working on a fence near the river alerted investigators to the discovery of "scattered human remains that appeared to have been placed into a concrete-like substance and buried." The remains have not yet been positively identified as Guillén.
"So basically he gives her a story to make her feel in debt to him," Khawam said. "He just killed someone for his love for her."
Khawam said the family doubts Aguilar's statement. "[Guillén] didn't even know this girl, how would she know she's married? The story doesn't add up," she said. They believe that Robinson had been sexually harassing Guillén. "We believe that she probably said, 'I'm reporting you for it,' and that's why he did that. You think he's going to tell his girlfriend, 'Honey, I killed her because I sexually harassed her, and she was going to report me. Can you help me bury her body, because I was just making unwanted advances on another woman.' Let's just put it together."
"They would still be searching for Vanessa if it wasn't for this accomplice. […] Everything pointed to him, and yet they still ignored it."
Major General Scott Effland, Deputy Commander of 3 Corps at Fort Hood, was adamant at the press conference that "the criminal investigation has not found any connection between sexual harassment and Vanessa's disappearance."
Phelps agreed: "We are still investigating their interactions, but at this time there is no credible information or reports that SPC Robinson sexually harassed Spc. Guillen."
Effland emphasized that "sexual harassment is categorically adverse to our Army values." He said that he has ordered the Inspector General to review the Sexual Harassment/Assault Response and Prevention Program (SHARP) at Fort Hood and investigate whether the base's climate is supportive of those reporting sexual assault or harassment.
Khawam is dismissive of these efforts. "Do you think the American people are that stupid, that you're going to come here and say, 'Thanks, we did our investigation on ourselves. This is how this base works. And that's why we have a dead person. But we're going to come back and say there's no sexual harassment because you can trust us. We've been very transparent this entire time.' This is why we need a congressional investigation. This is the fox watching the henhouse."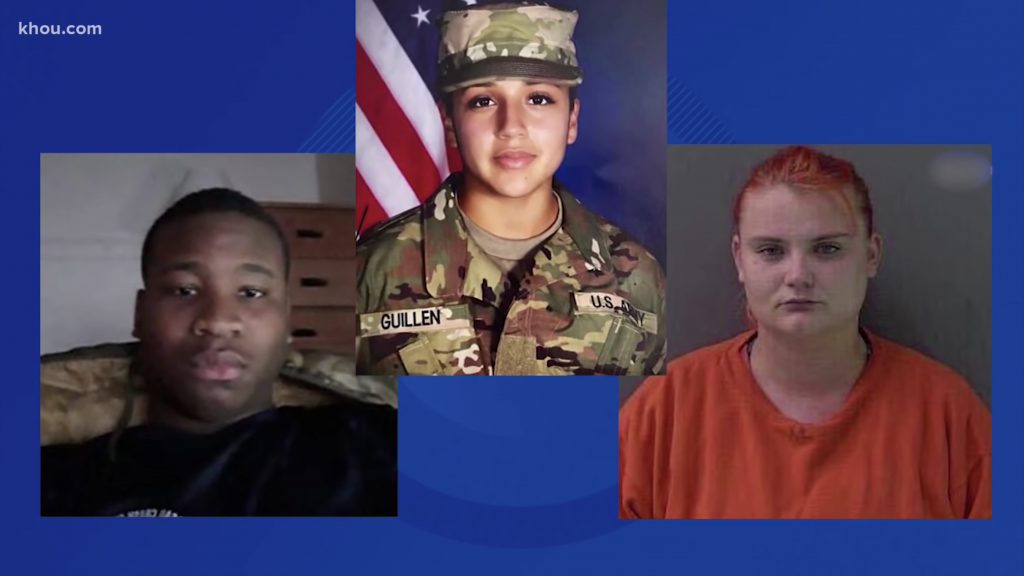 On Thursday, California Congresswoman Jackie Speier and New York Senator Kirsten Gillibrand released a joint letter requesting a full investigation of Guillén's disappearance by the Department of Defense Inspector General.
"Since the beginning, all involved in the search have worked tirelessly to find Vanessa," Effland said. "Going forward, this exemplary team of law enforcement, with all its technical and professional competence, will persist until all facts relative to the criminal behavior and personal misconduct are discovered."
Khawam scoffed at this. "You know how we always say, 'Get the A-team'? I can't even call them the B-team — they're the F-team," she said. "They didn't even catch anything, figure out anything, they got an admission from the accomplice. So it's not like they figured out the crime. They would still be searching for Vanessa if it wasn't for this accomplice. […] Everything pointed to him, and yet they still ignored it."
The charging document indicates that CID first interviewed Robinson on April 28, and he stated he was at his residence, which he shared with Aguilar, the evening of April 22. On May 18, two witnesses told CID that on April 22 they had seen him pulling a large heavy "tough box" from the arms room into his car and driving away. Following that witness statement, Robinson consented to a search of his phone, which indicated he had called Aguilar multiple times the evening in question.
Aguilar was not interviewed until June 19 and could not satisfactorily account for why Robinson had been calling her if they were together all night. This led to investigators analyzing Robinson's phone records and tracking his location to the Leon River on the night of April 22, staying in the area for approximately two hours. No remains were located during the June 21 search resulting from that information, although investigators found remains of a burned plastic box and smelled an odor of decomposition.
The family has been vocal about their frustration with the investigation. Khawam is spearheading the charge to investigate the overall situation at Fort Hood, which has recently been home to an alleged prostitution ring and classified another solider, Private Gregory Morales, as AWOL when he was later found buried in a shallow grave near the base.
"You feel sorry for every soldier that's there because they are not safe," Khawam said. "If we get a congressional investigation — watch, everyone on that base turns on each other. That base is ready to explode."
Khawam sees this case as just one part of a larger problem regarding sexual harassment and assault in the military.
"I'm honored that Speier and Gillibrand came forward — I'm looking forward to everyone doing it," she said. "If this isn't the time, then when is it? Just because she was murdered doesn't mean the story's over. It's only just begun."