KYIV, Ukraine — Near sunset, a small group of civilians and soldiers gathered at an overlook by Andriivs'kyi descent in central Kyiv. They stood in silence, looking northward over Kyiv's Vozdvizhenka neighborhood toward the distant horizon while the rumble of artillery explosions continuously rolled in from battles just a few miles away.
Every so often, these observers would share a look and shake their heads as if to ask, "Is this really happening?"
The relentless pulse of not-too-distant explosions was their answer.
During nearly eight years of war in Ukraine's eastern Donbas region, Kyiv remained largely quarantined from the direct effects of combat. The entrenched front lines were a fixed destination half a day away by train. That reliable distance afforded mental and physical barriers from the war. Consequently, life in Ukraine's capital city went on as normal while combat simmered in the Donbas trenches for nearly a decade.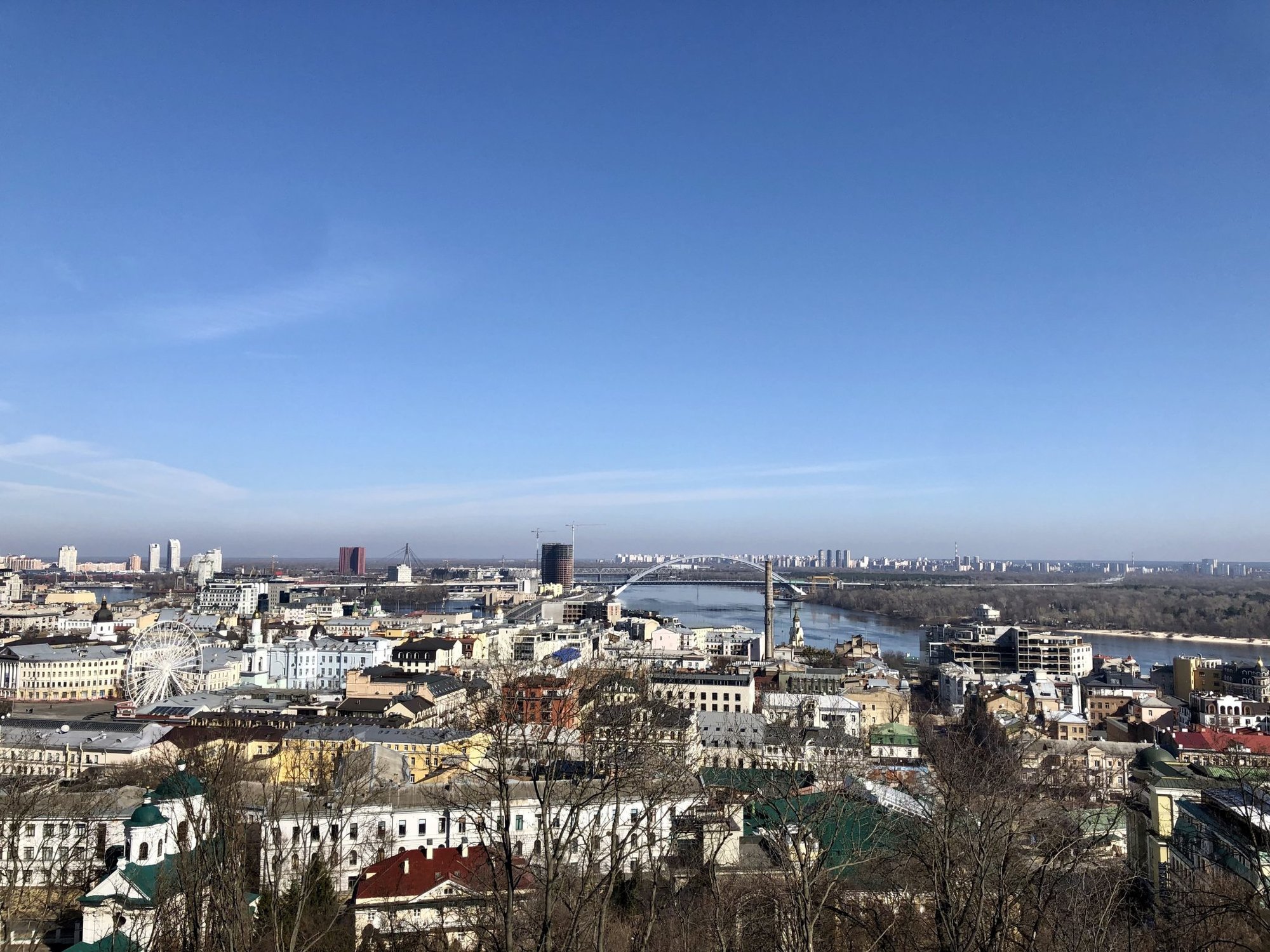 Now Kyiv sits smack on the front lines of a full-scale Russian invasion. Consequently, the city has become an urban fortress with substantial and omnipresent interior defenses. Downtown streets are interrupted by anti-tank hedgehogs, concrete barriers, stacked tires, barbed wire, and sandbag barricades. Armed soldiers patrol the streets, man checkpoints, and guard strategic buildings.
Outside the city center, Kyiv's northwestern and eastern outskirts have become lethal fighting grounds. The front lines are not fixed and quite nebulous, thus it's easy to take a wrong turn and be caught staring at a Russian tank.
"Yes, the front is active. All these small villages east of Boryspil and Brovary are on the front," an American volunteer soldier named Paul, who is serving alongside Ukraine's armed forces in the defense of Kyiv, told Coffee or Die Magazine about areas to the east of Kyiv.
"There is artillery and mortar fire on our positions followed by infantry pushed to clear villages by both sides," Paul said. "Our overall mission is to keep Boryspil and the route east of it free."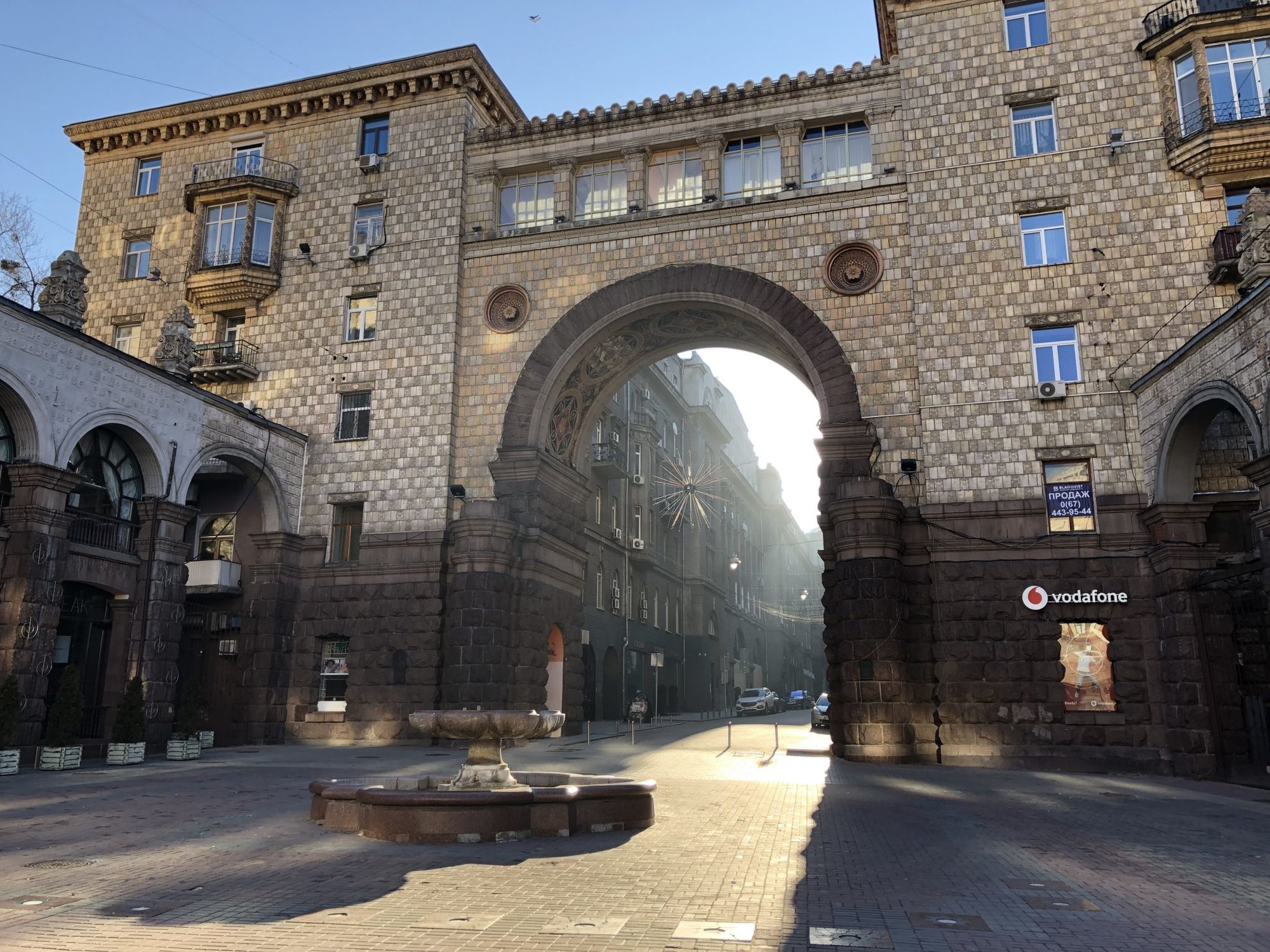 The Russian advance on Kyiv has been stalled for some two weeks. Yet, after weeks of intense, brutal fighting in the suburbs, civilian areas within the city limits have been hit by missile fire over the past several days.
Kyiv is under attack, that's true. But the city is far from encircled or besieged. The southern roads are open, safe, and filled with traffic flowing in both directions. Even roadways to the southeast across the Dnipro River are still squarely in Ukrainian hands. The open road arteries allow a steady flow of goods and supplies into the city to continue. Gas station lines are also basically normal along the city's southern roadways.
Despite the constant danger, life goes on. Kyiv's residents have acclimated to a new background level of danger in their daily lives. Around town, pedestrians and soldiers standing guard duty hardly seem to register the irregular booms of combat coming from a few miles away. And at night you often get jolted awake by window-rattling booms when the odd Russian missile invariably lands somewhere nearby. Even so, many people now just opt to sleep through the air raid alerts whereas a few weeks ago the wailing sirens provoked many people to shed tears.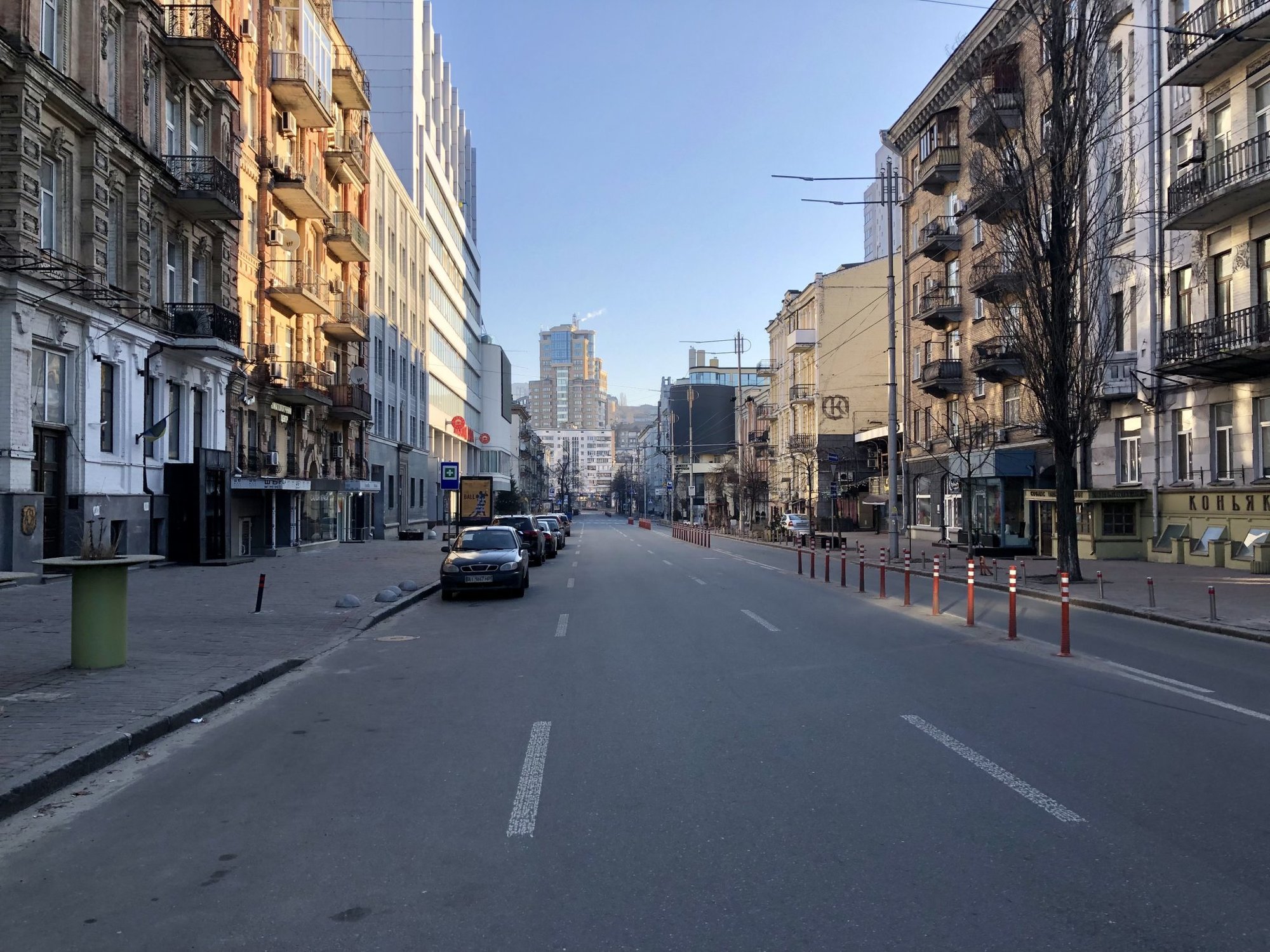 During one air raid alert around midday on Tuesday, March 15, people out enjoying a sunny day in central Kyiv's Shevchenko Park exhibited no outwardly visible reactions. Those who were sitting on benches remained seated. Several couples who were walking their dogs carried on at a casual clip.
"We will learn to live in war whether we like it or not. We must learn to live with new realities," said Aliona Guseva, a resident of Kyiv.
Guseva still does yoga every morning in her downtown Kyiv apartment as a way to stay calm. Maintaining such little habits from pre-war life allows her to remember the life she had before the war.
"The war will end one day," Guseva said. "Everything is temporary, both good and bad."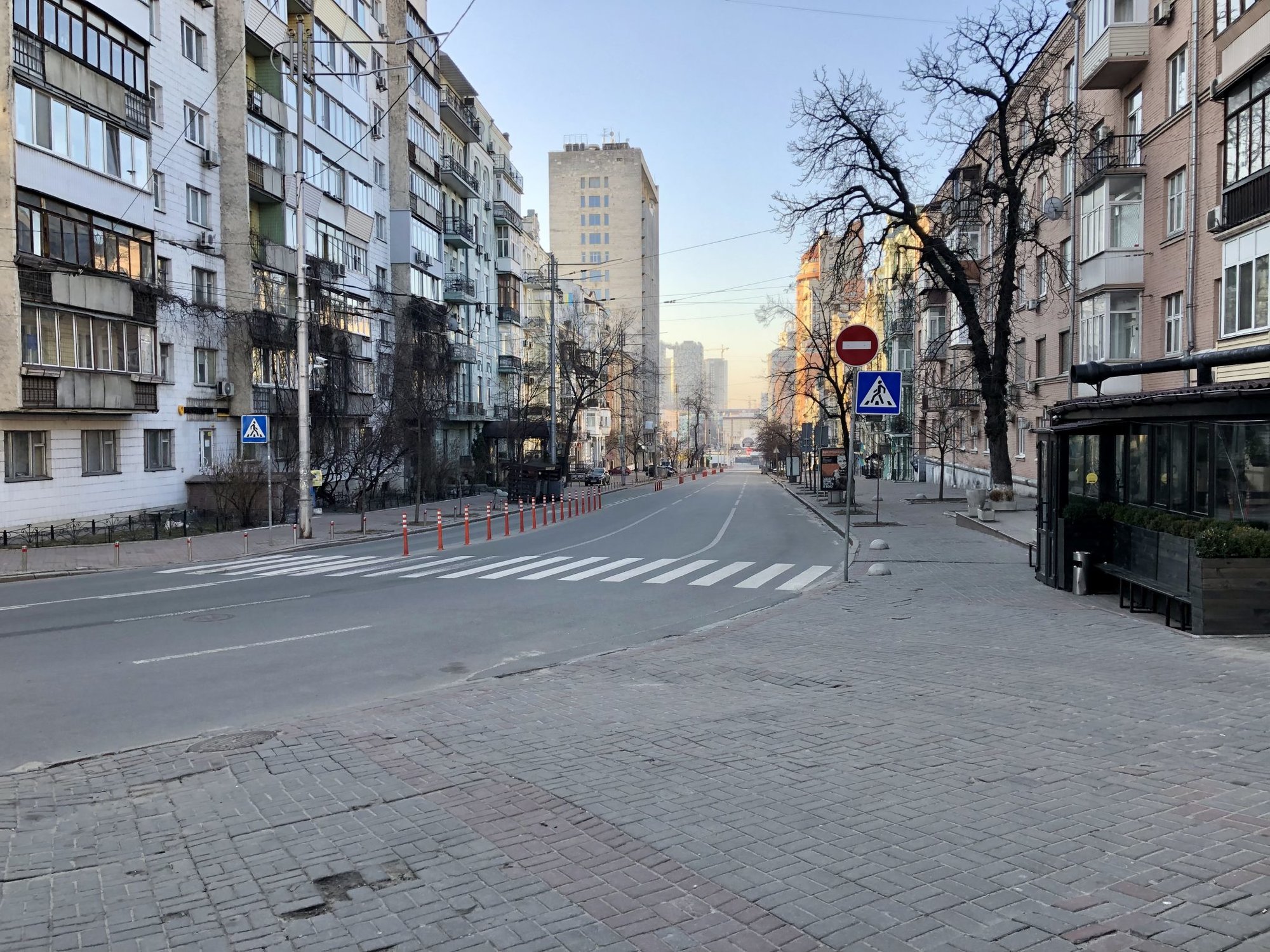 The Ukrainian military's steadfast defense of Kyiv has also inspired many residents to adopt an optimistic outlook about the fate of their hometown in the coming weeks.
"I know that our army will protect us. I don't think it's possible for the Russians to take over Kyiv," said Kateryna Nikolaieva, a resident of Kyiv. "I believe Ukraine is going to win the war."
Despite the newly adopted wartime rhythm of life, an eerie quiet has descended over Kyiv's once bustling downtown streets. There are some 2 million people left living in the city, about half the number as before Russia's full-scale invasion on Feb. 24. Yet, the remaining population certainly seems far lower — especially if you remember what Kyiv was like a month earlier.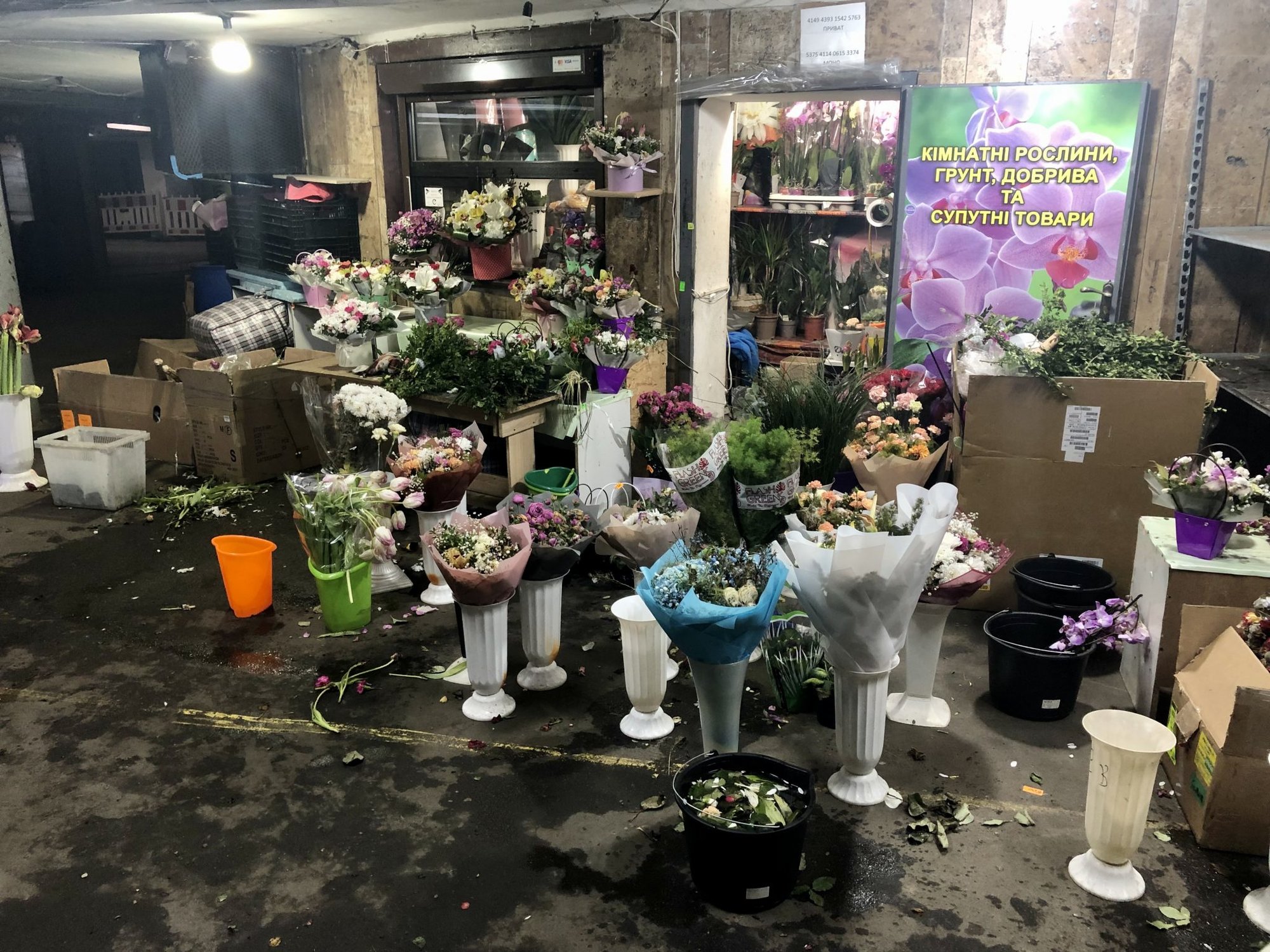 Shota Rustavelli, a popular thoroughfare lined with hip bars and restaurants, was absolutely deserted at 9 a.m. on Tuesday, an hour after the nightly curfew had lifted. On a weekday morning, this street would typically be clogged with traffic and its sidewalks buzzing with pedestrians. The popular Milk Bar café on Shota Rustavelli would normally have a crowd lined up outside — people either waiting for a table or to take a selfie in front of the café's famous seasonal displays. This morning, there wasn't a car or person in sight. Shades had been drawn down over Milk Bar's windows, concealing the interior from view.
Across Kyiv, restaurants and bars and nonessential stores are closed. The sale of alcohol is prohibited, and a nightly curfew is in place. Some shop windows are covered in plywood; others are crisscrossed with duct tape to prevent their shattering by bomb blasts. Some streetside doors are blocked by stacked concrete slabs. Long lines accumulate each day outside the pharmacies, as well as outside the handful of post offices that are still open — yes, mail continues to travel in and out of the city.
Kyiv is a ghost town — but not all the way. In fact, it's the little snippets of everyday life carrying on in spite of the war that make the most powerful impressions. The consequences of combat, after all, seem most extreme when compared against the baseline measures of what life should be.
More impressive than all of Kyiv's trench barriers and Kalashnikovs was the mother who stood aside and watched her child on a swing set in a playground. Or the man in his sweatsuit out for a morning jog on Khreshchatyk, Kyiv's main thoroughfare. Or the flower shop still open for business at an underground passageway near the entrance to Lva Tolstoho metro station. Or a middle-aged woman named Olena working the cash register at a Kolo convenience store in the city center.
"My life is here in Kyiv," Olena said. "I prefer to stay here and keep my job. If I leave, I have nothing. And where would I go? No one is waiting for me."
Kyiv's city center certainly seems deserted. But beneath the ghost town veneer, the stealth heartbeat of the city still pulses. Garbage collectors are still at work. City buses and the underground metro still operate select routes. Electricity is stable and available, and there is hot water and reliable internet connection. Schools resumed remote learning this week, and dental care is being offered for free at various places throughout the city. A system has been set up to deliver food and basic hygiene products to people who are unable to leave their homes, and a new 24-hour hotline is operating so that psychiatrists can talk with children who have been traumatized by the fighting.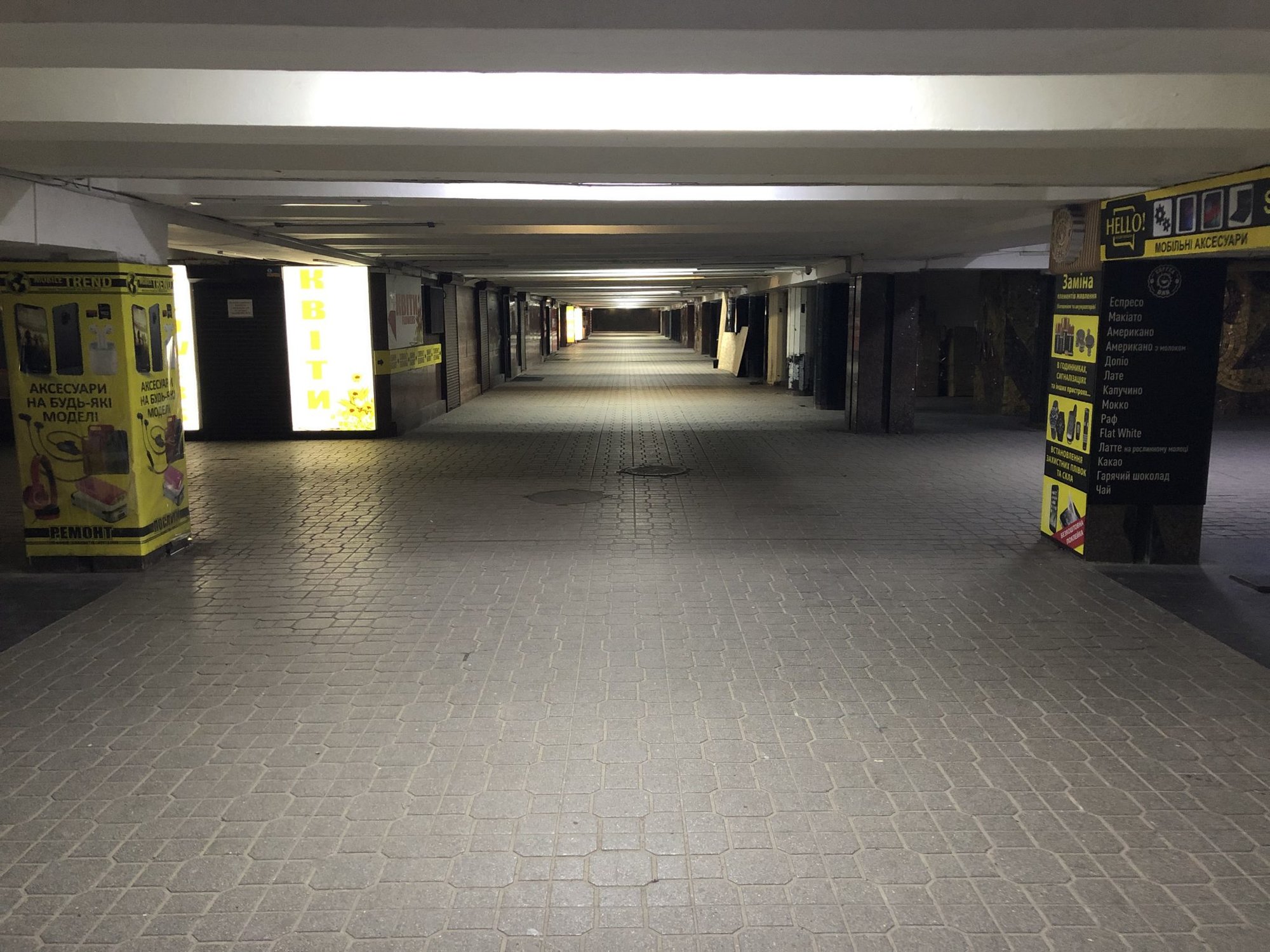 Except for the promise of security, most of modern life's conveniences remain present. Shelves in grocery stores are mostly full (except for alcohol). You can even stock up on Coke Zero and protein bars — hardly essential foodstuff. Plenty of paper towels and toilet paper are available, and although some ATMs are inoperable, a good number are still functioning. A PrivatBank ATM on Khreshchatyk allows withdrawals up to the equivalent of $300.
"Kyiv continues to live and work in conditions of war," Kyiv's City Council announced in a Wednesday Facebook post.
For those who have decided to stay in Kyiv, the bizarre blend of fortifications and distant explosions interspersed with random snippets of normal life has created an absolutely new brand of existence — a twilight zone reality in which a street you have walked ten thousand times seems totally foreign, and the performance of an ordinary habit becomes an act of resistance.
"I have deliberately stayed in Kyiv for personal reasons, but the important thing is that I never planned to emigrate and moreover I don't see myself as a refugee as long as my hometown stands and lives," said Vlada Myronenko, a psychologist who lives in Kyiv. "This is my life — my consulting office, my clients, my home, my family, my plans for the future and losing it all scares me more than Nazi bombs and missiles."
Read Next: