The annual celebration of the Allied invasion of Normandy, France — D-Day, as it's commonly referred to — is a spectacle to behold. Watching hundreds of U.S. and Allied paratroopers jump onto the farm fields just outside of Sainte-Mère-Eglise, the same drop zone that was used on June 6, 1944, is incredible.
Watching the celebration while standing right next to the same men who actually invaded Normandy against impossible odds — well, that took the experience to an entirely different level. Especially so in light of the fact that witnessing the festivities alongside these men is becoming increasingly rare as the population of World War II veterans ages rapidly.
These heroes, eight in total, were able to return to their former battlefields for the 74th anniversary of the invasion because of the vision of one man: former NFL Pro Bowl linebacker Donnie Edwards. Edwards has devoted his life to philanthropy since his retirement from professional sports. He founded and currently runs the Best Defense Foundation, which focuses specifically on taking World War II veterans back to their battlefields, often taking their spouses along for the ride.
Their mission is simple: helping military veterans and their families by providing support, community, and help while transitioning back to civilian life. In short, "Take care of the ones who took care of us."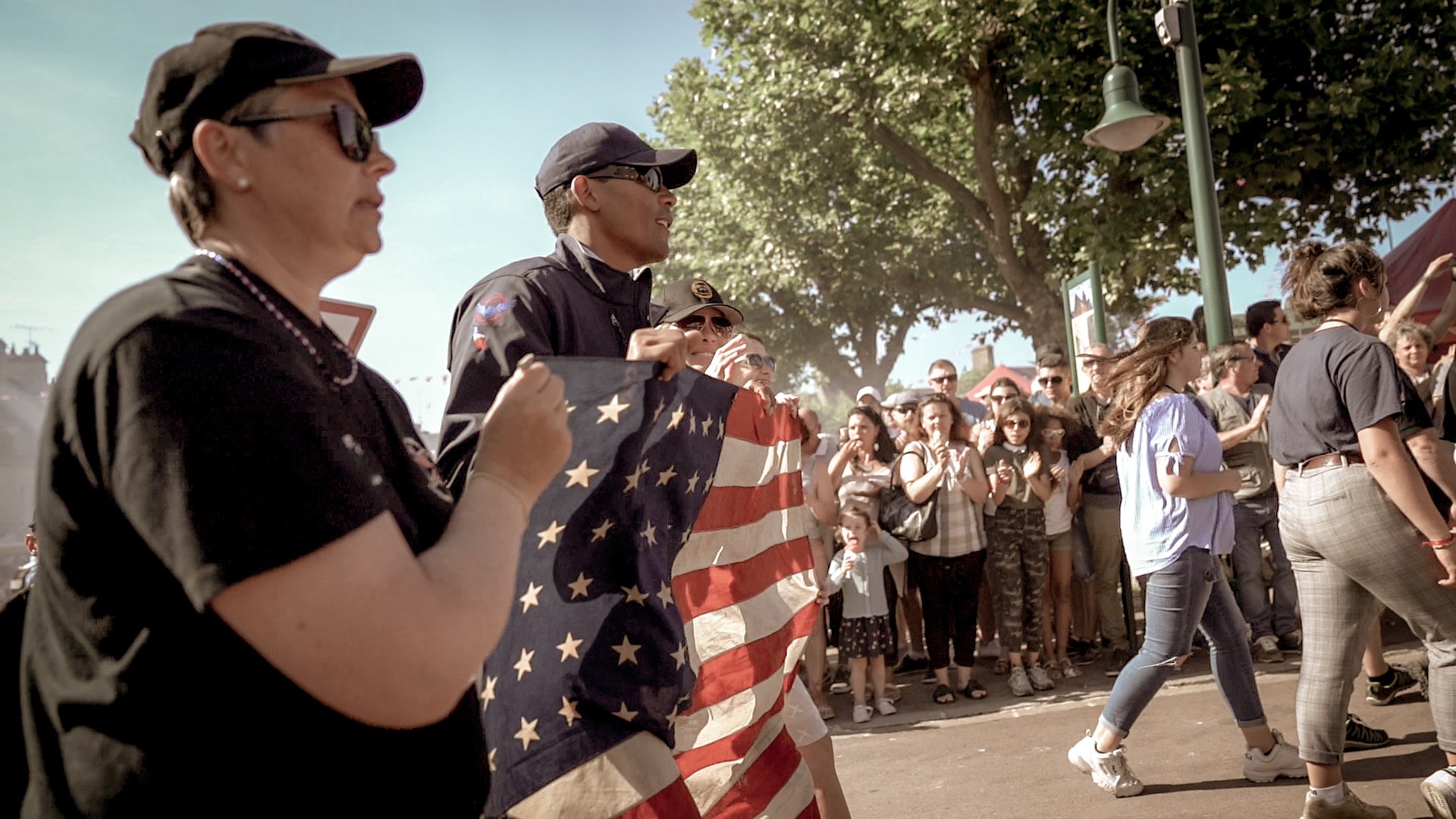 It's a significant undertaking to organize an international trip for a group of any kind, nevermind a trip for veterans who, for the most part, have lingering injuries or have aged to a point where mobility is an issue. Edwards is accustomed to going against the odds though; he was one of only eight players in NFL history to record 20 sacks and 20 interceptions in the same season. He has brought that same motivation to the table in order to give the Greatest Generation the trip of a lifetime, time and time again.
According to Edwards, his Native American grandfather, Sgt. Maximino Razo, was his inspiration to start the Best Defense Foundation (BDF). Sgt. Razo was a World War II soldier stationed at Schofield Barracks in Hawaii and survived the Japanese attack on Pearl Harbor.
"Growing up without a father, my Apache Nation grandfather, Maximino Razo, was essentially my father figure," Edwards said in an interview with Coffee or Die Magazine. "He was very proud of his service and stressed to me the importance of God, country, and family. He used to always tell me that I have a tremendous amount of opportunity and freedom by being born in this great nation."
Edwards' grandfather used to tell him, "It doesn't matter where you start, it's how you finish. In this country, you can achieve anything you want in life if you work hard for it." Edwards never forgot that advice and used it as fuel for a 14-year NFL career, visiting 65 countries, and earning a master's degree from UCLA. "I now use my platform to serve and give back to our military veterans. Without everyone who defends, or has defended, the United States, I would not be where I am today."
"It doesn't matter where you start, it's how you finish. In this country, you can achieve anything you want in life if you work hard for it."
My first encounter with the veterans of BDF was at a beautiful French chalet that Edwards had rented for the week for the group to stay at. I walked in on the veterans trading war stories around a stone fireplace, as the BDF staff quietly yet intently listened nearby. The veterans ranged from tankers to paratroopers, and even a mortuary affairs specialist. They included both officers and enlisted; while the youngest was 93, the oldest was 98. All shared a common background though: each man present had participated in the invasion of Normandy and lived to tell the tales.
I chatted with one of the veterans, Francis Turner, who served in the 2nd Armored Division as an engineering officer. After he whooped the Nazis in Northern Africa, he still wanted more. So he and his fellow engineers went up north to get their man dance on during Operation Overlord, landing on Omaha Beach … and again putting the hurt down on a bunch of Nazis.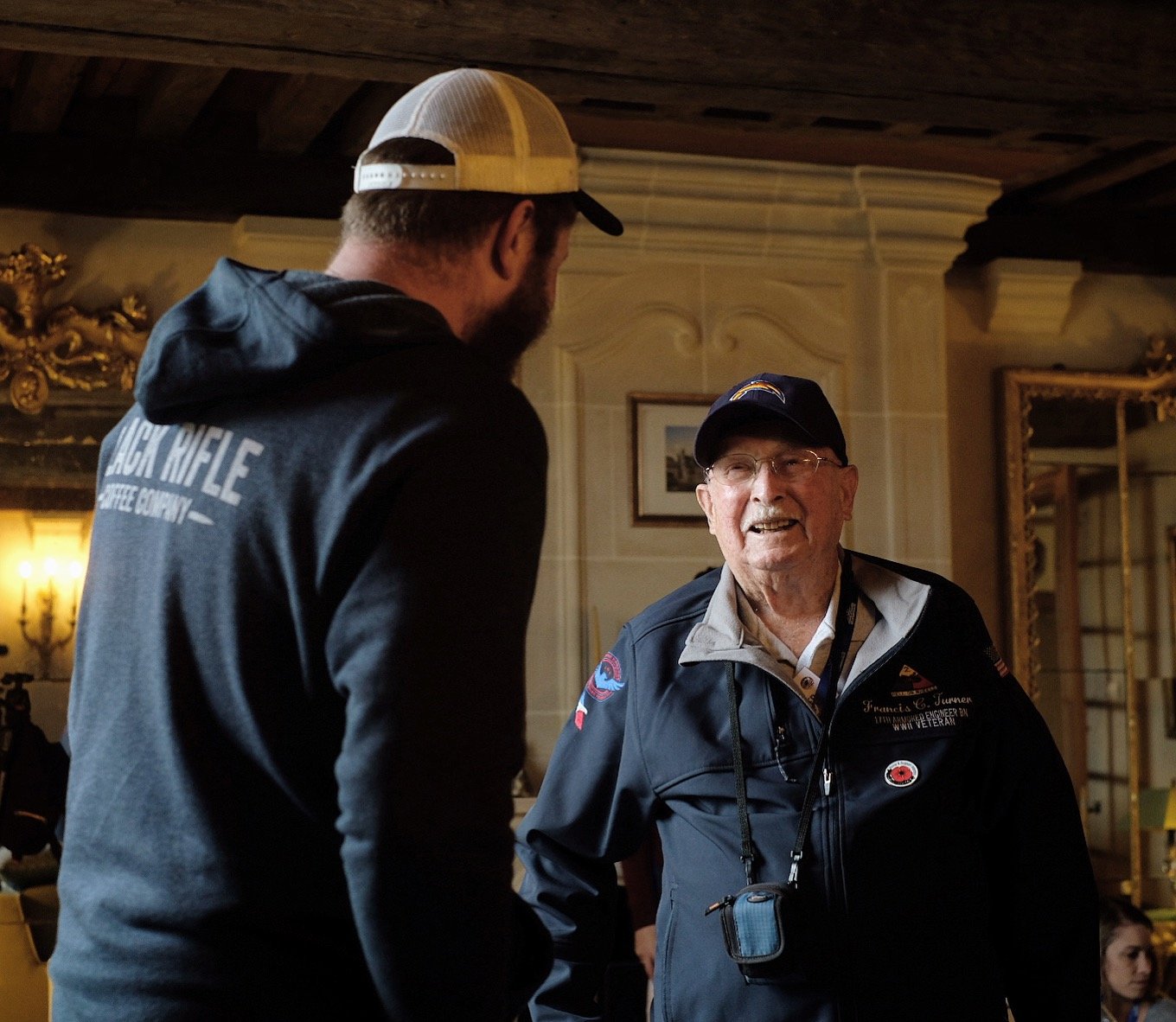 Turner, despite being the major league pipe hitter that he is, was humble yet eager to share the story of his unit in combat. His biggest regret so far? He had yet to meet any of the Germans he fought in the war. "They were forced into it just like we were," he said. "What were they gonna do? Tell Hitler no?"
Over the next few days I got to know these old warriors as they visited their battlefields, attended ceremonies as distinguished guests, and even took time to speak to young children at a local school. But the most surprising and emotionally stirring event of the trip was at the Brittany American Cemetery and Memorial.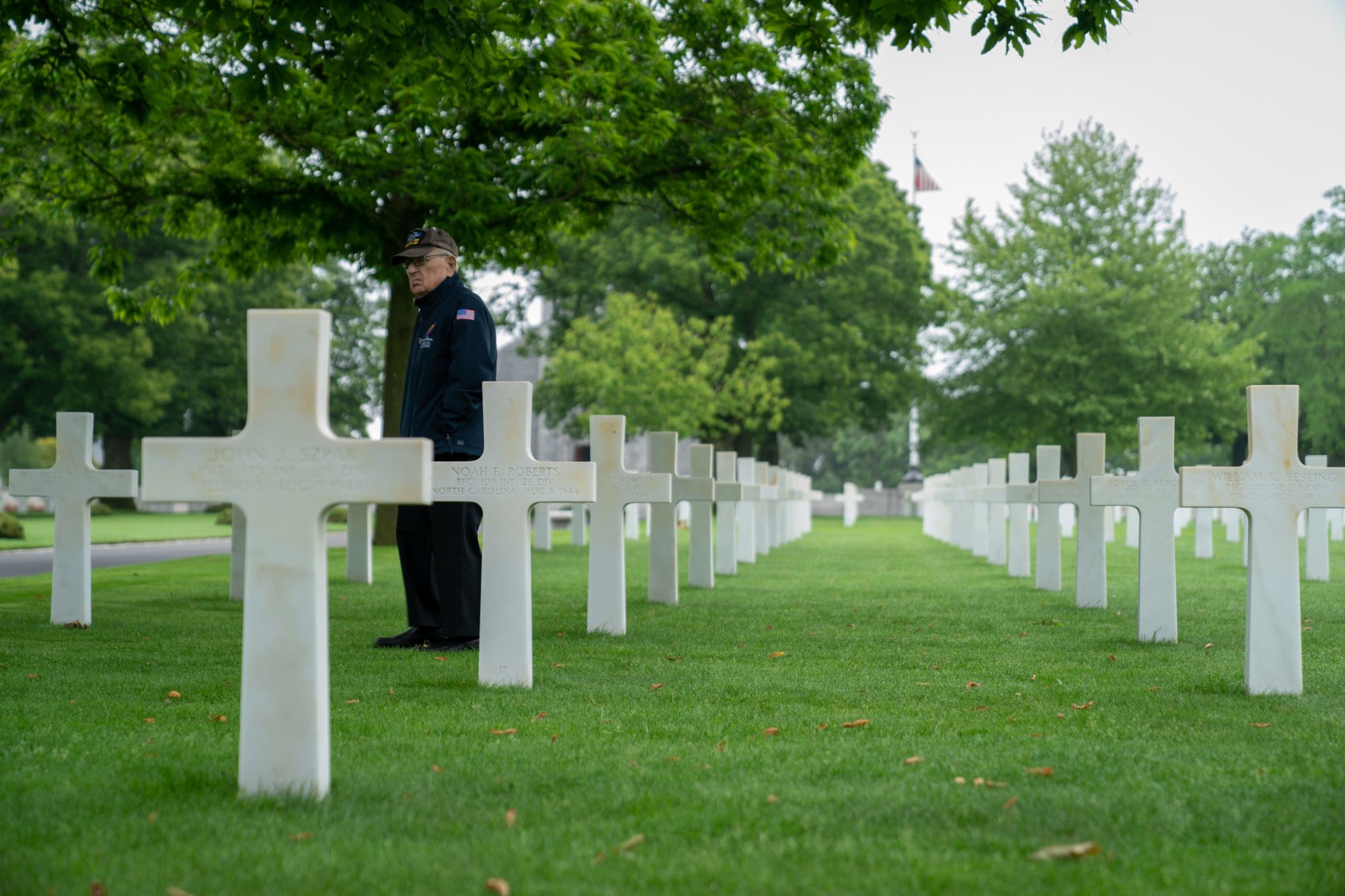 As we walked among the thousands of white crosses, one of the veterans, Boris Stern, was casually moving through the rows. Stern was an infantryman who served at the Battle of the Bulge, and to this day has a reputation as a man who keeps a straight face in just about any situation. To some, his no-nonsense approach to life may be misinterpreted as a "grumpy" demeanor. Not me; I loved this guy!
He wasn't looking for anyone in particular, as he was quite certain that he didn't know anyone buried there. Nevertheless, he was content paying his respects.
All of a sudden, Stern stopped dead in his tracks, staring at one of the crosses.
He had just found the grave of one of his high school classmates. He didn't know that he was buried there; it was pure coincidence that he came across his grave.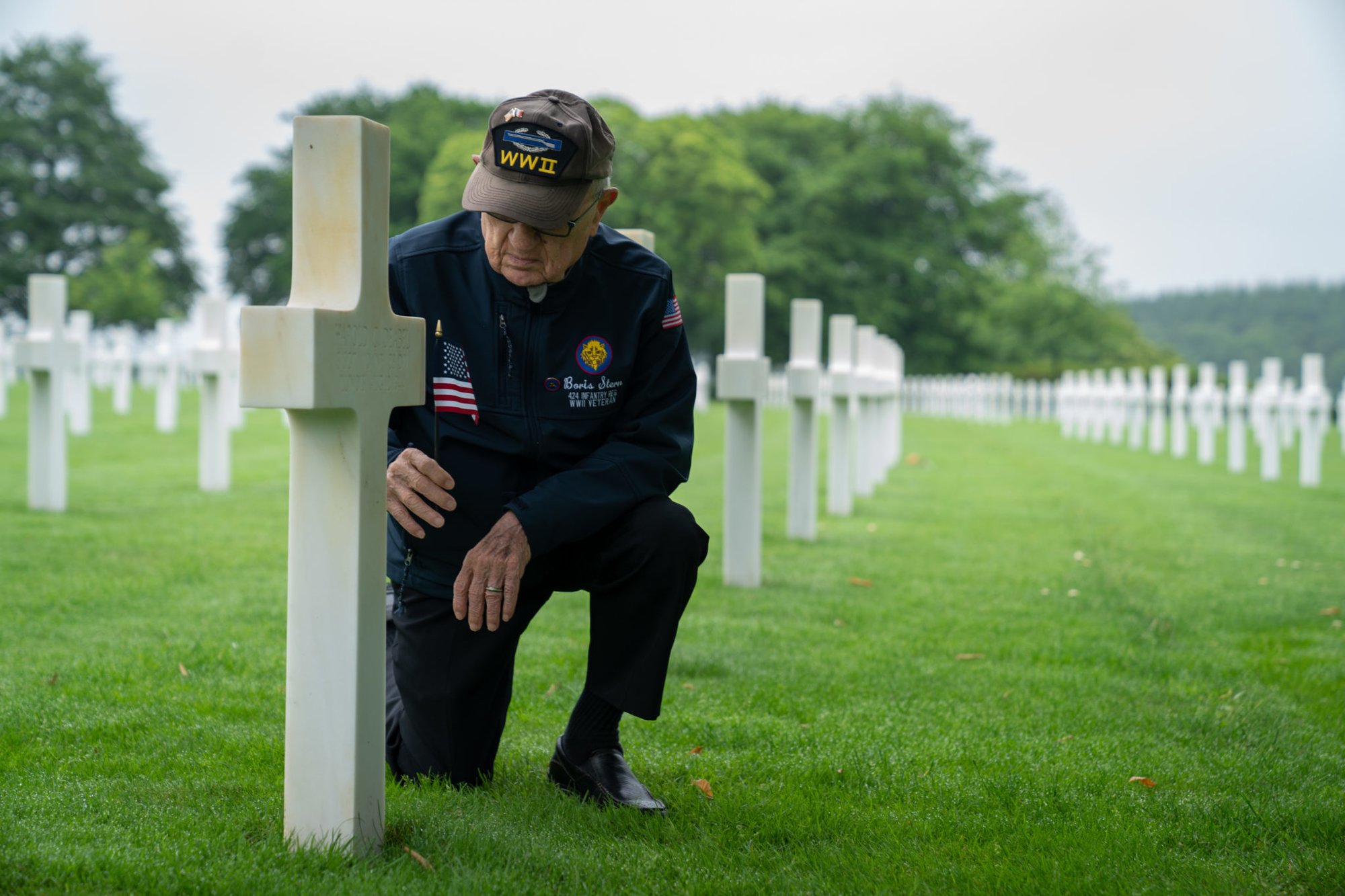 He was obviously sorting through a flood of memories that likely hadn't been accessed in decades. It was a special moment; what are the odds that out of the thousands of graves at that cemetary, he would find someone he didn't even know was there?
The Best Defense Foundation does important work. Edwards and his staff work year-round to facilitate these moments, and they take veterans back to more than just Normandy. Pearl Harbor, Iwo Jima, and Holland are some past destinations, and with time running out, BDF continues to give the trip of a lifetime to as many veterans as possible.