On the morning of Dec. 7, 1941, Doris "Dorie" Miller was serving aboard the USS West Virginia as a Navy mess attendant 2nd class when the Japanese attacked Pearl Harbor.
As his battleship was sinking, the powerfully built 22-year-old sharecropper's son from Waco, Texas, helped move his dying captain to better cover before manning a .50-caliber machine gun and shooting at the attacking Japanese planes until he had no more ammunition. Miller was one of the last men to leave his sinking ship, and after unloading on the enemy, he turned his attention to pulling injured sailors out of the harbor's burning, oily water.
Miller's legendary actions, for which the sailor received the Navy Cross, were immortalized in the 1970 film Tora! Tora! Tora! and in Michael Bay's 2001 film Pearl Harbor. But those depictions only provide surface details of Miller's extraordinary service and its legacy in changing the course of US history.
Here are seven facts every American should know about this American icon.
He's the first enlisted sailor or Black American to ever have an aircraft carrier named after him.
The Navy made history Jan. 20, 2019, when it announced at a Martin Luther King Jr. Day celebration event on Joint Base Pearl Harbor-Hickam that it would name a new Ford-class aircraft carrier, CVN-81, after Miller.
Supercarriers are typically named for US presidents, and the USS Doris Miller, which is still under construction, is the first to be named for an enlisted sailor or Black American. Navy officials said it will be the most powerful and lethal warship ever built.
"Dorie Miller stood for everything that is good about our nation," said former acting Navy Secretary Thomas Modly during the ceremony last year. "His story deserves to be remembered and repeated wherever our people continue to stand the watch today. He's not just the story of one sailor. It is the story of our Navy, of our nation and our ongoing struggle to form — in the words of our Constitution — a more perfect union."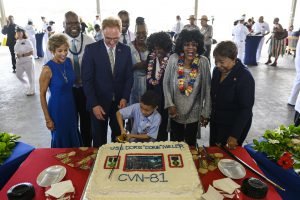 The carrier will be the second Navy vessel to honor Miller.
In 1973, the Navy commissioned the destroyer escort Miller, which was reclassified as a frigate two years later, according to The Navy Times. During the ship's christening ceremony, Texas Rep. Barbara Jordan predicted that the "Dorie Millers of the future will be captains as well as cooks."
According to KPBS San Diego, the Navy now has 10 Black admirals serving in its ranks.
As a Black sailor in 1941, Miller wasn't even supposed to fire a gun.
As NPR reported Tuesday, "When he reached for that weapon, he was taking on two enemies: the Japanese flyers and the pervasive discrimination in his own country."
"One of the ways in which the Navy discriminated against African Americans was that they limited them to certain types of jobs, or what we call 'ratings' in the Navy," historian Regina Akers from the Naval History and Heritage Command told NPR. "So, for African Americans, many were messmen or stewards. Dorie Miller was a messman, which meant that he basically took care of an officer, laid out his clothes, shined his shoes and served meals."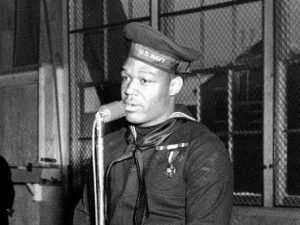 Miller's legend would have been lost if not for the Black press.
Members of the Black press knew that getting Miller proper recognition could undermine the stereotype that Black Americans weren't any good in combat. But when journalists from The Pittsburgh Courier — one of the leading Black newspapers of the time — looked into Miller's story, the Navy initially wouldn't identify him, saying there were too many messmen in its ranks to find him.
Before his death in 2003, former Courier reporter Frank Bolden said in an interview with the Freedom Forum, "The publisher of the paper said, 'Keep after it.' We spent $7,000 working to find out who Dorie Miller was. And we made Dorie Miller a hero."
Miller's actions initially earned him nothing more than a letter of commendation, but coverage by the Black press captured public attention, and eventually, US Pacific Fleet Commander Adm. Chester Nimitz upgraded Miller's commendation to the Navy Cross, then the third-highest honor for heroism.
Akers, the historian, told NPR, "In just like the flip of a switch, [Miller] becomes a celebrity. He becomes one of the first heroes, period, of the war, but certainly one of the first African American heroes of the war. He was on recruitment posters. His image was everywhere."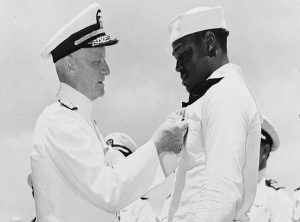 Miller's story changed the Navy and military forever, paving the way for desegregation in the service.
Even before Miller was awarded the Navy Cross, his story quickly effected reforms. The Navy opened up jobs such as gunner's mate, radioman, and radar operator to Black sailors and eventually started commissioning Black officers.
"Things came together at Pearl Harbor for Doris Miller and for the civil rights movement, probably to maximum effect," Baylor University history professor Michael Parrish told NPR.
Miller's story inspired Black artists to produce works that spread his legend far and wide and inspired generations of activists who were determined to build a more just society. In 1943, Langston Hughes, the Black American poet best known as a leader of the Harlem Renaissance, wrote this poem about the trailblazing sailor:
When Dorie Miller took gun in hand —

Jim Crow started his last stand.

Our battle yet is far from won

But when it is, Jim Crow'll be done.

We gonna bury that son-of-a-gun!
Parrish, who co-authored Doris Miller, Pearl Harbor, and the Birth of the Civil Rights Movement, said President Harry S. Truman's executive order to desegregate the military in 1948 can also be traced to Miller's heroics at Pearl Harbor.
"World War II was really the turning point in that long struggle," Parrish told NPR.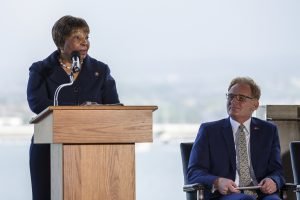 Some Congressional leaders believe Miller's Navy Cross should be upgraded to a Medal of Honor.
Rep. Eddie Bernice Johnson, who represents Texas' 30th Congressional District, said in a 2010 press release that she has been working to honor Miller with the Medal of Honor since she first came to Congress in 1993.
"For more than 50 years, members of Congress have been working to give Petty Officer Doris Miller a Congressional Medal of Honor," Johnson said. "Eighteen years after I first came to the House, we are still working on it. In my judgment, Dorie Miller saved our country from invasion, and as long as I live, I will do what I can to honor this great American hero."
Miller was later killed in action in World War II and never lived to see the lasting effects of his heroics.
After Pearl Harbor, Miller went on serving his nation in World War II, and in 1943, he was one of hundreds of sailors killed when their ship was torpedoed and sank in the Pacific. While Miller's body was never found, his legacy lives on, and his name has graced a postage stamp, schools, roads, and community centers all over the country.
And the service that once wouldn't even release Miller's name to the public now honors him alongside US presidents.