Hazing freshmen has long been banned at service academies, including at the Air Force Academy in Colorado Springs. But a military photographer recording this year's incoming class on the school's assault course snapped a picture of an academy drill sergeant ready to deliver some "purple haze."
The shot was taken on an obstacle-course event during the academy's Basic Cadet Training, the six-week boot camp each cadet must pass in the summer before his or her freshman year. In the photo, a drill sergeant — whom the Air Force calls a military training instructor, or MTI — emerges from a purple smoke cloud, his almost-certainly angry face hidden by a black mask.
The man behind the mask, Master Sgt. Michael Walsh, told Coffee or Die Magazine that the menacing look was very much on purpose.
"All of the sudden, there is this drill sergeant, if you will, coming out of the smoke and giving some 'high-volume corrections,'" said Walsh, who acts as the training superintendent for the field portion of Basic Cadet Training. "We have simulated rifle fire going on, simulated ground bursts … as well as smoke."
Walsh said he and other MTIs worked with explosive ordnance disposal experts to create a "chaotic atmosphere" for the final field training.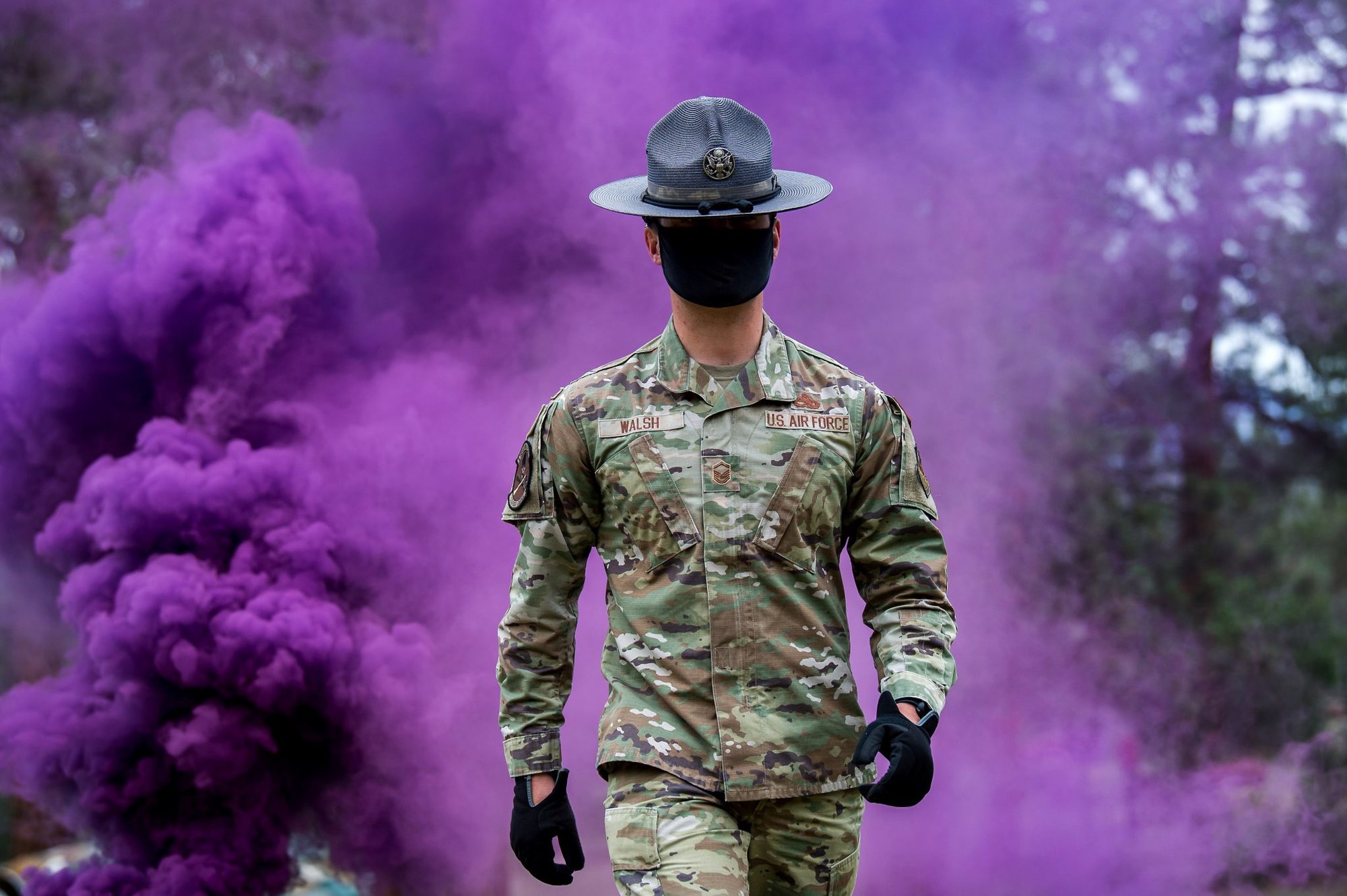 For generations of Air Force Academy graduates, the very sight of an MTI at the academy — whether he was emerging Terminator-style from a smoke cloud or not — would be a shock. Service academies have traditionally left the training of incoming freshmen to cadres of upperclassmen. But the Army's US Military Academy at West Point introduced enlisted drill sergeants — each straight from a tour as a DI at enlisted training bases such as Fort Jackson and Fort Benning — into academy basic training in 2017. The Air Force Academy followed suit in 2020. (Drill sergeants are standard parts of officer training across the military in various other routes to a commission, such as in officer candidate schools.)
But MTIs have not replaced upperclassmen as the primary instructors for their younger peers, Walsh said.
"It's more of a partnership," Walsh said, noting there were 1,100 freshman trainees and a cadre of 13 upperclassmen cadets for the 2021 boot camp. "[MTIs] are not necessarily taking over, but we're guiding, giving feedback, suggestions to the cadre. Our rising juniors and seniors, our first-degree and second-degree cadets — they're definitely in charge. They're definitely in control. We're just around for quality control.
"We as subject-matter experts in training, we give [the cadre] what we've learned over our period at Lackland Air Force Base.
"Since we spent years at Lackland training enlisted airmen, we can take some of those skillsets here and apply it to our future warfighters or future officers."
After the six weeks of basic, the MTIs dialed back the infamous drill sergeant intensity, Walsh said — but not all the way back.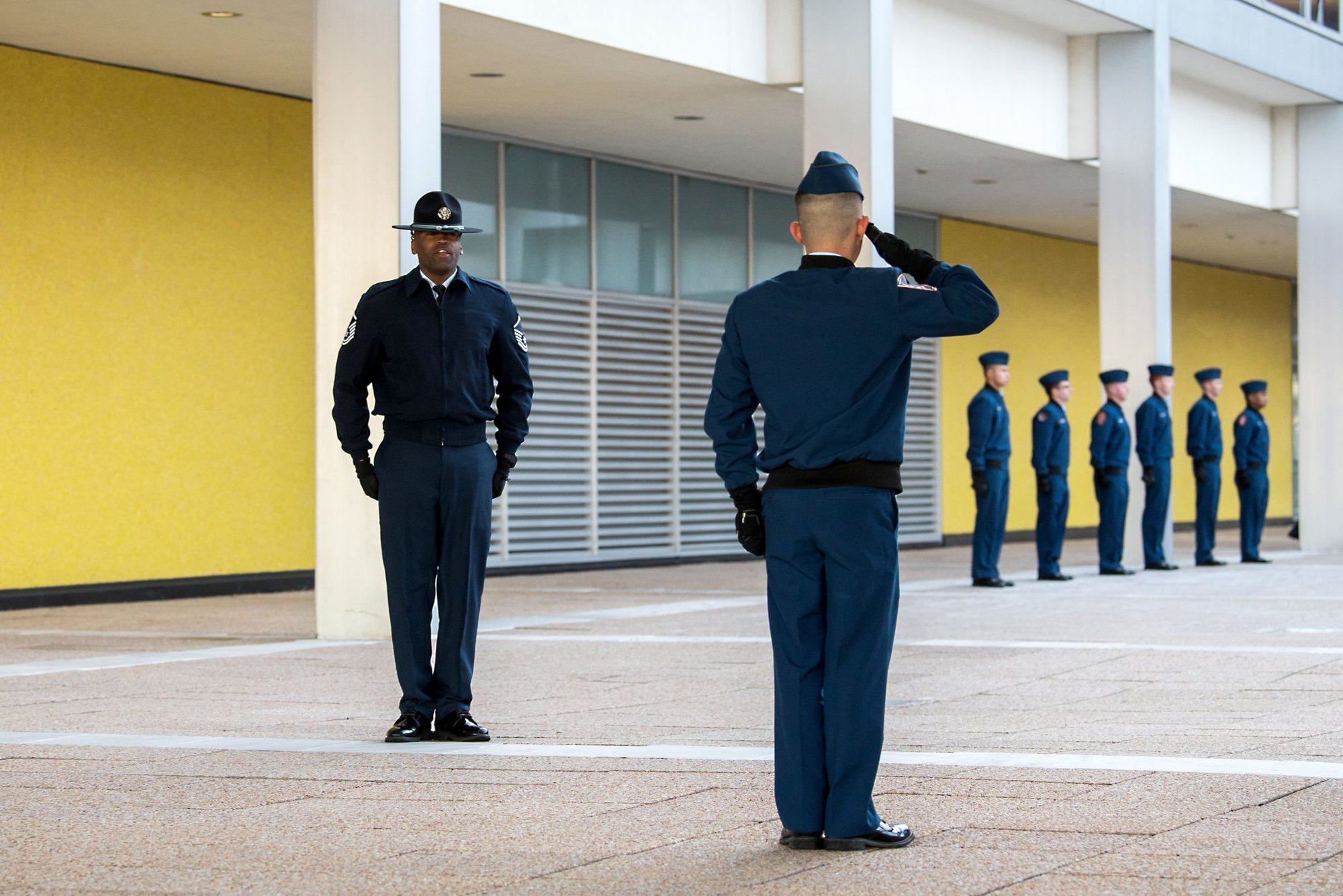 "Is it as intense as it is during basic training all year round? No," Walsh said. "Do we have to raise our voices a little bit and make those 'high-volume corrections' to certain individuals that might need any slight behavioral change? Yes, that still happens here. We do have standards, and they will be upheld."
All MTIs at the academy previously served as MTIs at Lackland Air Force Base, home of all Air Force basic training for enlisted troops.
As for the purple picture, it was snapped by photographer Trevor Cokley, a civilian who works with the academy's public affairs teams.
"During Basic Cadet Training, they have all sorts of ambiance and different types of things to help immerse the basic cadets in the training environment," Cokley told Coffee or Die. Cokley snapped that shot while photographing the obstacle-course event during the class's final field training, held on the academy's Jacks Valley range. But the menacing image of an open-for-business drill instructor is one all military members can relate to.
Update, 7 p.m., Friday Aug. 13: This story has been updated to reflect that there were approximately 1,100 freshmen students in the Basic Cadet Training course.
Read Next: Marine Sergeant Wins International Photography Competition With Stunning Photos