No arrest had been made Monday morning following a drive-by shooting 24 hours earlier that targeted a "neighborhood security team" of Minnesota National Guard soldiers and Minneapolis Police Department officers. The team was holding a position at an intersection in North Minneapolis. No one on the team was shot, but two Guardsmen were hurt, one by broken glass and the other with an injury described as superficial, officials said. The shooting happened as tensions rose between the public and law enforcement as the end of the Derek Chauvin murder trial approached and in the aftermath of the police shooting death of Daunte Wright in Brooklyn Center, Minnesota.
National Guard members are in place in Minneapolis as protests continue around the city. Some are accompanying EMS services, while others are serving as backup manpower for police at large protests.
According to an Operation Safety Net press release and 911 dispatch audio, a light-colored SUV approached the security team at approximately 4:20 a.m. Sunday in North Minneapolis. Approximately 10 to 15 shots were fired from the SUV, authorities said. It was not known how many shooters were involved or how many occupants were in the vehicle.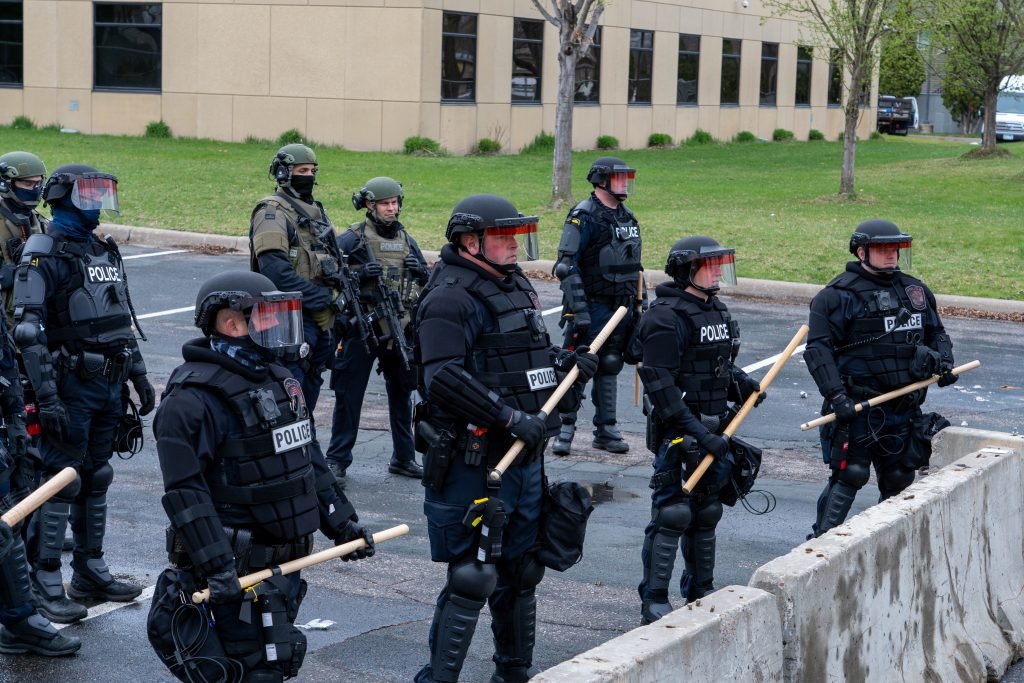 An MPD officer radioed "our Guard is defenseless at that intersection" as she responded to the shooting. Coffee or Die Magazine spoke with a member of the Minnesota National Guard who asked not to be named as they were not allowed to speak to the media, who said their soldiers "are not defenseless" but have a strict escalation-of-force protocol. The source confirmed that the team members did not return fire. No suspects had been arrested by the time of publication. The Operation Safety Net information center did not respond to requests for further information.


The drive-by shooting was just one of several violent contacts between protesters and police in the Twin Cities in recent days.
Six nights of protests outside the police headquarters in Brooklyn Center — the town in which Wright was killed — culminated in 136 arrests on Friday night. Police also began to detain journalists despite an order from a federal judge to not interfere with media covering the unrest. Police said protesters breached one of the security fences that had held crowds at bay all week, forcing police to act swiftly and more forcefully than they had on previous nights. With wet, cold weather, protests were smaller on Saturday and Sunday.
According to the Minneapolis crime dashboard, there have been 1,241 incidents of violent crime reported in 2021 so far, up slightly from 1,209 for the same time frame in 2020. The gunfire-activity map of Minneapolis shows over 100 activations for shots fired over the past seven days throughout Minneapolis, with multiple confirmed shootings.
It was unclear if a deadly series of carjackings and a police chase on Sunday was related to the protests. Police killed a man Sunday who had carjacked two vehicles, tried to steal a third, and shot at police during a long highway chase between the city and Burnsville, a suburb of Minneapolis. In transmissions over police radio during the pursuit, police can be heard updating dispatchers that the carjacker shot at police through the back windshield of the stolen vehicle. The carjacker sustained damage to the second vehicle, which he exited in a ditch, as seen in the footage above. Bystanders fled before TV coverage cut off. According to a Burnsville Police Department press release, the carjacker opened fire on police and they returned fire, killing him.
Read Next: