A desperate voice crackled through the radio on the morning of Feb. 6, 1967. Maj. Lucius Heiskell, a forward air controller and Cessna O-1 Bird Dog pilot, was shot down and bailed out near Mu Gia, Vietnam, into the triple canopy jungle below. The US Air Force pararescue jumpers, commonly known as "PJs," scrambled into two HH-3E "Jolly Green Giant" helicopters — named for their green-and-brown camouflage exteriors — and took flight to his last known position.
The clouds were low, and the dense vegetation on the ground made visibility from a hovering helicopter next to impossible.
"I thought I saw something shining down there. I asked if I could go down and look," Airman 2nd Class Duane Hackney recalled. "There was flak around us but it was falling short. I rode the end of a cable extending from the helicopter to the ground and picked my way through the jungle."
Hackney stumbled over rocks and heavy growth and spotted a set of footprints he recognized as US combat boots.
He was in the right spot, but the jungle was so thick he couldn't locate the missing officer. He returned to the helicopter as the weather conditions had worsened and flew back to base to wait for new information. Later in the day, around 4:30 p.m., another alert came through the radio's airwaves, and the PJs sprinted to their birds once more in an attempt to rescue Heiskell. The overcast weather was too severe for their two A-1H escort gunships, but the PJs and crew urged to be sent in anyway.
The helicopters lifted off the tarmac, communicating directly with Heiskell in the brush, who had only minor injuries as he talked the birds into his position. The helicopter swooped in, lowered Hackney to the ground, hoisted the pair into the helicopter, then Hackney began treating Heiskell for his wounds.
A burst of 37mm antiaircraft fire ripped through the helicopter's fuselage, and it caught fire. Thick black smoke and flames surrounded them, and Heiskell reached out his hands for help. Hackney grabbed his emergency parachute hanging on the forward bulkhead near the left scanner's window and wrapped it around Heiskell's body. Once secured, Hackney moved to find another parachute when a second burst of flak impacted the aircraft.
"There was an explosion and I was thrown backwards — hard. I felt a sharp pain in my left arm," Hackney later recalled. "I tried to get my balance and was surprised to see my helicopter flying away from me. I had been blown out the aft ramp of the HH-3. I did not have the parachute completely on yet, and was only a couple hundred feet above the treetops."
As he was falling to his death, he pulled on the ripcord, and it deployed as he smashed through the trees. His parachute snagged one of the branches high above the jungle's floor, and he climbed down to inspect the injuries to his left arm and back — both rubbed completely raw. He searched for the rest of the crew from Jolly 05, but his efforts came up empty. Now needing a rescue of his own, he reached into his emergency gear, pulled out a red flare gun, and fired it into the air. A half-hour later, a companion A-1 Skyraider hauled him out of enemy territory and placed him onto a hospital stretcher.
His wounds were initially so severe that a medical examiner thought he was dead. For his actions, Duane Hackney, the 20-year-old 6-foot 180-pound Air Force PJ, became the youngest and the first living recipient for the Air Force Cross, the second highest medal for valor below the Medal of Honor.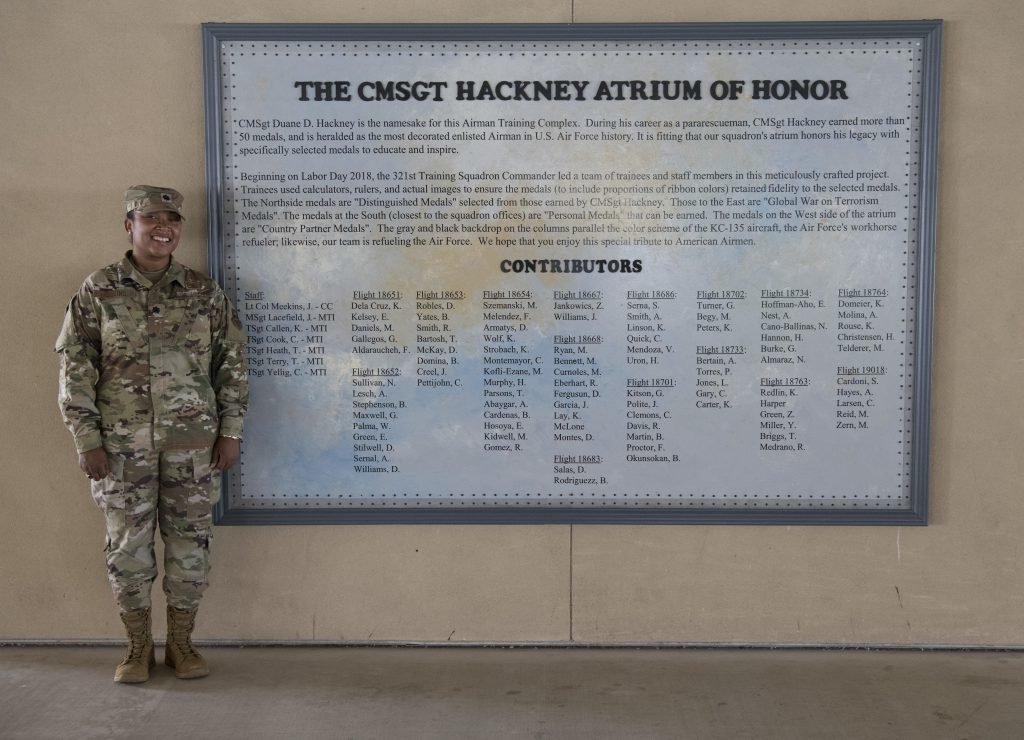 Hackney's reputation as a lifesaver was extraordinary. As a young man, he had aspirations to go to college and study architectural engineering, but he instead flew more than 200 combat missions and became the most decorated enlisted airman in history.
"The top graduates got lucky and could pick Vietnam," he once said, after completing the pipeline to become a PJ. "Others got stuck with Bermuda or England. We all knew where the action was."
In Vietnam, he helped birth twins in a village, rescued a drowning sailor in heavy seas after his ship capsized, and saved a family trapped in a burning hut — who later gifted him a red-and-black Vietnamese bracelet that he wore every day afterward. Hackney retired in 1991 as a chief master sergeant and died suddenly of a heart attack two years later. He was 46 years old.
In 2006, the training facility at Lackland Air Force Base in Texas was renamed the Hackney Training Complex in his honor.