Thanks to a crew of eagle-eyed California firefighters, a man and his 11-year-old son were rescued after they plunged at least 400 feet down a Mariposa County cliff.
The California Department of Forestry and Fire Protection crew was returning from a call along scenic Highway 49 after 11 a.m. on Monday, April 11, when they noticed tire marks and dirt on the asphalt, "which kind of which led them to believe that maybe there's something that they had to go investigate down there," said Steve Machado, spokesperson for the Sonora Area California Highway Patrol.
An uprooted roadway mile marker was another clue to a potential calamity. One of the crew members peeked over the ledge and peered down the mountainside.
Way down below was a 2005 Toyota 4Runner, pitched on its right side and resting in a drainage ditch. And atop the SUV's door stood driver Scott Anderson of Rancho Cordova and his son, waving their arms for help.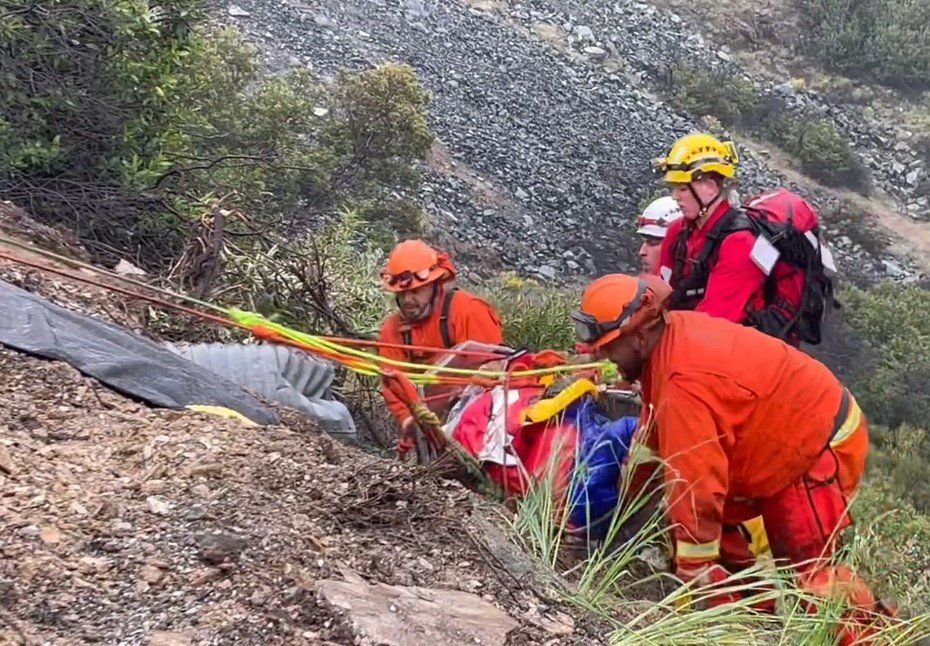 Investigators suspect Anderson had been driving no faster than 30 miles per hour on the rain-slick road when he slammed on his brakes while navigating the sharp bend between Coulterville and the Bagby Camping and Recreation area. The skidding SUV jumped the curb and rolled over several times while toppling down the cliff.
Machado told Coffee or Die Magazine it's a "real curvy road with a steep hillside towards the west side" and "not a lot of guardrails," but the man and his son fortunately were wearing their seatbelts when the SUV left the road.
The Cal Fire crew immediately radioed California Highway Patrol officers, who reached out to the Mariposa County Sheriff's Office Search and Rescue team. They and a California Department of Corrections fire crew began clearing a path through the brush for rescuers to reach the SUV.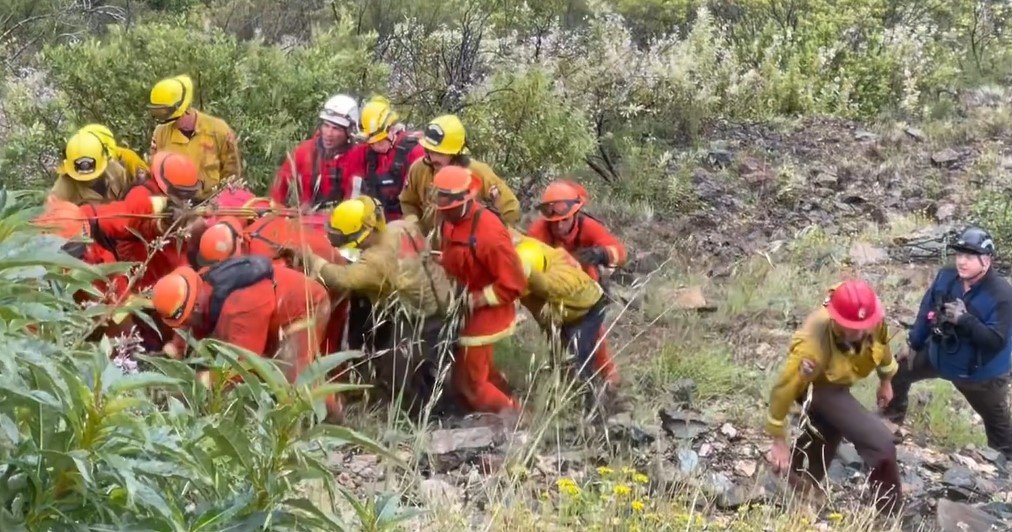 It was a miserable mission. The thunderstorms wouldn't stop. But neither would the rescuers. A search party rappelled down the cliffside. They put the two passengers in a basket and began hauling them back up the canyon. First responders at the ledge high above them tugged the lines to help everyone up the cliffside.
Machado said a tow truck operator yanked the SUV up the mountain with a cable, too. The battered Toyota, however, couldn't be driven.
First responders rushed the father and son to Modesto for medical treatment. The dad went to Doctors Medical Center and the boy was transported to Sutter Health's Memorial Medical Center. Both were released that day with what Machado characterized as "minor to moderate" injuries.
Attempts by Coffee or Die to contact Anderson were not successful.
Read Next: