Texans can't seem to get enough of the cascaron, a springtime cross between a party favor and an Easter egg.
But US Customs and Border Protection officers are cracking down on the eggshell novelties filled with confetti. The feds are concerned too many cascarones entering the US from Mexico are contaminated with germs that threaten American people and poultry.
That's why Customs and Border Protection's Laredo Field Office — which oversees eight ports of entry from Del Rio to Brownsville in the toe of Texas —is stepping up efforts to make sure imported cascarones are free of the egg residue that can spread illness, according to agency spokesperson Rick Pauza.
"You can picture having a cookout for Easter and a bunch of kids running around the backyard, cracking the eggshell over each other," Pauza said. "They just kind of go wild with it."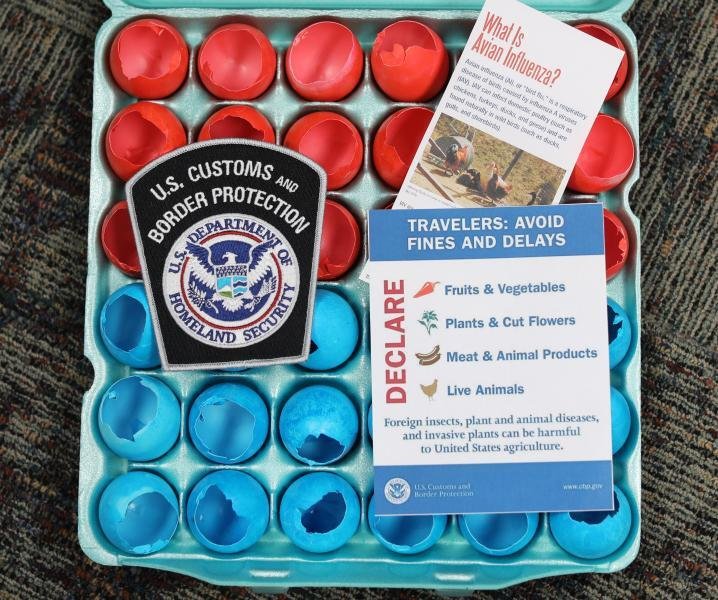 South of the border, shops make cascarones by punching holes in the shells and then draining out the yolk. Then workers insert the confetti and cover up the opening with colored paper, often dyeing and etching the eggs to brighten them for Easter.
Each visitor returning from Mexico is legally allowed to bring in a dozen cascarones. But if inspectors spot egg residue in them, the cascarones get confiscated. And if the eggs hold anything other than confetti, they're diverted to a special inspection station to see what's really inside.
"In the commercial environment, they will be larger quantities, but obviously those importations have all the requisite paperwork to lawfully import," Pauza told Coffee or Die Magazine.

Contaminated eggshells can spread virulent Newcastle disease and highly pathogenic avian influenza, or HPAI. Virulent Newcastle disease attacks a bird's respiratory, nervous, and digestive systems and can kill up to 90% of a contaminated poultry population.
In February, the US Department of Agriculture's Animal and Plant Health Inspection Service confirmed an outbreak of HPAI in a commercial turkey farm in Dubois County, Indiana. It was the first confirmed case in the US since 2020.
Pauza said Customs and Border Protection officers seize roughly 3,000 prohibited plant and animal byproducts daily nationwide. The Laredo Field Office intercepts about 250 products potentially dangerous to people or US agriculture every day.
"This would be something that someone would either be fined for bringing in a prohibited plant or animal product, or if there's a pest interception, that kind of thing," Pauza said.
Read Next: