A few months ago, I took my taste buds on an exhilarating adventure by sampling coffee beans that were dug out of elephant shit. I'm sure there is a more eloquent way I could say that, but there is no ignoring the cold, hard facts. Black Ivory Coffee Co. is based out of the remote province of Surin, Thailand, and its mission is to bring people this unique coffee experience for the low, low price of $1,100 per pound. Fortunately, the company does offer smaller portions, and I was able to obtain 35 grams (1.23 ounces) of it for $120. For this price, you would think the beans are sourced from gold, not animal feces.
Allow me to walk you through the process. Allegedly, the best 100% Arabica cherries are chosen and brought to Surin province, where "elephant caregivers" mix them in with the elephants' favorite foods (rice, banana, tamarind, etc.). This ensures that the elephants are happy and getting their necessary nutrients, not to mention the ethical treatment of allowing these animals to eat what they like.
The digestive process can take between 12 to 72 hours before the elephant "deposits" the beans, which are then collected by the caregivers who sift through their shit. I am happy to inform you that they are indeed washed before being raked and sun-dried. Once dried, they are hulled and sifted through a machine, then checked by hand for defects, leaving only the largest pieces to be sold.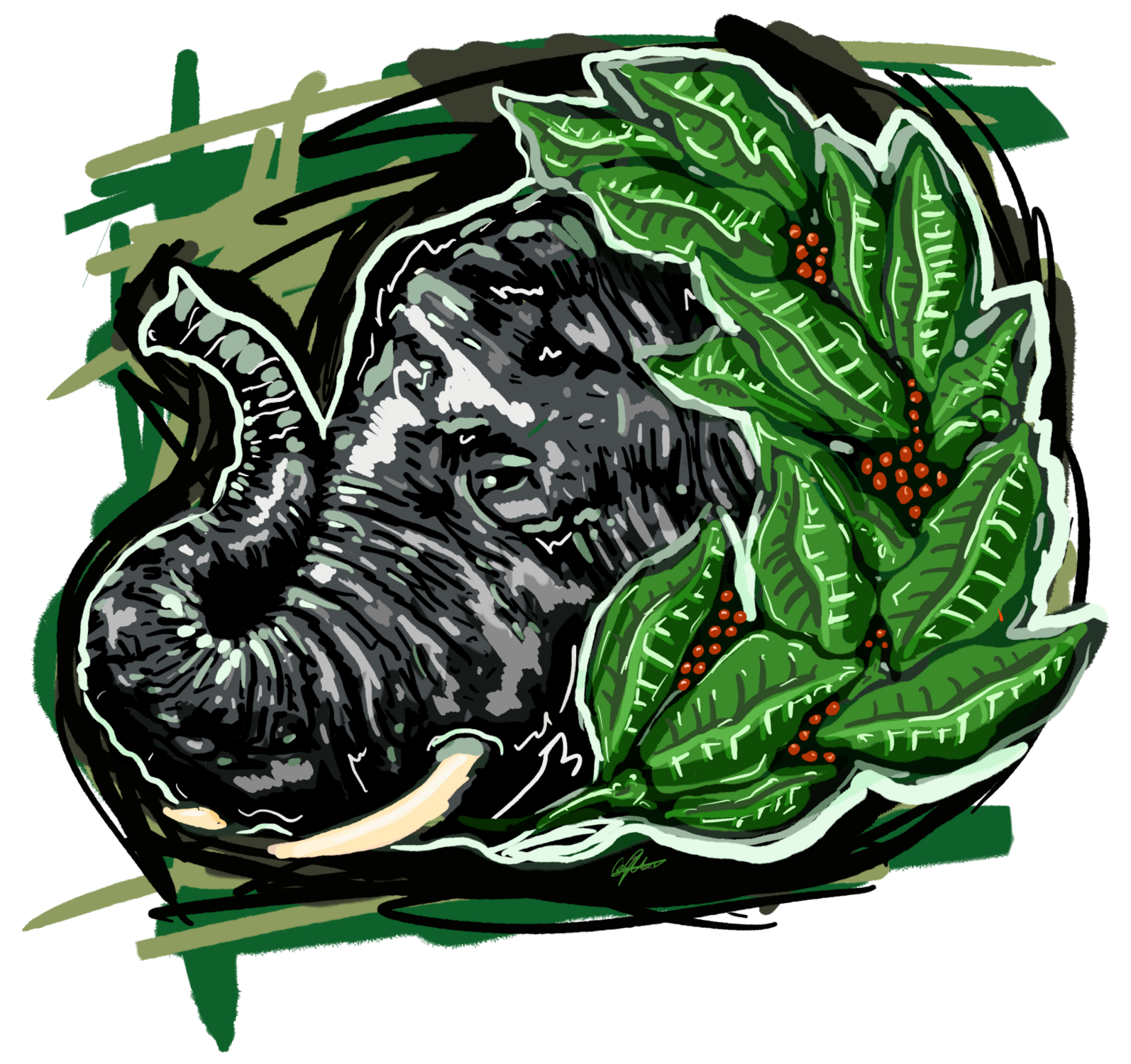 It takes 33 kilograms of coffee cherries to create 1 kilogram of Black Ivory Coffee, which helps explain the steep price. This roast-to-order coffee can have tasting notes of chocolate, spice, tobacco, leather, grass, and cherry, which vary depending on each elephant's diet. Let me reiterate: You are tasting what the elephant tasted. You are drinking coffee from beans that have passed through an elephant's entire gastrointestinal tract.
I savored a cup of this fine brew in the past and determined that it was by far the most interesting and distinctive coffee I had ever ingested. The grassy tasting notes and tangy flavor hang heavy in the back of my head, leaving a lasting impression. But in the throes of summer, everyone is reaching for a nice, cool drink during these hot, sunny days. What could be better than elephant poo cold brew? When I put my mind to something, I can't seem to dissuade myself, so I ordered another package of Black Ivory Coffee in preparation for the most expensive, small-batch cold brew I've ever made.
When I make cold brew, I usually use a convenient device like the Toddy Cold Brew System or the Oxo Compact Cold Brew Maker. Both are excellent products that produce an easy batch of concentrated joe. That being said, those methods require a whole bag of coffee for one batch, consisting of approximately 340 grams (12 ounces) — and I have only 35 grams of Black Ivory Coffee. These devices are made to handle a moderate amount of grounds, which means I probably want to use a smaller container. A tiny Mason jar is my vessel of choice, and I'm ready to slay the cold-brew game.
After coarsely grinding my beans, I place them in the jar and calculate the amount of water needed. I typically do a 1-to-4 ratio of grounds-to-water, so 35 grams of coffee means I will be adding 140 grams of agua. After adding water to the receptacle, I gently stir it. Some people like to put their container in the fridge while they wait for it to brew (12 to 24 hours depending on how strong you like it), but I leave mine on the countertop for 24 hours. To each his own.
After 24 hours, it's time to try this epic concoction. I unscrew the lid to what now looks like a jar of silty dirt. I inhale deeply and a vibrant, earthy aroma hits me, something only a true coffeehead could appreciate. After realizing that the Toddy and Oxo cold-brew systems come with means of filtration, I am now faced with the task of draining the brew away from the excess grinds in the jar. I have a roll of paper towels within arm's reach, and I manage to find a dirty rubber band in the junk drawer. I could potentially use the rubber band to fasten layered paper towels to the opening of the jar and flip it on top of another container to drain, but something about that seems blasphemous while using exorbitantly priced coffee. I might be a degenerate, but not when it comes to tainting good beans. So I drain the mixture through a filter into my Chemex.
After everything has drained, I am left with a pure, concentrated brew that needs to be cut with water to enjoy; however, I feel the need to taste-test this particular batch beforehand. The first sip is strong, a bit sour, and earthy. The strength and pungency are to be expected with concentrated coffee; hence, the need for dilution.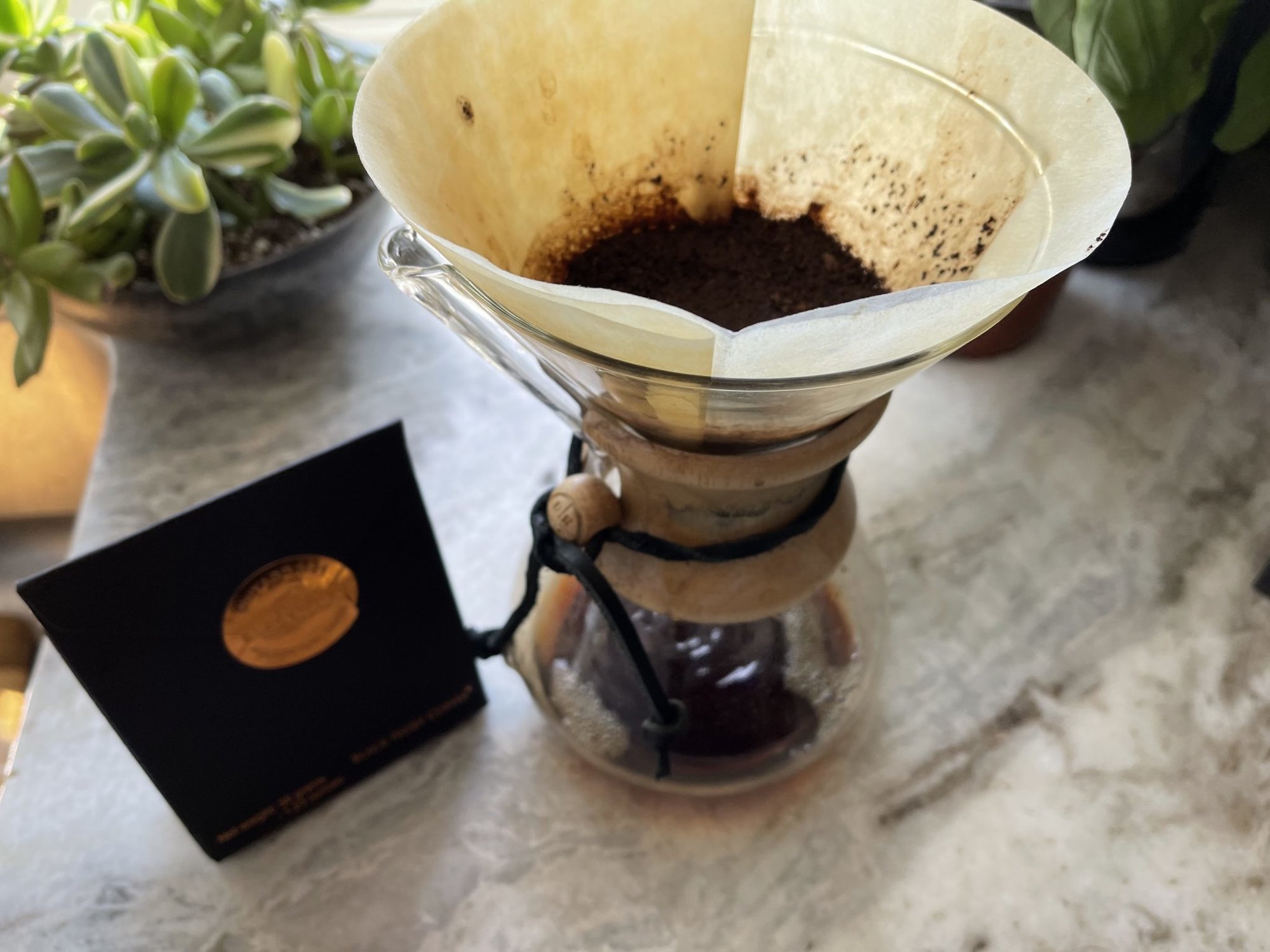 I'm not going to lie and tell you that I meticulously measure some empirical amount of water: I eyeball that shit. I put filtered water in a glass full of ice and pour the potent brew into it until I assume it will taste good. This is my usual method for cutting cold brew, as I am not a big fan of intensely strong coffee. I mix and match until I get the taste I desire.
Ladies, gents, and elephants, I am quite pleased to inform you that this shit is fucking delightful. Once diluted, the liquid is transformed into the nectar of the gods, something that takes a refreshing summer drink to a whole new level. It's smooth and savory, with a light smokiness and tasting notes of cocoa. It's fascinating to think that each batch of coffee is different from the last, based on the elephant's diet and the method of brewing.
After further experimentation, I discover that adding unflavored sparkling water to the concentrated brew gives it an enjoyable fizzy touch. Overall, I am pleasantly surprised by the way this batch turned out. So if you have the inkling to try something that will make all of your friends ask, "WHY THE HELL WOULD YOU WANT TO DO THAT?" then this might be the satisfying summer beverage for you.
Items needed: Coffee beans, water, grinder, scale, Mason jar, Chemex, and Chemex filter
Preparation:



Weigh out and grind the desired amount of beans.




Dump your ground coffee into the Mason jar and place it on the scale.




Tare out the jar's weight and add the desired amount of water (using a 1-to-4 coffee-to-water ratio).




Put a lid on the jar and set it aside for 12 to 24 hours.




Strain the coffee (I'm filtering through a Chemex, but you can use any means of filtration you like).



Enjoy!


---
This is an extended version of an article that first appeared in the Summer 2021 edition of Coffee or Die's print magazine as "Bitter Barista: Elephant Poo Cold Brew."