Ernest Taylor Pyle was born on Aug. 3, 1900, at the turn of the 20th century. The famed war correspondent and columnist was better known as "Ernie" and had the reputation as the voice of the American servicemen during World War II. He chronicled the blitz in London and the individual heroism of Londoners, the roles of Vichy French officials in North Africa and their corroboration with the Nazis, and the allied invasions of both Italy and Normandy. One of his most heart wrenching pieces, "The Death of Captain Waskow," revealed the emotional grief of soldiers when one of their men was killed in combat.
His refreshing writing style informed the general public back home and provided a rare look at the happenings of America's sons, husbands, and fathers serving overseas.
Pyle's birthday is now recognized as National Ernie Pyle Day. The day celebrates his wartime columns, his Pulitzer Prize for reporting, and the memory of his legacy, one that ended too soon. On April 18, 1945, Pyle was shot and killed by a Japanese soldier on the island of Ie Shima while he was covering the war in the Pacific. While there is plenty known about Pyle's exploits from his famous dispatches, here are four lesser known stories of Ernie Pyle's historic legacy that are worth mentioning on his day of remembrance.
Before The Fame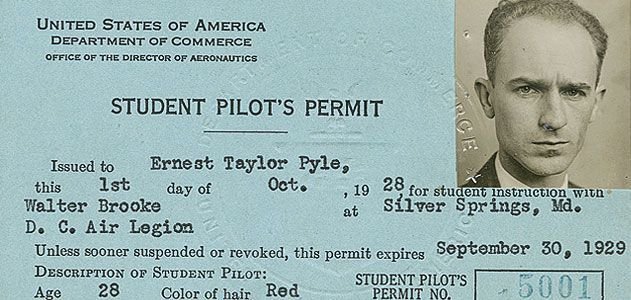 Before Ernie Pyle became a war correspondent during World War II, it could be argued that he had already seen much of what the human experience had to offer from his travels around the globe. He suffered from restlessness, a common affliction for many in his chosen profession. The farm boy from Indiana had a curiosity in service, so he enlisted in the US Naval Reserves during World War I. However, that didn't get him overseas, which left a burden and lingering question about the adventure waiting for him.
After leaving Indiana University, Pyle cut his teeth as an aviation reporter for the Washington Daily News under the helm of the Scripps Howard newspaper entity. His yarns received many compliments, including one by none other than aviator Amelia Earhart.
"Not to know Ernie Pyle," she said, "is to admit that you yourself are unknown in aviation."
"I've covered 200,000 miles and been on five of the six continents and crossed both oceans and delved into every country in the Western Hemisphere and written upward of 1,500,000 words in that, daily column," Pyle wrote in July 1941. "I've gone down the Yukon River on a stem-wheeler, and lived with the lepers in Hawaii, and petted llamas in the high Andes, and reveled in the strange lazy beauties of Rio."
His "Great Experience" halted when his quest of service took him to all three theaters of operations during World War II.
The $6,000 Coca Cola Bottle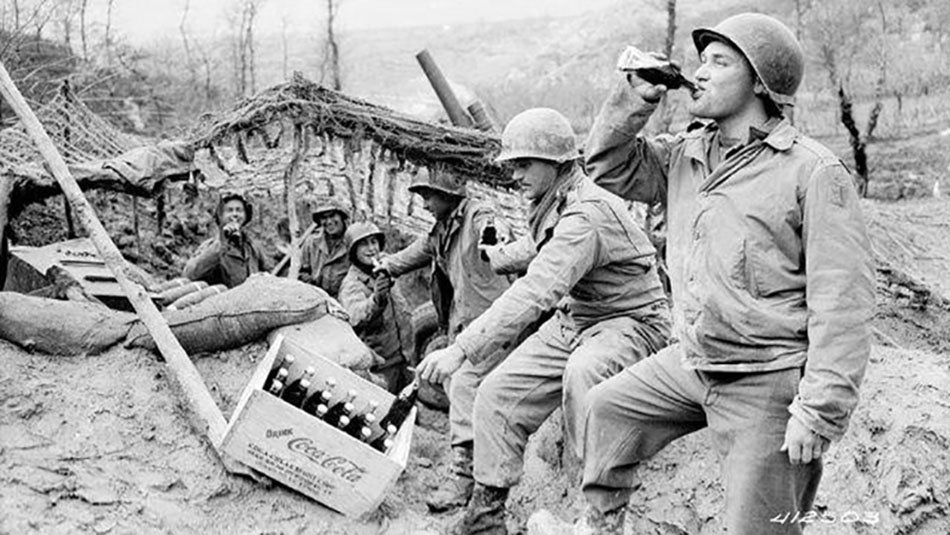 Coca-Cola was a prized beverage amongst American GI's serving overseas in Europe during World War II. Pfc. Frederick Williams, a soldier from a field artillery brigade with prior service along the Italian front had returned home. He decided to send two bottles of Coke to his old unit, many of whom hadn't seen a carbonated beverage for more than a year. The soldiers decided to split one of the Cokes and donate the other in a raffle to raise money for adoption efforts for the children whose fathers were killed in the brigade.
The Cokes were advertised in the brigade's mimeographed newspaper for 25 cents a piece, and before the week was over the raffle had raised more than $1,000. Another soldier had received a second bottle of Coke and added the prize to the key. Three weeks passed and the total cash prize climbed to $4,000.
"That one Coke was equivalent to the value of 80,000 bottles back home," Pyle wrote in astonishment as he covered the event. Coke added an additional $2,000 to the value and, despite the noble cause, Nazi propagandists used the opportunity to broadcast through the airwaves lies suggesting individual soldiers payed $10,000 for one bottle of Coca-Cola.
Ernie's Zippo Lighters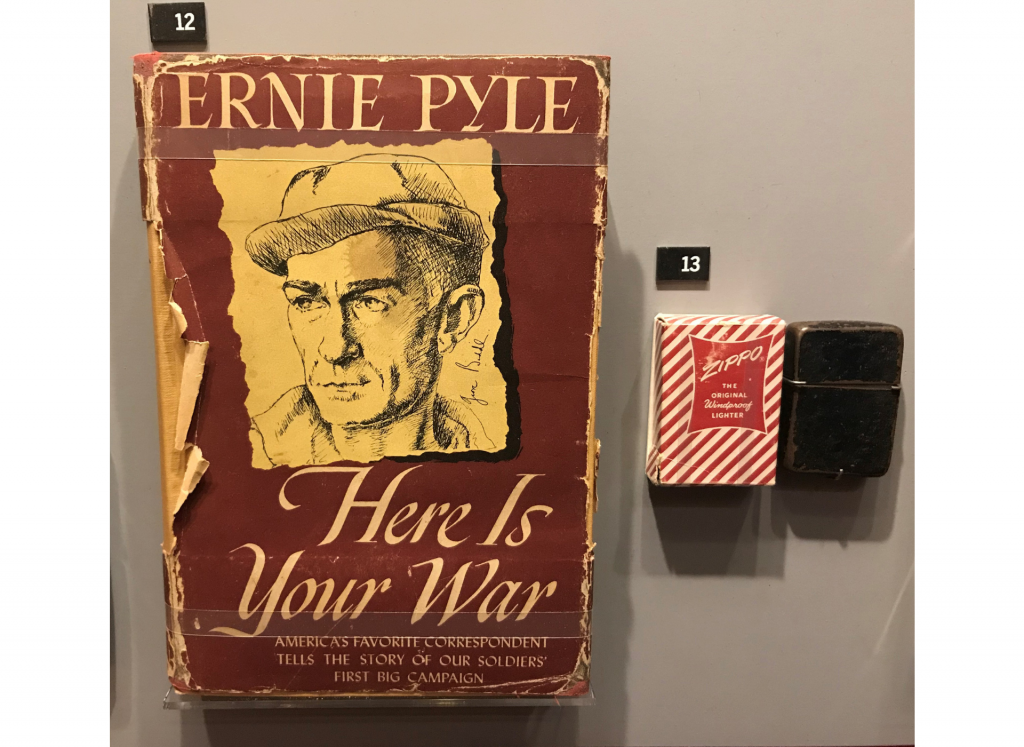 Readers from the United States and abroad were glued to the words Pyle strung together, including George Blaisdell, the president of Zippo Manufacturing Company. Braisdell sent a letter and 50 Zippo lighters personally addressed to Pyle to hand out to his servicemen friends.
"They'll burn in the wind, and pilots say they are the only kind that will light at extreme altitudes," Pyle once wrote. "Why, they're so popular I had three stolen from me in one year."
Pyle was an avid smoker, and through the habit he bonded with soldiers over a cigarette. "My own lighter was a beauty, with my name on one side and a little American flag on the other," Pyle said. "I began smoking twice as much as usual just because I enjoyed lighting the thing."
Conversations and insights happened while having a smoke that may not have occurred while sitting in a foxhole or over a meal of "C-rations" or in a bunk aboard a navy ship. Pyle's ability to connect with pilots, infantrymen, medics, and even animals helped his writings convey a sense of identity and commonality to his readership.
Pyle and the War Dogs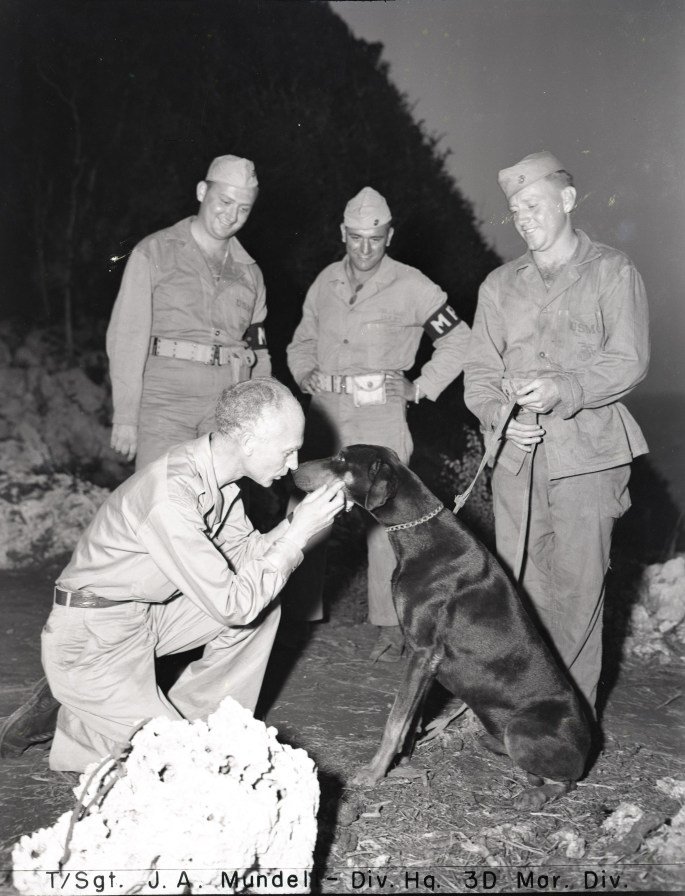 Marines serving in the Pacific theater often named their military working dogs after terms familiar with the US military. Jeep, a black-and-brown Doberman pinscher, was utilized by Marines from the 3rd Marine Division. Pyle learned all about their war dog program, which consisted of 60 dogs, 90 handlers, 10 NCO observers, two K-9 medics, and three kennel supervisors. Jeep's job as a scout and security patrolman helped the Marines locate sniper positions, search caves and pillboxes, alerted signs of potential ambushes, and ran messages to unit commanders.
Sergeant, another war dog that impacted Pyle and the Marines, was killed after he had been wounded by shrapnel from an air raid. The Marines specifically trained their dogs to run into foxholes when they heard the aircraft, but a lucky shot by the enemy resulted in Sergeant having to be put down.
"It is not belittling the men who died," Pyle wrote of the tragedy, "to say that Sergeant's death shares a big place in the grief of those who were left."