Secretary of Defense Mark Esper has drafted, but not submitted, a letter of resignation, NBC News reported Thursday. Citing three current defense officials who spoke on condition of anonymity, the NBC report said Esper expects to be booted from his post following the outcome of this week's presidential election.
The Department of Defense swiftly pushed back against the report.
Jonathan Hoffman, assistant to the secretary of defense for public affairs, tweeted late Thursday: "The NBC story is inaccurate and misleading in many ways. To be clear, Secretary of Defense Esper has no plans to resign, nor has he been asked to submit a letter of resignation."
In a separate tweet, Hoffman added: "He continues to serve the nation as the Secretary of Defense at the pleasure of the President and is working on the irreversible implementation of the National Defense Strategy."
The Department of Defense did not immediately reply to a request for comment by Coffee or Die Magazine regarding the NBC News report.
Citing "several defense officials," CNN reported that while Esper has had a resignation letter drafted for some time, he has not updated it since Tuesday's election. However, according to CNN's reporting, defense officials say Esper is prepared for the possibility that he might be fired "by tweet" at any time, even if former Vice President Joseph R. Biden emerges as the winner of this week's election.
Thursday's back and forth between NBC News and the Pentagon follows reports from multiple agencies that Esper is assisting members of Congress to include a provision in the forthcoming National Defense Authorization Act, or NDAA, to order America's armed forces to rename all bases named after Confederate leaders — a move that President Donald Trump has long opposed but is generally welcomed within the rank and file of America's military forces.
"The speculation about potential resignations of Cabinet officials is a well-worn, D.C.-insider, post-election parlor game," Hoffman, the Pentagon spokesman, said in a statement, adding that it was normal for Pentagon officials to assist members of Congress in drafting the NDAA.
"Out of respect for the members of Congress who have sought technical assistance in good faith, we generally do not discuss these efforts," Hoffman said.
The NDAA is expected to be passed before the presidential inauguration on Jan. 20 — meaning that, no matter the outcome of this week's election, Trump will have to sign off on the legislation for it to enter into law.
Appointed by Trump, Esper became the 27th US defense secretary in July 2019 following the resignation of Jim Mattis in December 2018. Should Esper resign or be fired, Deputy Defense Secretary David Norquist would step in and lead the Pentagon in an acting capacity until the winner of this week's election names a replacement.
The death of George Floyd in May spurred the US military to address institutionalized bias against African Americans and other minorities. In the wake of civil unrest over Floyd's death that swept across the country this summer, Esper consulted with senior military officials to look for solutions to racial inequality within America's military ranks.
The US armed forces underwent a cultural self-appraisal, with leaders identifying ways to improve opportunities for minorities and reduce institutional bias. In that effort, one particularly contentious issue to emerge has been the enduring legacy of the Confederacy in some aspects of military culture.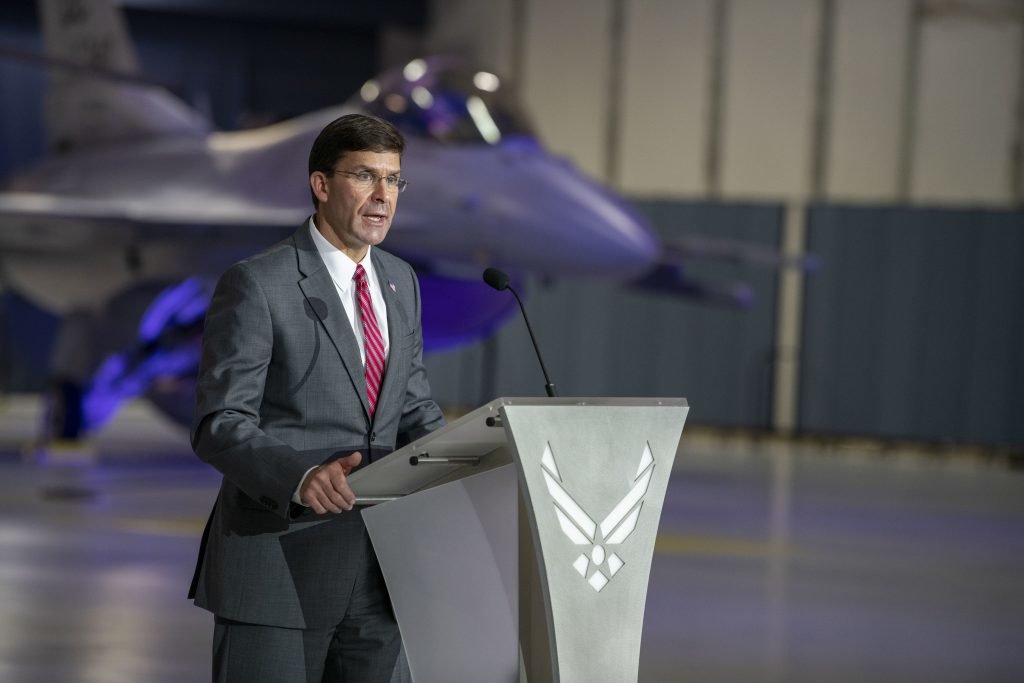 Altogether, some 10 US bases reportedly bear the names of Confederate leaders — including Fort Hood in Texas, Fort Bragg in North Carolina, and Fort Benning in Georgia. Bipartisan proposals in both chambers of Congress supported removing the names of Confederate leaders from US military bases.
In a June 9 op-ed for The Atlantic, David Petraeus, a retired US Army general and former CIA director, also supported scrubbing US bases of Confederate leaders' names.
"The irony of training at bases named for those who took up arms against the United States, and for the right to enslave others, is inescapable to anyone paying attention," Petraeus wrote.
For his part, Esper has since signaled he is open to the renaming proposal, according to multiple news reports, putting him at odds with the president.
President Donald Trump tweeted on June 10 that he "would not even consider" stripping Confederate leaders' names from US bases. Those base names "have become part of a Great American heritage, a history of Winning, Victory and Freedom," Trump wrote in the tweet.
On their own accord some military branches have begun to scrub Confederate names and symbols from their installations.
Notably, the Marine Corps instructed commanders to "identify and remove the display of the Confederate battle flag or its depiction within workplaces, common-access areas and public areas on their installations."