Any time we hear a particular coffee drink is trending, it piques our interest. So, allow us to reintroduce you to the espresso martini this holiday weekend. This intoxicating mixture of sugar, caffeine, and alcohol once again appearing on restaurant and bar menus will have you asking, "Where have you been all my life?"
Legend has it that British bartender Dick Bradsell invented the now-iconic coffee beverage at Fred's Club in London. As Bradsell tells it, a now-famous model walked up to the bar and asked for a drink that would "wake me up and f**k me up." The bartender proceeded to mix vodka with espresso, coffee liqueur, and sugar, and the espresso martini was born.
In theory, the espresso martini sounds simple enough to order at your favorite bar or restaurant, but we quickly found that, unless your preferred establishment has a top-of-the-line espresso machine, you may have to get creative brewing your own coffee of choice. We used Black Rifle Coffee Company's Space Bear Exclusive Coffee Subscription roast, Ketel One vodka, and Kahlua.
Espresso Martini


2 ounces premium vodka


1/2 ounce coffee liqueur


1 ounce espresso


3 whole coffee beans


Shake the vodka, coffee liqueur, and espresso with ice and finely strain the mixture into a chilled martini glass. Garnish the drink with three coffee beans, toast to the occasion, and enjoy.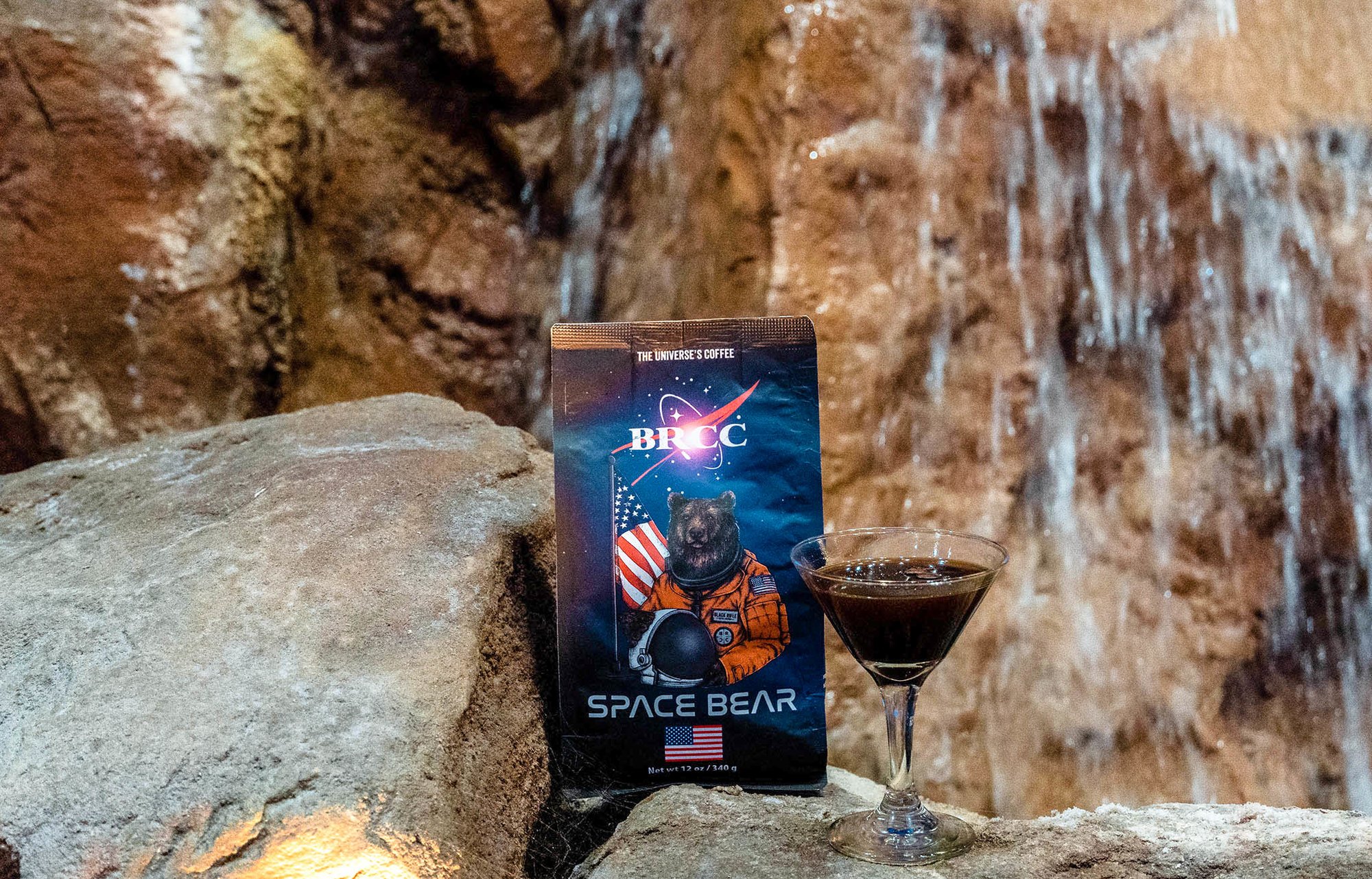 We just received a bag of BRCC's Space Bear Exclusive Coffee Subscription roast of the month, so we thought this would be the perfect opportunity to sample it.
If you are a fan of the Free Range American podcast, there is a good chance you have seen this bear's heroic headshot in the background. It's safe to say that Space Bear has become an icon among coffeeheads across the country.
The coffee is a Honduras Arabica that features an incredible floral aroma, bright acidity, and delicious floral, peach, and cherry notes.


Origin: Honduras


Tasting Notes: Floral, peach, and cherry


Aroma: Floral


Body: Medium


Acidity: Bright


Region: Guinope


Variety: IHCAFE 90, Lempira, and Catuai


Processing Method: Anaerobic


Growing Altitude: 1,500 meters above sea level


Score: 87


Space Bear paired nicely with our choice of vodka, the wheat-based Ketel One, and even though we might have preferred to use a potato vodka for this drink because of its bolder flavor, the bright acidity and floral notes in the Space Bear ECS had our taste buds thinking we were using a much higher-end vodka, like Boyd & Blair.
Finally, you might be wondering, "What's the deal with the three floating beans?" The floating of three beans comes from the traditional serving of sambuca in Italy, where the three beans are called con la mosca, meaning "on the fly," representing health, wealth, and happiness.
Read Next: Is the Air Force Replacing Coffee Breaks With Nerve Stimulation?