Outnumbered nearly 10 to one in fighter jets, the Ukrainian air force has still not ceded air superiority over Ukraine to Russian forces as of Friday, March 4. But with Ukrainian jets being shot down or just breaking over time, the numbers game is against the Ukrainians. Replacement jets will eventually be needed. Ukrainian Foreign Minister Dmytro Kuleba said that "they need the kind of fighting jets that the Ukrainian army is able to operate." Some have suggested "transferring" American A-10s to Ukraine, while others have noted that several former Soviet nations — including and Poland and Bulgaria — still have aging MiGs in their fleets which would make for a smooth handover.
Though the logistics of handing over airplanes to an entirely different air force would be complicated, it's not unprecedented. The US has done it at least once before, delivering both A-4s and F-4s straight from the inventory of the US Air Force and Navy into the hands of Israeli pilots, who then immediately flew them in combat.
On Oct. 6, 1973, Egypt and Syria simultaneously attacked Israel on Yom Kippur, the Jewish Day of Atonement. The escalation in hostilities broke the cease-fire that had remained in place between the three countries since the 1967 Arab-Israeli War. After the Soviet Union began airlifting wartime supplies to Egypt and Syria, the US military launched Operation Nickel Grass, an emergency resupply mission to airlift armor, artillery, aircraft, weapons, and equipment into Israel. An order came in to "send everything that can fly," which included daily scheduled flights of C-5 and C-141 cargo planes. The C-5s were deemed crucial to the effort because they transported outsized cargo, such as 155 mm howitzers, 175 mm cannons, M60 and M48 tanks, CH-53D helicopters, and A-4 Skyhawk aircraft fuselages.
Also as a part of this force were American pilots who volunteered to carry out a dangerous, secret mission.
One of these volunteers was Lt. Alan Chesterman, a US Navy instructor pilot who flew A-4 Skyhawks at Naval Air Station Lemoore, California. These Skyhawks were nicknamed Heinemann's Hot Rod — after maverick designer Ed Heinemann — and quickly became a favorite for Topgun aviators for its aerial superiority against other attack aircraft.
After the Israeli Air Force suffered devastating losses to its Skyhawk arsenal fighting Syrian and Egyptian air and ground forces, the US military determined the IAF to be the weak link in Israel's armed forces. Chesterman and other aviators flew 7,500 miles to reach Tel Nof Airbase in Israel to hand off their aircraft to be used by the desperate IAF airmen.
Before the Americans arrived in Israel, another pilot, Roy "Bubba" Segars, wanted to make sure his 20 mm cannons on his A-4 Skyhawk were operational. As they passed over Libya, Segars "fired at Muammar Gaddafi." Although the Americans were only in Israel for a few hours, they long remembered the scenes they witnessed on the airbase. Chesterman recalled witnessing the wife and children of a soldier camped out in a tent along the runway.
"[That's] when it hit me: I think they're not just fighting for territory," Chesterman told the Times of Israel after returning to the nation in 2017 to meet the Israeli pilots he helped assist some 44 years before. "They're literally fighting for their lives.
"The whole family was basically called up for active duty and was there for the duration. We don't have to do it that way in the United States."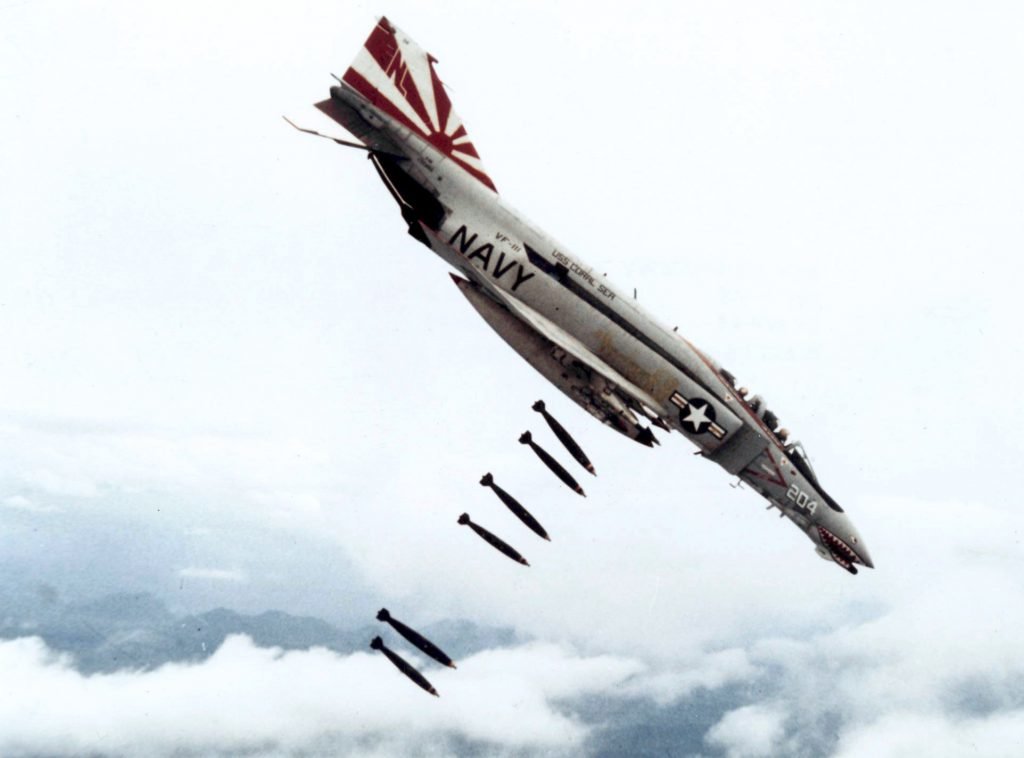 Rami Lothan, an IAF pilot who flew one of the American Douglas A-4 Skyhawks, recalled how impressed he was to have American aviators respond to their pleas for help.
"I don't think we had enough time to sit down and appreciate what was happening," Lothan told the Times of Israel in 2017. "Whatever we could fly, whatever could carry bombs, we flew it.
"But seeing these guys; it's like lost brothers. I can admire pilots who don't have any connection to the Middle East, and they just completed tours in Vietnam, and they all volunteered to come here and help us out."
In addition to the Skyhawks, US Air Force pilots flew between 36 and 40 F-4E Phantom II aircraft directly from US bases in North Carolina and Florida to the Israelis as a replacement force.
The Israelis ultimately won the war, and some 44 years after the conflict concluded, the Americans who participated in the secret airlift returned to meet their Israeli counterparts.
"I'm completely impressed by the way the Israelis conduct themselves," Chesterman said. "They are proud of their country. […] If it weren't for my kids and grandkids back in the states, Israel would be at the top of my list of places to live."
Read Next: