Evan Hafer, the CEO of Black Rifle Coffee Company, considers himself the "master editor" of the company.
"It's an extension of my body at this point," Hafer told Coffee or Die Magazine. "I built it from my garage, so I've had basically every job in the company in one way or another."
The company has come a long way from the days when Hafer was roasting every batch of coffee, packing the shipping boxes, and answering the customer service tickets. Now the multiple work streams that come across his desk every day include managing over 300 employees and satisfying over 200,000 mail-order subscribers.
His biggest project over the past two years has been the company's first retail store in San Antonio, which opened Oct. 3. Hafer moved his family to San Antonio from the company's original epicenter in Salt Lake City while he worked on the store. "All that work, the research and the thought process, all that shit has to come out of somebody's head," said Hafer. "Typically it comes out of mine."
Hafer is extremely hands-on with every aspect of BRCC, down to deciding what the coffee cups at the San Antonio store would look like. He estimated that he generates around 90% of BRCC's new merchandise designs. The company has also released ready-to-drink coffee that will be available in more than 5,000 convenience stores, as well as started a custom-curated Exclusive Coffee Subscription.
"That's one of my babies," he said of the new subscription service.
He partners with the company's co-founders, Mat Best and Jarred Taylor, as well as BRCC's editor-in-chief, Logan Stark, on the podcast Free Range American. "It can be a little bit much for some," said Hafer about his tendency to talk freely about his political beliefs. "I get really ramped up. My partners are like, 'Dude, you gotta calm down on this stuff.' But I'm a hardcore anti-socialist. Call it what it is, I'm just a holdover from the Cold War, I don't know."
As a former Green Beret, Hafer has a perspective on politics that is unique. "I would be remiss not to use my collective experience in my life to say, 'I know what oppression looks like, I have seen what government oppression looks like.' We cannot capitulate any form of freedom even if we are scared."
Hafer appreciates that the structure and public image of BRCC allows him to express his opinions no-holds-barred. "I love this," he said. "This is one of my favorite things to talk about as a differentiating factor of the company." But he doesn't want the company to be seen as necessarily partisan. "I have to identify at times as a conservative because conservatives mean less government, most of the time. But politicians are fucking exploitive, parasitical, fucking sociopathic, ego-driven, fucking crazy people that we elect into these positions. They pit us against each other."
His political ideology shapes his approach to hiring for BRCC as it grows because he doesn't expect his employees to be uniform drones. "I really love eclectic, diverse backgrounds because I think people should be free," Hafer said. "I really believe in the fundamental aspects of individuality. I'm trying to build a really positive company culture by attracting better people."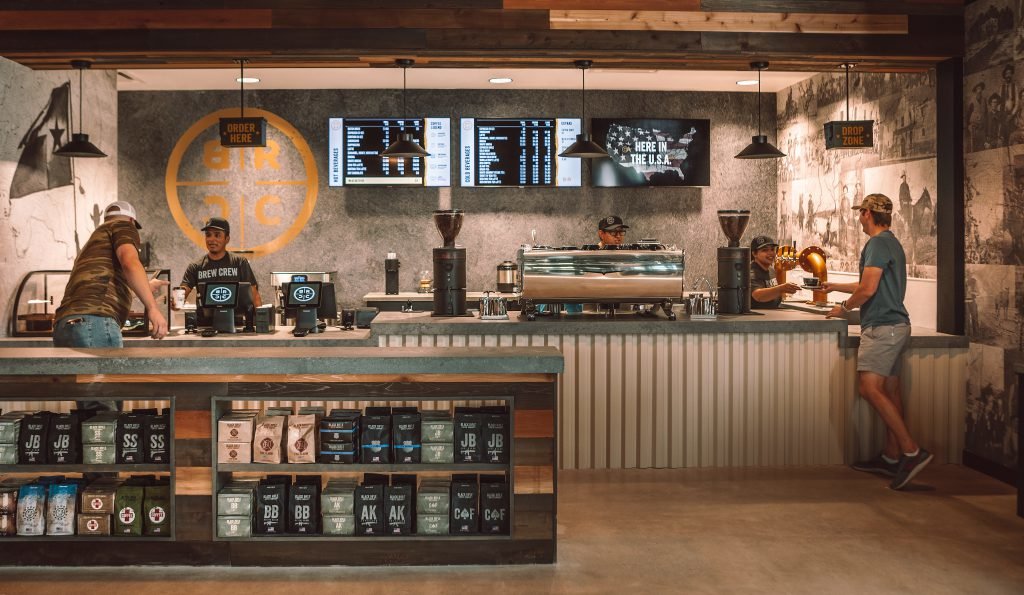 The company continues to enjoy substantial growth. Hafer set a goal to have the employee population be composed of 50% veterans by the end of 2020, and they met the goal by June.
But he's not only interested in amassing a group of individuals and then treating them all the same — he disdains how mainstream corporate culture treats their workers.
"They look at their employees like beasts of burden," he said. "I'm not really built for corporate consumption. I don't do anything like they do. They just get weird and aloof and pretentious — corporate indoctrinated."
Hafer has built a different kind of business, using his military experience as a foundation for BRCC and emulating the idea of group cohesion.
"I'm so focused now on building this positive encouraging ecosystem of people — and when I say the ecosystem, I include the customer in that ecosystem," Hafer said. "The customer and the company, we're all in this together."