I hear the words before the music starts as I wait at the bar for my first beer. The bar is small and crowded with a stage in the other room. The kids aren't the usual mix you'd expect to find in a venue in Berlin. On a normal night (whatever "normal" is when you're talking about post-reunification Germany), the attendees of a specific venue usually fit neatly into some social subculture. Techno-heads looking painfully normcore, aging punks with blue mohawks and battered Doc Martens, hipsters sporting floral shirts and skinny jeans. One venue, one clique. Homogeny.
But tonight the place is a thriving mix of every subculture, a melting pot that Nelson Mandela would be proud of had he been alive to see it; well-dressed men and women smoking rollies with blasé producers dressed in black from heel to crown; girls with pierced septums and tall black guys kicking around in leather jackets and multi-coloured Converse.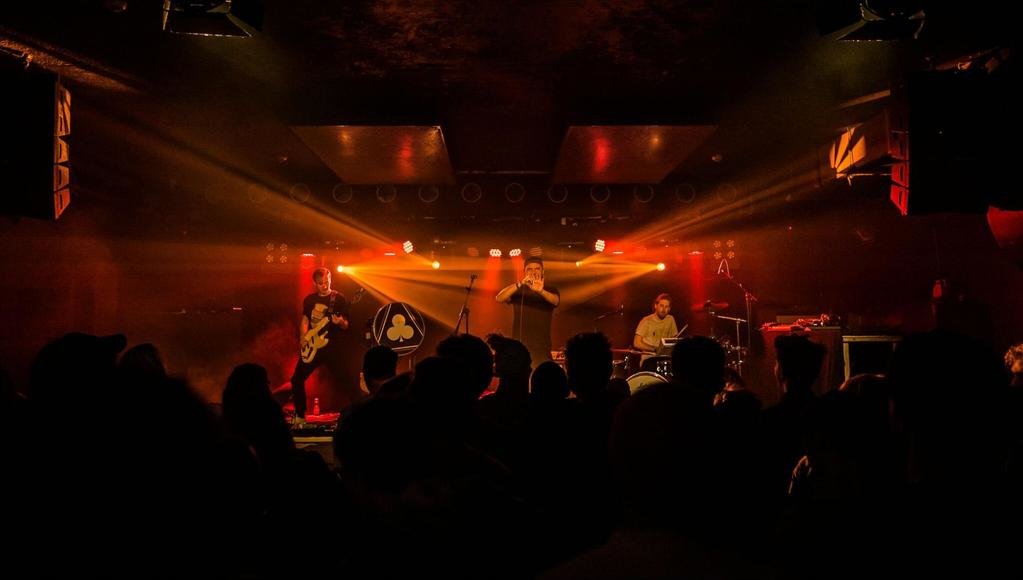 The common thread binding them together is the lineup put together by the Peanut Butter Beats collective, the headliner of which is Rizzo & the Members Club. They're why I'm here, why I suspect most people are here.
As I pay for the beer, the music roars into life to support the vocals. Although I can't see the act, the wall of sound they project is huge enough for me to question if I'm at the right show; by all rights, Rizzo & the Members Club shouldn't sound this big. They're only three members, and one doesn't even play an instrument.
But when I enter the other room, I see that I was right all along. Nick stands within an arc of effects pedals, thrashing a bass guitar that's connected to all of them; Dan pounds a massive drum kit with screaming symbols; Rizzo chants his dark poetry vehemently into the microphone. The mood is sinister — especially as the lights darken — but there's a taut electricity in the air, too. It builds and hums before dissipating into raw, unfocused energy that the crowd — standing serried and mesmerised — absorbs and channels back toward the stage, as if through some strange reverse osmosis.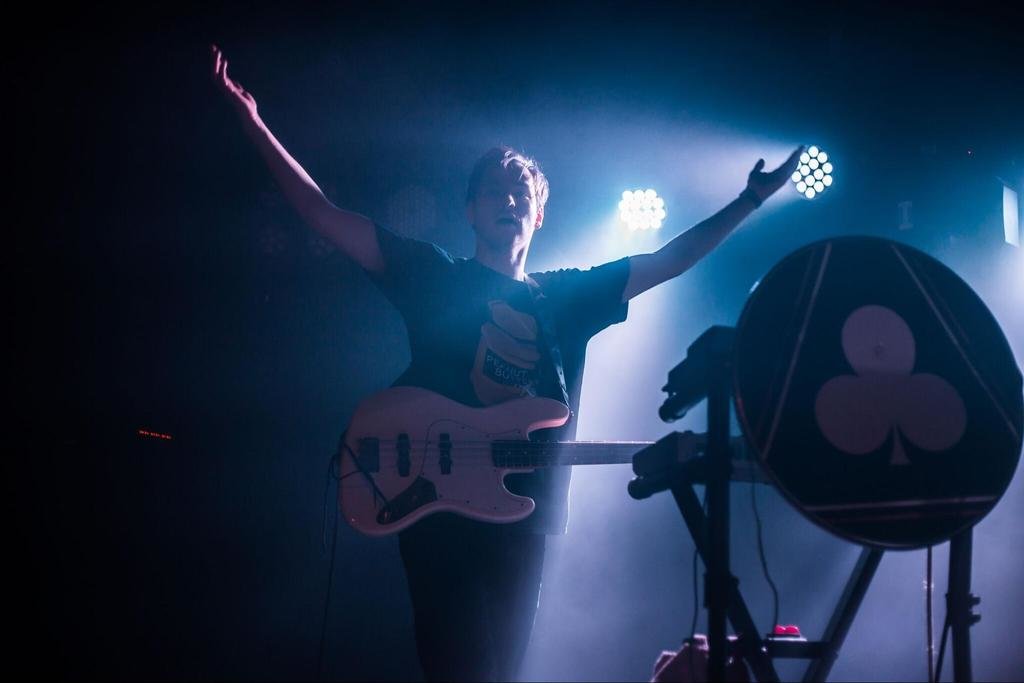 The sound, a blend of genres that can only be correctly described as avant garde hip-hop, is unabashedly in-your-face, almost offensive. And while some bands pointedly design this type of aggressive aesthetic, Rizzo & the Members Club stumbled upon it almost by accident. Later that night, Rizzo explained the surprisingly simple start of it, a microphone between us.
"I wrote some rap lyrics to a beat I liked, went into the studio in the old Stasi HQ on Magdalena Strasse, told the lads to come up with something, and that something's been rolling for about two years," he said.
"The lads" in this case are Dan Lincke and Nick Fox — the other two members of The Members Club. They, like Rizzo, are from the south of London. All three moved to Berlin in the mid-2010s with the aim of pursuing their musical endeavours. After seeing how saturated the scene was in London and seeking fresh, more experimental grounds, Berlin seemed like an obvious choice. The decision, however, was bold. Although German hip-hop commands a massive audience here, it's largely patroned by locals. The following within the expat community is almost nonexistent, especially for three English expats who aren't rapping in the muttersprache. On top of that, Berlin is an electronic music bastion, a techno stronghold that thrives on DJs, synthesizers, and drum machines in the darkness. It's almost the last place you'd want to start a band or an English hip-hop project.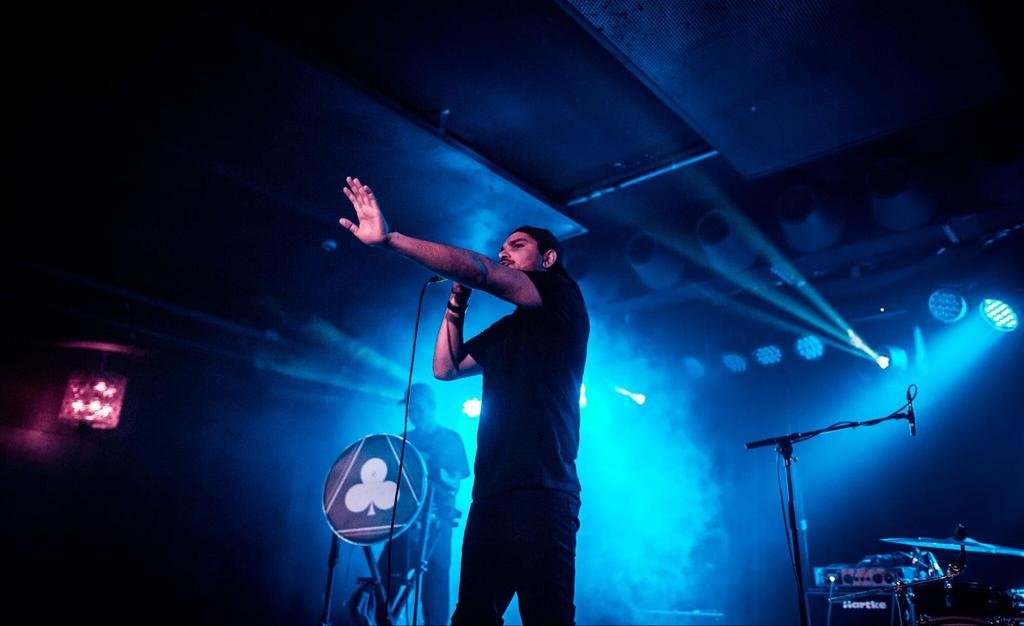 "Hip-hop's underrepresented in Berlin," Fox says as we're discussing the dearth of good gigs. "There's a lot of really good hip-hop here, but it's kept on the street and it's not so much explored in more mainstream venues where you'd expect to see diversity of music."
Although venues exist to support more mainstream artists — Prince Charles being a flagship venue for hip-hop giants — the scene on the whole is woefully underrepresented. It's this scarcity that galvanised them into action.
Rather than wait for the scene to grow accordingly, they decided to facilitate that growth, to become the scene. Peanut Butter Beats was the gateway through which to achieve that. The concept was beautifully simple. Rather than tackling the problem alone, Fox and Alex Linton (another hip-hop artist who goes by the moniker Lexodus) decided to link arms with other up-and-coming artists and host events together. The result was a collective of artists pooling their resources and talents, and showcasing their work in a city that caters more to 12-hour club nights than grassroots collaborations. They did it their own way rather than relying on a tried-and-tested formula.
"Instead of having it start at eight and finish at 11 with two acts, we make a night of it," Fox said. "It's hip-hop done in all different facets, and people can treat it as a club night, a concert, however they want to enjoy it."
But if techno and more local artists hold the vast attention of the youth and club-goers in Berlin, is there even a demand for it? "There definitely is. It's why we founded the collective. As a result, we put on big nights with huge turnouts."
Having attended my fair share of the Peanut Butter Beats' events, I can attest to the veracity of that statement. I've seen the events snowball from a scattering of attendees (most of them friends of the bands playing) milling around substandard venues to packing out laudable establishments with genuine revalers, happy to pay for the music on offer. The most recent testament to this being the PBB event that took place at Bi Nuu, one of the most established and respected spaces for bands and music in Berlin.
It's more than a foot in the door — it's at least a shoulder with some force behind it, gaining precious inches onto the Berlin scene with each event. And as for the crowd? Hipsters, hip-hoppers, techno-heads or wherever they fall on the spectrum — they're interested, and they're coming.