The weekend may have left adults wishing they were still young enough to hunt for eggs filled with chocolate (or Peeps, if you're a serial killer), but Marvel delivered more satisfying Easter eggs than the Easter Bunny ever could. At the halfway mark of The Falcon and the Winter Soldier series, fans were given a visually stunning episode filled with callbacks and obscure references meant for sharp-eyed superfans.
Sam and Bucky's hunt to find the mysterious Power Broker took the action-comedy series to another level. Before we dive into the best parts of the episode and the hidden clues you may have missed, here's a brief recap.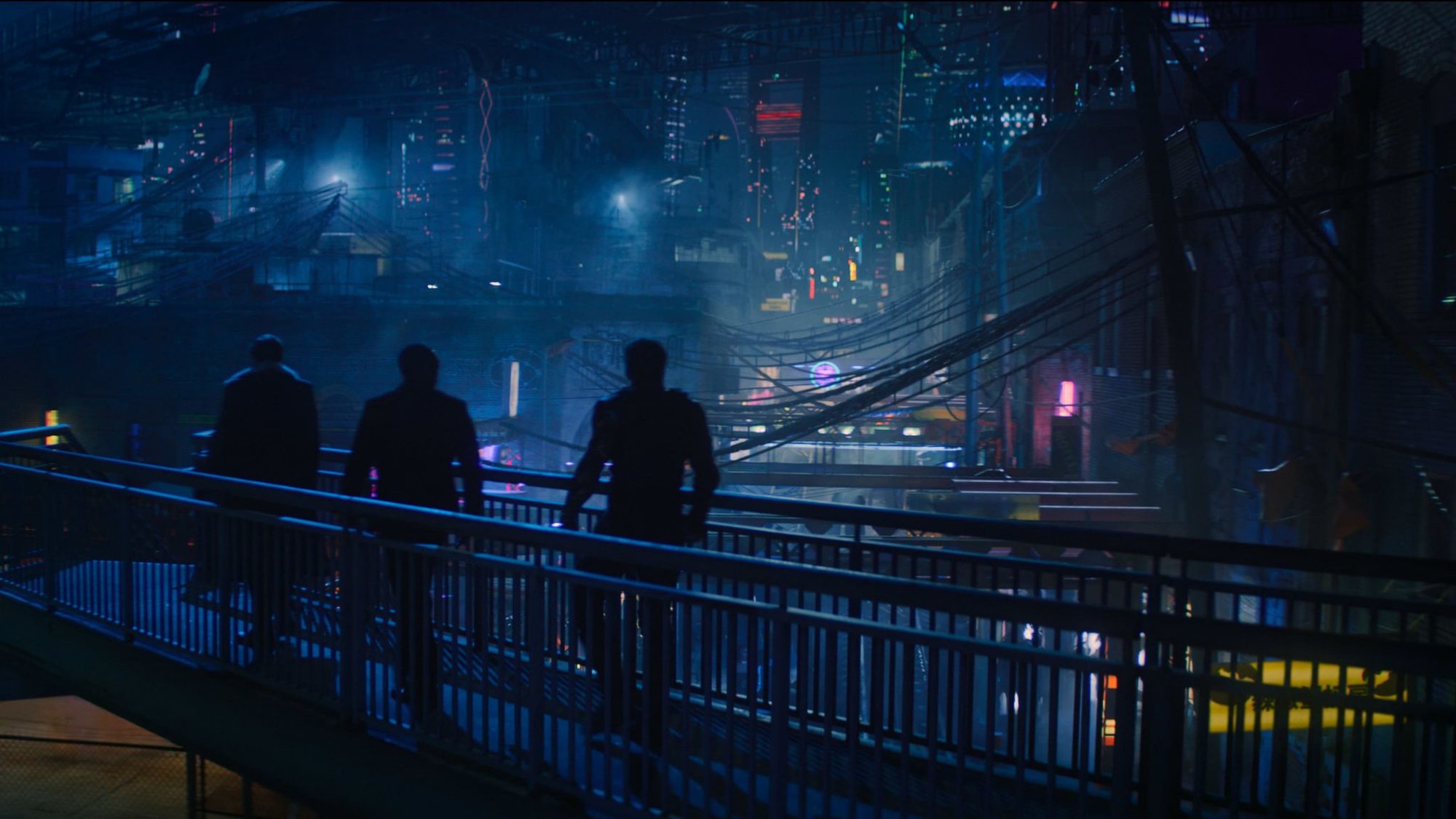 Sam and Bucky are off to find the source of the super-serum stolen by the mysterious villain group Flag Smashers. In order to find the source, Bucky springs his former enemy, Helmut Zemo, out of prison, and the newly formed dysfunctional trio travel to the seediest corners of the globe in pursuit of the truth. Along the way, Bucky refuses to move his car seat for Sam, Sam drinks snake guts while dressed like a pimp, and Zemo shows off cringey yet somehow awesome fist-pumping dance moves.
The episode begins with a compassion-forward commercial for the Global Repatriation Council (GRC) and a Disney-fied depiction of deportation. The commercial is quickly juxtaposed with a dirty GRC van filled with Gestapo-like German police conducting no-knock raids on frightened families. And who is leading this new GRC Gestapo force? None other than the new Captain America, John Walker.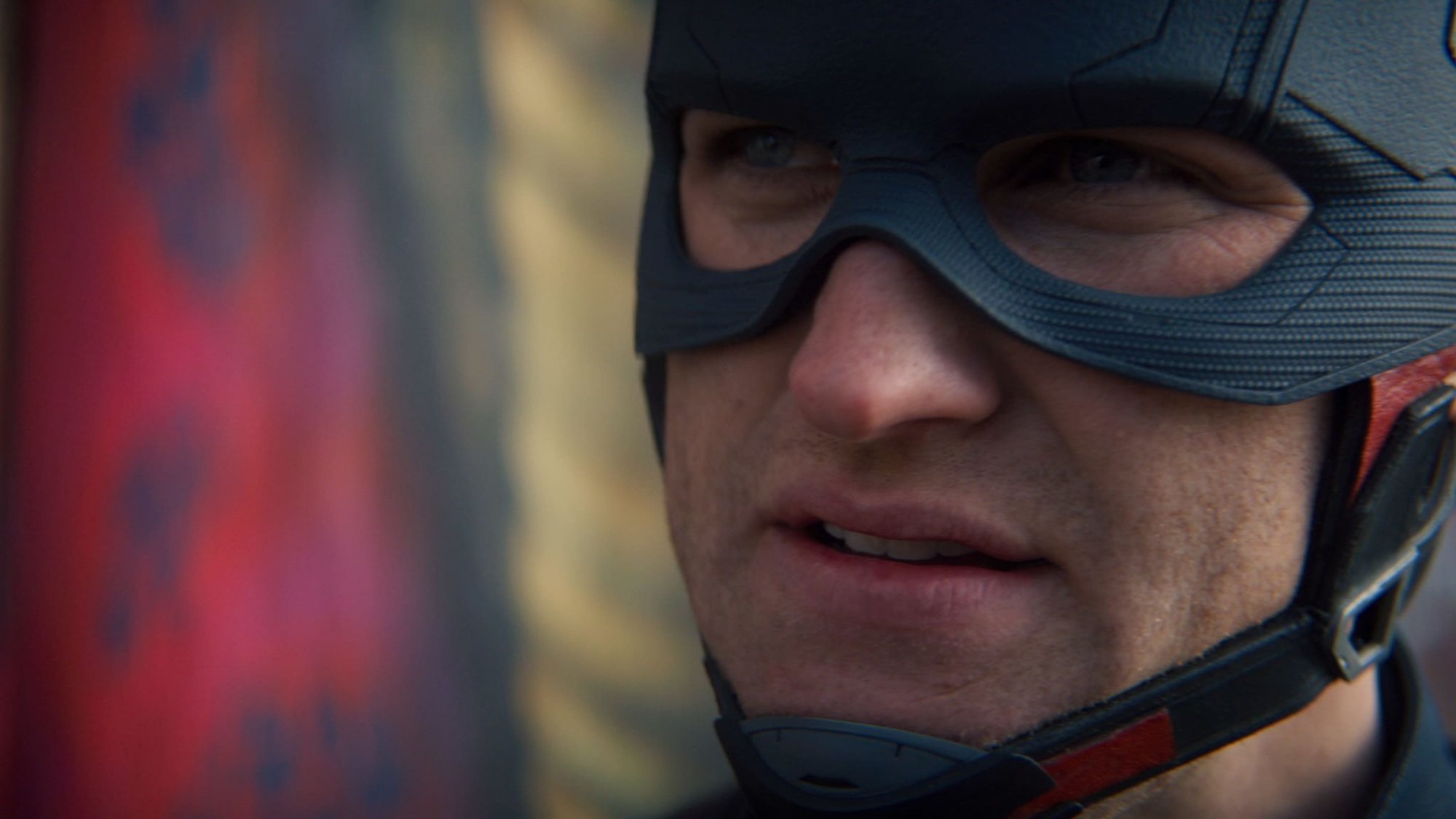 It's clear now that new Cap is not the morally straight superhero we took for granted with Steve Rogers. As he smashes down the doors of people's homes, angrily punches walls, and screams, "Do you know who I am?" we see him for the brute that he really is — a mere mortal, unworthy to fill Rogers' shield. While the new Captain is not the hero we had hoped for, the episode gives Sam and Bucky an unlikely ally.
We knew from the end of last week's episode that Zemo was returning, but it was a pleasant surprise to have him working alongside his former enemies. Zemo, still an untrustworthy character, is at his best wedged between Sam and Bucky. We get to see Bucky rely on his brain rather than brawn and break out his former handler, at which point we get the first great Easter egg: Zemo's cell number, 2187. This is an obvious nod to Princess Leia's cell in A New Hope. For non-Star Wars fans, there are plenty more clues to savor.
Once free and reluctantly accepted by Sam, Zemo dons a Bane-esque fur-lined coat and a purple mask with deep vertical lines (a possible nod to Thanos' purple skin and, as pointed out in Infinity War, his chin's uncomfortable resemblance to a nutsack). The Zemo we get in "Power Broker" is the character Marvel fans deserved but were denied in Civil War.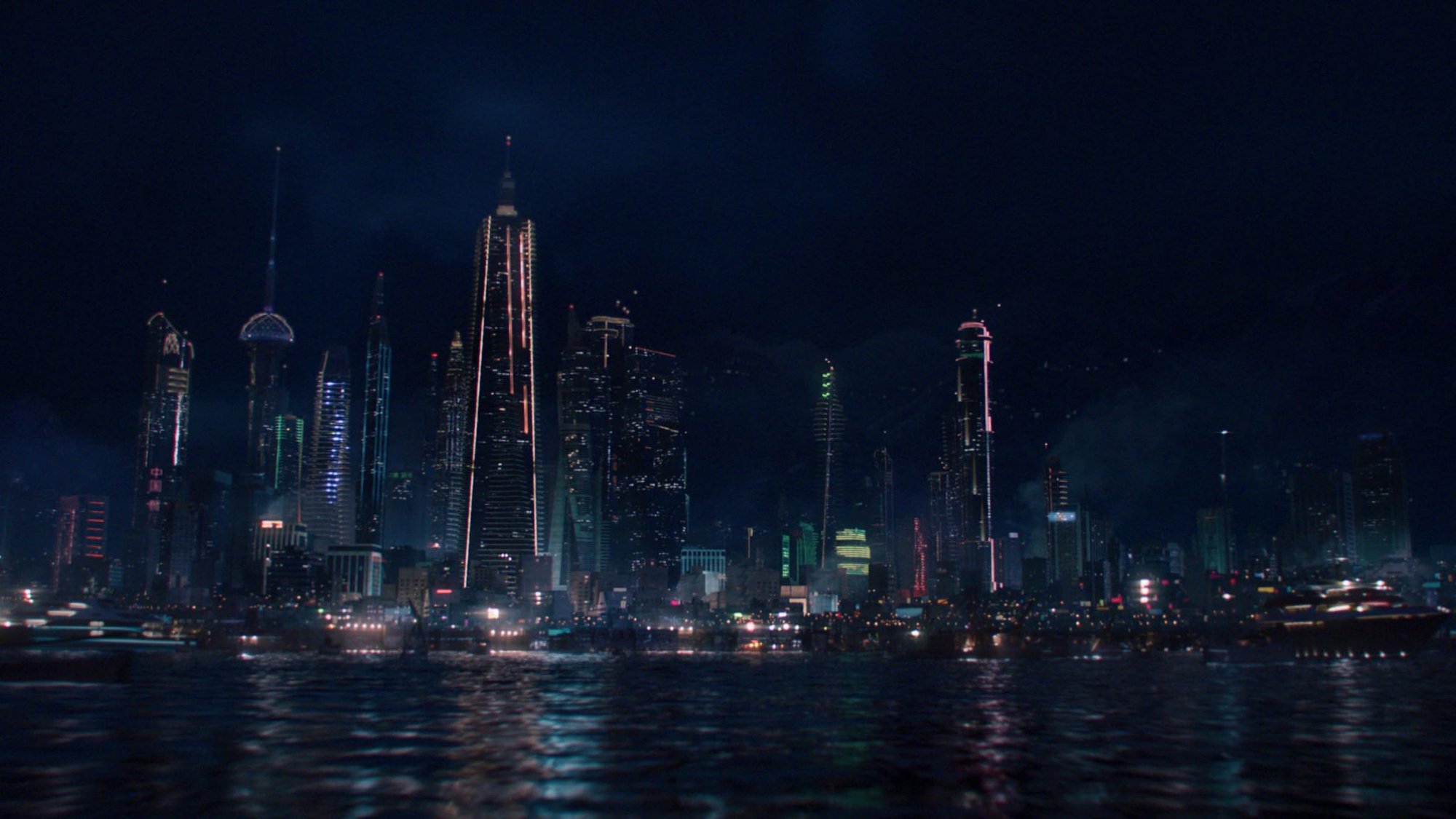 Raised by Nazis, Zemo grew up believing in an Aryan master race, which Captain America and friends quickly shut down in World War II, but not before Cap killed Zemo's dad, leading to a hatred that never faded. This backstory is only hinted at in Civil War, so we are left with a Helmut Zemo who is funny, dangerous, and at the mercy of Sam and Bucky. We also catch a glimpse of his garage filled with classic cars — and another Easter egg: a pristine yellow Jaguar from The First Avenger. Like the other Easter eggs in the episode, if you blink, you'll miss it.
Sam, Bucky, and now Zemo head to the most visually stunning set of any Marvel series to date: Madripoor. The fictitious East Asian port is a criminal hub that makes appearances in other Marvel comics, but this is the city's first jump from paper to screen. The former 1800s pirate sanctuary that has "kept its lawless ways" is split into the wealthy, white-collar area of "high town" and a dirtier, blue-collar "low-town." Madripoor is a beautiful mix of neon lights and dangerous, shadowy streets, eliciting a heavy neo-Noir aesthetic reminiscent of Blade Runner 2049 and John Wick.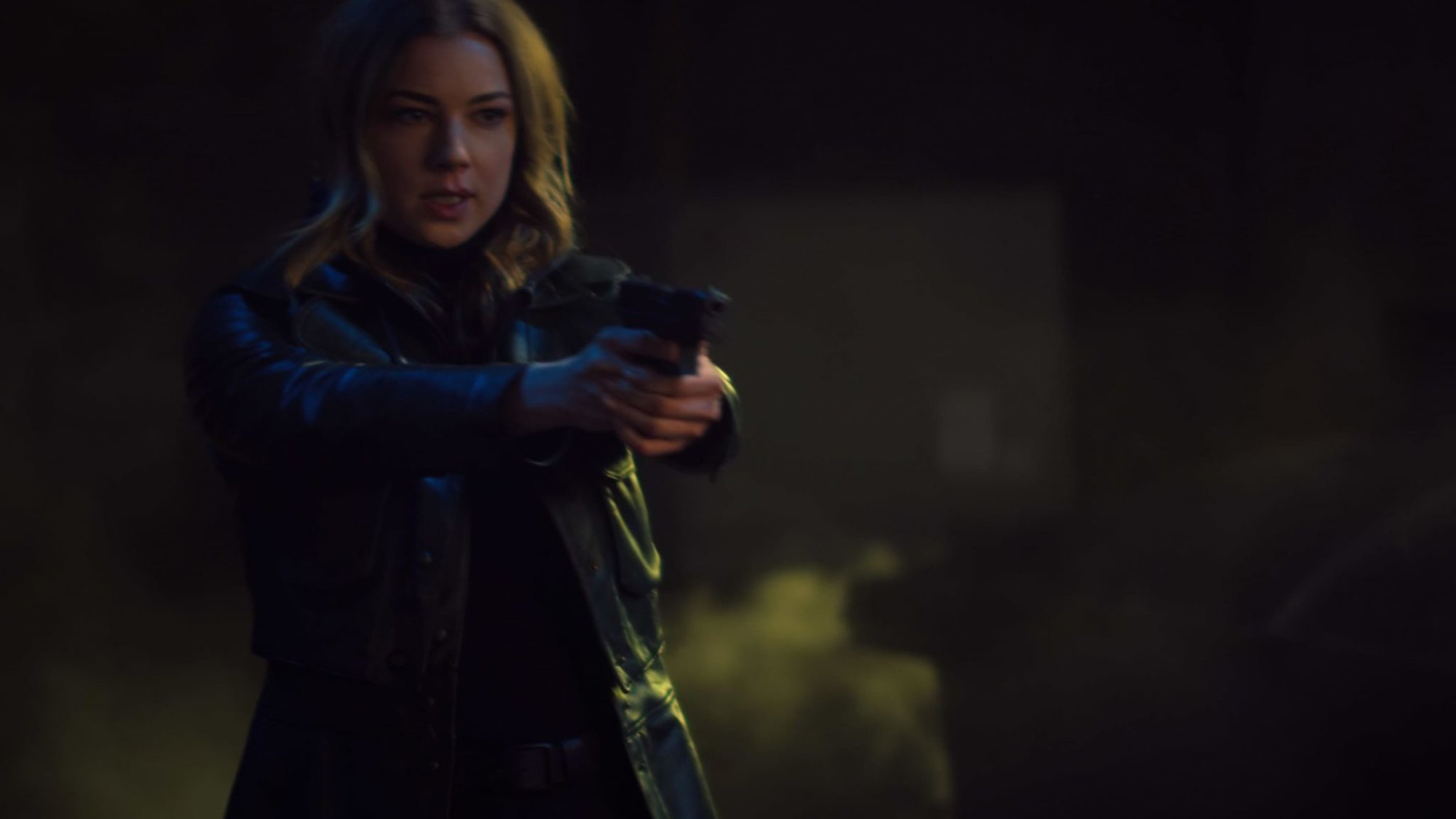 In the comics, Madripoor is frequented by everyone's favorite mutant, Wolverine, and the episode tosses fans a few Easter eggs on his behalf. In another blink-and-you'll-miss-it moment, the X-Men logo is seen dimly lit outside one of the city's many bars. One especially grimy-looking dive bar has another dimly lit sign, identifying itself as the Princess Bar, one of the adamantium-clawed mutant's favorite old stomps. But even with some serious hints about the X-Men finally joining the rest of the MCU, episode 3 stood out for the return of another familiar face: Agent 13, aka Sharon Carter.
Once Sam and Bucky's plan to learn more about the super-soldier serum goes south, Carter arrives just in time to help them fight their way out of Low-Town and escorts them to her new home in High-Town. Here, we learn she's been living in exile after being declared an enemy of the state in Civil War. Like Isaiah, Carter is another reminder that there is no shortage of "good guys" who have been used and then tossed aside in the Avengers' quest for justice. Carter explains she now makes a living selling stolen art and reveals a jaded view of her former superhero life.
"You know the whole hero thing is a joke, right? I mean the way you gave up that shield, deep down, you must know it's all hypocrisy," she asks Sam. Carter neatly sums up the show's recurring theme that the MCU's Superhero franchise is no longer black and white, but rather increasingly blurred shades of gray.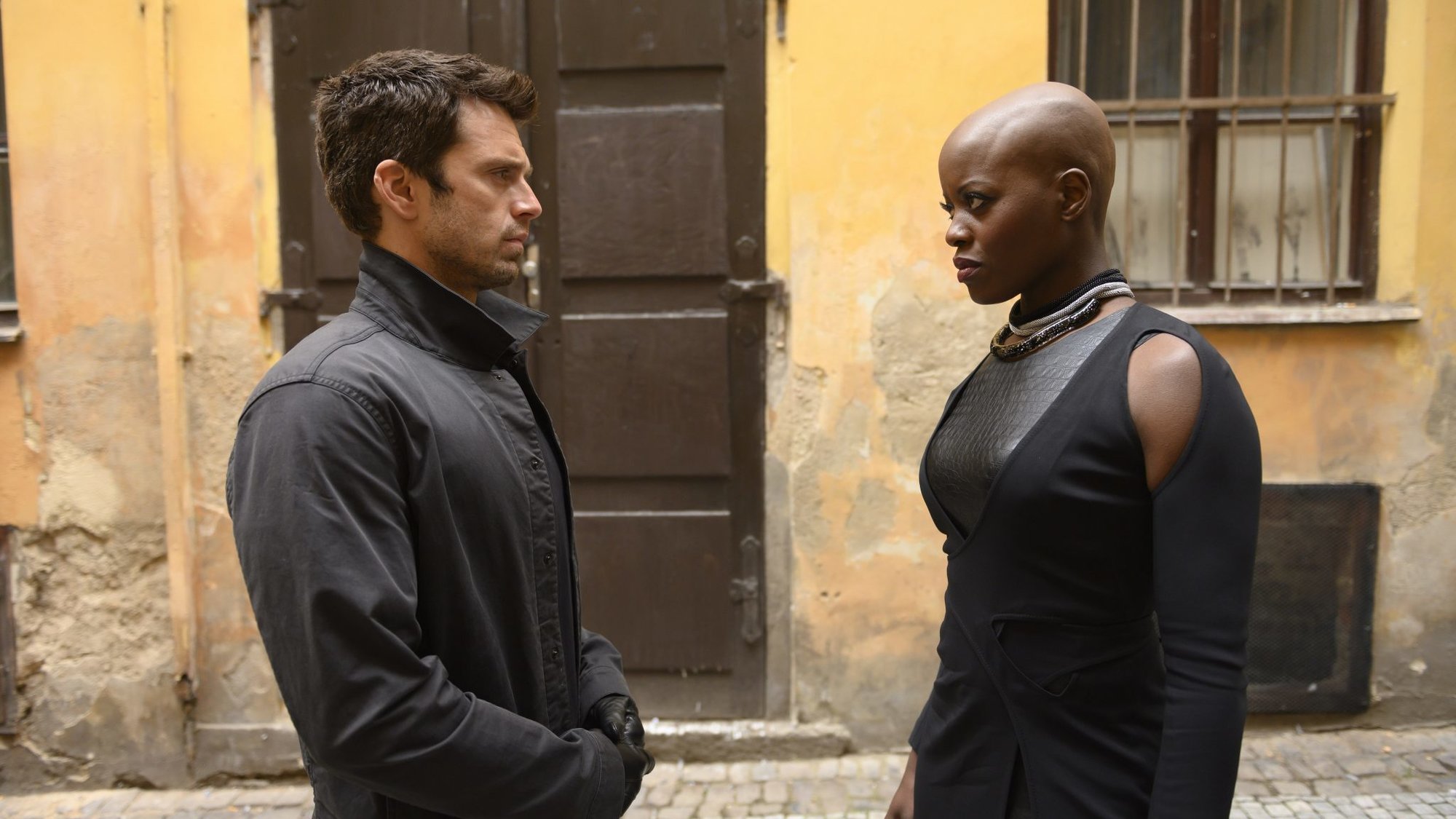 Despite having renounced the superhero life, Carter shows she can still hold her own in a fight. While Sam, Bucky, and Zemo attempt to extract intelligence from the scientist responsible for the super-serum, Carter is left to defend them all. Alone.
She promptly beats up a small army in one of the best fight scenes we've seen, while the three "heroes" struggle to use their words. This is a nice flip from the traditional superhero formula of heavily muscled men cracking skulls while their female counterparts rely on the art of persuasion. It's clear The Falcon and the Winter Soldier is working hard to be a different kind of superhero saga.
The episode wraps with a final cameo that further intertwines the show with previous Marvel storylines. Bucky follows a series of Wakandan beads into an alley where he is greeted by the Wakandan guard Ayo. Ayo seemingly appears out of nowhere with an obvious not-messing-around expression and states, "I'm here for Zemo," clearly seeking to avenge the murder of Wakandan King T'Chaka. As the credits roll, we're left wondering if Ayo will let Zemo finish helping Sam and Bucky with their newest fight or add another dimension to the rapidly expanding conflict.
Episode 1 Recap: 'The Falcon and the Winter Soldier' Provides a Return to Marvel's Adrenaline-Pumping Origins
Episode 2 Recap: 'The Falcon and the Winter Soldier': Star-Spangled Man