When the air turns crisp and the days get shorter, it's time to put on an extra layer (or two) and prepare to take in one of nature's most aesthetically pleasing seasonal changes — fall foliage. Fall is one of the best times to hike — it's cool but not cold, the mosquitoes are gone, and there is snow on top of the high peaks.
Whether you're a photographer hoping to capture the changing colors or a hunter eager to put meat in the freezer, this is the time of year that most outdoor enthusiasts wait for. But fall weather can be tough to predict. While it's tempting to press through bad weather to catch a glimpse of the stunning landscapes and colors, be prepared to turn around if necessary. Rarely does a snowstorm get better as you go uphill.
If you use common sense and carry clothing to match the climate, autumn is arguably the best time to be outside. And if you're searching for the best trails on which to enjoy the cool weather, beautiful colors, and solitude of nature, these are some of the finest.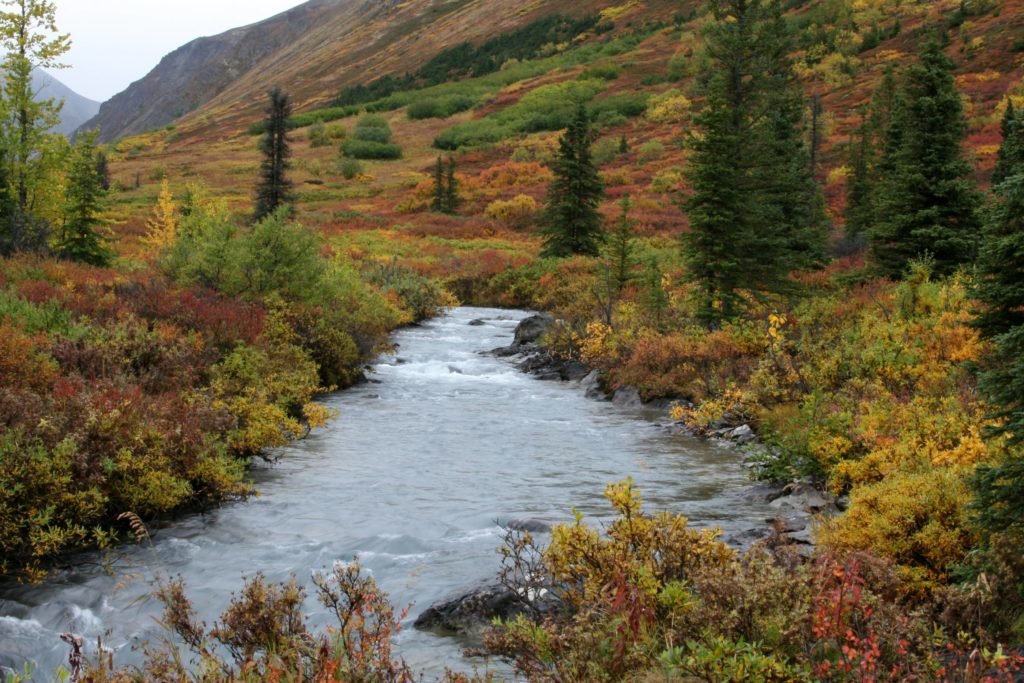 Eagle River Trail, Alaska
Not far outside Anchorage, Alaska, the Eagle River Trail meanders up a broad glacial valley through a mixed forest of birch and spruce trees. Fall comes early in the Last Frontier, and when the birch and alders turn colors, a valley like Eagle River Trail features a brilliant explosion of colors.
The high alpine tundra overhead amps up the beauty with vibrant reds, and the taller peaks get their first snow, called "termination dust," in late September. The ease of access, stunning colors, and high peaks combine to make the Eagle River Trail an Anchorage-area classic.
At 25 miles long, the trail covers the Chugach Mountains from Eagle River to Girdwood. One thing hikers should be aware of is that Crow Pass near Girdwood is unsafe once snow falls in earnest, making a traverse impossible until spring. Also, it's bear country — so come prepared, even in colder weather.
The Alaskan fall can be quite cool, especially compared to the Lower 48, so bring plenty of extra layers. It may be the best time to explore the far north. The days are still long enough, the mobs of tourists gone, and the wilderness landscape takes on a stunning range of colors.
Silver Falls State Park, Oregon
Nestled in the Willamette Valley just east of Salem, Oregon, Silver Falls State Park is often called "The Crown Jewel" of Oregon State Parks — and for good reason.
A series of trails follow the North and South Forks of Silver Creek, taking hikers past a series of waterfalls. It's pretty enough in the summer, but in the fall, when the maple trees are starting to turn, the park comes alive.
The aptly named Trail of Ten Falls is one of Oregon's classic hikes. It's always beautiful, and at 8.7 miles long with 1,100 feet of vertical elevation gain, it's tough enough to weed out the fair-weather hikers. Those looking for a gentler route should try the 2.6 mile Maple Ridge Loop. You'll still see plenty of fall colors, but it's much less strenuous.
As usual in the fall in the Pacific Northwest, come prepared for a variety of weather conditions. Pack your raincoat and a good camera, and enjoy some of the best day hikes in Oregon.

Mount Mansfield, Vermont
Every inch of Vermont deserves to be on this list, but Mount Mansfield, which rises to 4,393 feet, is particularly stunning. As the highest point in the state, and situated on Vermont's legendary Long Trail, the scenery is stunning, and the hike is challenging.
When the New England foliage turns color, the oranges, yellows, and reds stand as visual icons of America's wild places.
Hiking Mansfield in any month requires planning and preparation, but this is especially true in the fall. Temperatures on the peak can drop to well below freezing, and the wind chill is often severe. Hike prepared and, as with any hike, be willing to turn around if the weather is too severe.
If the weather is simply not cooperating, the area around Stowe, Vermont, has plenty of other options. From the gentle trails of Kirchner and Wiessner Woods to the Stowe Pinnacle, there's an option for any hiker in almost any weather.

OCONUS BONUS: Patagonia, Chile
For those really looking for a fall adventure, Patagonia is legendary among outdoors people. If you're willing and equipped to handle some extremely cold conditions, it's worth the trek. However, it's worth noting that south of the equator, fall starts in March.
From towering peaks worthy of a painting to glacier-filled valleys, the near-mythical status of the south end of South America is well-earned. It would be unfair to pick out a single hike in Patagonia. A hiker can choose from Chile or Argentina — or both. From the arduous Huemul Circuit to the iconic Torres del Paine, most any hike in Patagonia is worthwhile.
As a rule, someone going to Patagonia will choose between Chile's Torres del Paine National Park or Argentina's Los Glaciares National Park. Both have a myriad of different hikes, all of them good.
Be aware that the fall here is cold — and windy. But when the colors turn and snow covers the mountains, it's an experience that few outsiders get to experience. Thousands of tourists visit Patagonia in the summer, but a fall trip circumvents the crowds.
Given the cost and logistical effort involved, a trip to Patagonia is often a once-in-a-lifetime experience. And if you'll only go there once, it's worth it to see the full fall colors.