Fallen Philadelphia firefighter and US Marine Corps veteran Lt. Sean Williamson is being remembered as a hero who was always faithful to his nation, his beloved city, and his company, Ladder 18.
Williamson, 51, was buried Monday, June 27, nine days after a fire-ravaged building in the Fairhill section of the city collapsed on him. Rescuers saved three fellow firefighters and an injured city building inspector after pulling them from the rubble.
"He gave his last full measure serving our city," Philadelphia Fire Commissioner Adam Thiel said during Williamson's funeral eulogy at Epiphany of Our Lord Catholic Church in South Philadelphia. "He died the way he lived, exhibiting the motto of the US Marine Corps — 'Always faithful' — and giving the dedicated service that has characterized the Philadelphia Fire Department for hundreds of years. He has joined a pantheon of heroes more than 300 strong, the men and women of the Philadelphia Fire Department who have sacrificed themselves for this great city. It is for them and for those we serve in their memory that our mission continues."
Shortly before the collapse, Williamson and the others were performing an "overhaul" on the walls, ceilings, and voids in the damaged building to ensure the blaze had been extinguished.
Williamson had served in the Philadelphia Fire Department for 27 years following a stint in the Marines, which is why Thiel recalled him as a "force for good" who "dedicated his entire life to serving others in two of the toughest ways imaginable."
Lt. David Herron told mourners that Williamson had landed a construction job when he exited the Corps, but he'd missed the camaraderie he'd loved in the Marines.
He rediscovered it in Engine 52 and later served in Engine 55 and Ladder 22 before being selected to join the city's heavy rescue company, Rescue 1, and the state's elite urban search and rescue team, Pennsylvania Task Force 1.
Retired Lt. George Kiefer told mourners that his fellow firefighters might've thought the rookie Williamson would be "naturally all spit and polished" after leaving the Marines, but they discovered he was a "get your hands dirty kind of guy" who took to battling blazes like "a wrecking ball" with a particular penchant for rescuing people.
Fellow firefighters nicknamed the tenacious Williamson "Buzz Lightyear" and "Pig Pen."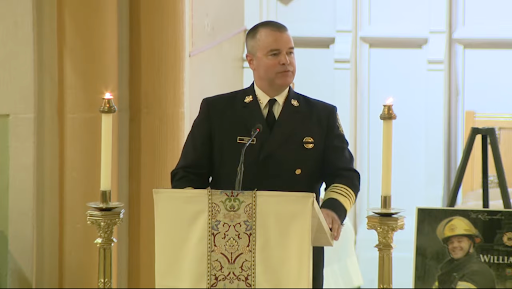 "You could see the Marine in him right away," Kiefer said. "You had to watch what you said to Sean. If he thought it was an order, it was going to get done quick."
In his eulogy, Kiefer recalled Williamson as a kind and professional man who'd always joke, "As long as you were smiling, you can say anything you want to me."
Lt. Sean Joseph Williamson was born Nov. 23, 1970, in Philadelphia. He's survived by his mother, Barbara Williamson-Nerch; his children, Patrick, Alyssa Glassey, and Kierra Kuzma; his siblings, Erin, Debbie, and Donna; and his partner, Dana Kuzma.
He was buried in a private ceremony.
"Sean was a caring father, spouse, friend, and one hell of a firefighter," Herron told mourners.
Read Next: