On Sept. 11, 2001, an Associated Press photograph dubbed "The Falling Man" captured a man jumping to his death from the World Trade Center to avoid being burned alive. The shocking photograph of a man rocketing headfirst toward earth gave the world an intimate glimpse into the horrors of the terrorist attack and marked a visual beginning to America's war against Islamic terrorists. Another tragic image emerged from Afghanistan on Monday, Aug. 16, amid America's hurried exit from the country.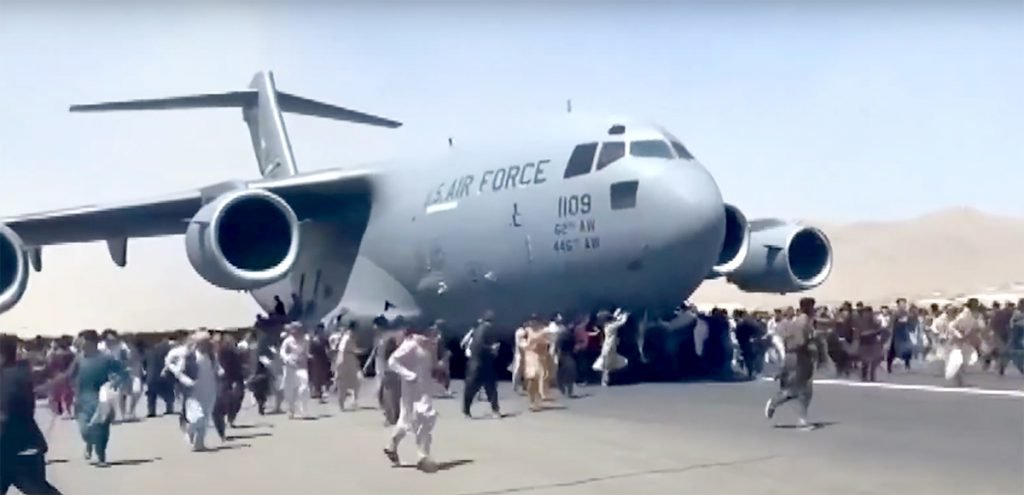 The circumstances in Kabul are rapidly evolving, as gunfire now echoes around the airport. US Marines and soldiers are working to secure the area and assist in the evacuation of as many people as possible after Taliban fighters took control of Kabul Sunday. In the middle of the chaos, crowds of Afghans climbed onto the wheels and frame of a C-17 as it moved down the runway. Some reportedly tried tying themselves to the aircraft in a desperate attempt to escape the Taliban. In a disturbing video, several men appear to fall from the C-17 as it climbs to unsurvivable heights.
Images of the plummeting men echo the famous "falling man" of 9/11 captured by photojournalist Richard Drew. Each distills thousands of deaths and incomprehensible tragedy into a single, dramatic image. As the situation in Kabul continues to change, the horrific video reveals the consequences America's hasty retreat is having on those left behind.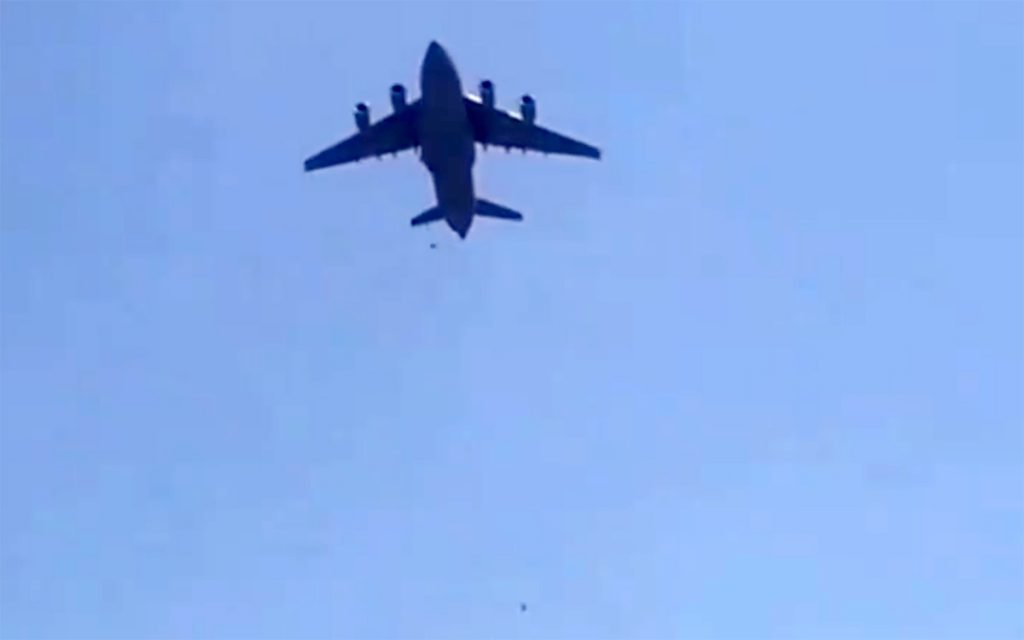 Another comparison is being made between remarkably similar photographs of CH-47 Chinooks evacuating people from the US Embassy in Kabul on Aug. 15 and from the rooftops of Saigon 46 years earlier. Those helicopter evacuations may make for a comparison that's easier to stomach than the powerful images of the men falling to their deaths.
The two images — an unnamed American falling to his death on 9/11 and unnamed Afghans falling to their deaths amid the Taliban takeover — act as morbid bookends for America's 20-year fight against Islamic extremists.
Read Next: Did One Air Force C-17 Just Fly 800 People Out of Kabul?