After a mob of rioters dragged him out of the west front entrance and onto the steps of the US Capitol building Jan. 6, DC Police Officer Mike Fanone thought he was going to die.
As the angry crowd of President Donald Trump's supporters dragged Fanone into their midst and started beating and tasing him, the 40-year-old father of four wondered if his four daughters would be okay without him. Amid the chaos, Fanone struggled to process what was happening as one rioter seemed to try and impale him, smashing a flagpole carrying the American flag into Fanone's body.
"I remember thinking the moment I got outside, like holy shit, there's a lot of goddamn people out here," Fanone told reporters during a press event. "At one point, somebody started getting ahold of my gun, and they were screaming out, "Kill him with his own gun!'"
As a plainclothes officer, Fanone didn't have to deploy to the Capitol that day, but he and officer Jimmy Albright — Fanone's duck-hunting partner — knew their fellow officers needed all the help they could get.
"We're going," Fanone told Albright. "Suit up."
Fanone had never taken his uniform or riot gear out of the bag they were issued in a decade earlier, and after he suited up, a friend had to tell him to pull off the price tags.
At the Capitol, Fanone entered a door on the south side of the building and made his way to the basement, where he found a police commander dry-heaving from inhaling CS gas. The commander straightened his cap and silver eagles and prepared to return to the fight.
"I remember thinking, this dude looks like George fucking Patton," Fanone said.
Fanone made his way to the west front entranceway, where he found 32-year-old Officer Daniel Hodges being smashed in a doorway as the mob screamed, "Heave ho!"
Hodges and his platoon of officers had arrived earlier on the west side of the Capitol, where they had to fight their way through the angry crowd in order to connect with the force of Capitol Police trying to hold the defensive line on the dais of the Capitol building.
"When we were marching up through the crowd, they were all shouting at us, calling us traitors, telling us to remember our oaths," Hodges told reporters during a press event.
The mob attacked Hodges and his fellow officers, throwing punches, kicking them and trying to strip their equipment away. Hodges' platoon was split up during the chaos. Someone threw down a large metal object from an elevated position, hitting Hodges and other officers in the head. Their helmets protected them and kept them in the fight, but Hodges said the impact might have caused a mild concussion. Eventually, Hodges was knocked to the ground.
"They surrounded me and started beating me at that point," he said. "That was one of the three times that day that I thought, 'Well, this might be it.'"
Another officer came to Hodges' aid and got him to his feet, and they were able to make their way to the dais and link up with the police defense line.
"After our defenses on the dais broke, we were battling tooth and nail for our lives," Hodges said.
Dozens of Capitol Police officers were injured during the chaos. Hodges said a sergeant suffered a compound fracture to his finger at one point.
"He had bones sticking out, but he slapped a napkin and some duct tape on there and went back to work for four hours. So he's a legend," Hodges said.
The police fell back to hardened choke points inside the building. Hodges put on his mask and moved into a tunnel entrance, where the rioters were throwing CS gas grenades back at the officers. He pushed forward to help hold the line in the entranceway and eventually became pinned in the doorway as a massive swarm of rioters relentlessly pushed forward.
"I got pinned through the small back-and-forth we had fighting for every inch, and my arm was pinned at that point, and I wasn't able to defend myself," Hodges recalled. "Somebody ripped my gas mask off and ripped away my baton and beat me with it."
Linking up with Hodges and other officers in the hallway entrance, Fanone shouted, "Dig in, MPD," as they fought to hold the hallway entrance, which helped undermine the massive crowd's advantage.
"It was like the real-life 300 [movie] minus the six-pack abs, which none of us has," Fanone said.
Choking on CS gas and being slowly crushed, Hodges was almost completely disabled.
"That was another time that day where I thought I might die," he said. "There was nothing I could do to defend myself at that point, so I started screaming at the top of my lungs for them to give me a way out, give me a line of retreat, and thankfully someone was able to do that, and I was able to extricate myself."
Hodges said at one point a rioter jammed his thumb into Hodges' right eye, trying to gouge it out.
"Thankfully, I was able to get him off without a lot of damage being done."
Fanone told reporters what he and Hodges experienced that day was "like medieval combat."
Amid the chaos, the mob managed to grab Fanone and drag him out into the crowd alone. As the rioters relentlessly assaulted him, Fanone became desperate as the situation became more dire.
"At that point, it was just like self-preservation — how do I survive this situation?" Fanone said. "I thought about using deadly force. I thought about shooting people."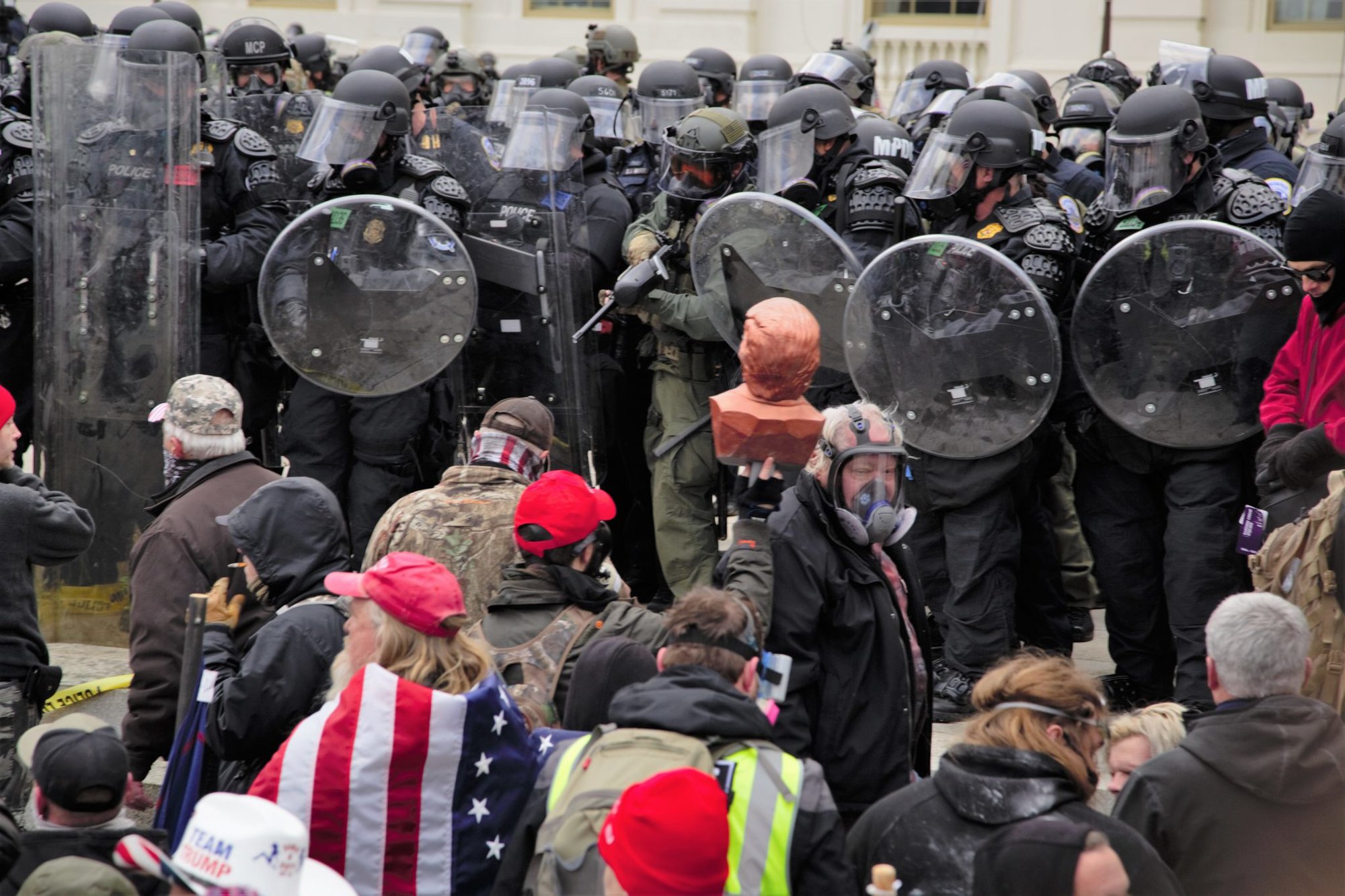 Fanone ultimately thought better of using his gun.
"I just came to the conclusion that if I was to do that, I might get a few, but I'm not going to take everybody," he recalled.
Fanone figured the mob would likely overpower him and take his gun away if he started shooting.
"And that would definitely give them the justification they were looking for to kill me if they already hadn't made that up in their minds," he said.
Instead of using deadly force, Fanone decided to make an appeal to his attackers' humanity.
"I just remember yelling out that I have kids, and it seemed to work," he recalled. "Some people in the crowd started to encircle me and offer me some level of protection."
At that point, Albright was able to pull Fanone back into the hallway and away from the mob. Fanone credits Albright with saving his life, and he had a message for the rioters who helped him after he appealed to their humanity.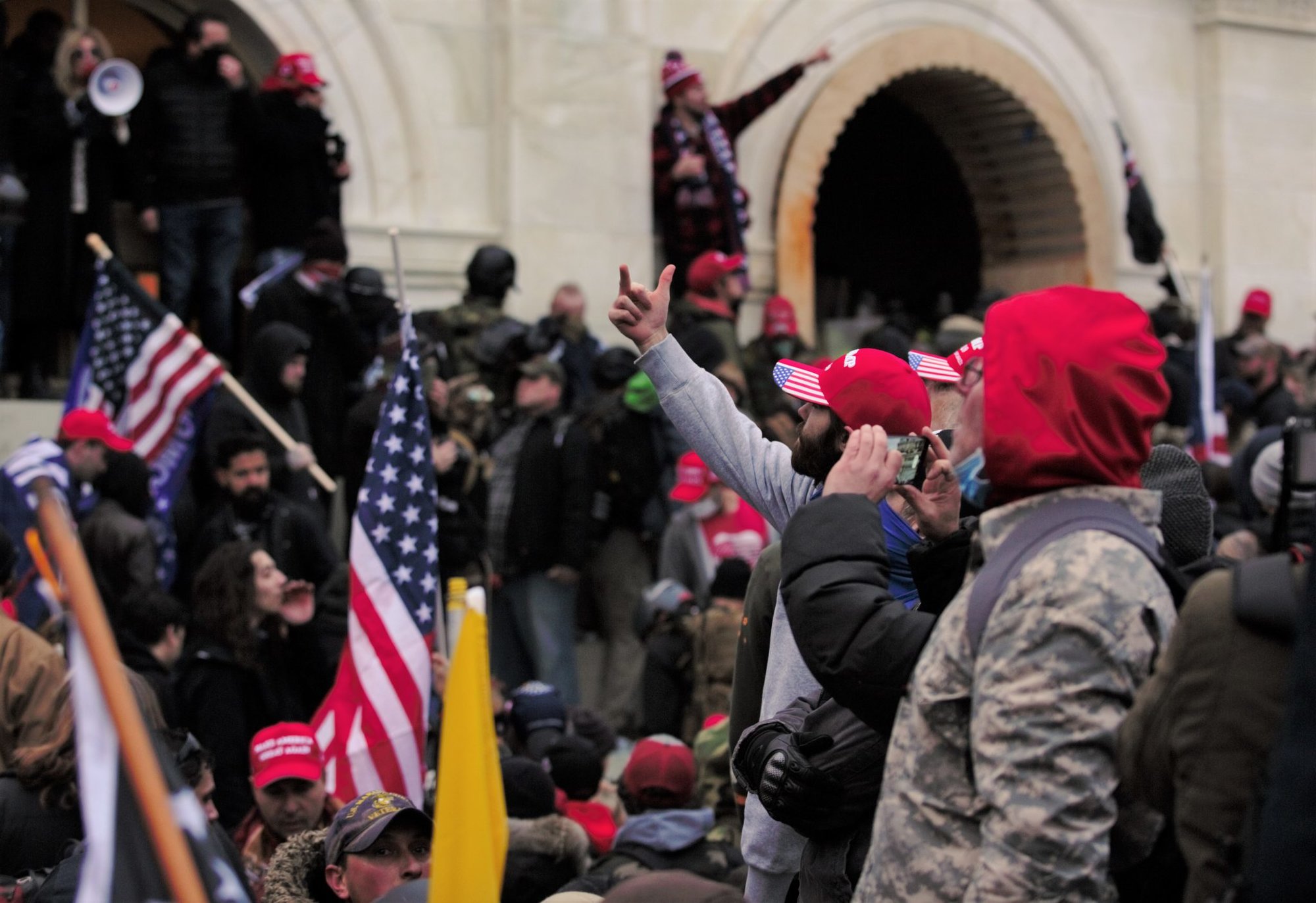 "A lot of people have asked me for my thoughts on the individuals in the crowd that helped me or tried to offer some assistance," he said. "I think the conclusion I've come to is, you know, thank you, but fuck you for being there."
Fanone said the attack brought on what he calls a "mild" heart attack, and he spent a day and a half in the hospital after the assault.
Asked if he'd be back on the front lines if there's another assault on the Capitol or similar attacks during Inauguration Day on Jan. 20, Fanone said, "Hell yeah … I went there for my brothers and sisters in law enforcement. There's no army on earth that would prevent me from fighting alongside those guys."
Hodges, who suffered minor injuries, including a busted lip, mild concussion, and plenty of soreness and bruising, echoed Fanone's sentiments.
"I had conspiracy theorists and everyone shouting, 'Why are you doing this? You're a traitor,'" Hodges said. "We're not the traitors. We're the ones who saved Congress. […] It was an honor and a privilege to be there and shut down those people that day, so I'm willing and able to do it as many times as needed."