The FBI is investigating the credibility of a threat that a vehicle filled with explosives would hit a federal building in Portland, The Oregonian reported Friday morning.
In response to the threat, all federal buildings in Portland have been closed, including the Federal Bankruptcy Court and Mark O. Hatfield United States Courthouse, where protesters have frequently clashed with federal agents and state and local law enforcement agencies during demonstrations against police brutality and racial injustice.
Protesters this week have turned their focus to the US Immigration and Customs Enforcement building in Portland. The Mercury News reported that "people in a group of about 100 late Thursday and before dawn Friday sprayed the building with graffiti, hurled rocks and bottles at agents and shined laser lights at them."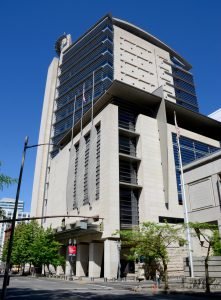 "Because the crowd blocked traffic, vandalized the ICE building, set fires to dumpsters, and threw projectiles at FPS officers, at 12:21 a.m., the gathering was declared an unlawful assembly," according to a Portland Police Bureau release. Despite several dispersal warnings, a crowd remained outside of the ICE Building, and police had to make several efforts to disperse the crowd.
PPB said no crowd control munitions or CS gas was used by Portland Police officers, and three people were arrested. A small group returned outside of the ICE building, but the group mostly dispersed by 2 a.m.
It's not clear if the ICE building was included in the alleged threat or if the threat was connected in any way to protests.
The Oregonian reported that the Standard Insurance and Standard Plaza buildings were also evacuated. The Bankruptcy Court's lobby was inaccessible but all its services were continued remotely. Friday hearings at the federal courthouse will be rescheduled.
The FBI said it would notify the public if investigators develop information indicating a credible threat. They asked anyone who has information to submit a tip online or call 800-225-5324 or 503-224-4181.