Denise Olsen cares so much about New York City's firefighters that she took more than 500,000 steps to tell them.
Olsen, 52, is a widow. Her husband, Jeffrey Olsen, died on Sept. 11, 2001.
He was a Ladder 10 firefighter. The World Trade Center collapsed on him. He wasn't alone — the terrorist attack that day killed 342 other firefighters.
And they continue to die.
At least 257 more New York firefighters have succumbed to cancers and other illnesses linked to the toxic ground zero inferno, according to the FDNY Uniformed Firefighters Association.
To raise awareness about the plight of New York's bravest still struggling to survive, Olsen began hiking on Aug. 28 from Boston Logan International Airport to ground zero.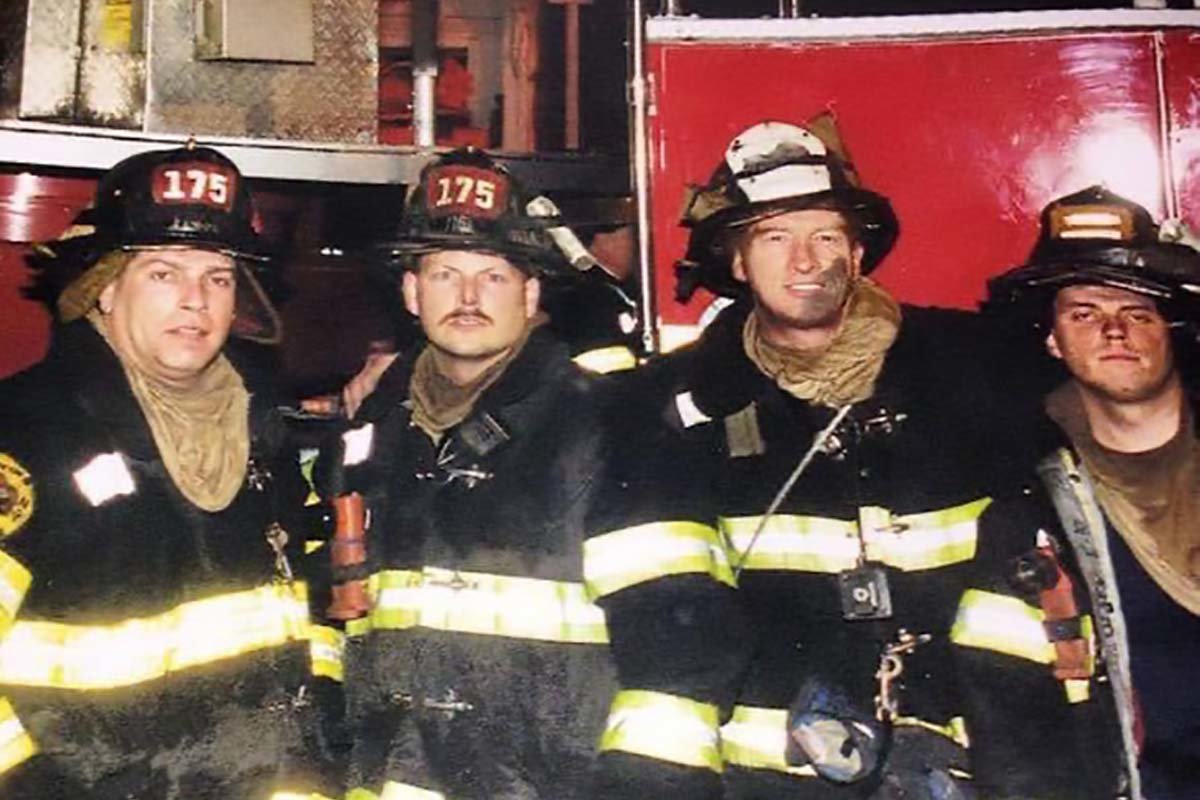 Station 10 is across the street from the National September 11 Memorial & Museum and is dedicated in honor of his sacrifice and that of his fellow first responders.
"He was the inspiration for it, but my goal was more to bring awareness to what that one day has caused over the past 20 years," Denise Olsen said.
Why start at Logan Airport? That's where American Airlines Flight 11 took off on the morning of 9/11. Flight 11 speared the north tower of the World Trade Center at 8:46 a.m., killing all 92 people on board the airliner and triggering the deaths of 1,402 innocent people after it exploded.
On the 20th anniversary of her husband's death, Denise hobbled to Flight 11's final landing spot, exhausted, in pain, and greeted Station 10's firefighters.
"Walking up to them was that second feeling of 'I'm home,'" Olsen told Coffee or Die Magazine.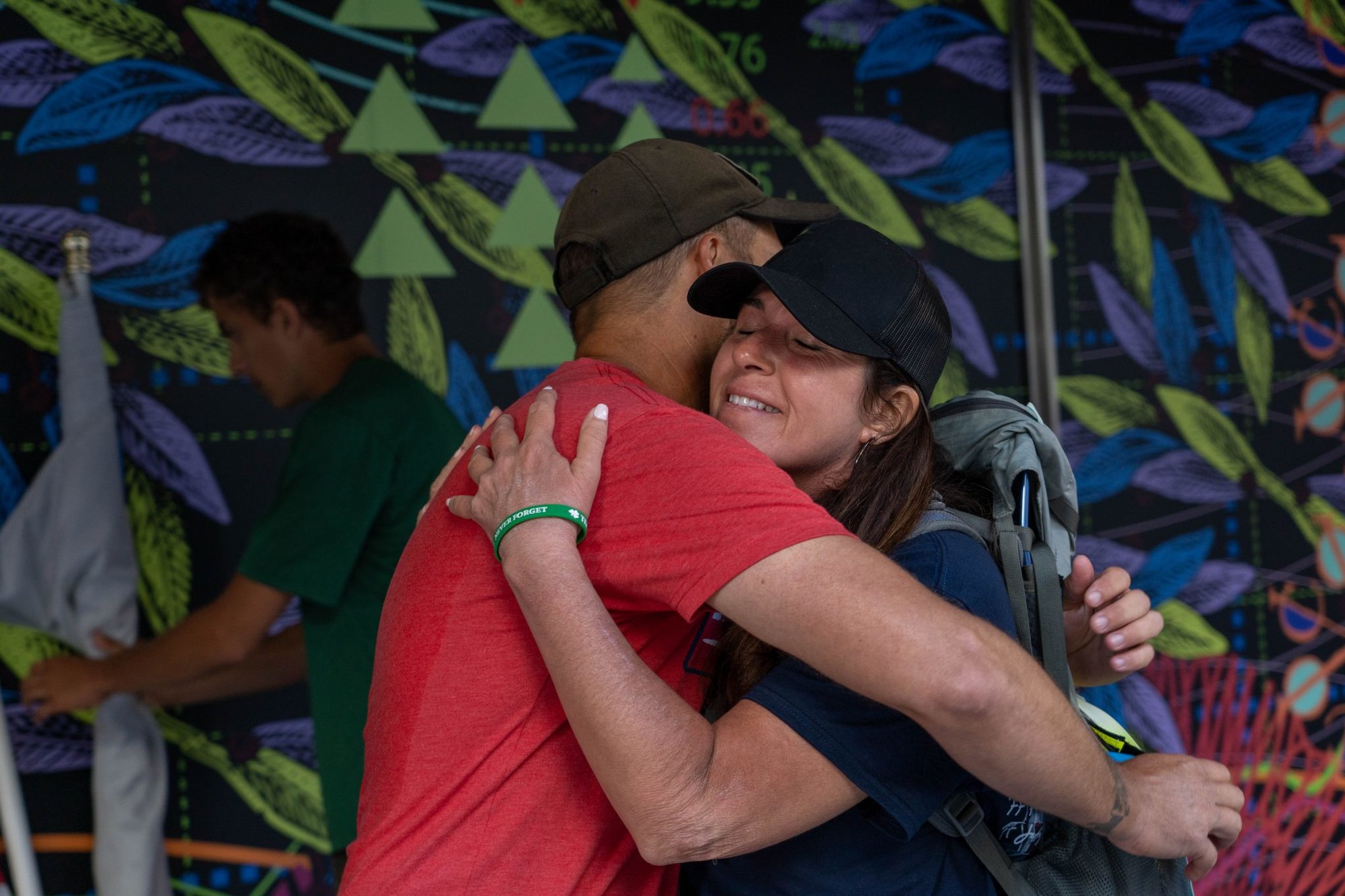 The mother of three admits she's not a sprinter. She wasn't going to jog alone from Boston to Manhattan.
But she also didn't have to try.
Daniel "Danny" Stokes, 49, a US Army veteran who completed six post-9/11 deployments overseas, told her he was going to ruck from Massachusetts to Manhattan for the 20th anniversary of the terrorist attacks.
Olsen wanted to join him.
"I don't mind doing it myself, except that the route from just getting out of Boston Logan on foot is so long," Olsen said. "I was like, 'I have no sense of direction — we'll be circling this airport for days.'"
Popular with military veterans and first responders, the GoRuck phenomenon involves people gathering to hike, often across long distances.
Teamwork is a cornerstone of the ruck movement, and perseverance through pain to achieve something greater than oneself is an honorable pursuit.
Olsen had completed some GoRuck events, including a Sept. 11, 2015, hike, with Stokes.
But not a march of more than 200 miles down the Eastern Seaboard.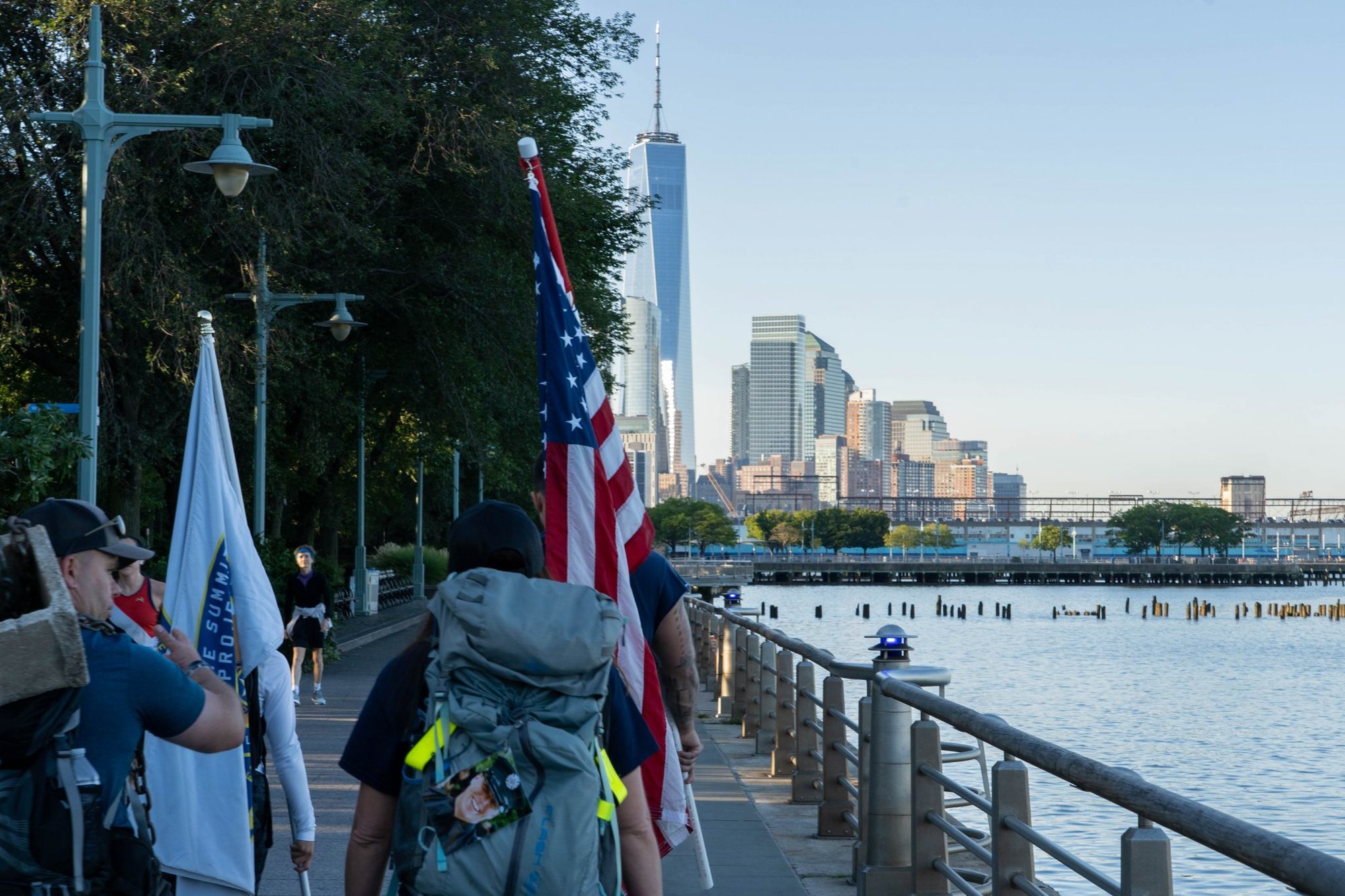 Unfortunately, flight delays from his home state of Washington kept Stokes from joining Olsen until later in her journey.
But she never had to walk alone. Ezra Richter, 17, said he wanted to go, although he wasn't even born when 9/11 happened. And so did Ian Lai, 41, a software architect who lives in Cambridge, Massachusetts.
Lai walked the first 13 miles with them and then returned home. Stokes joined Olsen and Richter a few days into the hike.
They tried to make about 20 miles daily, even after Olsen developed a limp. Her feet swelled, then blistered. Her right pinkie toe throbbed.
But she kept going. Station 10 was calling out to her.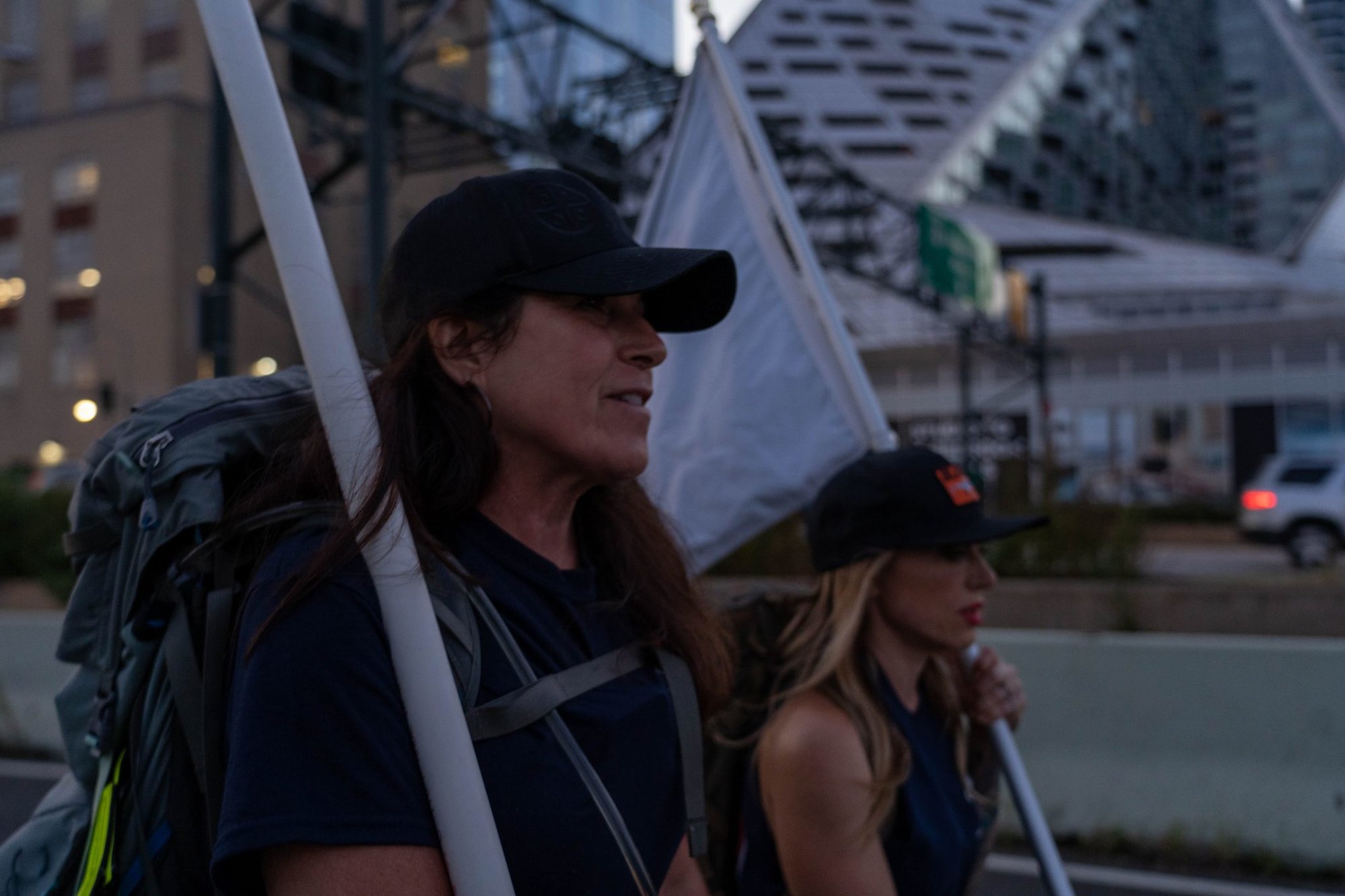 "I feel like your mind will always quit before your body," Olsen said. "So if you're able to just, you know, shut that voice up for a little bit, however you do it, you can make it."
She'd play mental games with herself. If Stokes said they had to make another 3 miles, she'd tell herself that's only an hour. And she knew she could do anything for an hour.
For the last 8 miles of the journey, her kids and a small crowd of supporters — mostly active-duty military members, veterans, and first responders — joined her.
She remembered turning a corner in Manhattan and seeing the gleaming Freedom Tower, the skyscraper that replaced the destroyed World Trade Center, and whispering to herself, "There she is."
And then it was on to Station 10.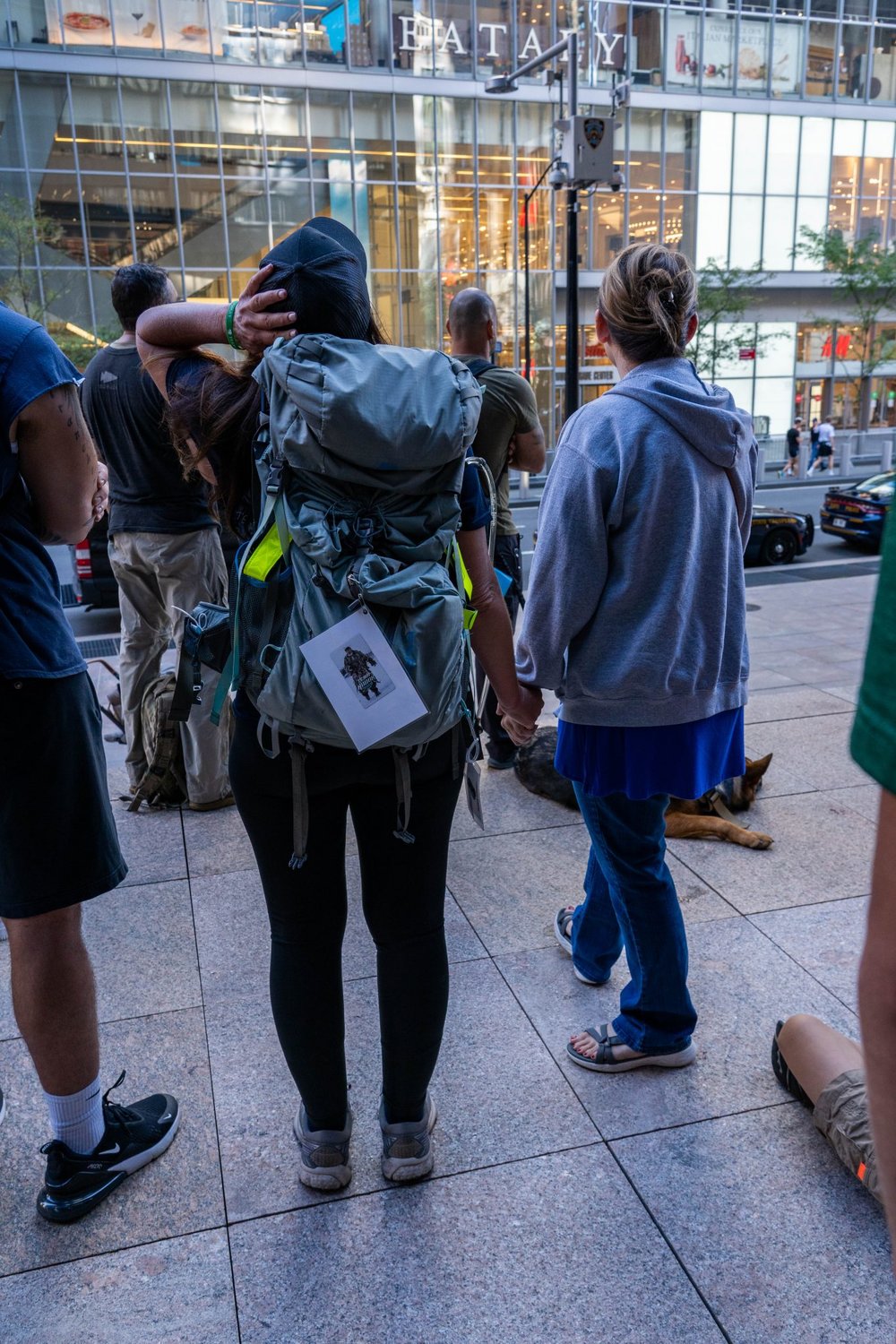 "Just to hear someone do it, it's impressive," New York firefighter John Moore said. "But then when you saw her limping in, like coming in from a battle, it really hit me.
"Like, holy shit, that was some feat."
The aftermath of 9/11 forged Moore's friendship with Olsen. He and fellow firefighter Vincent Geloso were her liaisons with the department after she became a 9/11 widow. They had helped keep her updated on rescue and recovery efforts at ground zero and helped Olsen plan her husband's funeral.
Moore recalled being "shell-shocked" from witnessing the terror attacks when he and Geloso first sat down in 2001 with Olsen, who is a nurse. Through her grief, she was strong and fiercely independent, Moore said.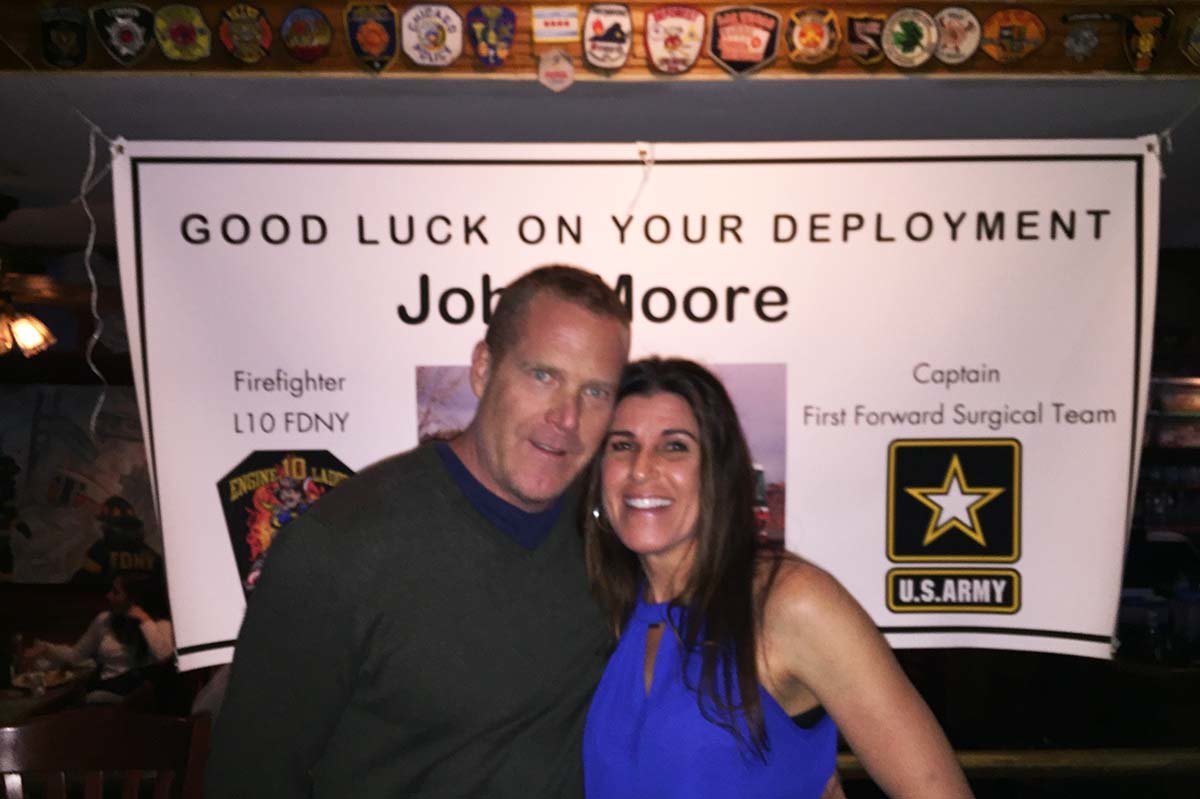 "She's just very strong-minded and a very compassionate person, which really made things great for us because she knew what she wanted," Moore said. "She was such a strong person it actually made us stronger."
The thing is, Jeffrey Olsen hadn't been at Station 10 very long before his death — just three months.
After graduating from the department's fire academy, he'd rotated through Ladder 246 and Ladder 175, both located in Brooklyn.
Denise Olsen's relationship with Station 10 blossomed after she became a widow. Now, she knows all the families.
"It feels more like home to me now than it ever did," Olsen told Coffee or Die.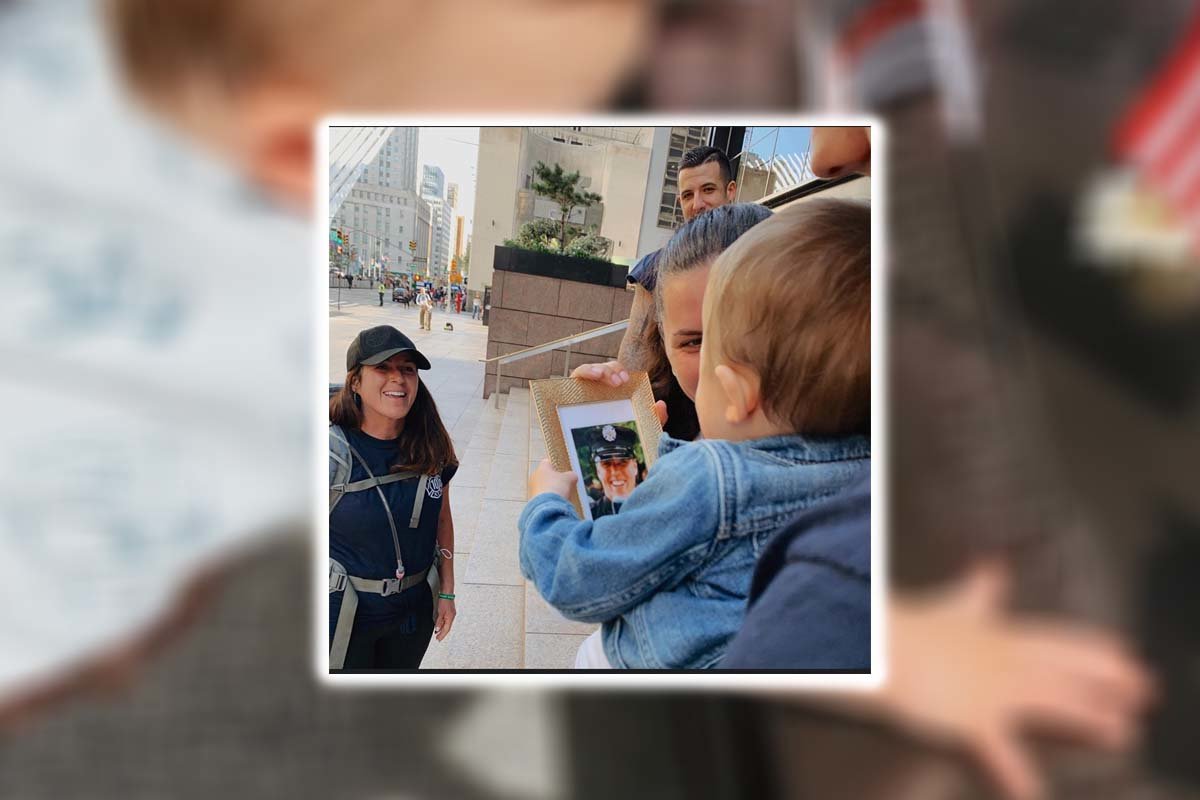 By nightfall, the sheer exhaustion of the long trek finally caught up to her — not only the hundreds of miles from Boston to New York but also the journey that spanned the two decades since her husband's death. "It's like the wheels came right off," she said.
When Coffee or Die asked Olsen what her hero husband would've thought of her long march to ground zero, she said she suspected he wouldn't have been surprised. Only proud. "I think he would have said something simple in his own Jeff way — probably, 'That's my girl,'" she said.
Disclosure: Black Rifle Coffee Company partly sponsored Olsen's journey by paying the rucking trio's lodging costs and by outfitting her after a thief stole some of her clothing. This assistance was discovered late in the process of reporting this story. No Coffee or Die staffers were involved in the arrangement. Black Rifle Coffee Company also donated $100,000 to the nonprofit FDNY Foundation.
Read Next: