For 26 days, his loved ones and fellow Kansas firefighters prayed he'd survive third-degree burns covering 27% of his body.
But Baxter Springs Fire Lt. Malachi Brown died Wednesday, Nov. 10, at Missouri's Mercy Burn Center – Springfield. He'd been in a medically induced coma since he was injured during an Oct. 15 blaze in Baxter Springs, a town of roughly 4,000 people in the far southeastern corner of the Sunflower State.
Brown was 32 and leaves behind his wife, Jessica, and three children.
"He was a very dedicated firefighter," Baxter Springs Fire Deputy Chief Art Mallory told Coffee or Die Magazine.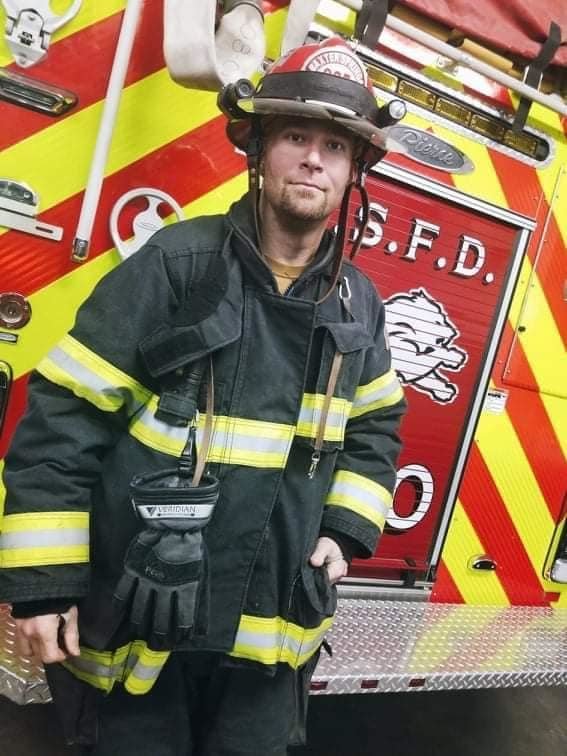 At 10:49 p.m., Oct. 15, Mallory's department received an emergency dispatch call for a structure fire at Lyons Road and West 14th Street in Baxter. The first truck that arrived carried four firefighters, including Brown.
Investigators continue to probe the incident, but Mallory said Brown was the only casualty that night. He was rushed by a medical ambulance to a Joplin hospital and then airlifted to the Springfield burn unit.
"And that's where he was from the night of Oct. 15 until he passed away on Nov. 10," Mallory said.
A native of Quapaw, Oklahoma, Brown served 10 years in the Baxter Springs Fire Department. Mallory said that Brown had completed Firefighter I and II courses online so that he'd develop a broader and deeper understanding of how to battle a blaze, and he kept completing new training.
The Baxter Springs Fire Department primarily relies on a volunteer force, although there's a career firefighter on staff and as many as 20 paid-per-call firefighters and 12 volunteers on the roster.
When Brown wasn't fighting fires, he worked for Robison Construction in Girard, Kansas.
Funeral arrangements are pending.
"Today we mourn the passing of Lt. Malachi Brown who gave his life, serving others," reads a prepared statement posted to the Baxter Springs Police Department's official social media sites Thursday. "It is something Firefighters and Police Officers live with daily. Knowing that your next call could mean never seeing your family again.
"Lt. Brown gave his life while searching a burning home, making sure no one was left behind. The community has been so supportive and I pray we all continue to support Jessica and the kids. Jessica has been so very brave and deserves our help now. It was an honor to take part in escorting Malachi home today, to the community he served so well."
Read Next: Florida Firefighter Killed Trying To Free Rental-Truck Passenger