The crack of rifle rounds pierced the morning calm Thursday, echoing across Edson Range on Camp Pendleton, California. Marine Corps recruits kept their heads down, eyes trained on a line of targets several hundred yards away. Expressions were inscrutable when recruits performed well, but disappointment clouded faces when bad rounds got away. Tortured thoughts searched for the source: Trigger squeeze? Breath control? Eye relief? What went wrong?
"You can only control the next round," Capt. Martin Harris told one recruit.
"Yes sir," she responded, still looking dejected.
The recruits are preparing for rifle qualification, one of the most important requirements they will have to satisfy during training. There's added pressure for the women of Platoon 3241, Lima Company, 3rd Recruit Training Battalion: making history as members of the first gender-integrated company to train at Marine Corps Recruit Depot San Diego, where they started their journey two months ago.
"There's a lot of pressure, not just the pressure of qualifying for Table 1," recruit Teia Chutaro told Coffee or Die Magazine.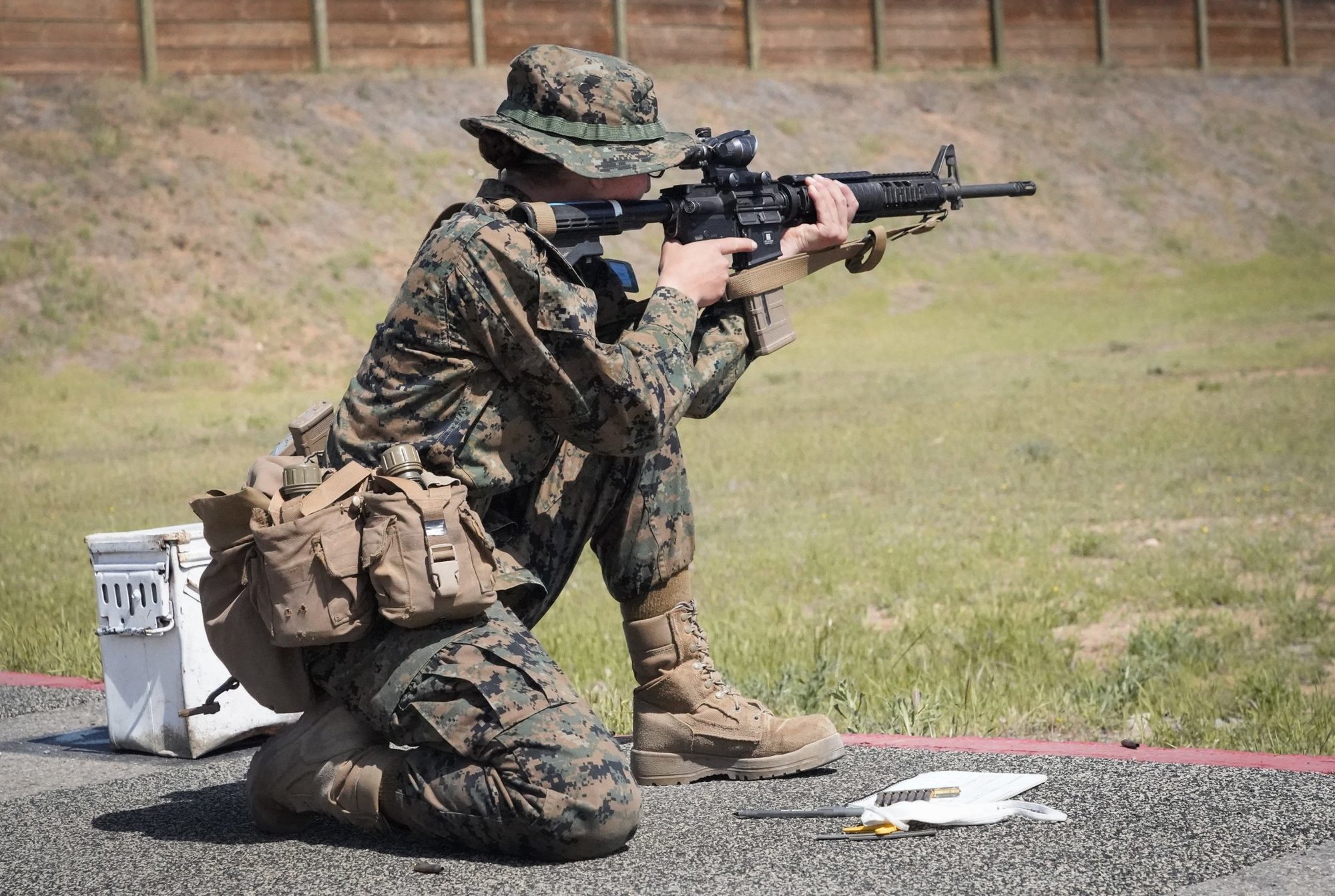 Chutaro enlisted in part to be a role model for her younger siblings and other women.
"It's a real honor to be chosen to be here and just have the opportunity to make history as well as inspire young women for future generations in the Marine Corps," she said.
Previously, all women who enlisted in the Marines trained exclusively at MCRD Parris Island, South Carolina, at the all-female 4th Recruit Training Battalion. Last year, though, when Congress passed the National Defense Authorization Act, it included a prohibition against gender-segregated recruit training at both of the Corps' recruit depots.
The 54 recruits in Platoon 3241 started shooting with their rifles Monday, giving them four days of live-fire exercise before qualification. On Thursday, they ran through the same course of fire they would have to repeat the following day to prove themselves and advance to the next stage of training.
The Marines' basic rifle qualification course of fire requires shooting from the standing, kneeling, sitting, and prone positions at distances of 200, 300, and 500 yards. During slow-fire iterations, the recruits take their time between each pull of the trigger, and during rapid-fire rounds, the range explodes with sound and casings clattered all over the firing line.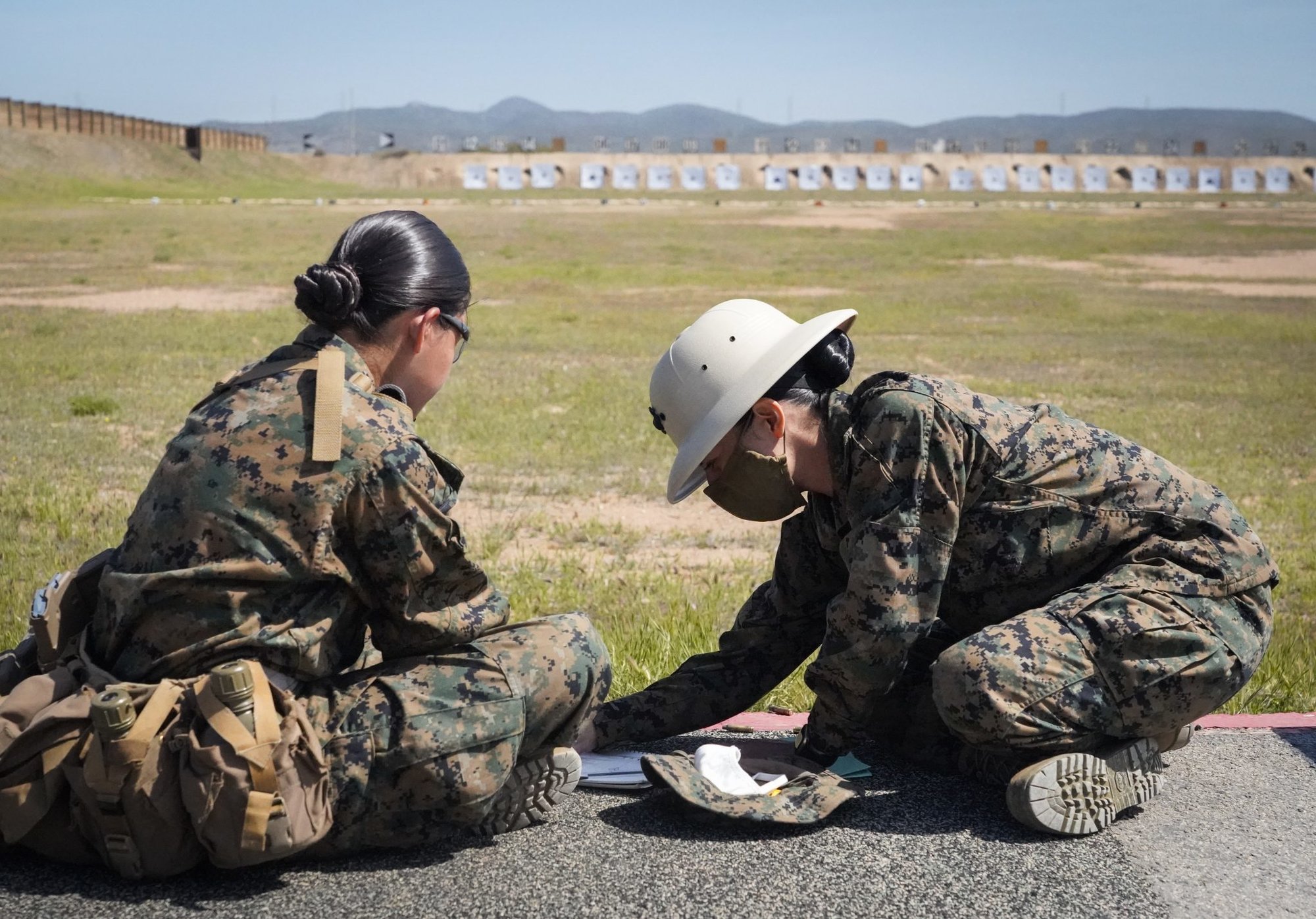 It was a breezy day, but with a punishing bright sun. By early afternoon, sweat plastered tendrils of hair against some recruits' faces.
"Holy shit, Ramos! You can shoot," a coach shouted at a recruit, spreading his arms wide. "Please, for the love of God, do that tomorrow."
Senior drill instructor Amber Staroscik believes her recruits are ready for the big day.
"I'm fully confident that I'll have 54 out of 54 recruits qualify," Staroscik said Thursday afternoon.
As the sun rises over Edson Range on Friday, the fate of each recruit is in her own hands. To earn the title Marine, they'll have to meet the same high qualification standards that have defined Marine Corps rifle marksmanship training for decades.
Read Next: Baptism in Chaos: First Women Experience 'Black Friday' at Marine Corps Recruit Depot San Diego