In a historic first for the Marine Corps, 60 female recruits stepped off buses and onto the iconic yellow footprints alongside hundreds of male recruits in front of the receiving barracks at Marine Corps Recruit Depot San Diego on Tuesday.
The women will begin the Marines' 13-week recruit training cycle this week as members of the first gender-integrated company to be trained at the West Coast installation.
"I'm honored to be one of the first female recruits to step onto these yellow footprints in the 98 years of this depot being open," Aniya Allen, a Marine recruit from Las Vegas, told Coffee or Die Magazine.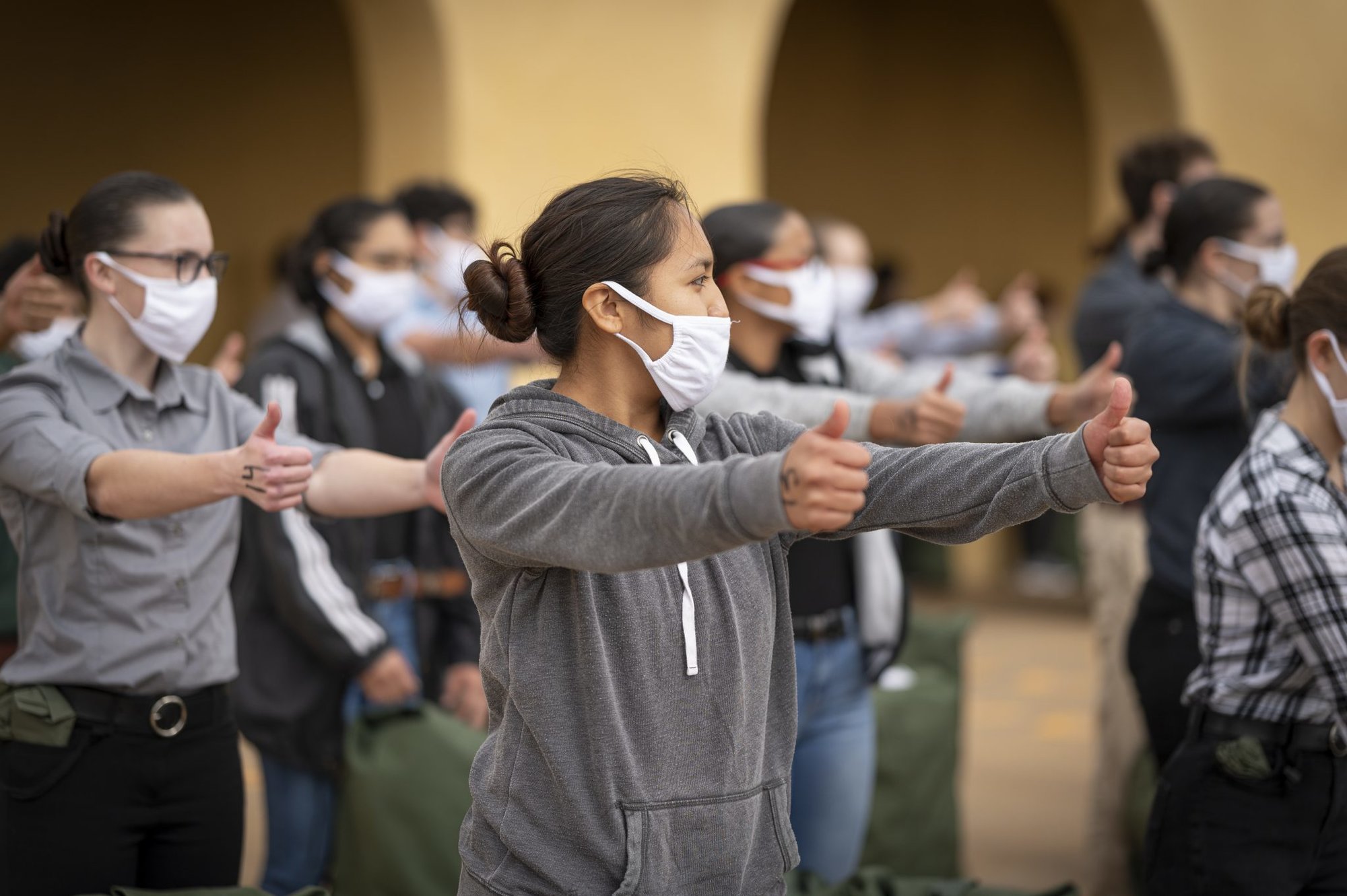 Previously, all women who enlisted in the Marines trained exclusively at Marine Corps Recruit Depot, Parris Island, South Carolina, at the all-female 4th Recruit Training Battalion.
When Congress passed the 2020 National Defense Authorization Act, it included in the legislation a prohibition against gender-segregated recruit training at both of the Corps' recruit depots. Until this year, the Marines sent all males west of the Mississippi River to San Diego, and all males east of the river to Parris Island. Congress has given the service until 2025 to fully integrate training at Parris Island, and until 2028 to do the same at MCRD San Diego.
"Women have been serving in the Marine Corps since 1918, and today is a huge part of American history and Marine Corps history," Lt. Col. Tracy A. Maese, commanding officer of Support Battalion, Recruit Training Regiment, MCRD San Diego, said. "We are showcasing our ability to conduct operations regardless of gender and train anyone who steps on these yellow footprints professionally and proficiently."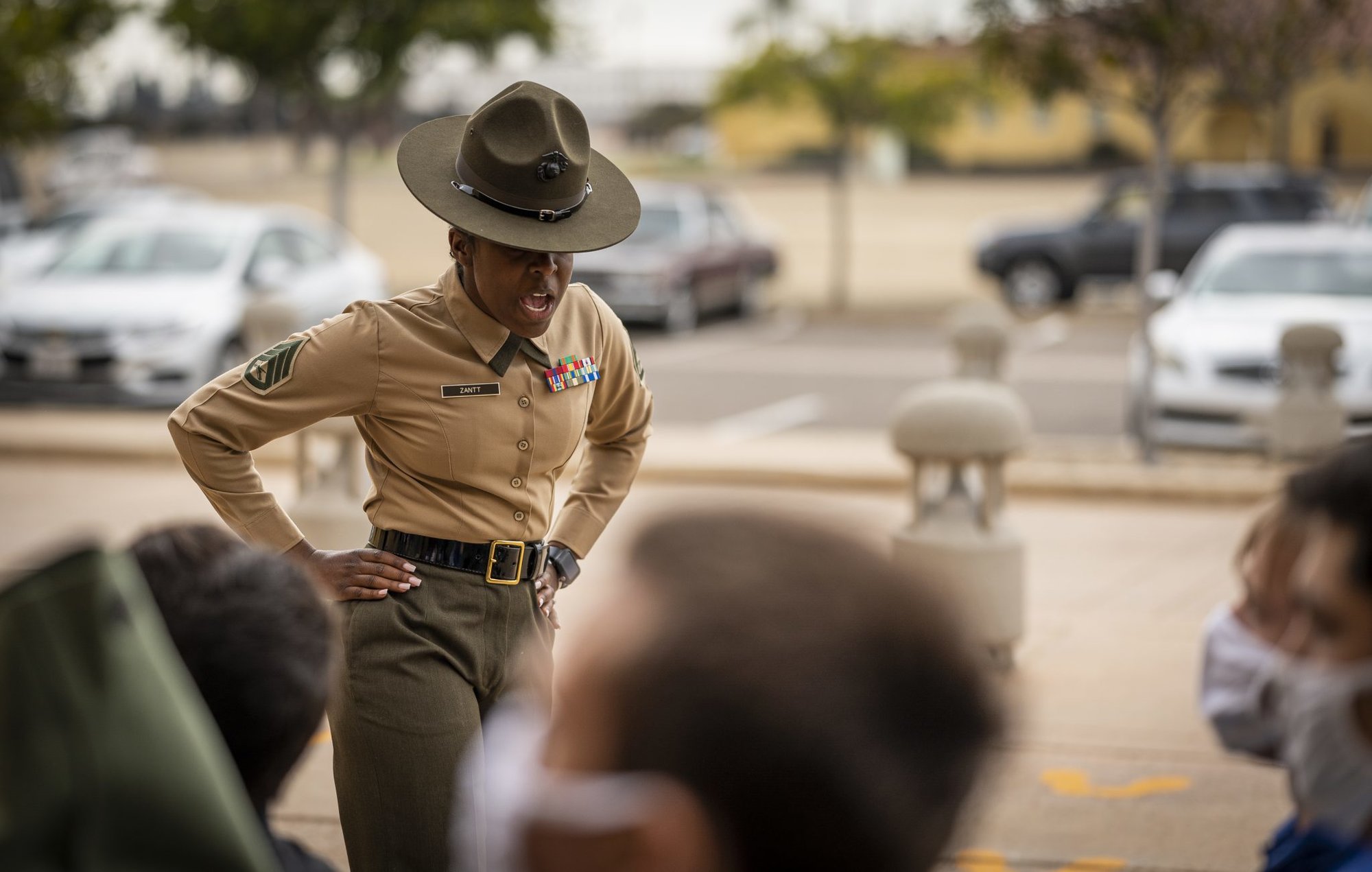 While females have trained at Parris Island for decades, male and female recruits lived in separate areas and had limited opportunities to train together until 2019 when the Marines began experimenting with gender integration at the company level. Since then, nine companies — each consisting of five male platoons and one female platoon — have completed recruit training at Parris Island.
The women who arrived at MCRD San Diego Tuesday will be assigned to Platoon 3241, Lima Company, 3rd Recruit Training Battalion, and will train alongside five male platoons. Platoon 3241 will be led by a team of five female drill instructors, including a senior drill instructor and an experienced drill instructor from Parris Island, and three new drill instructors who recently completed Drill Instructor School at MCRD San Diego after volunteering for the intense 12-week course and a multiyear commitment to the exhausting duty of making Marines.
With its history and mission of training women to become Marines, Parris Island is better prepared than MCRD San Diego to adapt its processes to meet Congress' mandate. However, the challenge the service faces is that it doesn't currently enlist a large enough number of women annually to ensure every recruit training company has at least one full-sized female platoon.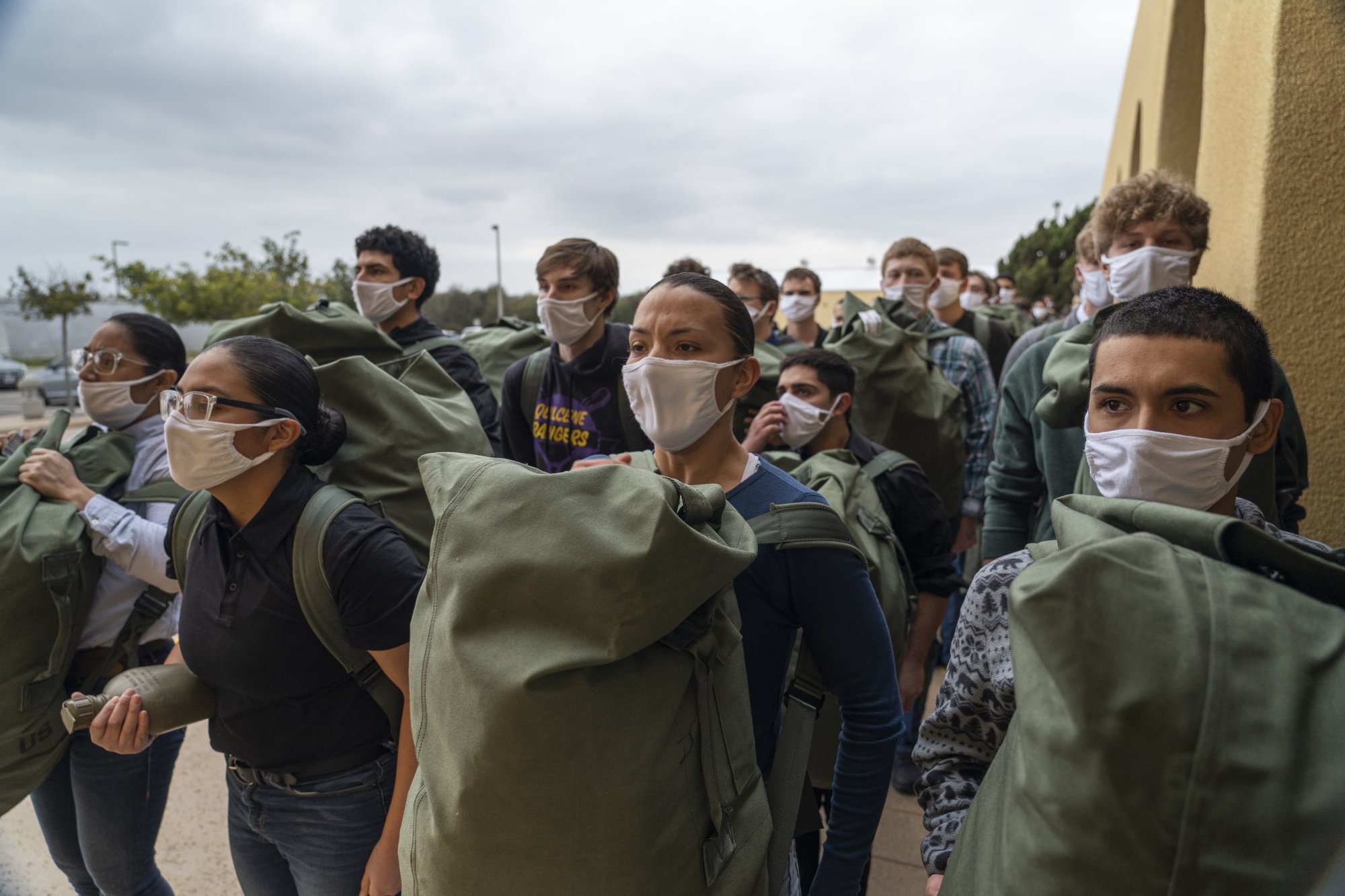 Roughly 9% of Marines are women, and the service enlists and trains an average of 3,400 female recruits annually. With nearly 10 times as many male recruits, leaders are unsure how they will meet the congressional mandate that says, "training at the Marine Corps Recruit Depot, San Diego, California may not be segregated based on gender."
Read Next: I Made Angry Cops Join the Air National Guard Over a Super Bowl Bet
Marine Commandant Gen. David Berger made headlines in September when he floated the idea of standing up an entirely new recruit training installation to train all Marines — a move that could simplify the Corps' integration challenges.
"Nothing, the way we're organized right now, lends itself to integrated recruit training," Berger said then. "If that's our start point — and it is — we have to get to a place on both coasts, or at third location or whatever we end up with, that … there are male and female recruits around."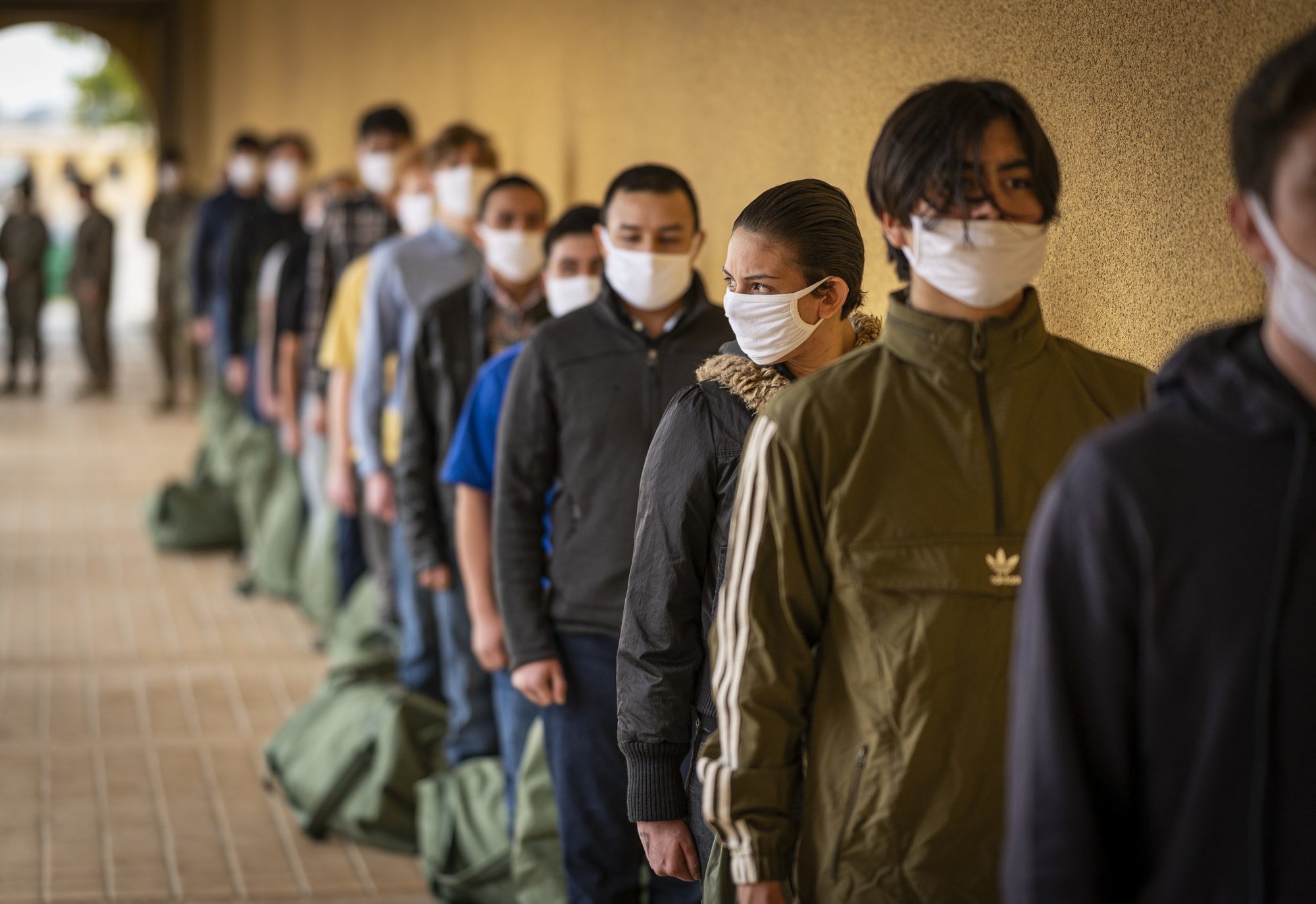 The idea of shuttering the Corps' historic depots quickly drew condemnation from members of Congress who represent the districts where the installations are located, so for now, the Marines are marching forward to meet the standard of fully integrating all recruit training at both depots.
MCRD San Diego officials expect their first gender-integrated company to provide valuable information for Berger.
"This proof of concept is going to afford us the opportunity to see what, potentially, are the resources we need," Col. Matt Palma, commanding officer of Recruit Training Regiment at MCRD San Diego, said.
Palma said that while identifying needs for infrastructure modifications is important, identifying and filling manpower requirements is an even bigger concern.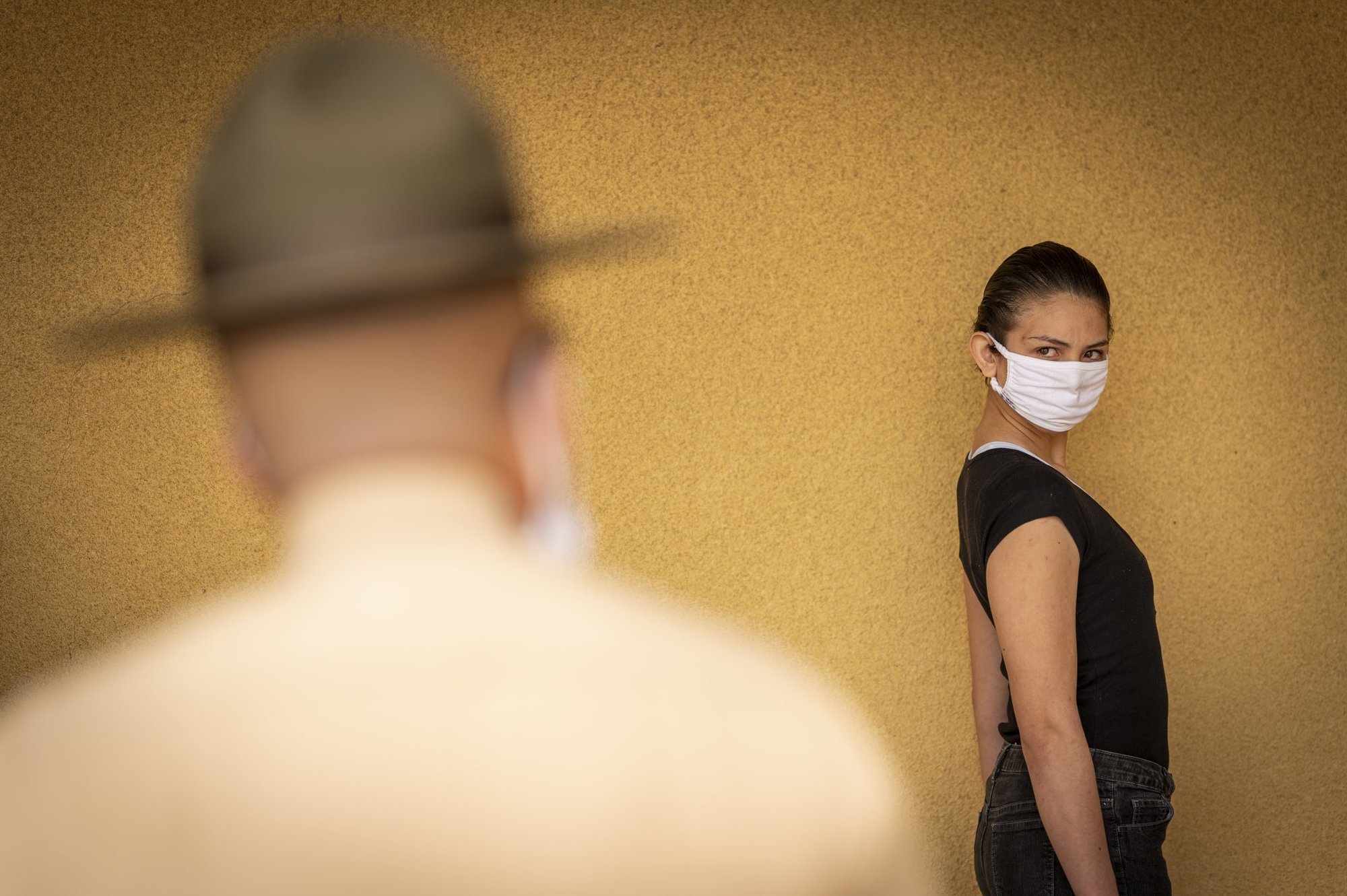 "Executing the proof of concept is manageable with the manpower and resources we have available, but is it beneficial and sustainable to do so across two different depots and sustain that over time?" Maese said. "Right now, we are showcasing what we need."
For now, Rosie Nicole Gutierrez, a recruit from Brownsville, Texas, told Coffee or Die she's excited and proud to be part of the history-making company of recruits that starts training this week.
"The Marine Corps caught my attention because of its fitness standards," she said. "I like being challenged, and I've tried to stay within male standards fitness-wise and exceed what people see females as being capable of. It's exciting to know that we're going to train alongside males and have the opportunity to compete with and motivate each other."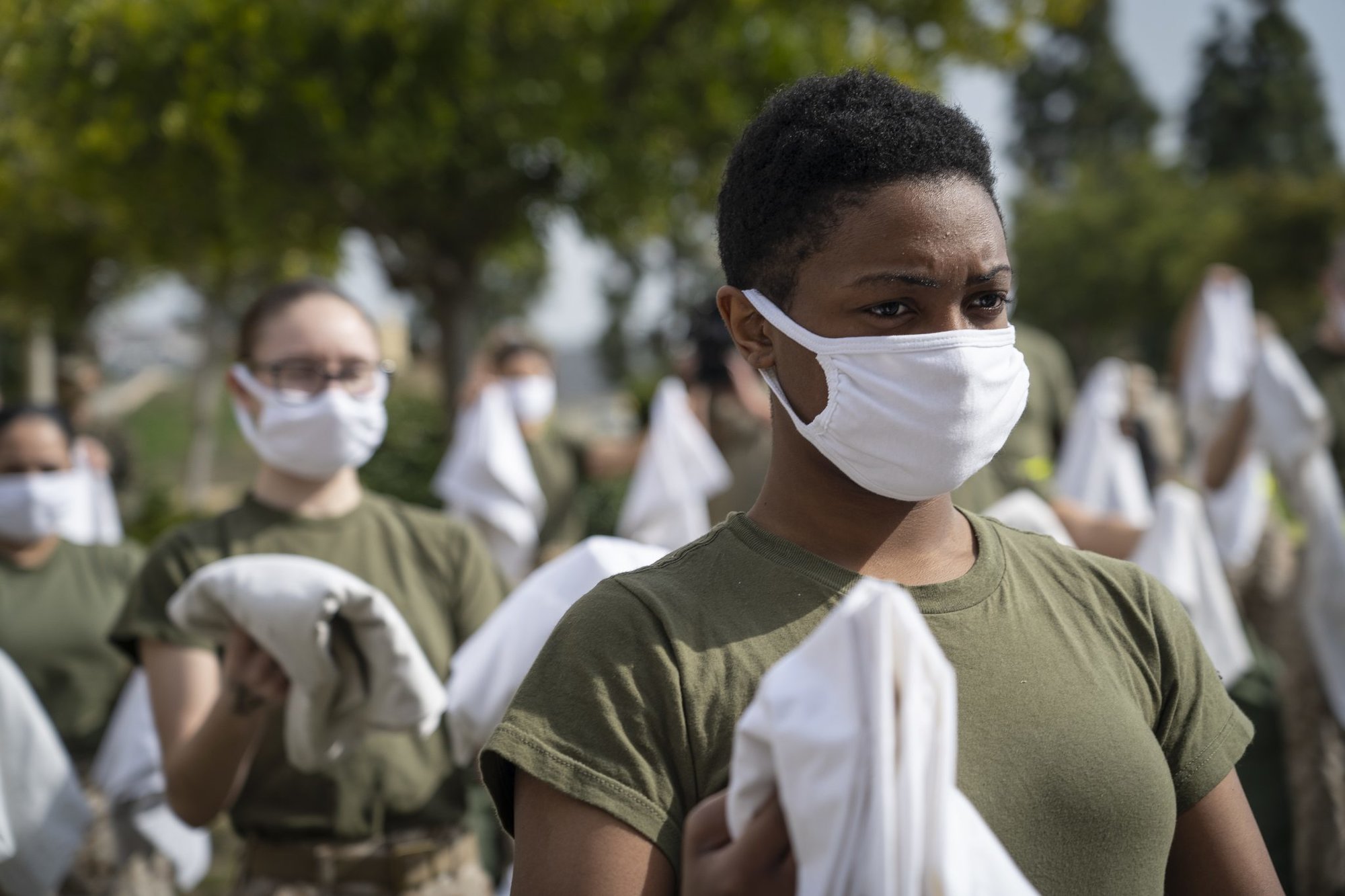 Maese said that despite the challenges presented by integrating recruit training, she believes there is a strong benefit to the service.
"Any unit you go to in the Marine Corps, we are fully integrated," she said. "We have to be able to train like we fight, so integrating at the foundational level here at recruit training shows that we are all US Marines, no matter who we are, where we came from, or what gender. Today was business as usual, but it was super exciting and amazing to watch because it's hopefully the beginning of a long opportunity to train men and women alongside each other here at MCRD San Diego. I'm very honored to be a part of today's history."