A pair of US Border Patrol agents, both military veterans, foiled a plot by a Texas driver to smuggle undocumented Mexicans into the US inside a flag-draped coffin.
The Galveston defendant, Zachary Taylor Blood, pleaded guilty Tuesday, Jan. 25, to the human smuggling charge in Corpus Christi before US Magistrate Judge Julie K. Hampton. Sentencing is slated for May 11, and US Judge Nelva Gonzales Ramos could put Blood, 33, behind bars for up to five years and slap him with a $250,000 fine.
The case began shortly after noon on Oct. 26, 2021, when Blood pulled his Dodge Grand Caravan minivan into the primary inspection lane of the US Border Patrol inspection station near Encino.
An agent asked him what he was transporting.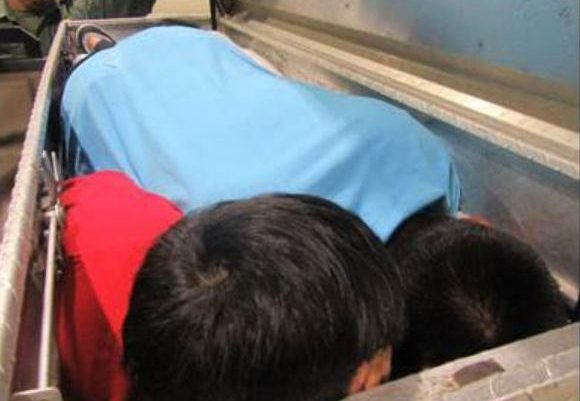 "Dead guy, Navy guy," Blood said.
The agent was a military veteran and was staring at a dented and rusty coffin with an American flag crudely draped over it, attached with clear packing tape and a zip tie. So the agent called over the canine handler, who was also a military vet.
One sniff from the dog told both vets what they already knew: Blood wasn't conducting the dignified transportation of dead troops or veterans, and he was probably trying to smuggle undocumented migrants past their checkpoint.
In the second inspection lane, the agents opened the coffin and found two Mexican cousins inside, both of whom confessed to being in the US unlawfully, according to court documents.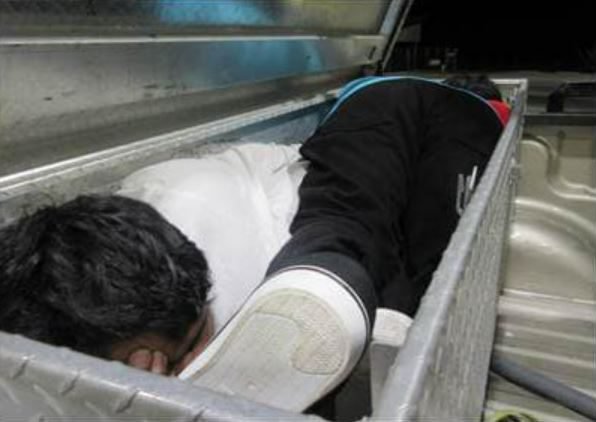 Daniel Bueno-Hernandez told investigators he crossed the Rio Grande with his cousin, Erik Ramirez-Aguilar, hoping to reach San Antonio after giving smugglers a $2,000 down payment. A brush guide took them to a rendezvous point, where a black sedan drove them to at least one stash house, but they lost count.
The next day, Blood picked them up in the minivan. "Se miro malo," Bueno-Hernandez recalled. "He looked mean."
Blood crammed the cousins into the coffin. Bueno-Hernandez recalled it as hot. They struggled to breathe and could only crack the box open slightly.
Coffee or Die Magazine wasn't able to contact Blood because he's currently incarcerated.
He was arrested in Houston three days after Christmas, according to the federal docket. His bond was revoked Jan. 6, 2022, after a magistrate ruled Blood also traveled to Dallas without court permission, failed to report for drug testing, and admitted using illegal substances.
Blood's criminal defense attorney, Simon B. Purnell, declined comment until after sentencing.
Read Next: