If you're anything like me, you like to spice up your coffee recipes every once in a while to keep things interesting. What sounds better than coffee mixed with a relatively "harmless" high-content alcohol? As we all know, nothing mixes better with flammable liquids than fire, so we're gonna be using some of that as well. Today, we're making one spectacularly dazzling drink called the Flaming Spanish Coffee.
The drink calls for 151-proof rum, which Bacardi discontinued; however, Don Q and Cruzan should still be producing theirs. Also, make sure the mouth of your stemmed (FIRE RESISTANT) glass is wide enough to allow oxygen to reach the contents inside, otherwise the fire will get snuffed out.
This interactive cocktail is guaranteed to entrance anyone who witnesses the sparks and flames that emerge from the glass. It's delicious, but more importantly, it looks super badass (just don't light your house on fire!).
Be sure to have a fire extinguisher standing by, just in case (once again) you're anything like me and remain one small mistake away from epic disaster at all times. Let's begin!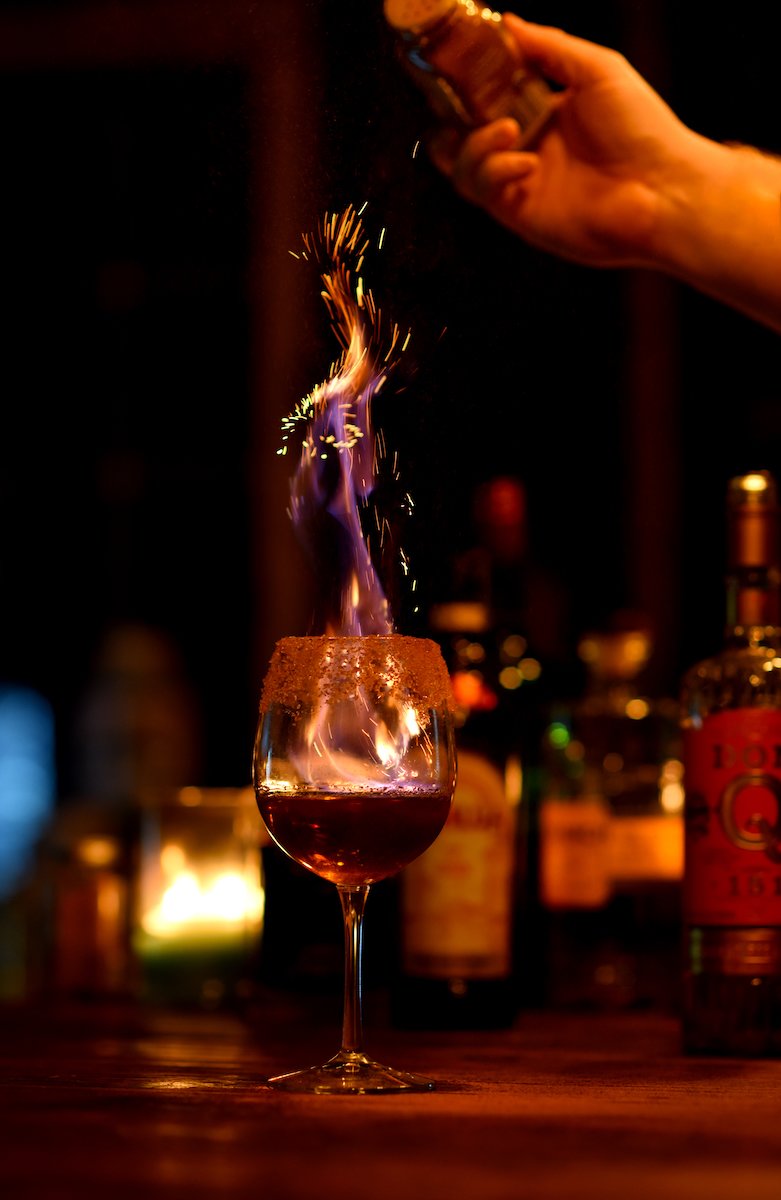 Flaming Spanish Coffee Recipe
Items Needed:


Heat-resistant stemmed glass


Utility lighter or long match


Lemon juice


Brown sugar


1 1/2 ounces 151-proof rum


Cinnamon


Nutmeg


3 ounces freshly brewed coffee


1 1/2 ounces coffee liqueur


Whipped cream


Preparation:



Rim your glass with lemon juice, then brown sugar.




Pour rum into glass.




Tilt glass slightly, and use the lighter or match to light the rum on fire.




Hold the stem of your glass and gently swirl the flaming rum in

a circular motion to caramelize the sugar above it.




Sprinkle cinnamon and nutmeg over the drink. This adds flavor

as well as aesthetically pleasing visual sparks.




Add the freshly brewed coffee and coffee liqueur.




Garnish with whipped cream and sprinkle cinnamon on top.



Enjoy!
---
This article first appeared in the Spring 2022 print edition of Coffee or Die Magazine as "Bitter Barista: Flaming Spanish Coffee."
Read Next: