There may be a debate about where it started, but let's address the first thing on your mind: What exactly is a flat white? In short, it's the latte's sibling.
While a latte consists of espresso, steamed milk, and a bit of foam on top, a flat white is espresso and milk carefully microfoamed to the texture of drinkable velvet. Depending where in the world you order one, it's typically served in a smaller ceramic cup or glass than the usual latte and has a stronger coffee taste.
The flat white has caused a decades-long argument between New Zealand and Australia, both claiming to have originated the coffee beverage. As its popularity has spread around the world, the question still remains: who really created it?
I had never heard of a flat white until I visited New Zealand for the first time. I was living in a tent at a campground and was the resident barista. During training, my boss gave me strict instructions for each step of producing the perfect flat white. He stood back and watched as I made him one to test.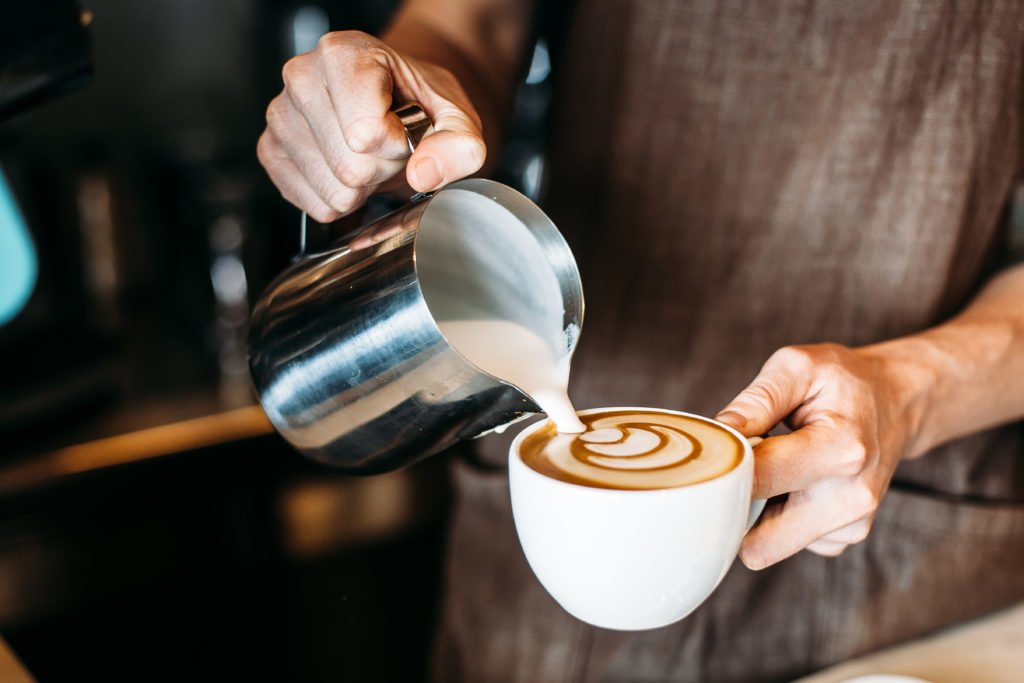 He took a sip, nodded in approval, and said, "Now, for a latte. You know, steam some milk and pour it over the shot."
The change in attitude took me by surprise. "Making a flat white is serious business, huh?" I asked.
He nodded. "The flat white is New Zealand's signature drink. It's a global thing now. It was created here, you know. This — and all the hobbits running around, of course — is what makes us famous."
Later, as I was sharing this newfound knowledge with an Australian friend, I got the other side: "No way — the flat white started in Australia. Your boss is nuts."
How could a drink that's so similar to the standard latte cause so much conflict?
Both legends begin in the 1980s. The Australian origin story begins in Sydney in 1985 at the Moors Espresso Bar, opened by Alan Preston.
According to Preston, cafes in his Aussie home state of Queensland commonly offered several versions of white coffee (which is simply black coffee with milk), one of which was called "flat." When he opened Moors, he used the term "Flat White" on the menu, and it caught on.
Preston is so adamant that the term began with him that he's posted photos online of his cafe the year it opened with "Flat White" as a main item on the menu.
Kiwi Fraser McInnes, however, swears that he's the original creator. In 1989, he was a barista at a cafe in Wellington, New Zealand. One customer ordered a cappuccino, but when he went to steam the milk, there wasn't enough fat to make it rise properly. As a result, it was at a foam level somewhere between latte and cappuccino. He handed it to the customer anyway, apologizing for the "flat white."
Over the course of the next few years, I investigated cafes across three continents, keeping my senses sharpened for the satisfying microfoam. The drink varied slightly at each location.
"What makes this special?" I would ask the baristas. Each cafe seemed to have a different theory on not only the flat white's origins, but also how it's made.
Mystified by its ever-changing identity, I performed an informal survey of international coffee drinkers. The results were largely inconclusive, only proving that many folks have strong opinions about the flat white's mother country. The slight majority sided with Australia. Some daredevils even hold that it's from both countries.
The Flat White War is likely to rage on indefinitely; neither country is budging in their confidence that they conceived of the frothy coffee concoction. As time wears on, perhaps we'll find more clues, but until then, this coffee detective must declare the case unsolved.