Pensacola, Florida, police officers and volunteers gathered around the railroad overpass on 17th Avenue armed with rollers, brushes, and gallons of paint. They slathered red, white, and blue across the concrete. Holding a small detail brush dipped in black, one officer wrote, "Til Valhalla."
Drivers honked their horns and waved as they passed the work in progress.
The volunteers painted for hours. As the sun set, an on-duty officer used his patrol vehicle lights to help the group see.
"It's the smallest thing that we can possibly do to [honor the fallen]," Officer Jaquelyn Bautista said, her arms and tank top splattered with white paint. "Something that, as cars pass by, they can see as they come into the city."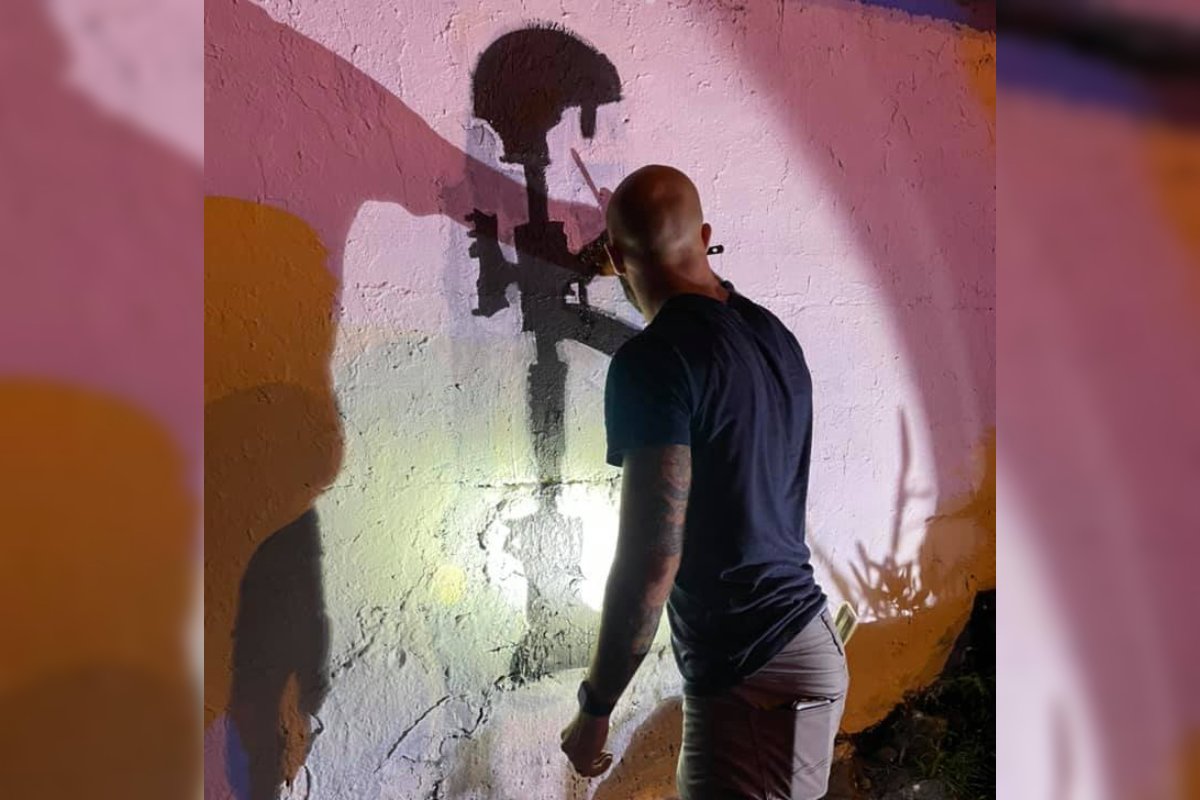 Bautista and fellow Pensacola Police Department Officer Amanda Davis were sitting on their couch on the afternoon of Tuesday, Aug. 31, mourning the loss of the 13 service members who lost their lives in Kabul. The roommates had served together in the Marine Corps before becoming police officers, so the deaths hit them hard. They had seen a tribute to the fallen heroes online and wanted a way to honor them locally.
At 5 p.m., they messaged a bunch of friends and co-workers with an idea.
"Without hesitation, they got up and came," Davis told Coffee or Die Magazine.
Within an hour, volunteers had gathered at Pensacola's "graffiti bridge," a local landmark where people can paint murals, political slogans, or something as simple as a happy birthday message.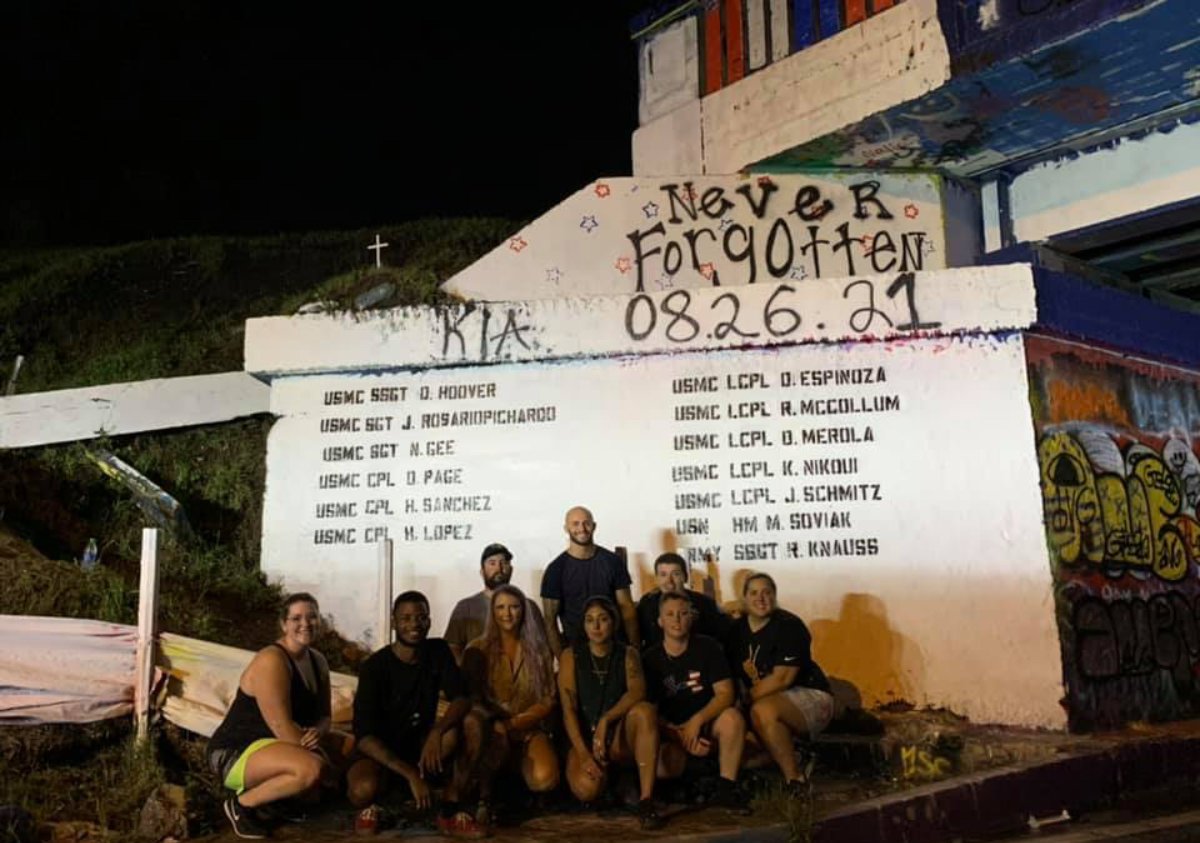 "Anything that impacts either the nation or impacts us locally here in Pensacola, a lot of artists take it out on the wall," Davis said as she stood in front of the railroad overpass.
Officer Grambling Madise had the day off, so the Air Force veteran jumped at the opportunity to honor the 11 Marines, one soldier, and one Navy corpsman killed in a suicide bombing Thursday at Hamid Karzai International Airport in Kabul, Afghanistan.
"It's important to recognize those we lost and make sure they're not forgotten," Madise said.
Everyone pitched in money to buy supplies and got to work painting the names of the 13 fallen on one side of the bridge and the American flag and battlefield cross on the other.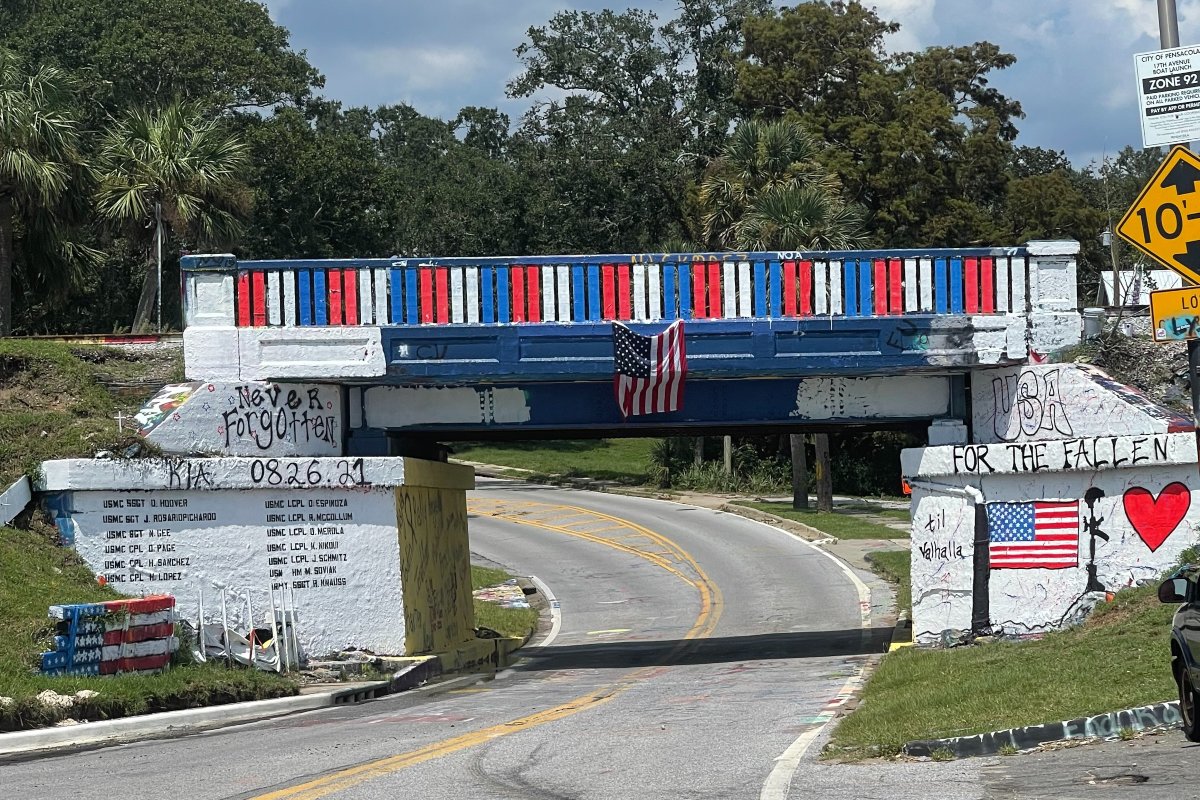 "Those are my brothers, my sisters. I hold them deep to my heart," Bautista said. "They've given the ultimate sacrifice, and most of us will never do that."
Wrapping up around midnight, the volunteers posed for a group photo in front of the darkened overpass, a mural of red and blue stars and neatly stenciled names behind them.
Of course, the graffiti bridge is a constantly changing canvas. The mural could be covered up today, tomorrow, or next week. But the officers hope it inspires those who see it to remember the fallen, learn about their lives, help their families, and finish the mission they started.
"Recognize the things that have been done, the sacrifices that have been made, and make sure that it wasn't for nothing," Madise said. "They did their job the best they could every day, and they didn't go in vain."
Read Next: