When the emergency responders found him, the 59-year-old Florida man was chin-deep in cold water, two stories down in the pit, and they weren't exactly sure how they were going to get him out of the quicksand slurping at his neck.
Brevard County Fire Rescue Special Operations District Chief Thomas Neidert described the muck they saw in the crater near Cocoa around noon on Thursday, May 12, as "sugar sand."
And he'd never seen anything like it.
"I'm not kidding you, this guy was in quicksand," Neidert told Coffee or Die Magazine. "He kept sinking. We couldn't get him out."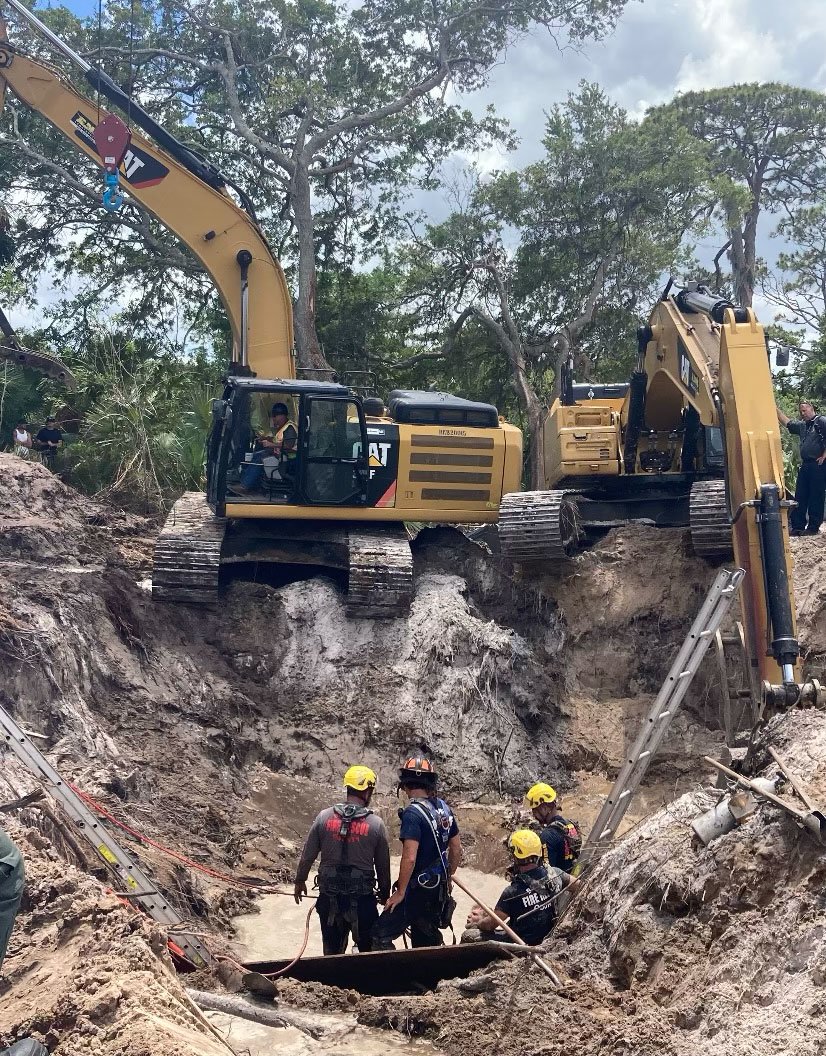 When they first pulled up to the Jr. Davis Construction site of US Highway 1 near Camp Road, west of the Indian River, Neidert's crew had to spend 20 minutes trying to find a trench inside a 100-acre site grown with brush.
When they did, they confronted a chasm about 40 feet wide and 15 feet in length. Neidert said the man was searching for valuable coquina rocks around a 10-foot high spoil pile of dirt above the excavation, and "just slipped and fell into the hole."
And he kept falling until he plopped onto some tree roots snaking through the sloppy sediment. In his struggle to break free, his boots had gotten tangled in the roots.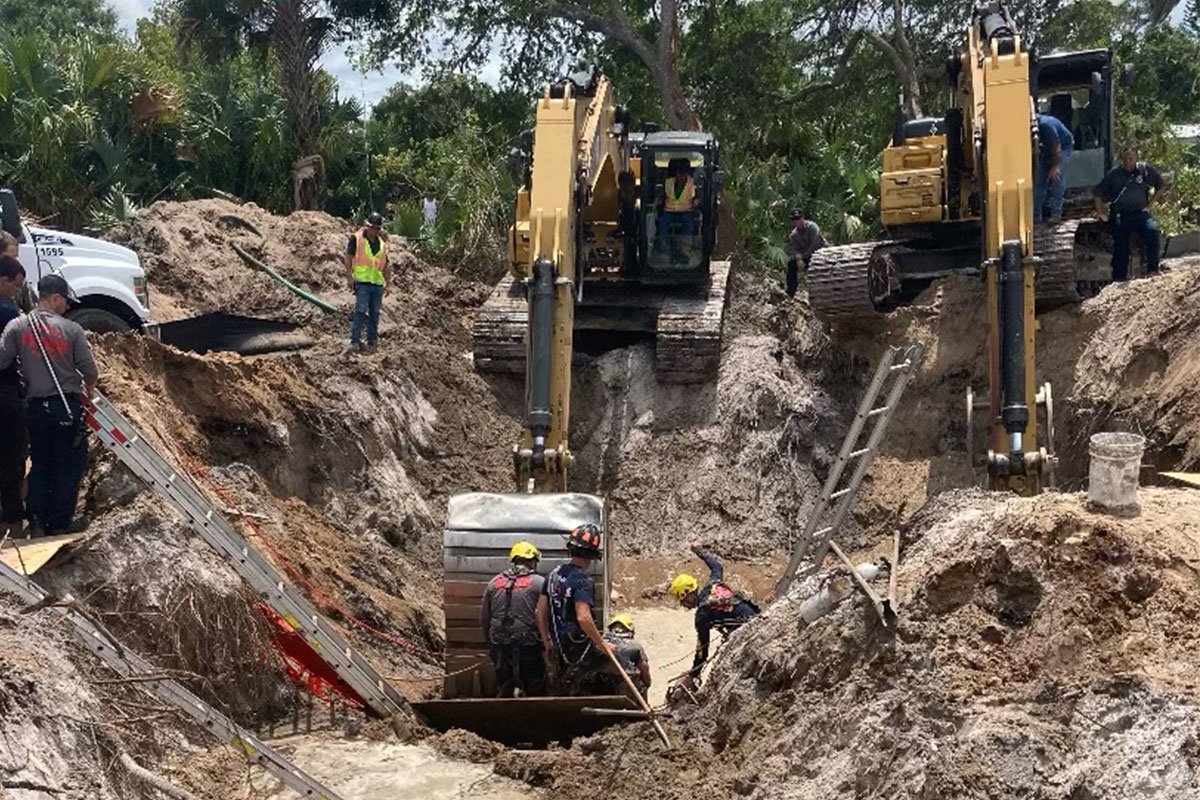 The construction crew staged an excavator to hold the wall of the trench in place so that it wouldn't cave in around the submerged man, but groundwater kept seeping into the seam faster than they could pump it out. The man was inching deeper into the quicksand.
"You don't have to go very far to find water, or mud, or muck when you're digging in Florida," Brevard County Fire Rescue Chief Pat Voltaire told Coffee or Die.
Neidert said the construction worker was in pain, shivering and suffering from shock, and had become hypothermic, but "the entire time he was awake, alert, oriented."
"If you're in Florida, and the water temperature is below 70, that is cold because your body is acclimated to a different temperature," Neidert said.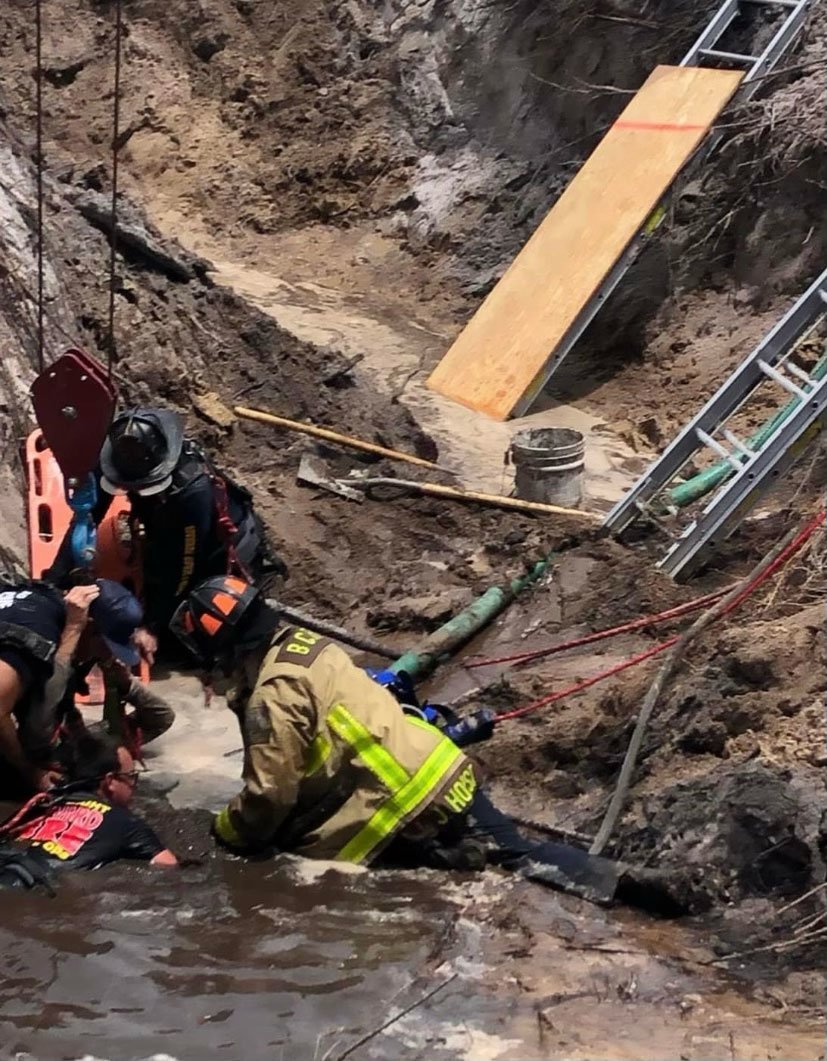 The Brevard County Sheriff's Office gave the firefighters a full face shield scuba mask, which they put on the man's head to keep him breathing as the water continued to rise.
Sheriff's spokesperson Tod Goodyear said a dive team member luckily happened to be nearby and ran to the hole with a tank and respirator so "he could actually breathe."
By the end of the afternoon, 37 firefighters and 12 sheriff's deputies had flocked to the site, along with several county workers, all trying to blueprint a feasible rescue plan that didn't get first responders killed.
"You're trained to do it, but when it's in real life, you want to make sure that you get him out safely and your crew," Neidert said. "There are so many things going through your mind and you have to make sure that you're not only keeping the patient safe but your crew safe."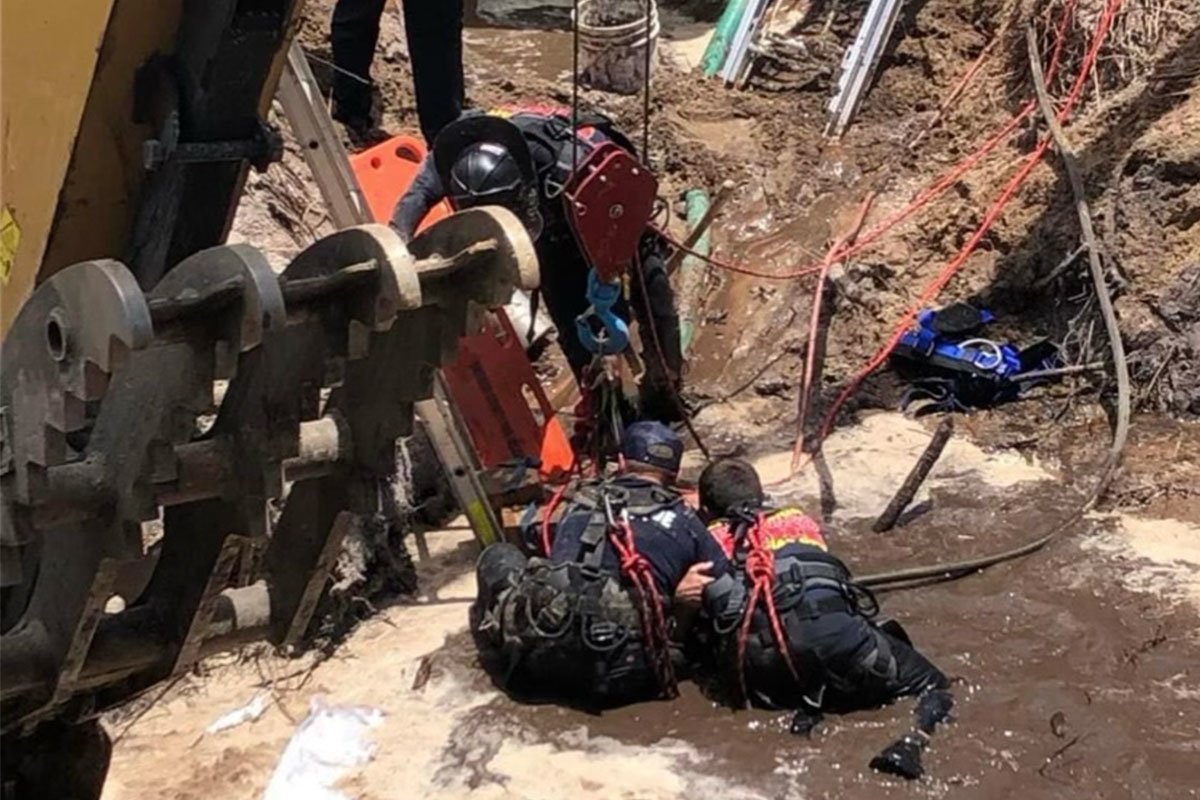 They decided to use a second excavator to rake the water and quicksand away from the trapped man. But he still wouldn't budge because he was vacuum-sealed to the pit.
"It all surrounded underneath him," said Neidert. "There was a suction."
So they placed a piercing nozzle below his legs.
That's equipment usually used by firefighters to spray water into a burning room from an adjacent space. It's like spearing a sprinkler head through a wall to battle a blaze, but in this case the spray was directed at pushing the encroaching muck away from the man.
With the nozzle jetting water beneath him, firefighters were finally able to see his legs and cut away the roots snarled around his boots. The nozzle also "blew the vacuum from the earth," Neidert said.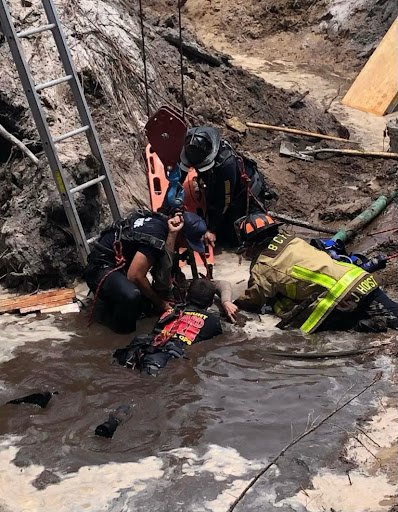 Firefighters fitted a harness around the construction worker's waist. With the quicksand seal ruptured, they now could hoist him out with a rope and pulley system. He'd been in the water for nearly two hours.
Neidert told Coffee or Die the man was "very, very, very — I'm gonna keep saying it — very, very thankful."
They put the man on a backboard and then slipped him onto the bed of a sheriff's deputy's pickup truck. The deputy rushed him across the roadway where a First Flight air ambulance crew was waiting. They flew the man to Holmes Regional Medical Center in Melbourne, where the construction worker was treated and released six hours later.
"At the end of the day, we learned a lot from it, with the patient safe and home and our guys safe and home," Neidert said. "We did what we were trained to do."
Read Next: A Louisville Fire Station in Mourning, Blessed With a Beautiful Gift of Life