In a building just a couple hundred feet from the fence line of Joint Base Lewis-McChord in DuPont, Washington, Army veteran Jared Wharton tugs the control grip of an MH-6M Little Bird, and a steady stream of the India pale ale named for the brewer's favorite Army helicopter flows into a pint glass. At Wharton's Forward Operating Base Brewing Co., the 4-2 Stryker Brigade veteran has been serving up culture and community with craft beer since late 2017.
Every so often, someone will walk in off the street and hesitate as they take in the flags and patches, the pictures of men and women in uniform, the camo netting, the steel pot helmets, and other military accoutrements Wharton has carefully curated for his "FOB." They'll ask whether they're allowed to be there, almost apologetic as they explain they never served.
"Absolutely," Wharton tells them. "We served for you. This is home for you as well."
With a warm smile that crinkles the corners of his eyes, he leans his 6-foot-2-inch frame and high-fade haircut over the counter to explain the crazy beer names and why the flag is backward, or black and gray.
"That separation between civilians and the military — I want to close that gap and make us part of the everyday conversation across the country," Wharton tells Coffee or Die Magazine.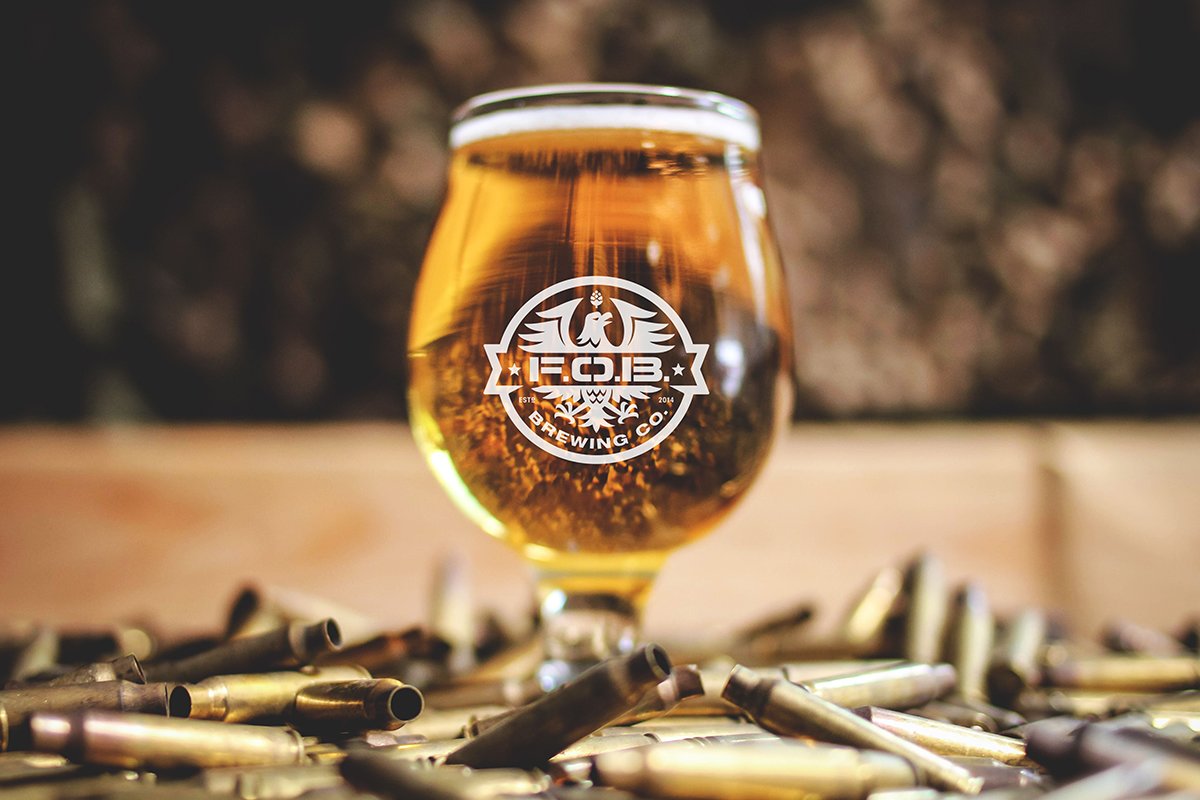 For those not fluent in the idiosyncrasies of military life, Wharton's menu is full of jumping-off points. Little Bird IPA, M4 American Blonde, Chesty Porter, and Sua Sponte IPA are conversation starters that help forge connections — among military members, veterans, everyone.
FOB Brewing's dining and taproom looks like what you might get if a military museum and a man cave made a baby. A bowl of tiny white and green toy soldiers (free for the taking) greets customers at the door. The small soldiers are strategically placed throughout the taproom. An honor wall pays homage to people Wharton served with or who supported him on his journey to open a brewery. A rifle stock and a Medal of Honor recipient's original prosthetic hand are among the mementos that serve as beer taps.
JBLM was Wharton's first duty station in 2007 after he left a career in law enforcement and joined the Army. The base's influence is palpable throughout the taproom, from the Seize the High IPA — named for the local 2-2 Stryker Brigade's battle cry — to the new Everman IPA, named after legendary grunge-rocker-turned-Green-Beret Jason Everman, a fellow JBLM alum and Washington native.
Wharton deployed once to Iraq with 4-2 Stryker Brigade and twice to Afghanistan. Returning from missions, Wharton and his teammates would hang out in shacks made of plywood and two-by-fours, smoking cigars and drinking coffee. As they unwound, the conversation drifted. Someone said it would be cool to have a place like that back home. Another soldier agreed. For Wharton, then a home brewing hobbyist, it was a lightbulb moment.
"We wished there was a place for us, and I kind of looked around and saw that it didn't exist," he says. "For me, the only answer was to make it myself."
He wrote his business plan during his final deployment in 2014, won a spot in a veteran entrepreneurship program, and opened Oct. 4, 2017. His bank account showed a balance of zero. It was do or die. A few customers trickled in and got their choice of two beers.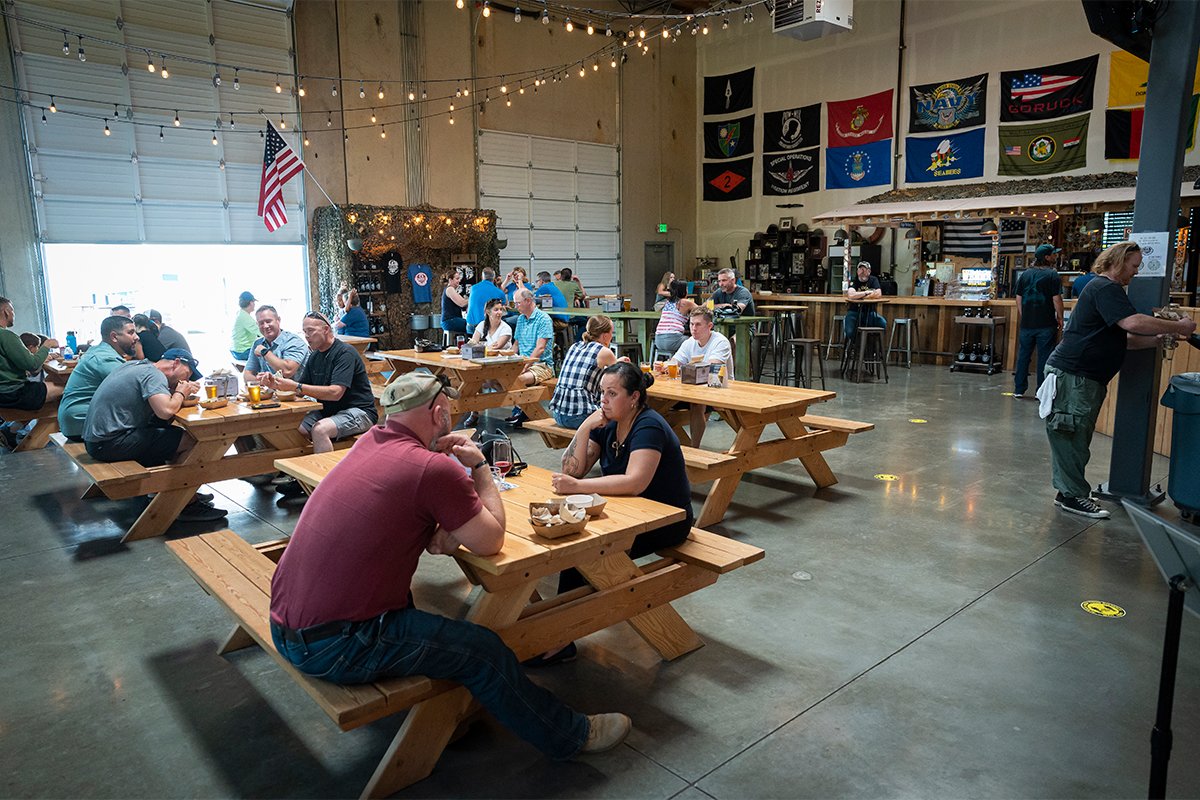 "I'm so thankful for those customers because I know my beer was not where I wanted it to be," he says. "But I knew it would get there."
Now, Wharton has mastered his big, shiny brewing system, boasts a rotation of six original beers on tap, and releases seasonal specials such as Christmas Truce — named for the 1914 cease-fire that is said to have brought German and British troops out of their trenches to celebrate Christmas together in World War I.
Army Rangers from JBLM's 2nd Battalion, 75th Regiment, helped develop Sua Sponte IPA, named for the regiment's Latin motto, which means "of one's own accord." Wharton brought the Rangers in to help with the brew day and wound up with a tropical, hoppy beer with a 7.7% alcohol content.
"It's a higher alcohol content because Rangers are a little higher alcohol content," Wharton says, grinning.
When military units approach Wharton and ask him to brew a beer for them, it drives home the reality of what he's accomplished.
"This is what I set up to do," he says. "And it's finally happening that people are trusting me to honor and represent them through something as simple as a beer."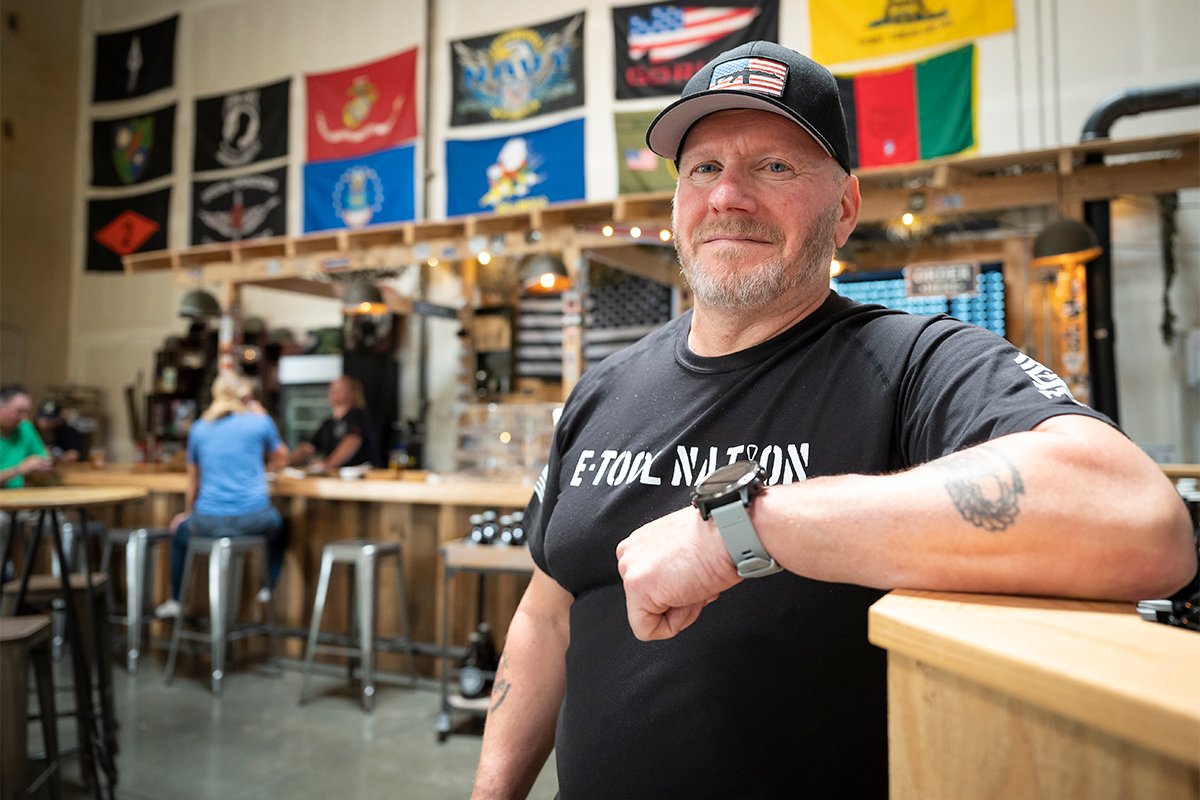 On a sunny afternoon in July, John Wayne Troxell, who retired from the Army after serving as senior enlisted adviser to the chairman of the Joint Chiefs of Staff, stopped by FOB — a place he calls an oasis.
"One of the things about being someone who served in the military and has been to combat is that you can't wait to get back home," Troxell tells Coffee or Die. "But when you're back home, you miss that camaraderie and that togetherness of being around like-minded people that you're going out of the wire with every day."
FOB, Troxell says, combines the best aspects of both realms.
Army veteran and DuPont City Councilmember Kevin Ballard describes Wharton's brews as "bold, flavor-forward, and memorable," with options to appeal to all craft beer connoisseurs.
But Wharton maintains an unfailing sense of humility.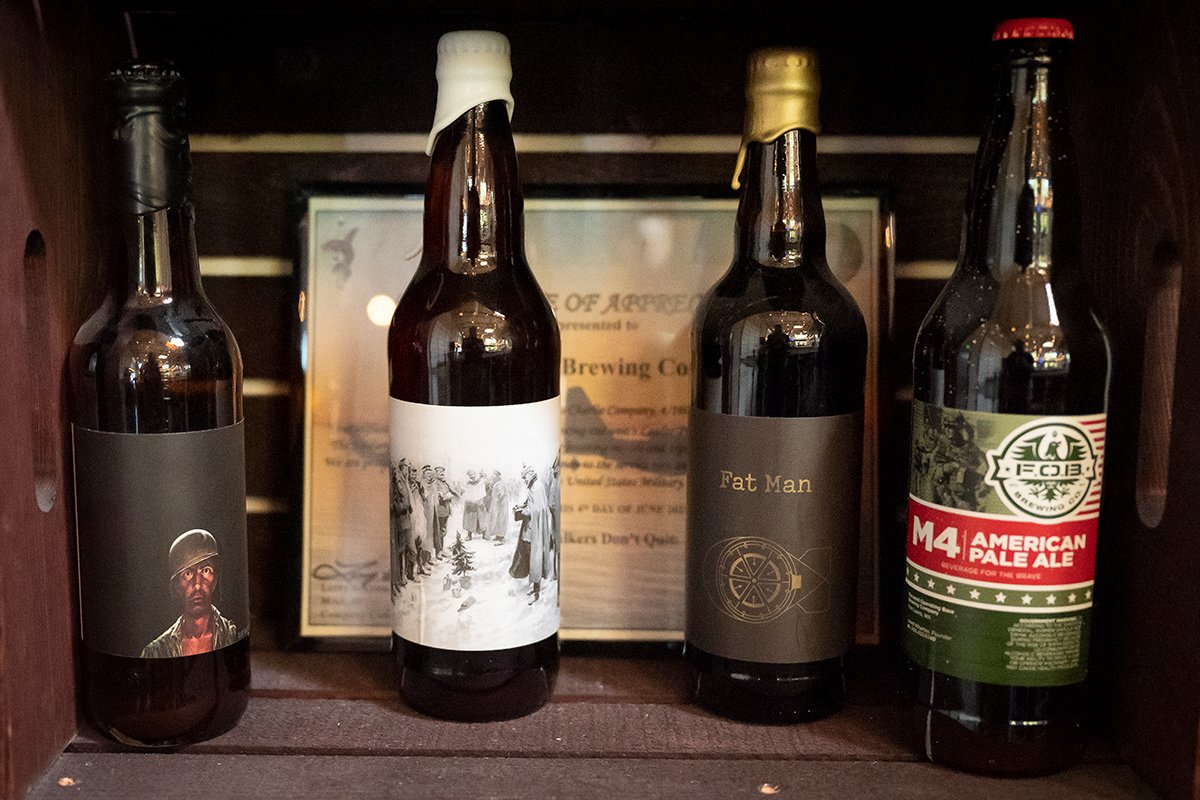 "I don't use the term 'brewmaster' to describe myself," he says.
A brewmaster, he explains, can produce a beer and replicate it over and over without any flaws, so a consumer can't taste the difference between one batch and the next.
"Maybe someday I'll feel comfortable wearing that title, but I'm not there yet," he says. "I'm just a dude making beer."
As the beer flows on one side of the warehouse-style taproom, the scent of barbecue wafts from a window near FOB's entrance. Army veteran Aaron Kumamoto is the pitmaster, a hobby he adopted after his first — and only — deployment to Iraq was cut short.
"We had a bit of a showstopper," Kumamoto says, cracking a wry smile as he remembers the improvised explosive device that tore his leg apart.
Before the customers crowd in, Kumamoto cuts up with fellow veterans Matt Rodriguez and Jon Mentock over a tray of tacos.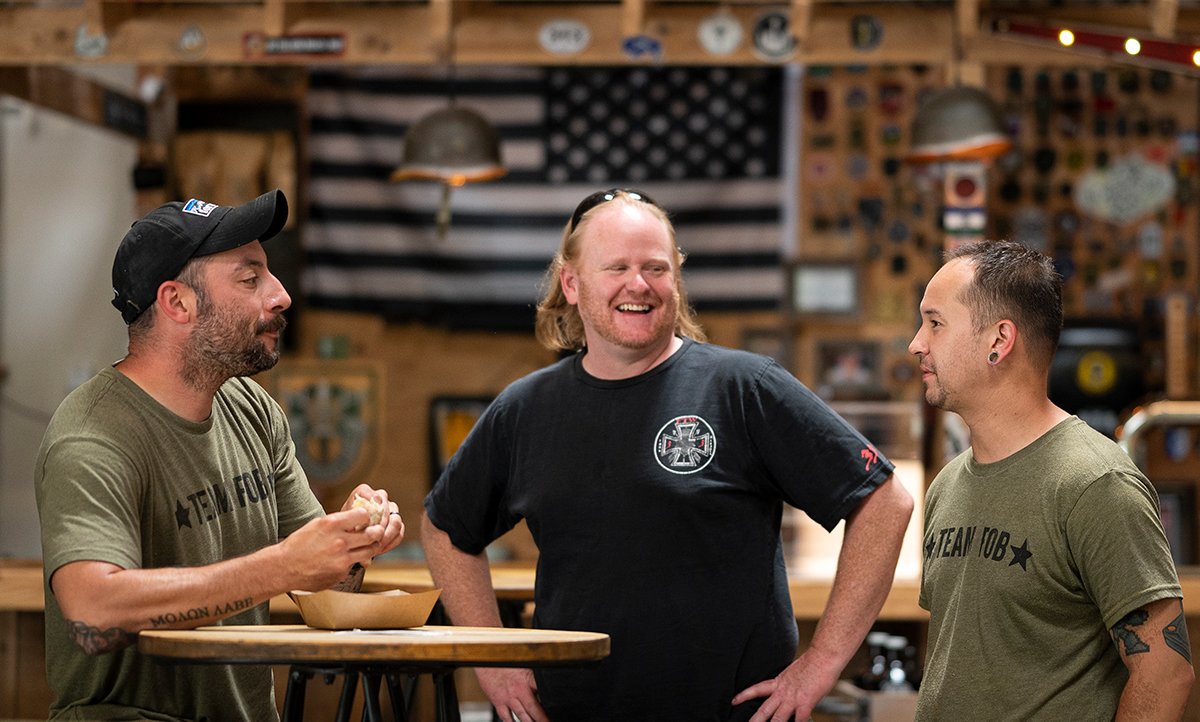 "There's that instant brotherhood connection," he says of his co-workers and veteran clientele. "There's a couple other amputees here, so it's like that instant recognition of past trauma. And we're able to relate to our guests even more because we all share a common past."
Kumamoto tucks a towel into the pocket of his shorts and heads for the kitchen nimbly on his prosthetic leg. It's time to prepare the brisket, steak, and carnitas for the fat, flavorful tacos he serves up every Tuesday. His happiest moments are when active-duty service members from hometowns across the country bond over his barbecue, popping their heads into his kitchen after their meal.
"Some of the best stuff is when they're leaving and they say, 'I haven't had barbecue like this since I left Texas' or 'since I was in Tennessee,'" Kumamoto says. "I don't think it matters where you come from or where you've been. It's just quality food and drink."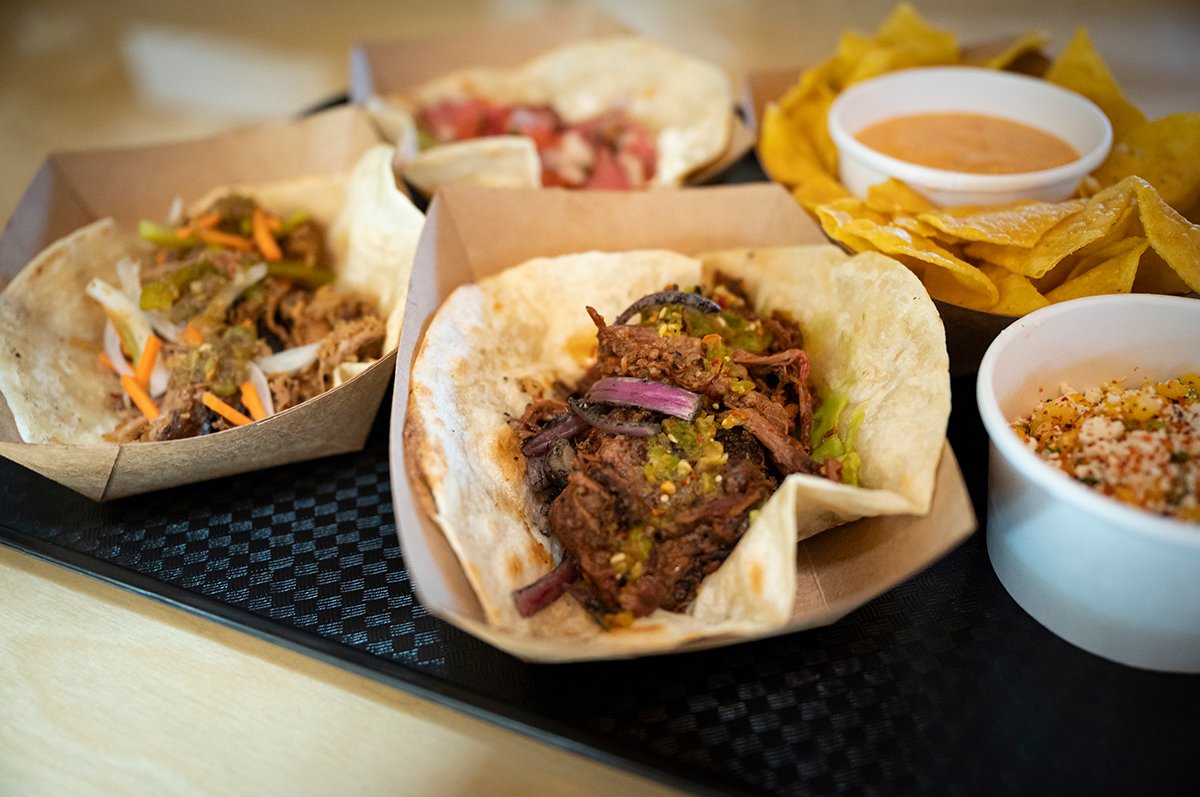 But FOB's impact on the military community is foremost in everyone's mind.
"It's not just a brewery," Ballard says over a pint of Little Bird IPA — the beer named for aircraft in the 160th Special Operations Aviation Regiment, which Ballard served in for 13 years of his Army career. "This isn't just a bunch of old guys getting together and drinking beer. There are families that come here and community events."
Ballard remembers bringing a Vietnam veteran named Bob to the taproom. Bob served with the 1-28 Infantry Battalion, a storied unit known as the Black Lions. Drafted, sent off to war, and then greeted with nothing but hostility when he returned, Bob never felt comfortable around large groups of people. His heart raced as he walked into FOB, his guarded eyes sizing up the staff and customers.
"He came in here with a lot of apprehension," Ballard recalls. "The way he was embraced by the staff and other clients and friends that were here was cathartic. He told me he's never felt a place so welcoming in his entire life since he's left Vietnam."
Wharton envisions expanding FOB Brewing someday, with the goal of setting up outside every major military installation.
"So just like in Iraq or Afghanistan, we have FOBs located throughout the country, and each one is serving a slightly different mission but with the same goal. That's what I see for FOB," he says.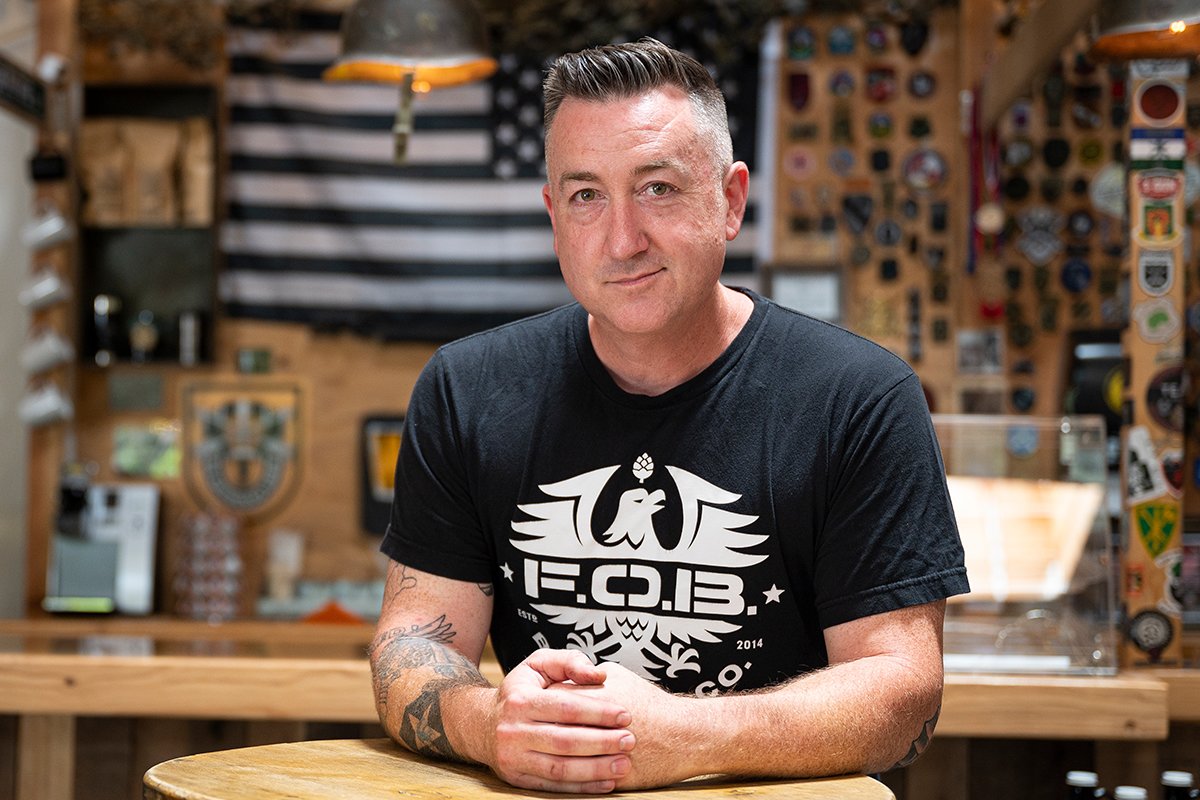 In the meantime, Wharton looks around at a taproom full of people, all with a glass of his beer in front of them. Some have driven from hours away to visit a place they've heard about through the military and veteran grapevine. Others are local — some American Legion guys and a Vietnam tunnel rat. There are men whose experiences both during and after their wars are almost unfathomable for veterans such as Wharton, who says it strikes him as odd when people thank him for being there. He is thankful for them.
He thinks back all those years to when he was sitting in a rickety shack in Afghanistan.
"What my heart said was right," Wharton says. "We do need a place for us."
---
This article first appeared in the Winter 2022 edition of Coffee or Die's print magazine as "FOB Brewing."
Read Next: