One Fort Drum soldier is dead and another faces charges after police discovered a body in rural Sussex County, New Jersey.
Cpl. Hayden Allen Harris, 20, was reported missing on Friday. Sussex County assistant prosecutor Gregory Mueller told The New York Times that Harris had met with Pvt. Jamaal Mellish, 23, in Watertown, New York, "to discuss a disagreement about a 2017 Chevrolet Silverado." Mellish is now accused of abducting and killing Harris.
Firefighters were driving around town with a man dressed as Santa Claus and handing out candy canes when they noticed Harris' personal belongings in the bloodstained snow of a cul-de-sac in Byram Township, New Jersey. Police then found Harris' body in the nearby woods. They believe Mellish shot and killed Harris in those woods.
There is currently no known connection between Mellish and anyone in Byram Township. According to the township's police chief, Kenneth Burke, there was paperwork found at the scene that ties Mellish to the case.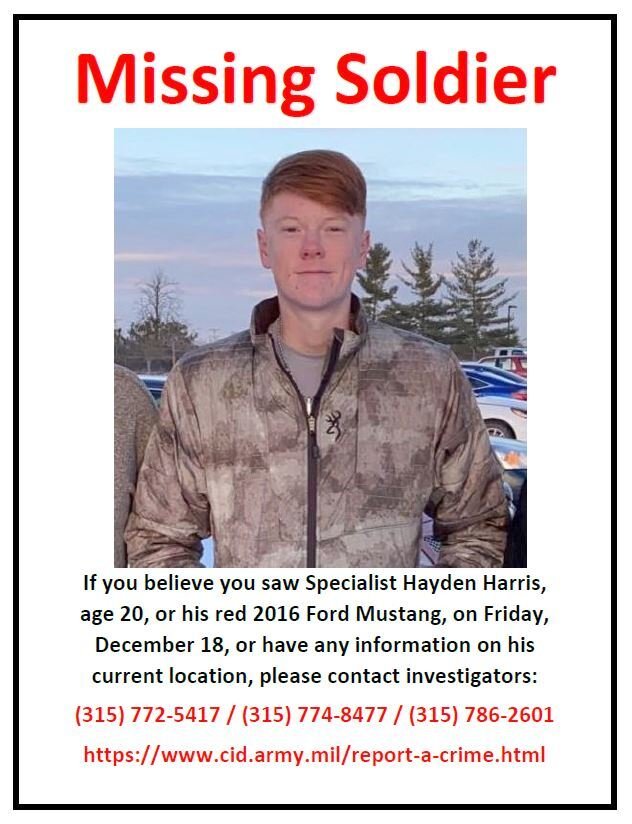 Harris was an infantryman in 1st Squadron, 89th Cavalry Regiment, 10th Mountain Division. He had been stationed at Fort Drum since July 2019. He has posthumously been promoted to corporal and awarded the Army Commendation Medal.
Harris was described by Brig. Gen. Brett Funck, acting senior commander at Fort Drum, as "a great Soldier and […] a really wonderful, caring person." He graduated from McNairy Central High School in Guys, Tennessee, in 2018.
Funck gave credit to Harris' "excellent teammates" for their quick action in reporting him missing, resulting in law enforcement's ability to apprehend Mellish quickly. Jefferson County sheriff's officers arrested Mellish near Fort Drum, and he will be extradited to New Jersey to face murder and weapons charges that have not yet been handed down.
A third individual, a juvenile, was in the Silverado with Mellish and Harris. Sussex County prosecutors are not releasing the identity of this individual or how they were involved in the events.