When night fell, Francis "Peggy" Pegahmagabow left his trench, moving past the barbed wire and into No Man's Land. On any given night, he'd sneak by the wounded and the dying soldiers from the European front as they lay crying for help from inside shell craters, and he'd creep into position. The Canadian sniper lay motionless, camouflaged behind rock, mud, and other remnants of the war-torn battlefield. He'd wait for hours, sometimes days, if necessary, until the first German soldier came into his sights. Pegahmagabow shouldered his Ross rifle, took aim, and fired. The German would fall where he stood, and Pegahmagabow would slip back to Allied trenches like a ghost.
This ritual was repeated through four years of near-constant combat. When the war finally ended, Pegahmagabow was the deadliest sniper in Canadian military history, with 378 confirmed kills and 300 more German soldiers captured.
He should have been a national hero. At war, he had a rank, an identity, and a purpose, but back home in Canada, he had none of that.
Pegahmagabow was orphaned at a young age and raised by his adoptive Obijwe family on the Wasauksing First Nation (then known as the Parry Island reserve) in Ontario. He was a musician, and he worked for the Department of Marine and Fisheries as a fireman on the Great Lakes. Whenever he felt danger, he'd grasp a small leather medicine pouch given to him by an elder — he believed it would protect him no matter the circumstance. He carried the pouch into the trenches of World War I on some of his most dangerous wartime assignments.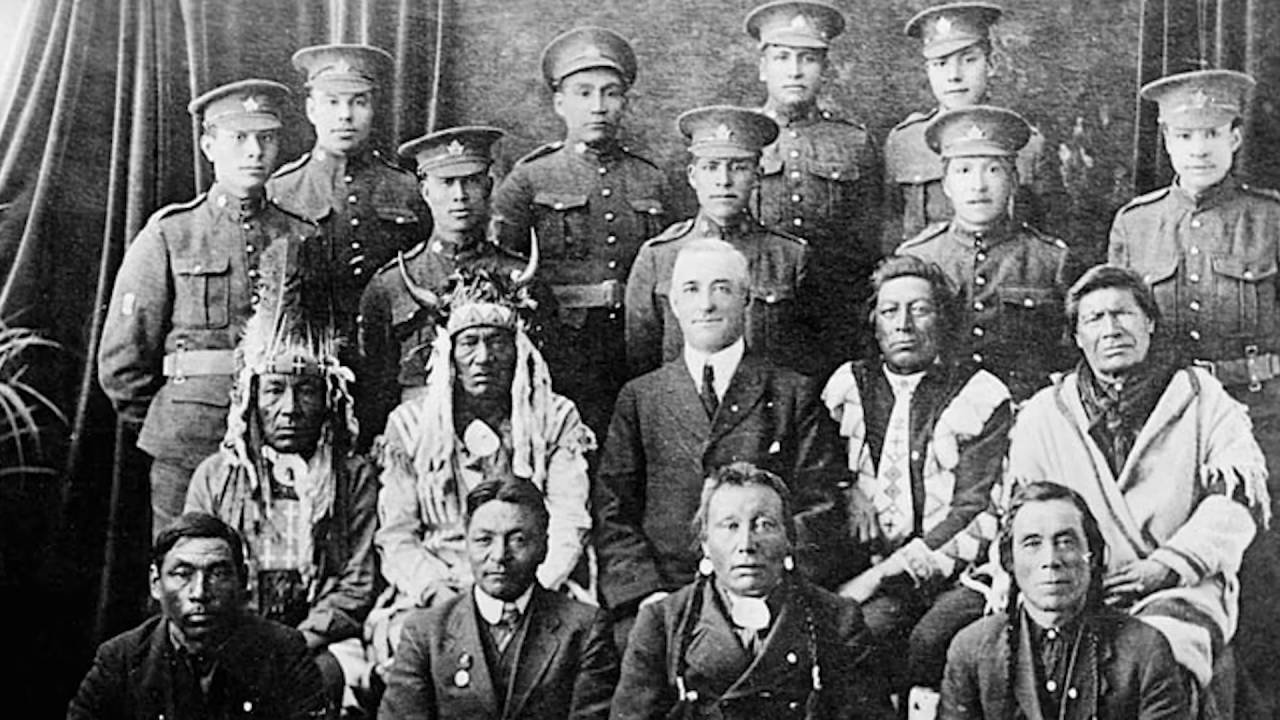 Great Britain declared war against Germany on Aug. 4, 1914, and Pegahmagabow was among the first to sign up just 10 days later. At the time the Canadian government actively excluded and discouraged Indigenous people from joining the military. They weren't even considered citizens. His enlistment even surprised the editor of the Parry Sound North Star newspaper.
"His grandfather was a warrior and chief and fought for the British in 1812, so the boy comes by his fighting instincts from a long line of ancestors who fought in the Indian wars," North Star editor William Ireland wrote. "We are all hoping Francis will distinguish himself as his forefathers did and will return home covered with glory and medals. His example might well be followed."
Pegahmagabow transferred from the 23rd Regiment (Northern Pioneers) of the Canadian Expeditionary Force to the 1st Canadian Infantry Battalion and arrived in England to receive trench warfare training. In 1915 he landed in France, where his legendary exploits shined.
During the Second Battle of Ypres, Pegahmagabow was present when the Germans unleashed a gruesome new tactic: the chlorine gas attack. In just three days, half of his battalion was wiped out after the wind carried gas from nearly 6,000 canisters into their trenches. The next morning, the Canadian 1st and 4th Battalions launched a counterattack alongside eight British divisions. As the Allies advanced, Pegahmagabow carried messages with complete disregard for the danger. He was promoted to lance corporal and received his first Military Medal, becoming one of the first Canadians to receive this British decoration for valor. His commanding officer wrote in a report: "He carried messages with great bravery and success during the whole of the actions at Ypres, Festubert and Givenchy."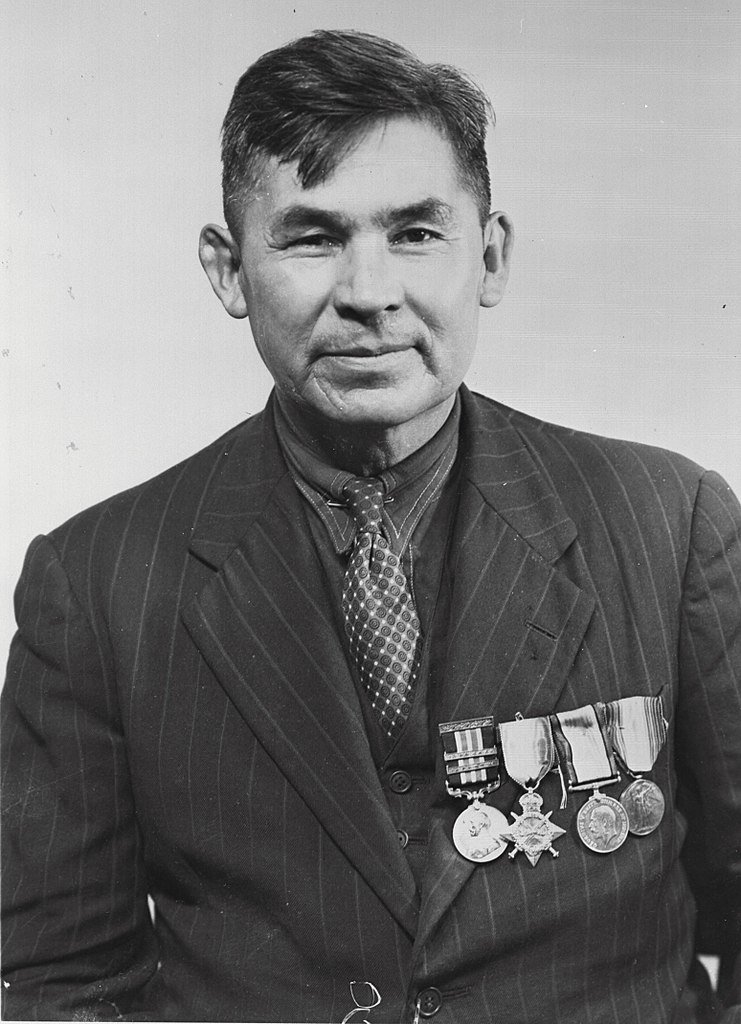 Then came the nightmare that was the Battle of the Somme between July and November 1916. The Germans called the battle "das blutbad" — the bloodbath — and it claimed more than a million lives, still one of the bloodiest battles in world history. Pegahmagabow developed a reputation as a scout by gathering intelligence about enemy activity. He would sneak into No Man's Land — the torn, deadly ground between opposing trenches — to find mortar positions, machine-gun posts, enemy sniper hide sites, patrols, and defenses. He was wounded in the left leg but was soon back at the front.
In November 1917, Pegahmagabow joined the assault near the village of Passchendaele. Some 20,000 British and Canadian soldiers crawled through mud-soaked fields from shell crater to shell crater to capture the village. They held it for five days until reinforcements arrived but suffered 16,000 casualties. Pegahmagabow earned his first bar to the Military Medal for coordinating with each flank, advising these units, and coordinating relief forces.
In the final months of World War I, Pegahmagabow earned his third Military Medal, becoming only one of 39 soldiers to receive that many. Near the Orix Trench during the Battle of the Scarpe, he left cover to retrieve ammunition and maneuvered around heavy machine-gun and rifle fire. Upon his return, he helped assist in repulsing heavy enemy counterattacks at the risk of being surrounded.
He did not escape the war unscathed. He'd been shot and gassed, experienced heavy artillery fire, and become ill with pneumonia. And on one occasion in September 1918, he was hospitalized for holding a superior officer at gunpoint, believing the officer was a German spy. The diagnosis was for "exhaustion psychosis," an early description that today would be recognized as a symptom of post-traumatic stress.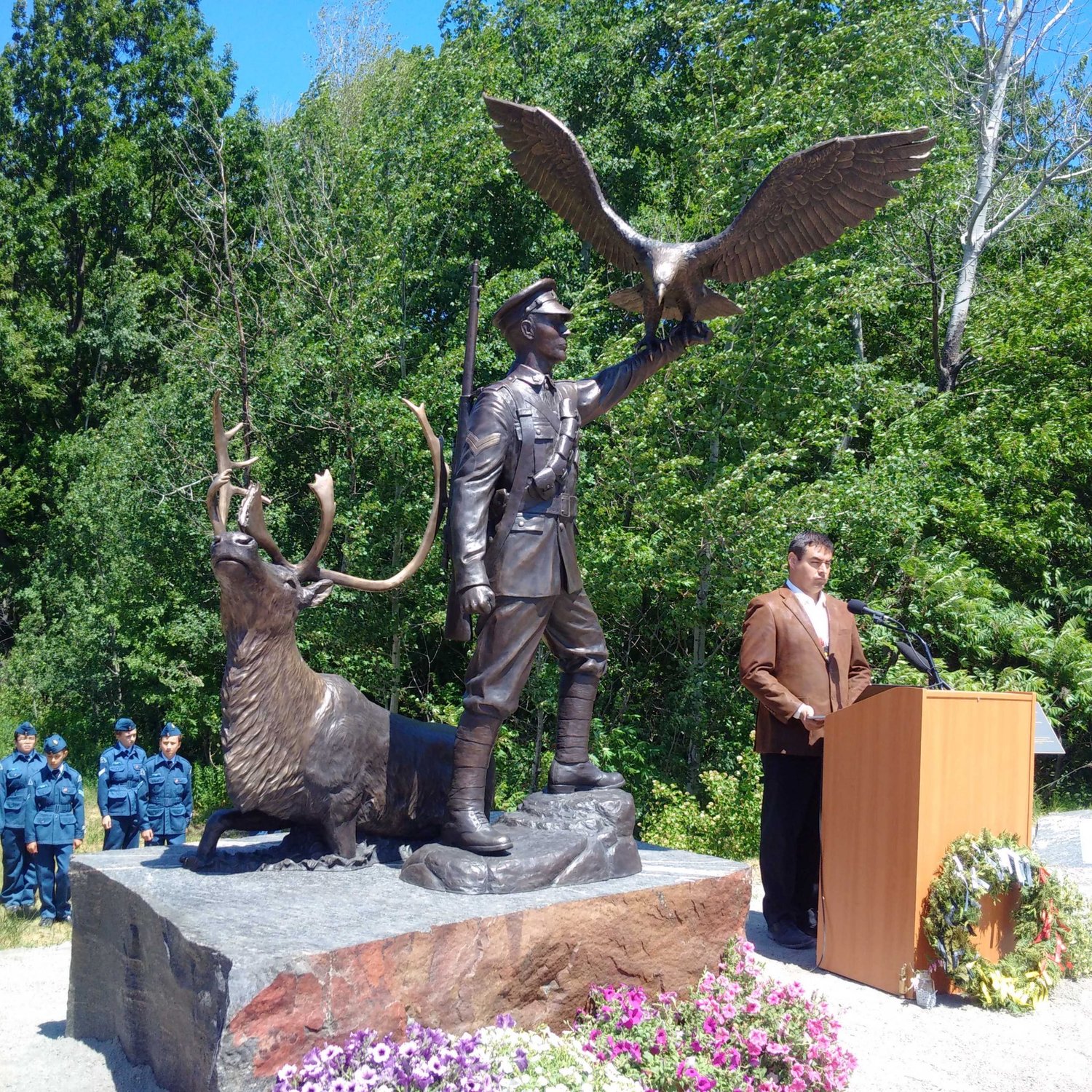 "He was never in what you might call bomb-proof jobs," Tim Cook, a World War I historian at the Canadian War Museum, told the Toronto Star in 2006. "Most of these guys were counter-sniped, or killed at some point."
And upon his return to his native country, he found that his heroism on the battlefield held no value against the deep-seated discrimination that First Nations people faced. "When he was in uniform he was considered an equal," biographer Adrian Hayes recalled. "When he came back, he just went back to being an Indian. Indians at that time were not even Canadian citizens. They were treated like children and the Indian agents wanted him to basically sit back and shut up and not say anything."
Pegahmagabow did the opposite, became an activist, and rebelled against racism and poverty to fight for Native rights. He assumed the roles of chief of the Parry Island Band and supreme chief of the Native Independent Government. In 2006, more than 80 years after his military service and 54 years after his death, he was finally recognized with a monument at CFB Borden with full military honors. A decade later, a life-sized bronze sculpture was erected in his hometown of Parry Sound.
"It's the most enduring way to remember the kind of people and events that we should remember for generation after generation," the statue's sculptor, Tyler Fauvelle, said.