It's difficult to imagine today, but Lester Edward Eubanks, one of America's most wanted fugitives, escaped a lifetime prison sentence by going Christmas shopping.
It was Dec. 7, 1973, and Eubanks was a trustee in the Ohio Department of Correction. Although convicted of the murder and the attempted rape of 14-year-old Mary Ellen Deener in Mansfield eight years earlier, he was granted a temporary furlough to shop the Great Southern Shopping Center in Columbus.
And he never returned.
"In today's age, that would not ever happen," said Deputy US Marshal Eric Midock, who suspects Eubanks turned on the charm to get on the prison staff's good side, and then exploited their goodwill for evil.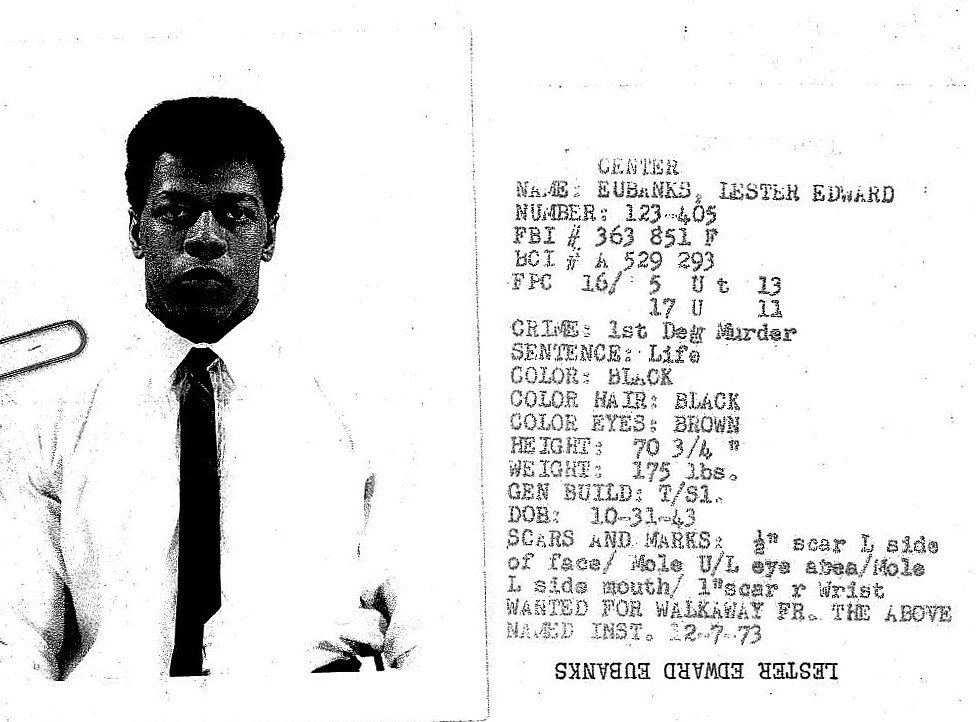 "I do not know who he was shopping for that day," Midock added. "Ultimately, he didn't shop for anybody."
For the past 48 years, there's been an active warrant out for the escaped Eubanks posted by the Ohio Adult Parole Authority, but that's only a footnote to a more violent rap sheet.
In late 1965, he ambushed Deener while she was fetching quarters for a nearby laundromat, pulling her behind an abandoned house. He shot the girl in the stomach for struggling and left her to die. He returned from home later, found her still breathing, and bludgeoned her to death with a brick.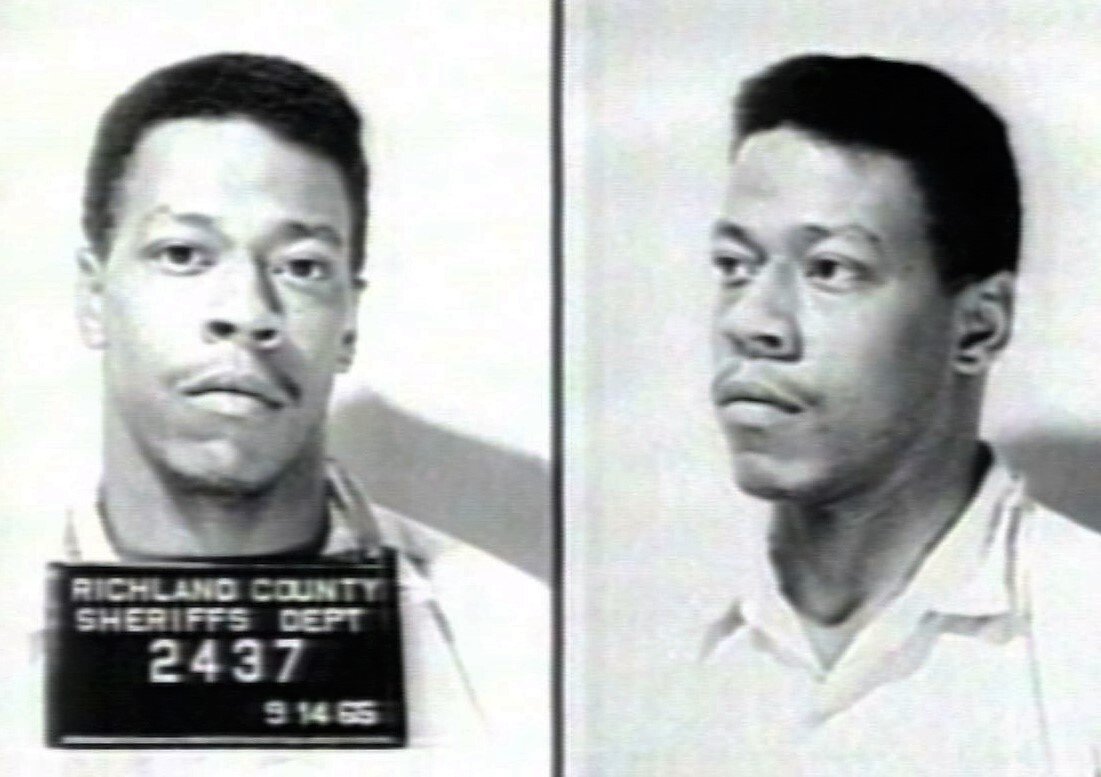 Eubanks was out on bond for the suspected sexual assault of an Ohio waitress when he killed the girl.
Based on his own confession, a jury on May 25, 1966, found Eubanks guilty of the attempted rape and murder of Deener, and he was sentenced to death. But the punishment was commuted to a life sentence in 1972, when the US Supreme Court ruled state executions unconstitutional.
Midock would like to put Eubanks back into a courtroom, but the trail went cold a long time ago. Authorities know that about three decades ago he was living in California under the alias "Victor Young." He parlayed a state fishing license into a Social Security card, but then left Los Angeles and went on the lam again.
"Unfortunately, back then, it wasn't very difficult," Midock said.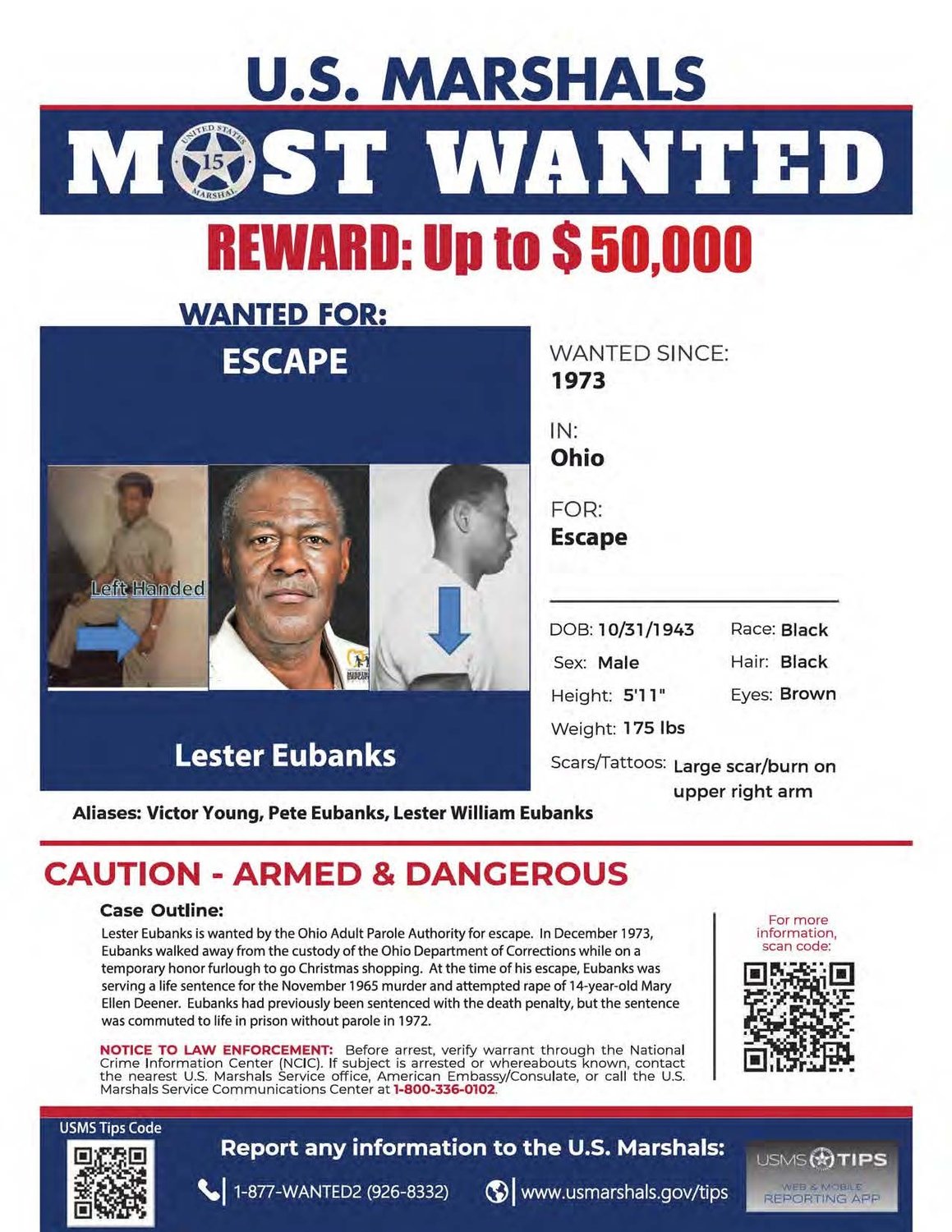 In the 1990s, Eubanks was a 5-foot-11-inch Black man, with black hair and brown eyes. He weighed roughly 175 pounds, had a mole under his left eye, and was considered a creative artist.
He's left-handed. He has a large scar or burn mark on his upper right arm.
Midock told Coffee or Die Magazine his agency gets about five tips every week about Eubanks. US Marshals spokesperson Dave Oney said that's partly tied to Netflix and ABC News releasing specials about the fugitive's case.
He'd be 78 now, and federal investigators believe he might be hiding in Alabama, Georgia, or Canada.
"His family has tremendous longevity; his dad was in his 90s when (he) passed," Midock said.
The US Marshals Service urges anyone with information about Eubanks to contact the nearest District Office, call the US Marshals Service Communications Center at 800-336-0102, or visit USMS Tips. The agency will pay $50,000 for information that directly leads to his arrest.
Read Next: Stiff Sentence for Fugitive Who Tried To Run Over a Federal Agent