The U.S. Army loves robots and wants its soldiers to love them, too. The U.S. Army Joint Modernization Command recently conducted its annual Joint Warfighting Assessment in the Pacific Northwest, with most of the testing at the Yakima Training Center. From late April to May 11, troops from Joint Base Lewis-McChord's 2-2 Stryker Brigade and 2nd Ranger battalion, along with U.S. Marines from Camp Lejune and Camp Pendleton, tested new weapon concepts for a Pacific war scenario set in 2028.
One of the concepts they were testing was the "optionally manned vehicle," which would allow leaders in the field to decide to switch their systems to remote operating systems instead of putting their troops on the line.
"The idea is that the robotics could be available, so when they pick that platform you can put the robotics on it, and now you can do the manned (or) unmanned team and push the robotics out on the battlefield," explained Lieutenant Colonel John Fursmo, the officer commanding the opposing force for the exercise.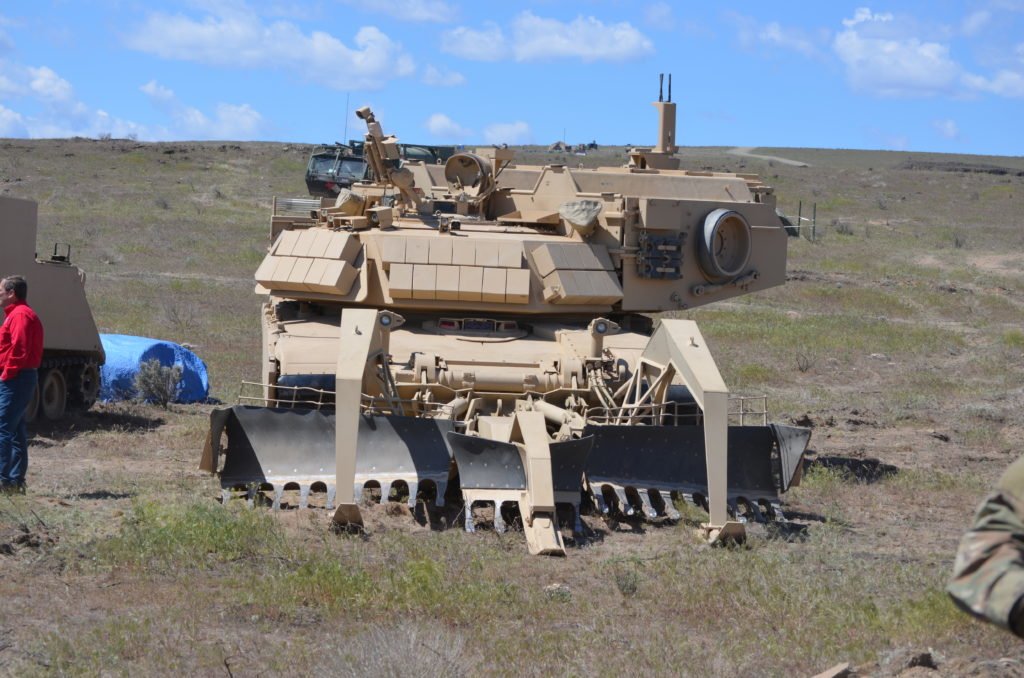 Some of the vehicles that have been brought out for testing are actually quite old, brought back to life and stuffed with robotic capabilities by engineers tinkering with them like Frankenstein's monster. Troops and engineers explain that it's all about testing, experimentation and soldier feedback. "These are concepts, these are not necessarily the pieces of equipment we would actually use," said Fursmo. "The Army still has to decide what it wants for this new combat vehicle that will replace some tanks and other armored vehicles."
Fursmo pointed to an old M58 mobile recon vehicle that's been retrofitted with remote control capabilities. "It's a tracked vehicle, it's been in the Army a very long time, [and] essentially the Army stopped using it several years ago because the mission itself was so dangerous that it was just decided it wasn't worth it," he explained. "But make it a robot and now it's at least conceptually worth looking at it again."
Robotics and digital tech are already changing the way wars both big and small are being fought around the world every day. What were once science fiction dreams (or nightmares) aren't as far away as some might think. Some are already here.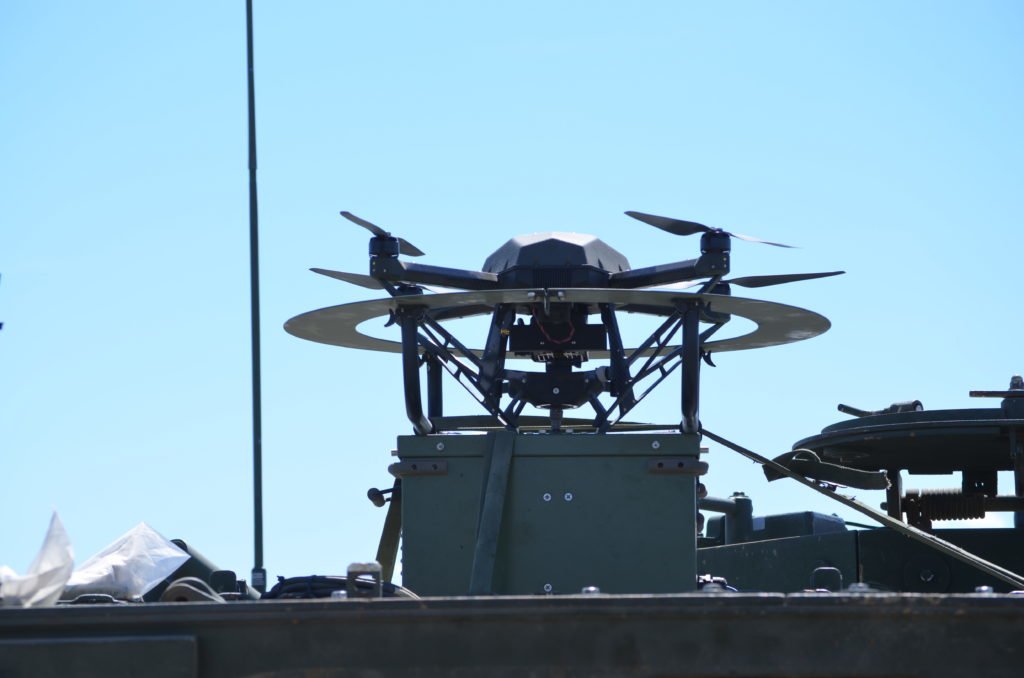 Eyes in the Sky
Cavalry scouts often call themselves the ninjas of the U.S. Army. Though considered combat troops, their job is more often to scope out the enemy without drawing fire and to report their findings. "A big problem we have is seeing without being seen," explained Major Dave Scherke, a cav scout squadron leader with the 2-2 Stryker Brigade.
A scout team might move with three troops aboard a Stryker and three dismounted on the ground. They use maps, rulers, and measuring tape to take down mission critical information while conducting route reconnaissance. "It's very time consuming and, from a security standpoint, can leave you exposed," Scherken said.
However, at Yakima Training Center, Scherke's men have been testing the Sensor Enabled Scout Platoon concept. They've tested the "Instant Eye" quad copter, an aerial drone surveillance system. "We have that all the way down to the squad level. So instead of just having one of these for each one of my cav troops, now I have six of them, and that massively increases our ability to see over the ridge and see the enemy first," Scherke explained.
Some of the vehicles that have been brought out for testing are actually quite old, brought back to life and stuffed with robotic capabilities by engineers tinkering with them like Frankenstein's monster.
The quad copter itself isn't particularly unique — you can buy similar models at Best Buy. Drones have already become part of the new normal for warfare. In Iraq and Syria, ISIS militants have used store-bought drones to help them target mortars and have even modified them to drop grenades and other improvised explosives. During the battle of Mosul, frustrated Iraqi troops started purchasing commercial drones of their own to fight ISIS. Robots are everywhere.
However, the small drones the scouts are testing are equipped with the Instrument Set Reconnaissance and Survey (ENFIRE) system that uses software and algorithms that can help measure terrain features, roads, and even calculate how much weight a bridge is capable of supporting. "There's a bridge classification app that tells you the whole bridge classification," said Colonel Chuck Roede, the deputy commander of JMC. "It really allows the scouts to do the job we expect them to do."
ENFIRE connects directly to systems in the Stryker itself, which connects to a larger network. "It takes all that information, aggregates it into a computer, and creates a route overlay," Scherke explained. "[Plugging] into our mission command systems to send very rapidly [means] our logistics planners and our other maneuver planners can get that information right away. So it speeds up what our scouts can do, and now instead of having six scouts on the ground just doing this while other guys are securing them, you can put fewer scouts on the ground to do that mission."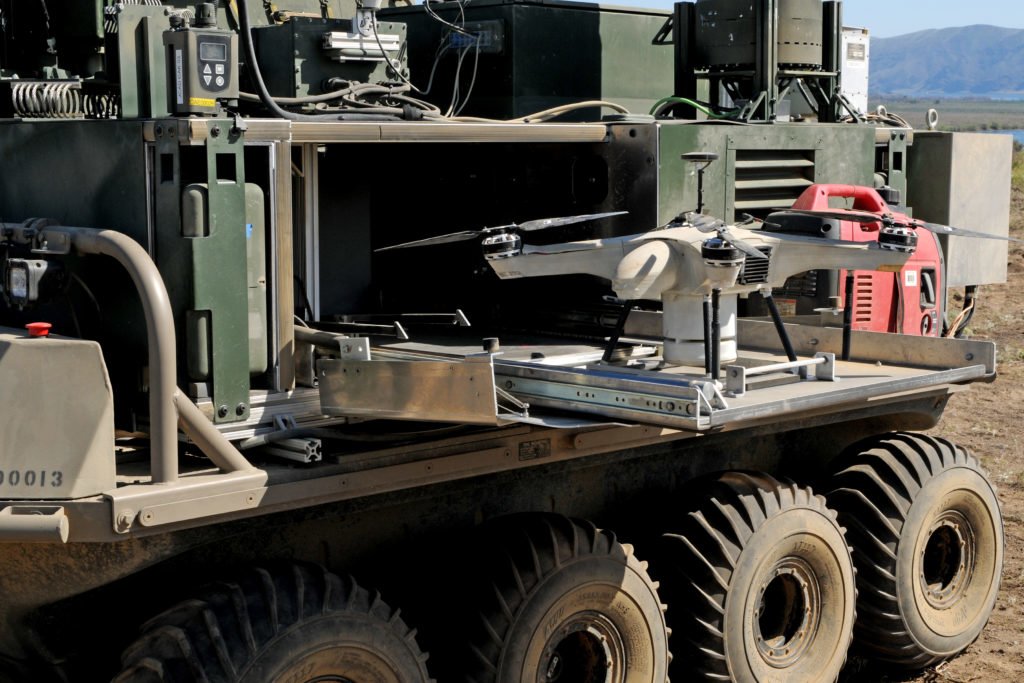 The Instant Eye has night vision, infrared, and powerful zoom and camera clarity features for checking out targets, as well as signal tracking. "We can get some eyes on there without exposing our scouts and then bring indirect fires down to win that fight first because we want to be fighting an unfair fight," said Scherke.
Cav scout Sergeant Joseph Gaska, who was in the field operating the prototype, told Coffee or Die that he was impressed with it. "As long as you're high enough, you won't hear it, so it's not going to be that buzzing sound above your head," he said of small, nimble drones' ability to move nearly undetected. It has other ambitious features, too, Gaska noted. For instance, he said that if they were to somehow lose their connection to the drone, it's programmed to remember where its handlers are and will return to them.
Machines Doing The Dirty Work
One of the most difficult things ground troops are asked to do is breaching operations against enemy strongholds. The defending side nearly always has the advantage. Good defenders lay out layers of defense that can include walls, barbed wire, ditches, minefields, and countless other hazards and traps. "It's a very challenging task because you have to imagine your opponent on the far side of that position ready to destroy you with every weapon system that they have," Fursmo said. "If you can take humans out of that, you're going to have fewer casualties — it's really the most dangerous thing a ground force does."
Troops in the field trained with various aerial drones for detecting chemical threats and minefields, but more of the efforts focused on ground-based systems. One of the key systems they were testing was the Assault Breacher Vehicle. Their ABV working prototype was built around the hull of an M1A1 Abrams tank armed with mine charges and a .50-caliber machine gun and equipped with plows and dozer blades.
"Basically, the concept of this vehicle is that this one vehicle with two operators can do what an entire platoon of engineers would be required to do in a breach," U.S. Marine 1st Lt. David Aghakhan explained. "It's not taking anything away from my capabilities — I can still manually operate it — but it gives me the option of saying 'I don't want to expose my Marines in this obstacle belt because it's too dangerous,' and I can pull them out and we can robotically operate it."
Working from remote controls in command vehicles, soldiers and Marines could also remotely control other vehicles to move in and provide suppressing fire for the ABV as it worked to clear mines, smash berms, and deal with other obstacles. Captain Nicole Rotte, an Afghanistan veteran and commander of the 2-2's engineer company, said that she was impressed with it.
"The challenge that I have is my planning factor for moving through a breach is 50 percent loss," said Rotte. "So all these concepts, to be able to take an unmanned vehicle and bring them down the battlefield, to be able save soldiers from being lost in the breach, that's awesome for me."
Rotte said they only had minor technical issues that were easily solved by turning the systems off and on again. She added that if anything, she's excited for the prospect of having more robots available to her and seeing what they can do.
Unmanning the Battlefield?
Some futurists have envisioned a world in which war was waged entirely by robots. The U.S. military and CIA have already used drones with operators in Nevada pulling the trigger to kill enemies as far away as Afghanistan, Yemen, and Somalia. However, while the vehicles are referred to as "unmanned," they require regular maintenance — and usually have a human operator somewhere.
At times, U.S. military commanders have underestimated the strain on personnel in regard to upkeep and the long hours of operation. "The explosion in demand had created a snowball effect that never allowed the […] staff to take a pause and say, 'Let's normalize all the processes that we should be doing,'" the Air Force reported in one of its official annual histories from 2012. "Instead, normalization was put off to some future date after the pace of combat operations slowed down."
But the wars continued, as did the extreme hours. Airmen working six days a week were constantly asked to work extra hours while leave got cancelled. They were never "deployed" but remained almost constantly on duty, remotely fighting wars in several countries that were continents away. "It's at the breaking point and has been for a long time," a senior Air Force official told The Daily Beast in 2015. "What's different now is that the Band-Aid fixes are no longer working."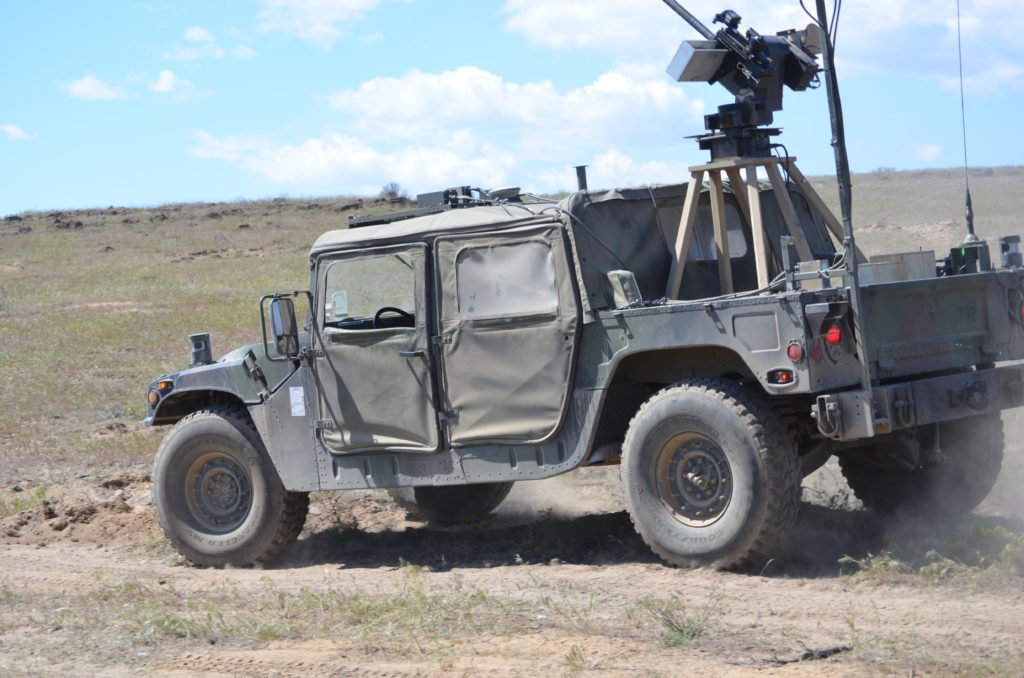 Even without the logistical hurdles, many commanders (even those that fully embrace a robotic future for war) don't believe grunts will ever become obsolete. "It's technologically feasible to fly a drone from Nevada and have it circling over Iraq or Afghanistan. But the demands of the terrain, as Army soldiers we are so tied to the terrain — you need to have leaders on the ground to see and understand the terrain," Roede said.
Col. Christopher Barnwell, head of the field experimentation division at JMC, said that while he could see a future where commanders could run a war without ever going to the field — adding that at this point communications are advanced enough that senior officers already don't have to — he doesn't think a good leader would choose to stay home while war is raging elsewhere.
"No commander I know would do that," he said. "I feel like I need to be on the ground and see things with my own eyes and get a feel for what's going. Technically possible? Yes. Likely? I don't personally think so."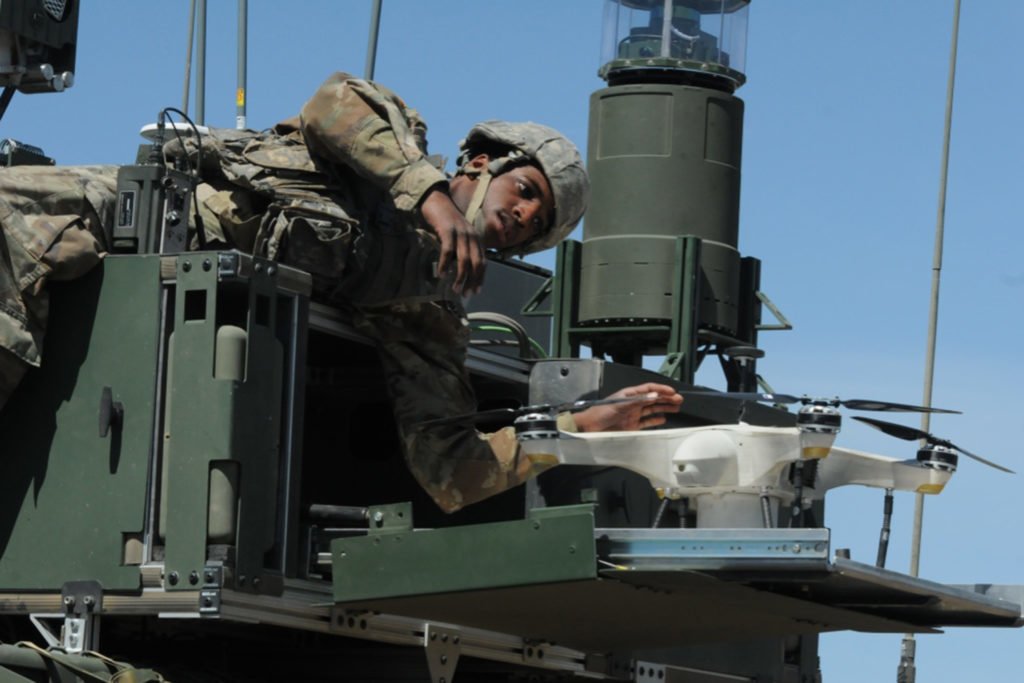 Battle Bots
While they don't see human judgement being removed from the equation, some military planners are excited by the prospect of artificial intelligence to allow vehicles to move on their own on the battlefield.
"As the concept matures, as we bring in elements of AI, as we bring in some measures of autonomy, the ratio of operators to vehicles will drop so that eventually you'll have one operator who can control maybe a squad or platoon's worth of vehicles," said Roede. He suggested that AI could allow vehicles to autonomously navigate terrain and even rally into formations as they haul supplies and weapons.
Barnwell suggested it potentially going even further — he can foresee a day in the future when leaders can delegate to robotic weapons systems in combat and allow them to autonomously pick and engage targets.
"It's technologically feasible to fly a drone from Nevada and have it circling over Iraq or Afghanistan. But […] you need to have leaders on the ground to see and understand the terrain."
"You tell these robotic vehicles, 'You've got this part of the engagement area, and you are free to shoot at enemy vehicles; anything north of the niner-niner grid line is enemy and you are free to shoot it,'" Barnwell said. "And because these vehicles have AI, they know what to shoot […] on their own."
However, the prospect of robots that can autonomously kill enemies based on algorithms or pre-programmed targets sets has potentially serious ramifications. The recent battles for Mosul and Raqqa proved incredibly bloody. House-to-house fighting and heavy bombing and artillery strikes led to untold deaths of civilians trapped in the cities, and the work of rebuilding the infrastructure since the battles ended has been slow.
Military strategists believe that urban fighting could be the norm for the 21st century. More than half of the world's population now lives in cities, and that's expected to grow. In particular, there are concerns about the challenges posed by potentially fighting in massive megacities like Seoul, Shanghai, Tokyo, or Lagos. Army Chief of Staff Mark Milley has pointed out that the entirety of Mosul — Iraq's second largest city — isn't equal to a neighborhood in Seoul.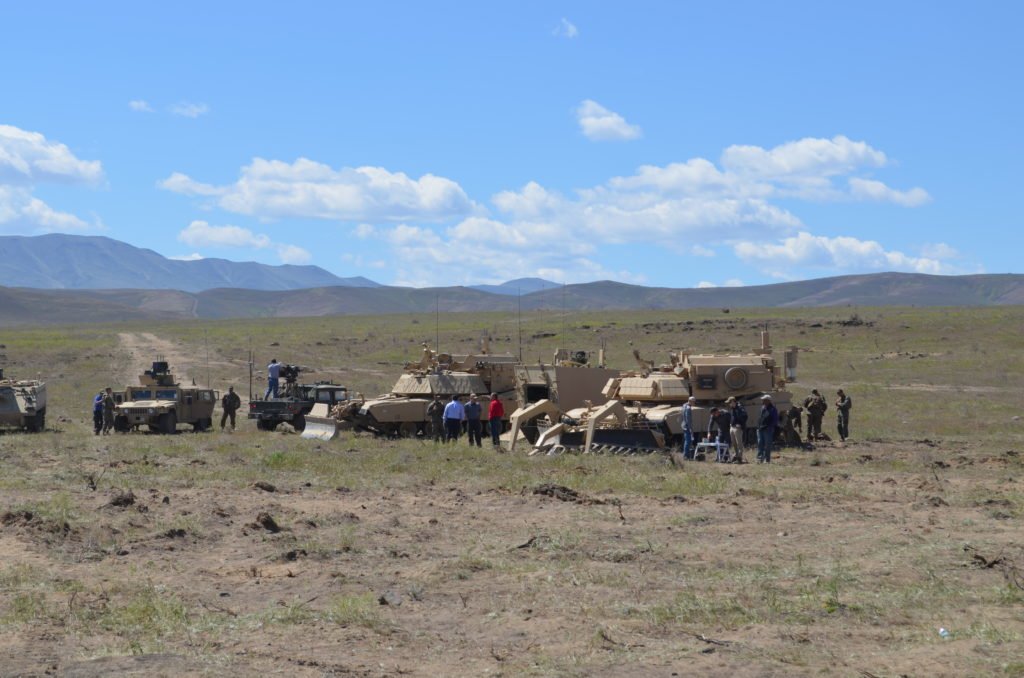 Heavily armed robots combing the streets of a densely populated megacity picking targets based on algorithms have the potential to cause a lot of unintended collateral death and destruction. Machines feel neither remorse nor pity.
Barnwell said that they're already considering these potential problems. "Through programming, we would be able to figure out what are appropriate targets, what are not. What is the ROE (rules of engagement), what are we going to allow these things to shoot at by themselves, and what are we not going to allow them to shoot at by themselves," he explained. "In a megacity, for example, we may not even employ this sort of thing — or we may, depending on what the intelligence tells us the enemy is out there."
But Roede stressed again that fighting wars is going to remain a fundamentally human endeavor, adding, "I don't think we'll ever be at a place where we'll let the machine make the final decision on anything."