WRIGHT-PATTERSON AIR FORCE BASE, Ohio – Maj. Gen. William T. Cooley, the first Air Force general ever to face a full court-martial trial, was found guilty Saturday of sexual assault against his sister-in-law in 2018.
A military judge, who decided the verdict at Cooley's request rather than a jury, convicted Cooley of "abusive sexual contact" for forcibly kissing his sister-in-law in a car after a evening barbeque on August 12, 2018 at the Albuquerque, New Mexico home of the woman and her husband, who is Cooley's brother.
The victim has asked news media representatives to refer to her by her relationship to Cooley, but not by name. Coffee or Die Magazine does not identify accusers in sex-related crimes without their permission.
As the verdict was announced, Cooley stood in the small courtroom next to his civilian defense counsel and two uniformed Air Force attorneys, while Col. Christina M. Jimenez, the senior military judge in the case, announced her decision.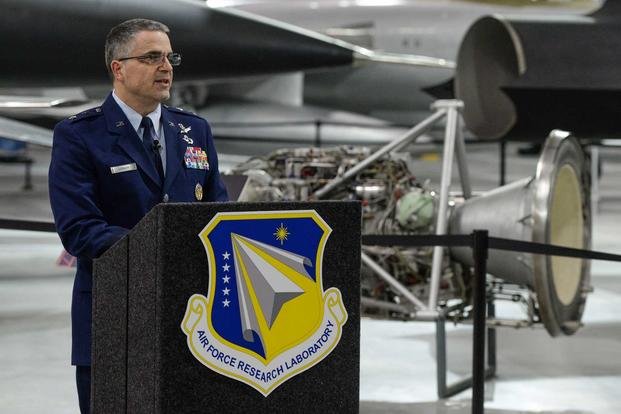 Cooley was accused of one charge of sexual assault under Article 120 of the Uniform Code of Military Justice, with three specifications. Jimenez found Cooley guitly on the first specification, "kissing her on the lips and tongue, with an intent to gratify his sexual desire" but not guilty of two other specifications, including causing her to touch him over his clothing and his alleged touching of her breasts and genitals through her clothes.
The verdict marks the first court-martial trial and conviction of a general officer in the Air Force's 75 year history.
Jimenez will now oversee the sentencing phase, which is expected to begin Monday, April 25. Presentation of evidence and aggravating factors will be offered by trial counsel while the defense will have an opportunity to argue extenuating and mitigating factors. Victim impact statements are often made as well.
The trial saw 10 witnesses, including Cooley's sister-in-law, several family members and friends and an expert in digital forensics. Though neither side presented physical evidence from the assault, extensive emails, voicemails, and text chains were introduced. Cooley did not testify.
In lengthy testimony as the government's first witness, the sister-in-law, who knew Cooley well, described the assault and its impact as an "F5 tornado…ruining everything in its path."
She said that the assault occured in Albuquerque, NM, where she and husband live. Cooley was in Albuquerque, which is home to many government and Air Force labs, as part of his job duties as commander of the Air Force Research Laboratory. The woman and her husband hosted a barbeque with Cooley at their home, after which, she said, he asked her to drive him the short distance to his parents home to retrieve personal belongings. Both on the ride there and back, she testified, he made sexually vulgar comments and tried to hold her hand. Once back at her own home, the woman said, he pressed her up against the driver's side window, forcibly kissed and groped her through her clothes.
Cooley denied the allegation, pleading not guilty.
In the days after the assault, the woman, Cooley, her husband exchanged numerous emails, texts, and voicemails about the assault, as the woman eventually sought acknowledgement and an apology from Cooley.
The Air Force case began 28 months ago when the victim and her spouse reported the assault to the Air Force Office of Special Investigations, on December 26, 2019.
Cooley was previously commander of the Air Force Research Laboratory.
The victim's attorney, Ryan Guilds, said it takes amazing courage for survivors of sexual assault to come forward and report, face the trial process and difficult cross examination, but support is available.
"It is very hard to be a survivor in a criminal case. That is one of many reasons you see so few of these cases go to court-martial," Guilds said. "At the end of the day, she wanted a process that was fair. She is incredibly grateful for the prosecution team that worked on this case."
Read Next: